14 août 2017
Je publie une seconde fois ce message de lundi 14-08 car d'après ce qui m'a été dit par plusieurs internautes, la newsletter n'a pas été envoyée correctement par Canalblog.
Une demi-journée de soleil ????? cette année, ça ne se rate pas : on prend vite l'appareil photo et on va se promener dans la campagne ! et en rentrant, on fait profiter les copines des photos qu'on a prises.
Half a day of sunshine, this year, it does not miss: we quickly take the camera and we go for a walk in the countryside! And on the way back, we give the girlfriends the pictures we took.
J'avais emporté une poupée. Elle vient de la collection "Journey Girls", ce qui se traduirait par "Filles Voyageuses", il me semblait donc logique que ce soit elle qui vous fasse visiter la région !! Pur cela, j'ai choisi Kyla, une amoureuse de la nature et plus particulièrement des chevaux.
I had taken a doll. It comes from the collection "Journey Girls", so it seemed logical that it is she who will make you visit the region !! Pure that, I chose Kyla, a lover of nature and especially horses.
Nous avons commencé par aller vers Fitch Bay, via Georgeville :
We started by going to Fitch Bay, via Georgeville: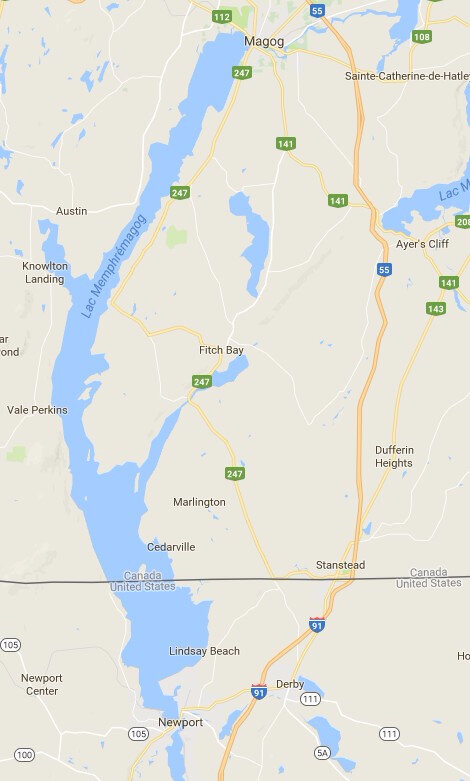 pour vous situer, c'est le rectangle rouge :
To locate you, it is the red rectangle: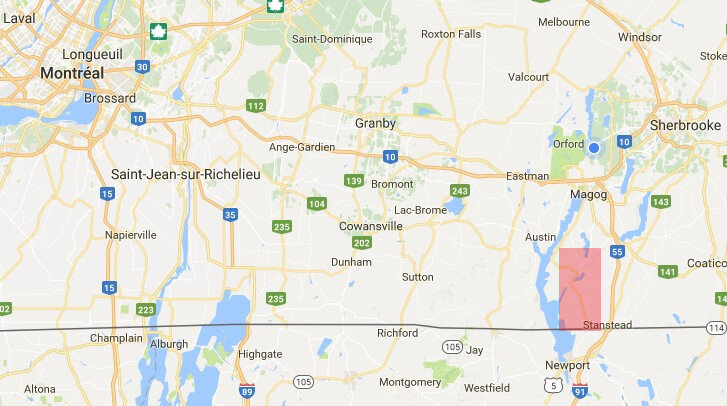 Je laisse parler Kyla qui vous raconte sa promenade !!

I let Kyla talk that tells you about her walk !!
:
J'étais contente quand Guyloup m'a emmenée visiter sa belle région.
En chemin, je n'ai pu résister à admirer cette jolie ferme-pension pour chevaux, ma passion !
I was glad when Guyloup took me to visit her beautiful area.
Along the way, I could not resist admiring this lovely farm-pension for horses, my passion!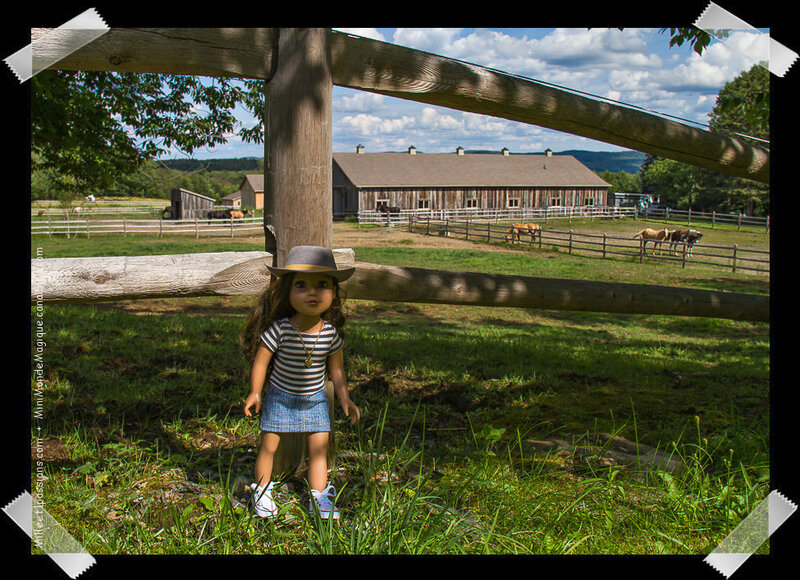 Le paysage est magnifique avec la vue sur le lac Memphrémagog en contrebas :
The landscape is beautiful with the view of Lake Memphremagog below: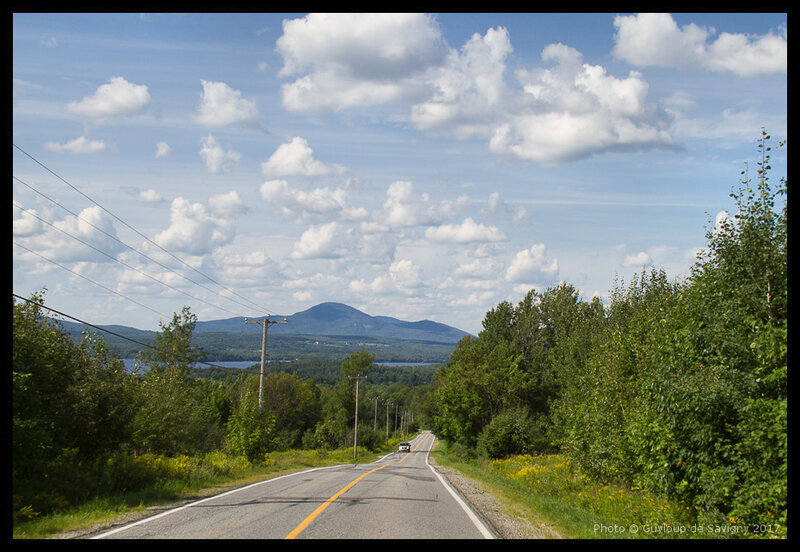 Une autre ferme, mais d'élevage moins agréable (porcs) :
Another farm, but of less pleasant breeding (pigs):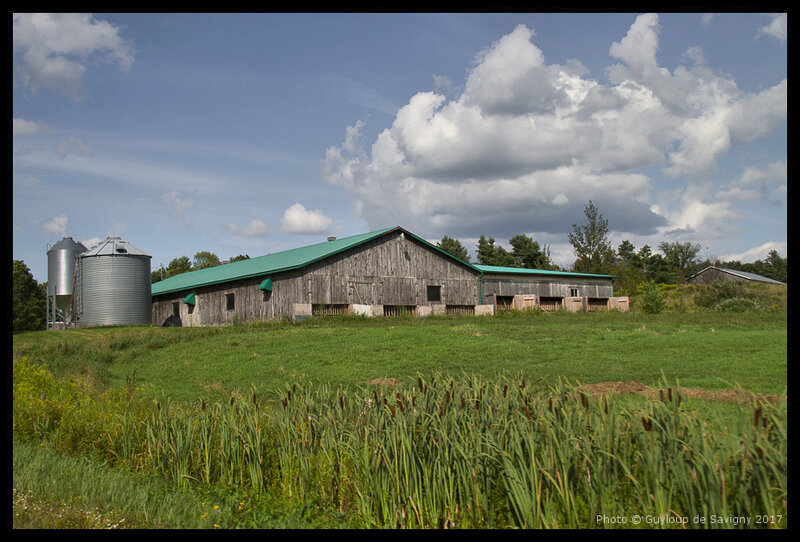 En arrivant dans le village de Georgeville, je suis alée faire un petit tour au bord du lac Memphrémagog, long de 42 kilomètres, situé à cheval sur la frontière Canada-USA (plus d'infos ici : https://fr.wikipedia.org/wiki/Lac_Memphr%C3%A9magog ).
When I arrived in the village of Georgeville, I went to take a stroll along Lake Memphremagog, 42 kilometers long, straddling the Canada-USA border (more info here: https: //en.wikipedia. Org / wiki / Lac_Memphr% C3% A9magog).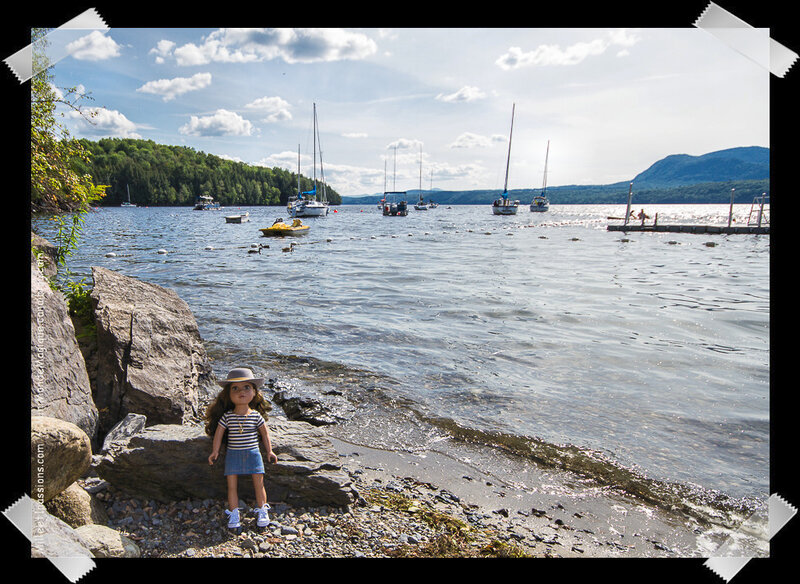 Un coup d'oeil à la Marina de Georgeville :
A look at the Georgeville Marina:
En prenant la direction de Fitch Bay, on a croisé ces églises ; difficile de ne pas les remarquer, il y en a un nombre incroyable partout, chaque moindre village ayant plusieurs obédiences : catholiques, anglicanes, évangélistes, luthériennes, etc !
In the direction of Fitch Bay, we crossed these churches; Difficult not to notice them, there are an incredible number everywhere, each smaller village having several obediences: Catholics, Anglicans, Evangelists, Lutherans, etc !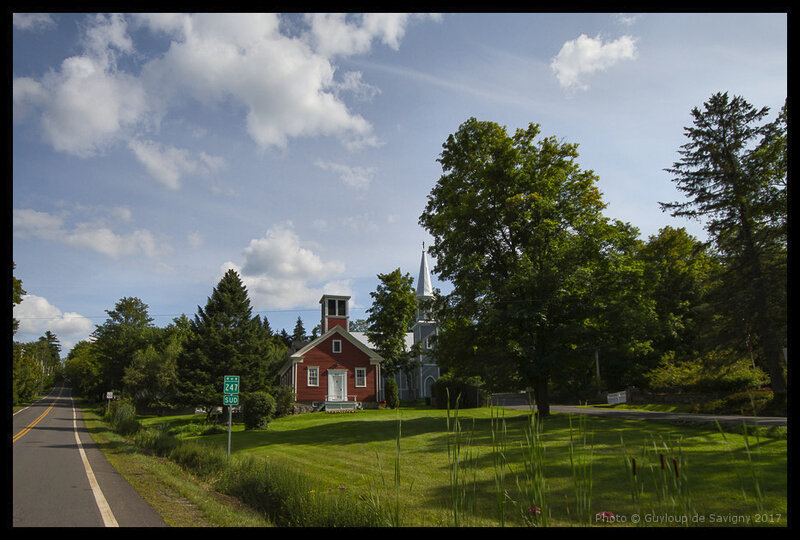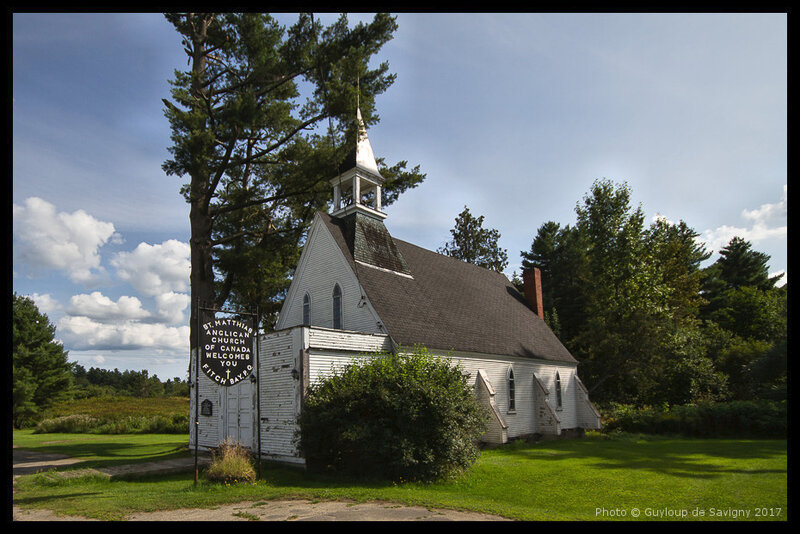 À Fitch Bay, il y a un vieux manoir que j'ai baptisé "la maison de la sorcière" en raison de sa girouette bien particulière !
In Fitch Bay, there is an old manor house which I called "the house of the witch" because of its special weather vane!
La particularité de Fitch Bay, c'est d'avoir conservé un ancien pont couvert, dont vous lirez ci-dessous les caractéristiques sur lesquelles je m'étais assis pour mieux vous les montrer !
The peculiarity of Fitch Bay is to have preserved an old covered bridge, of which you will read below the characteristics on which I had sat to show you better!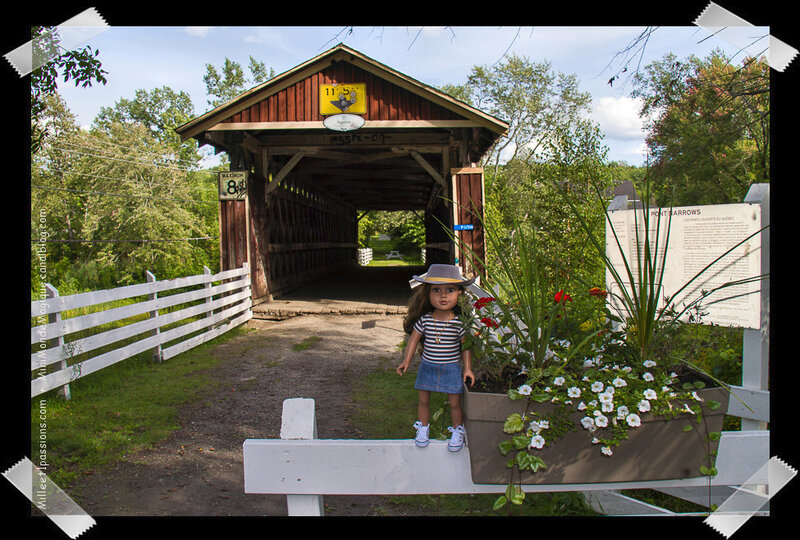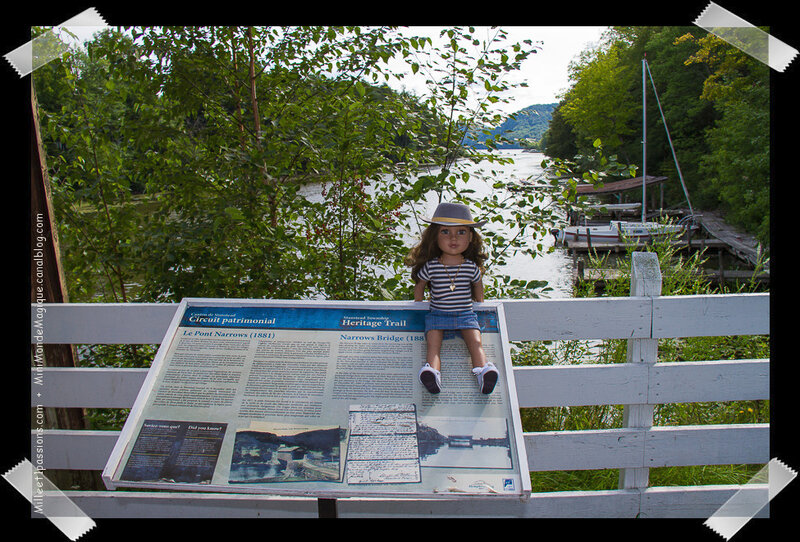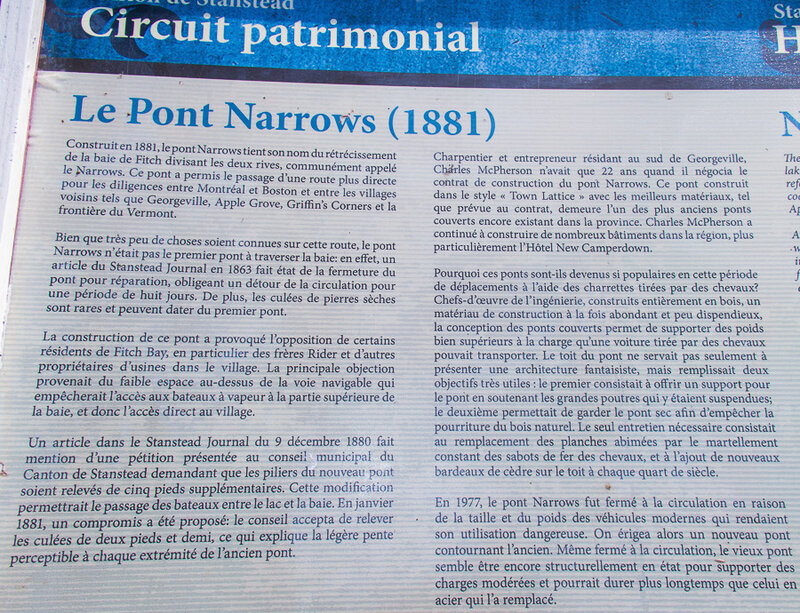 Voilà le vieux pont couvert, vu du pont moderne :
Here is the old covered bridge, seen from the modern bridge: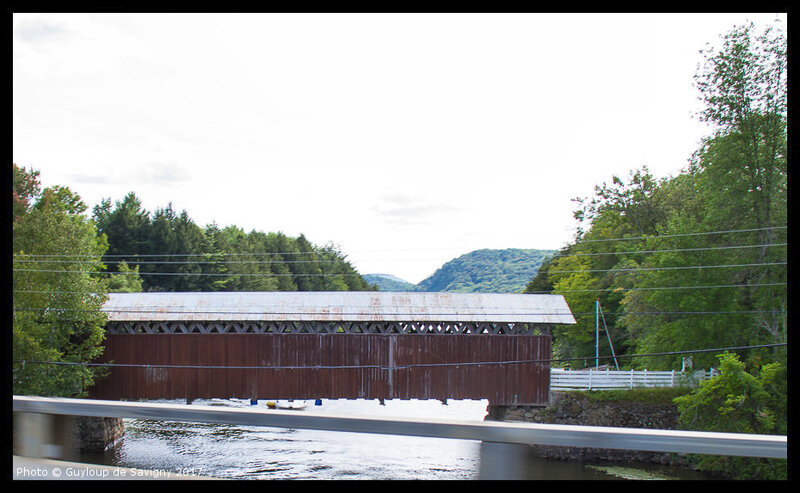 On repart :
We start again: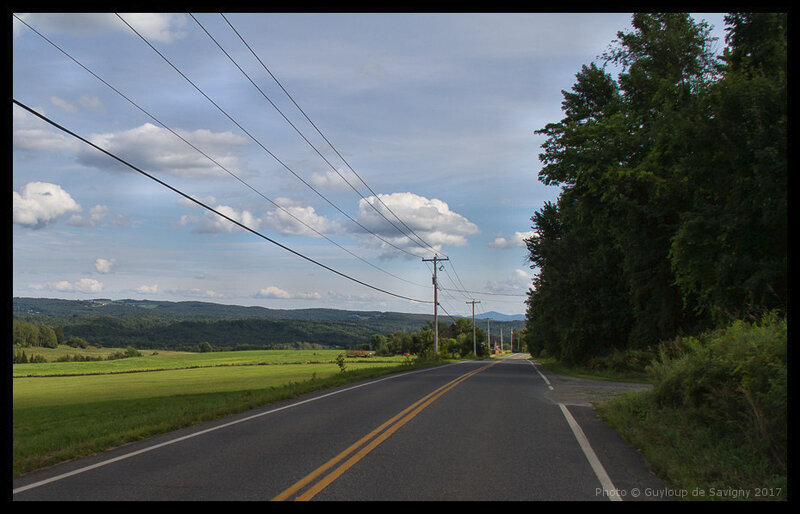 On passe près d'un des nombreux postes-frontières Canada_USA.
Pas de virée aux USA a dit Guyloup, elle veut y emmener une autre poupée que moi... je suis jalouse !!!!
And you pass near one of the many Canada_USA border crossings.
No trip to the US said Guyloup, she wants to take another doll to me ... I'm jealous !!!!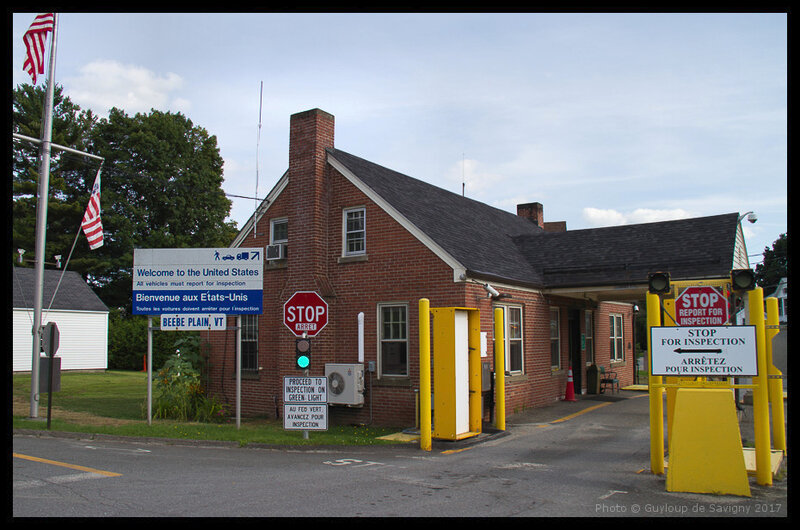 Voici une ferme comme on en voit beaucoup ici , où on élève des chevaux et des vaches pour la boucherie... c'est triste : j'ai beau être une poupée, je suis végétarienne parce que j'aime les animaux.
Here is a farm as we see a lot here, where we raise horses and cows for the butcher ... it's sad: I may be a doll, I am vegetarian because I love animals.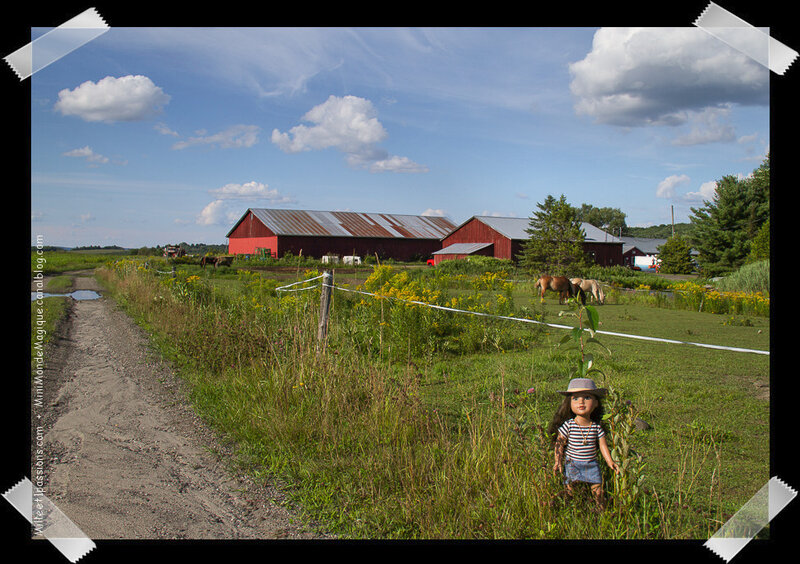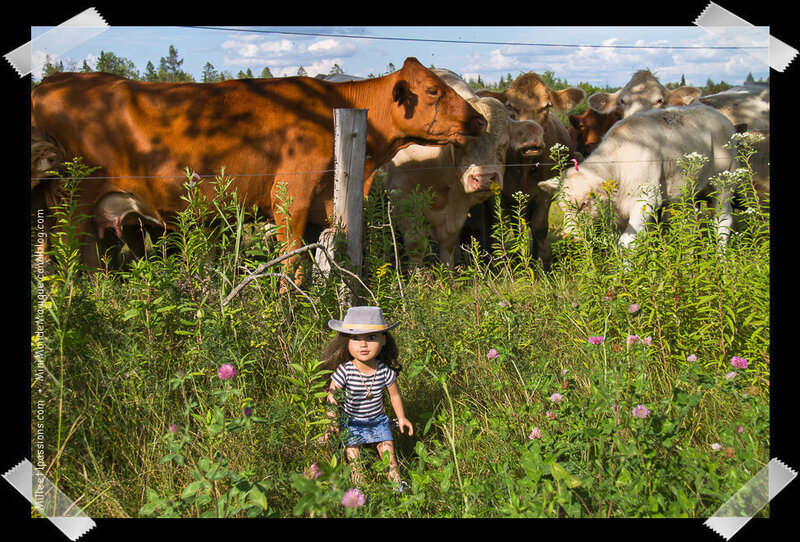 On a continué, et on est allés à un des endroits que Guyloup préfère pour photographier animaux et oiseaux : un sentier de randonnée de 19 km, coincé entre des étangs et la jolie rivière Tomifobia :
We went on, and we went to one of the places that Guyloup prefers to photograph animals and birds: a 19 km hiking trail, stuck between ponds and the lovely Tomifobia River: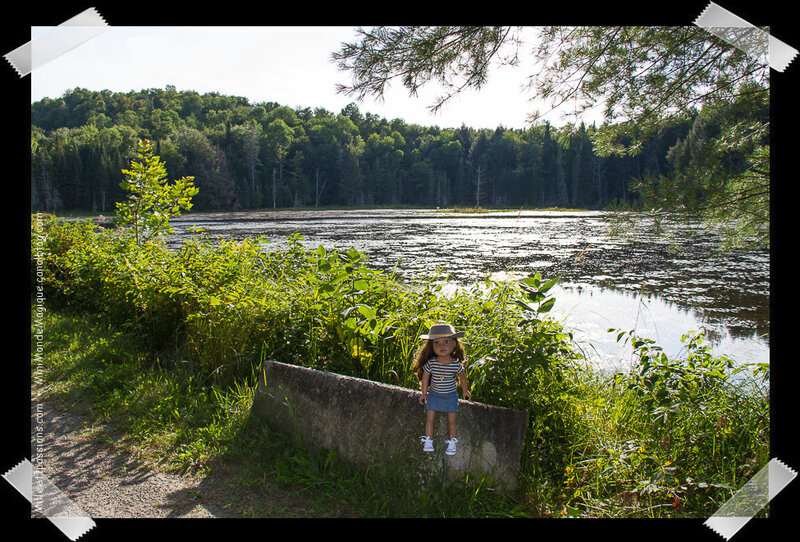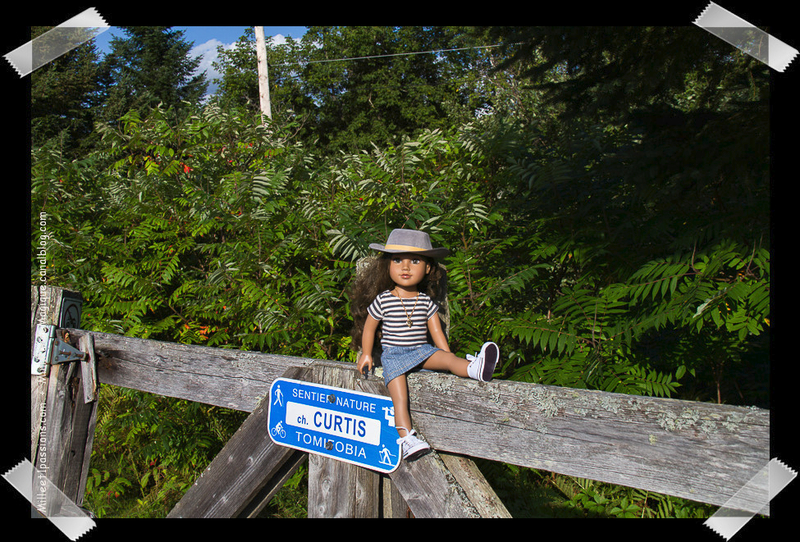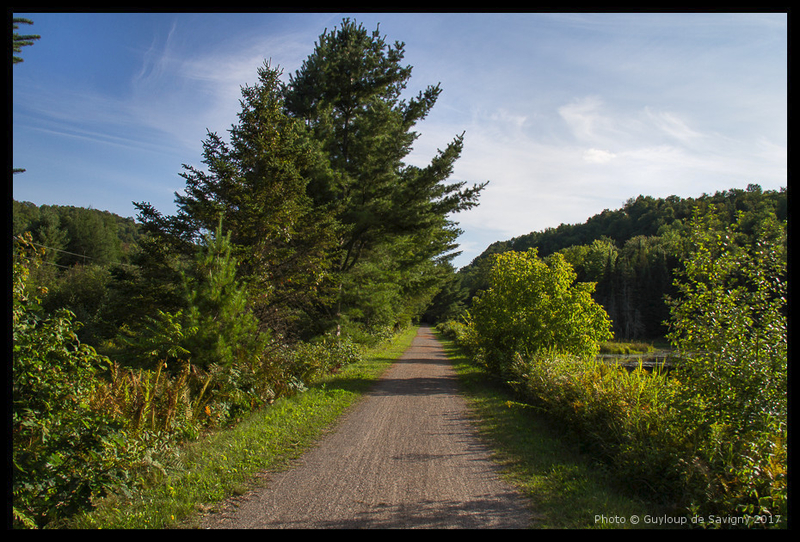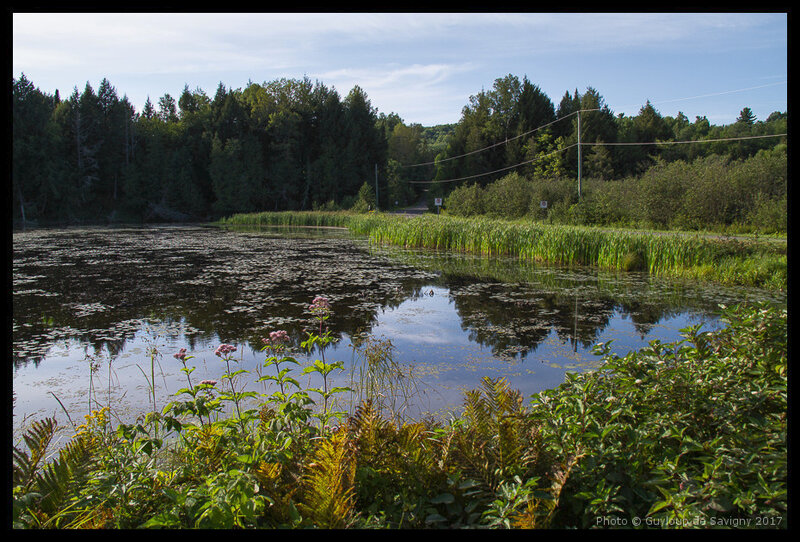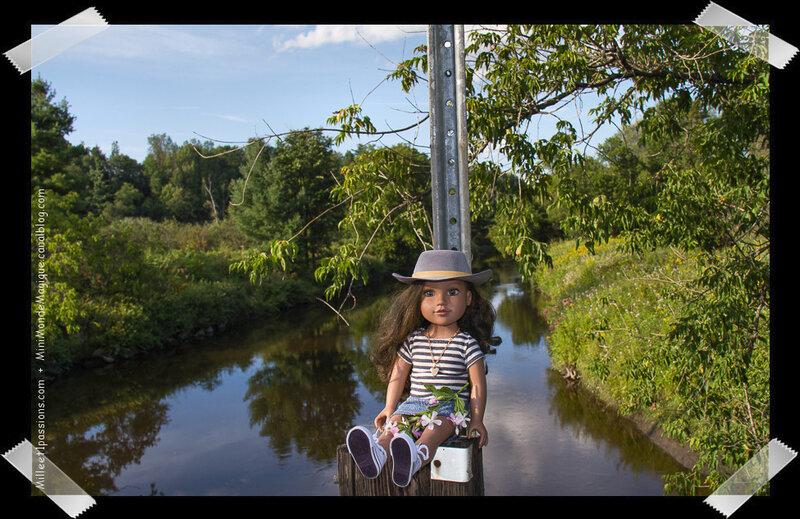 On repart, cette fois, on reprend le chemin de la maison ; tout parait vert, mais on constate que beaucoup d'érables commencent à prendre des couleurs d'automne. C'est que nous sommes à la mi-août déjà.
We set out again, this time, we go back to the house; Everything looks green, but it is clear that many maples are beginning to take on autumn colors. We are in mid-August already.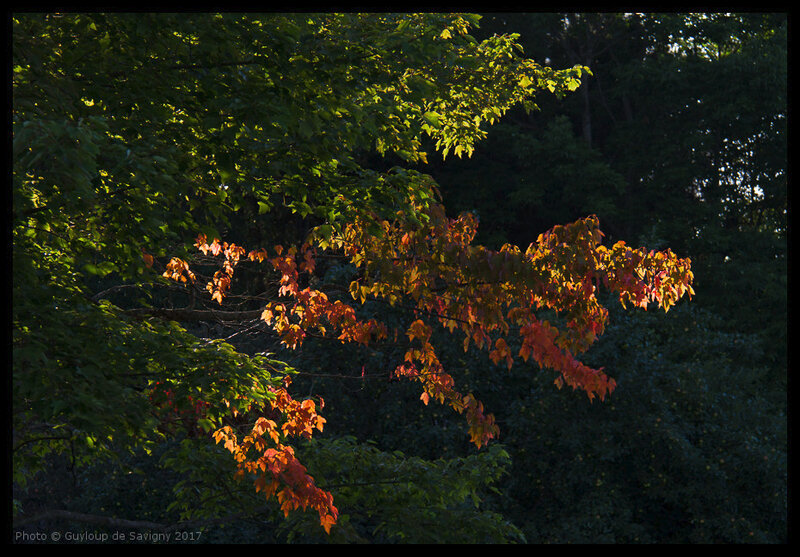 En rentrant, on longe un autre lac ! il y en a partout ici !! cette fois, c'est le lac Massawippi :
On our way back we go along another lake! There are everywhere here !! This time it is Lake Massawippi: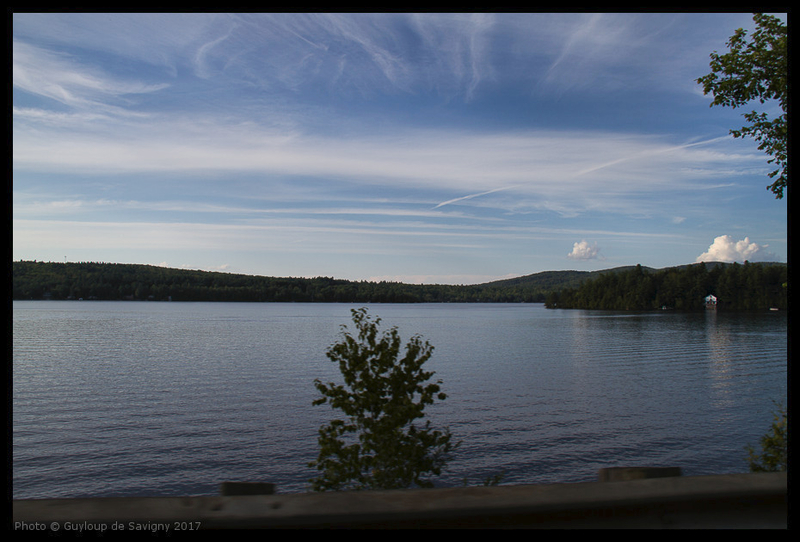 Sur la route, on aperçoit le massif du Mont Orford, où habite Guyloup.
Elle m'a emmenée faire une belle promenade.... j'espère que vous l'avez appréciée aussi ! Bisous, Kyla :-)
On the road, one sees the massif of Mount Orford, where Guyloup lives.
She took me for a nice walk ... I hope you enjoyed her too ! Lot of kisses, Kyla :-)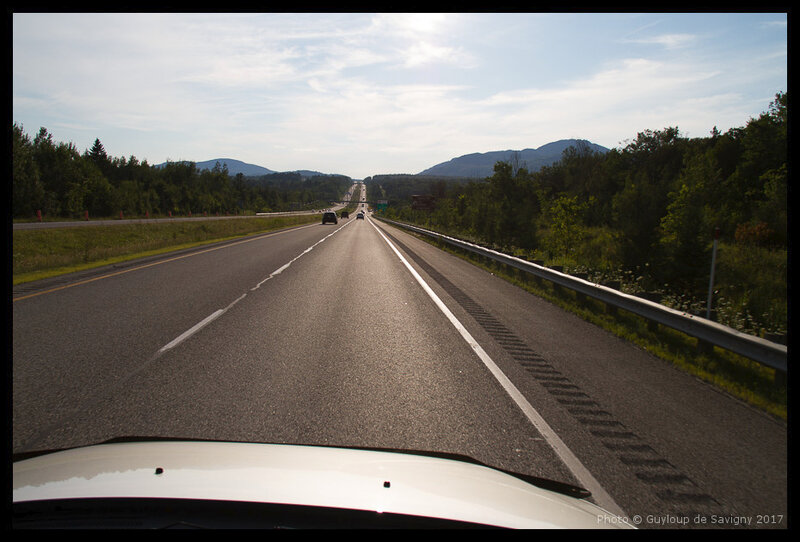 Voilà, je reprends la parole !!!! Comme Kyla, j'espère que vous avez apprécié cette balade photo :-)
Par chance on en a profité, car c'est reparti :
Here, I take the floor !!!! Like Kyla, I hope you enjoyed this photo trip :-)
Luckily we took advantage of it, because it left: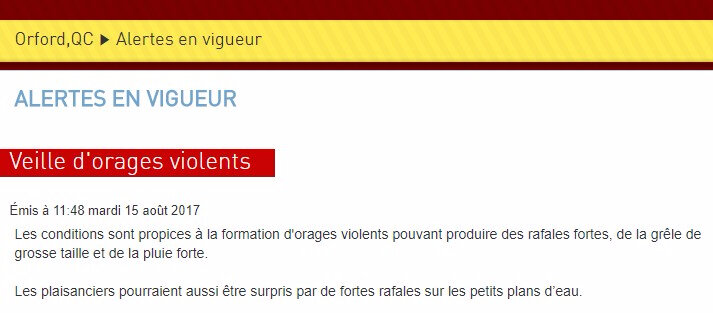 Par chance, pas d'alerte-tornade cette fois... ouf... je déteste ça.

Luckily, no tornado alert this time ... phew ... I hate it.
À bientôt, See you soon,
Guyloup ♥
11 août 2017
Un peu de couture pour une nouvelle venue à la maison : Kyla, de la collection Journey Girl (47,5 cm).
Kyla est arrivé involontairement, puisqu'elle accompagnait un objet que j'ai acheté sur une petite annonce.... et finalement, je l'ai trouvée très belle, et surtout très facile à habiller en raison de son gabarit. Du coup, aujourd'hui, je lui ai fait une petite jupe en jean et un un t-shirt marin rayé, pour lequel je me suis appliquée pour placer les rayures, comme pour un vrai !
Toutefois, je dois vous avouer que j'ai eu de l'aide... comme vous pouvez le voir sur la dernière photo !
A little sewing for a newcomer at home : Kyla, from the Journey Girl collection (47.5 cm).
Kyla came at home involuntarily, since she was accompanying an object that I bought on a classified ad .... and finally, I found her very beautiful, and especially very easy to dress because of its template. So, today, I made her a ldenim skirt and a stripped t-shirt, for which I applied myself to place the stripes, as for a real one !.
However, I have to admit that I had some help ... as you can see on the last photo!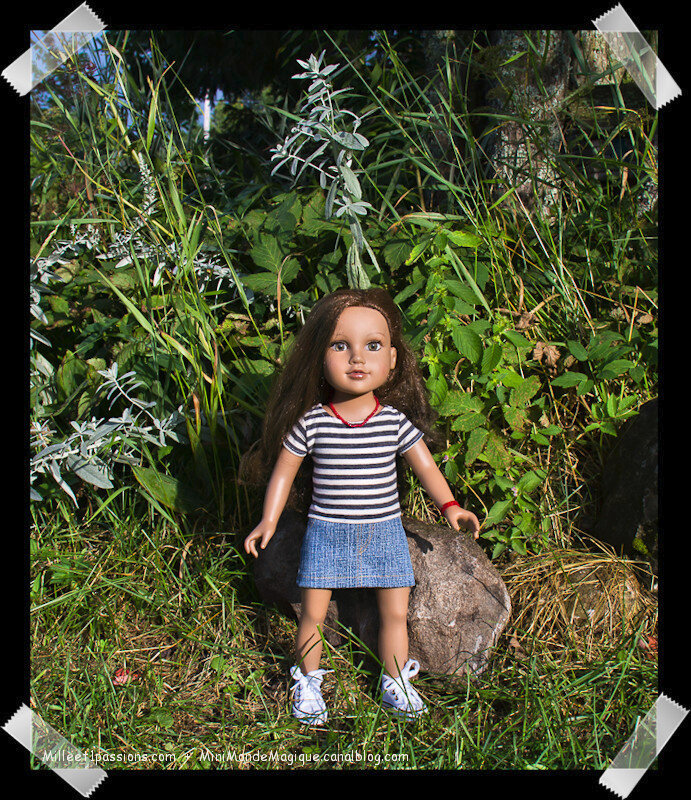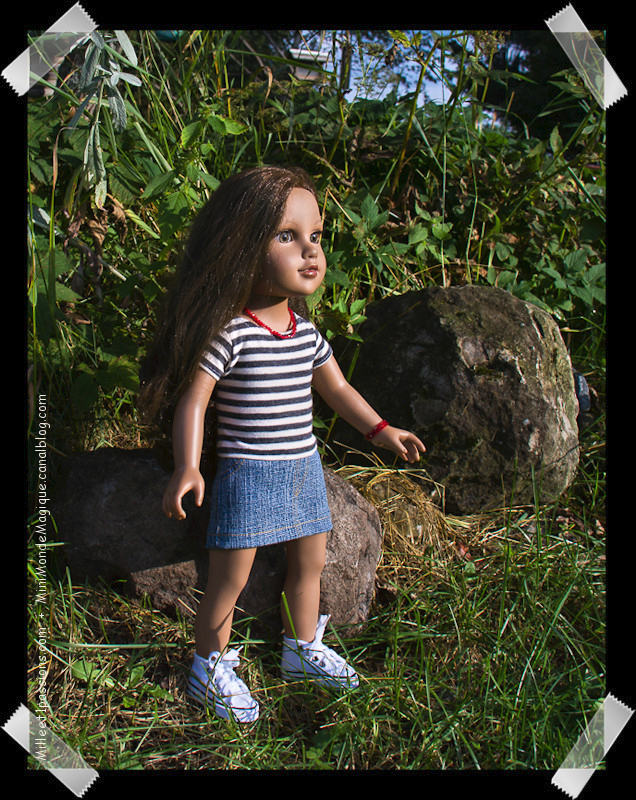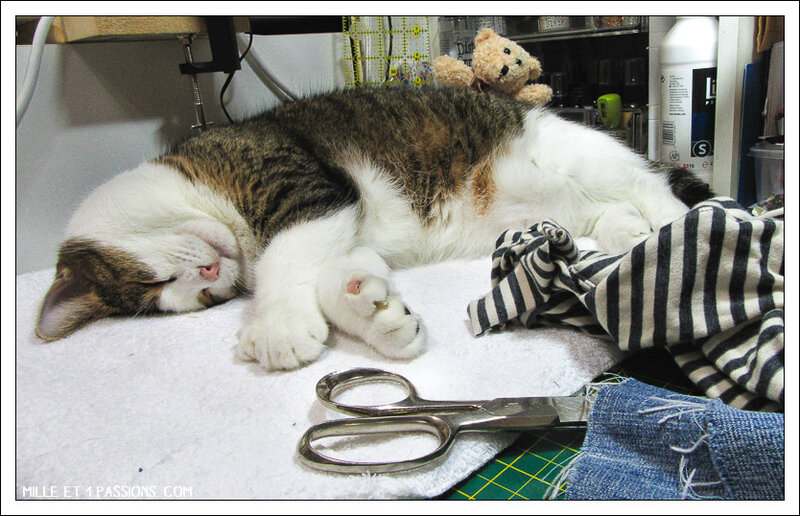 Je ne sais pas si chez vous la météo est correcte, mais chez nous....... on attend encore le vrai été :-( et les étables commencent à faire rougir quelques feuilles, d'autres variétés montrent également des signes de jaunissement.... je ne peux pas croire que 2017 nous aura volé notre été : j'espère encore !!
I do not know if the weather is correct, but at home (border Canada / Vermont) ....... we are still waiting for the real summer :-( and the stables start to blush a few leaves, others Varieties also show signs of yellowing .... I can not believe that 2017 will have stolen our summer: I still hope !!
À bientôt,
Guyloup ♥