22 juin 2018
Je lance un petit jeu : Robin, Calliann, Grace et Ethan (de gauche à droite) se promènent.
Grace dit quelque chose. En l'écoutant, Robin est supéfait, Calliann est perplexe, et Ethan rigole.
Je vous laisse le soin de trouver ce qu'elle peut bien dire qui puisse créer ces réactions de chacun, et pourquoi.
Je tirerai au sort parmi les réponses et j'enverrai une jolie surprise (sans aucun rapport avec des poupées) à celle d'entre vous qui sera la gagnante.
Vous avez jusqu'au 5 juillet pour proposer votre idée dans les commentaires ci-dessous :-)
I start a little game: Robin, Calliann, Grace and Ethan (from left to right) walk around. Grace says something. Listening to her, Robin is overrated, Calliann is perplexed, and Ethan laughs.
I leave it to you to find what she can say that can create these reactions of everyone, and why.
I will draw lots among the answers and I will send a nice surprise (no relation to dolls) to one of you who will be the winner.
You have until July 5 to submit your idea in the comments below :-)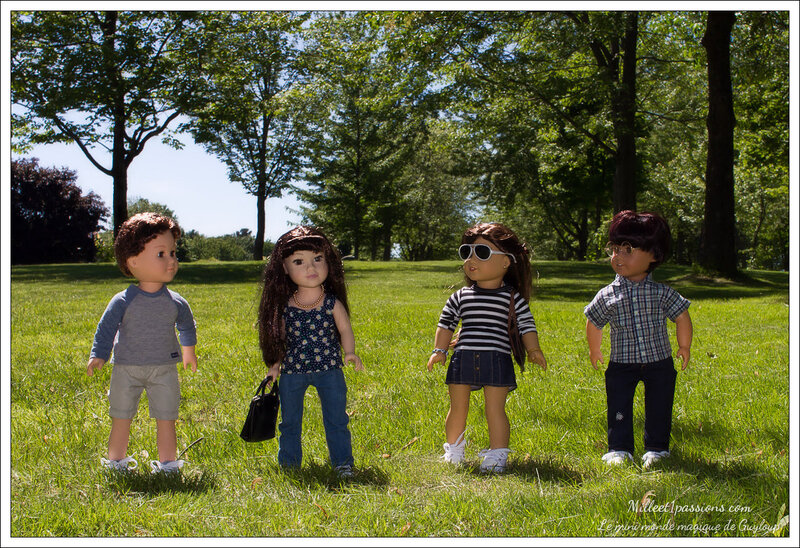 Vue complète de la scène / full view of the scene :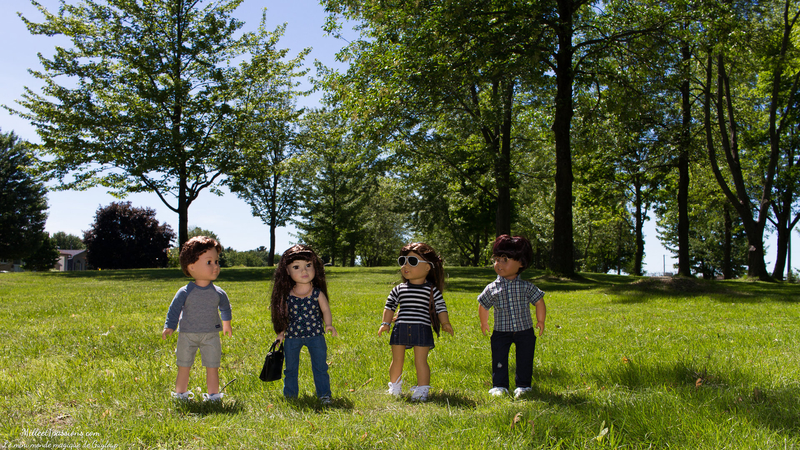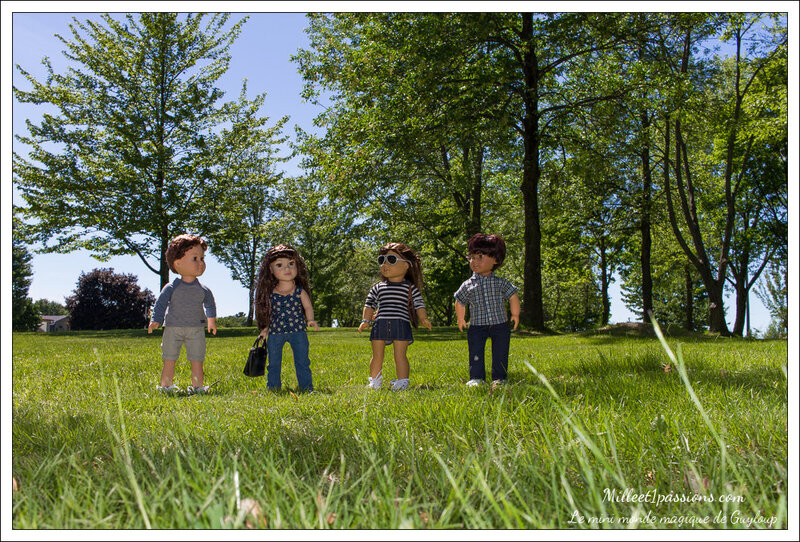 Allez, à vos imaginations ? prêtes, partez !! Go, your imagination ? ready, go !
♥♥♥
01 février 2018
Vous avez vu récemment la bande des "enfants terrible" qui sortaient jouer dehors sans gants ni bonnets, et faisaient un caprice parce que voulais les faire rentrer.
Maintenant, voici 3 des "enfants sages" (ils sont plus nombreux que cela, vous en verrez d'autres bientôt).
Et... à quoi jouent les enfants sages ? à des jeux tranquilles dans la maison, en attendant que le temps leur permettent de sortir sans rique.
Or, ces jeux, il faut que je les leur fabrique parce qu'on n'en trouve pas beaucoup à leur taille dans les magasins !
Et voilà que je leur ai fabriqué un jeu de Mikado.
Vous souvenez-vous de ce jeu là ? y avez-vous joué ? y jouez-vous encore avec vos enfants ou petits-enfants ?
Quoi qu'il en soit, voici Melody et Mikaella en pleine partie, et Kyla qui joue les arbitres !
You have recently seen the band of "terrible children" coming out to play outside without gloves or hats, and doing a whim because they wanted to get them back.
Now here are 3 "wise children" (they are more than that, you will see others soon).
And ... what are the good children doing? to quiet games in the house, waiting for the weather to allow them to go out without risk.
Now these games, I have to make them because they do not find much in their size in stores !
And now I made them a game of Mikado.
Do you remember that game? did you play there? Do you still play with your children or grandchildren?
Anyway, here is Melody and Mikaella in the middle of the game, and Kyla playing referees !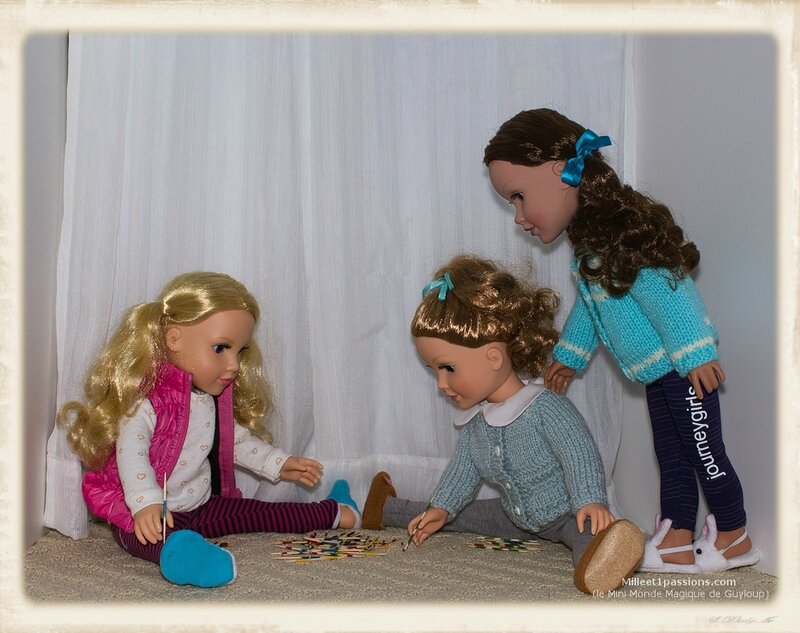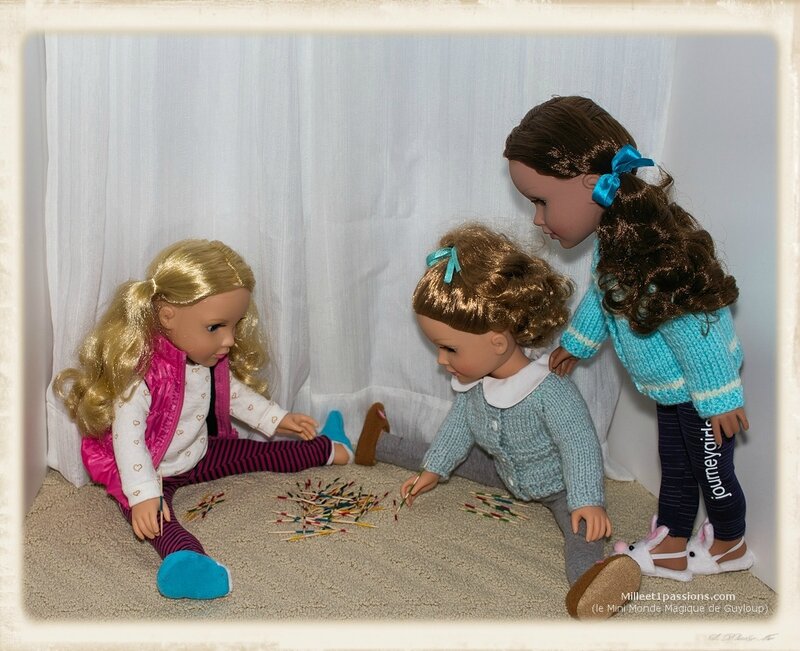 Melody est un modèle de Journey Girls Meredith, premier modèle année 2011.
Melody is a model of Journey Girls Meredith, first model year 2011.
J'ai fait les baguettes du Mikado avec des cure-dents et des feutres.
I made the Mikado chopsticks with toothpicks and markers.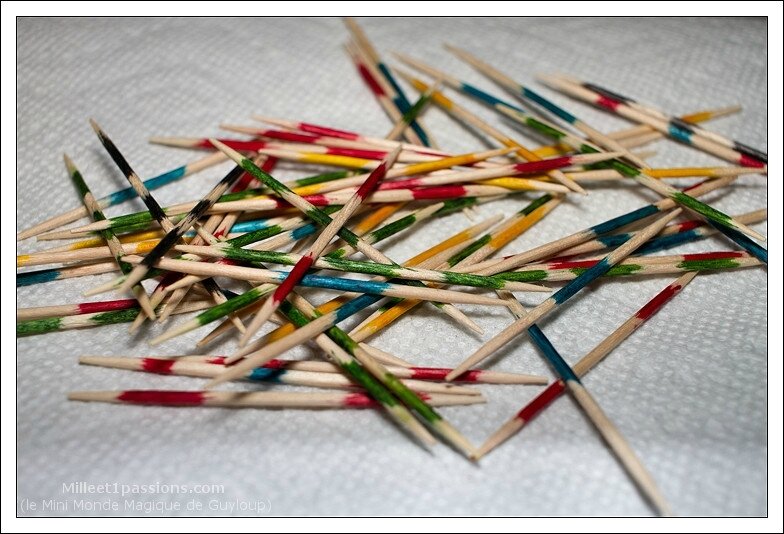 Bientôt, les jeux des autres enfants sages :-)
Soon, the games of other wise children :-)
♥♥♥