01 novembre 2018
- Mamounette, qu'est-ce que c'est que cette grosse boite dans ma chambre ?
- Mummy, what is this big box in my room ?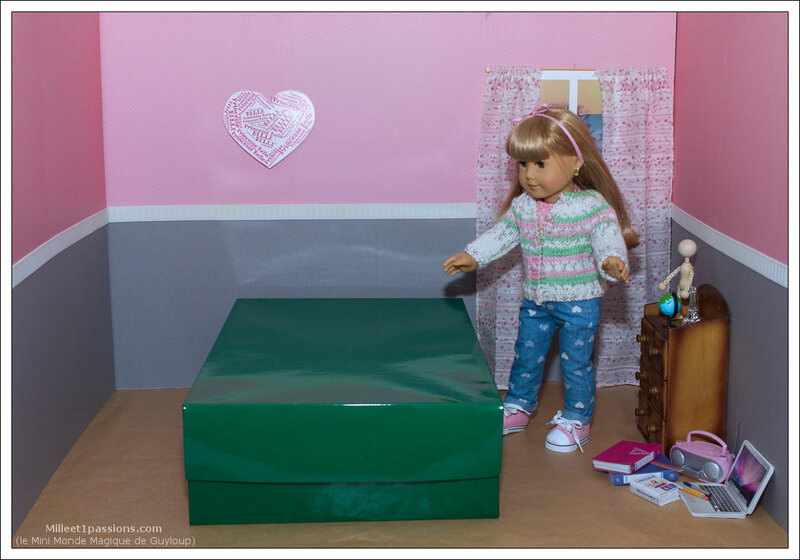 - Ouvre et regarde ce qui est dedans ; alors, à ton avis, c'est quoi ?
- Je ne sais pas, on dirait un matelas, répond Belle, perplexe.
- Open and look what's inside; so what do you think is what ?
- I do not know, it looks like a mattress, answers Belle, perplexed.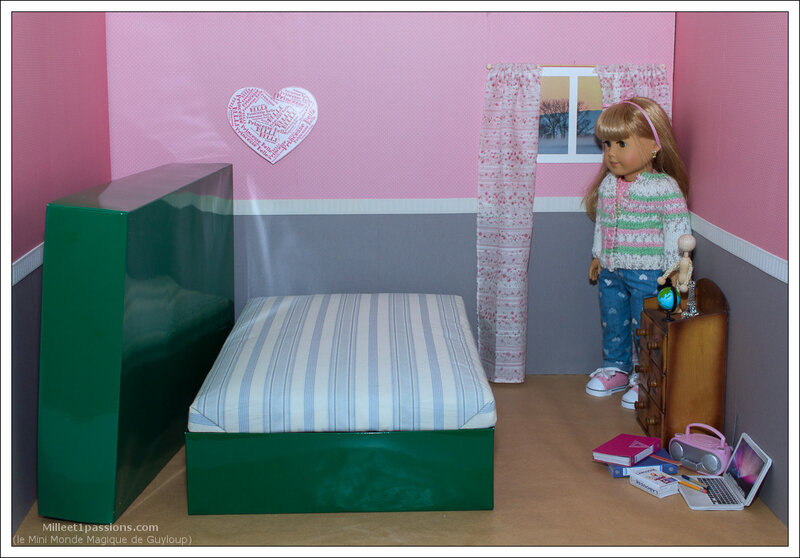 - Mais oui jolie poupette, c'est bien un matelas, et en dessous, tu as toute la literie qui va avec.
- Waouh ! s'exclame Belle, ça a l'air tellement joli !
- But yes pretty baby, it's a mattress, and below, you have all the bedding that goes with it.
- Wow ! exclaims Belle, it looks so pretty !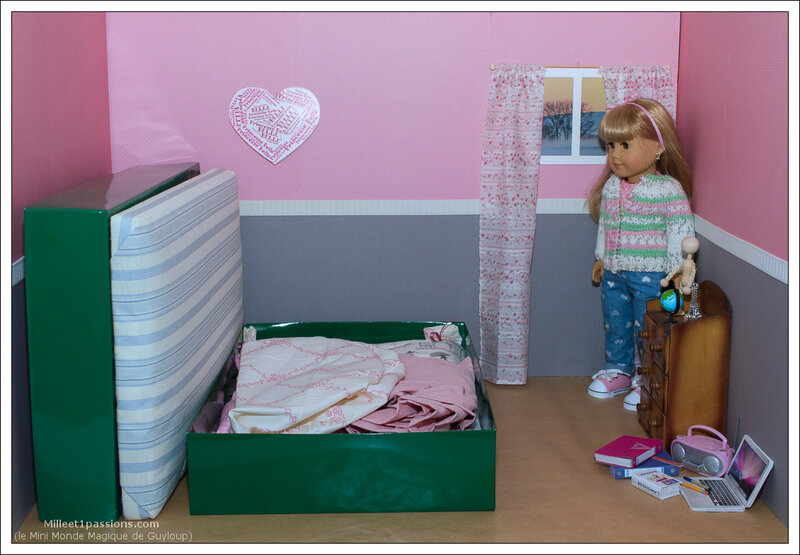 - Maintenant, tu vois, on a tout sorti de la boite, on la referme, et on la pousse dans un coin de ta chambre.
- Now, you see, we've taken everything out of the box, closed it, and pushed it into a corner of your room.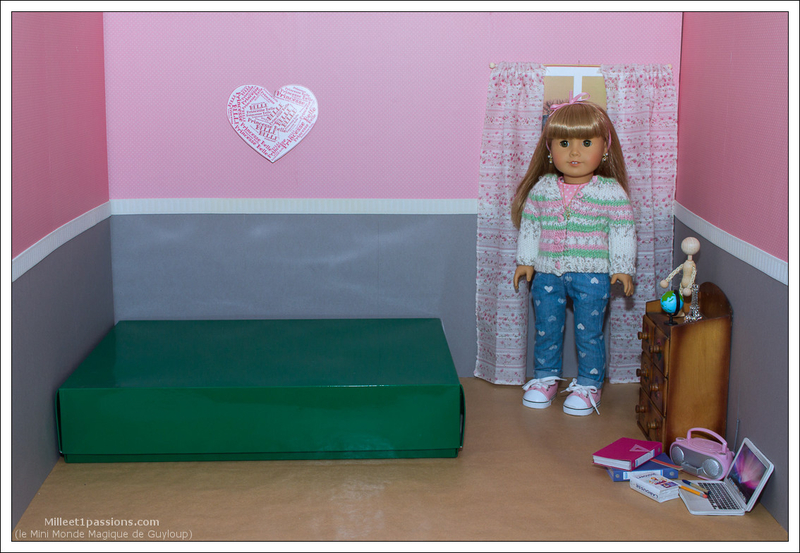 - On met la "jupe de lit" (appelée aussi cache-sommier).
- We put the "bed skirt".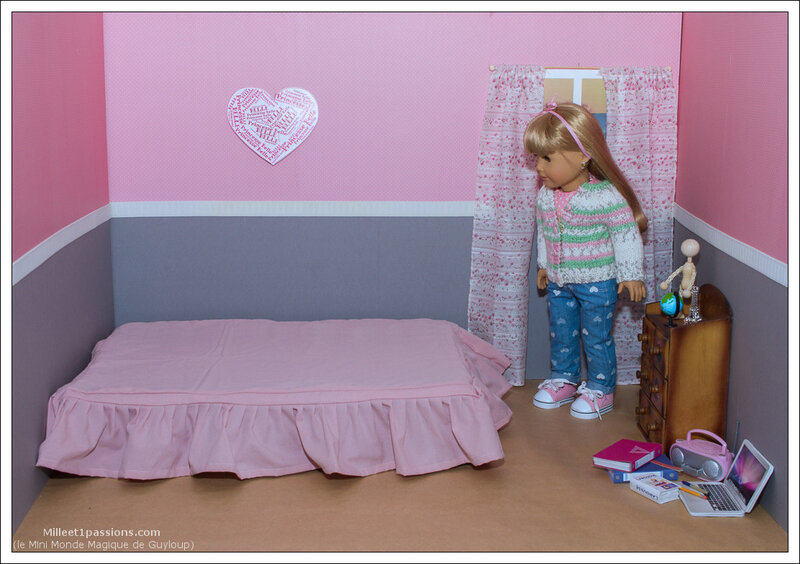 - Puis on pose le matelas dessus.
- Super ! il a l'air vraiment confortable.
- Then we put the mattress on it.
- Great ! it looks really comfortable.
- Descends de là, coquinette ! puisque tu veux mettre t'en occuper, tiens : voilà le drap housse, installe le sur le matelas.
- Come down from there, mischievous baby ! since you want to take care of it, here's the fitted sheet, install it on the mattress.
- Oh, Mamounette, tu m'as même cousu un joli traversin assorti au drap housse !
- Oh, Mummy, you even sewed me a pretty bolster matching the fitted sheet !
- Et des jolis oreillers bien rembourrés.
- And pretty well stuffed pillows.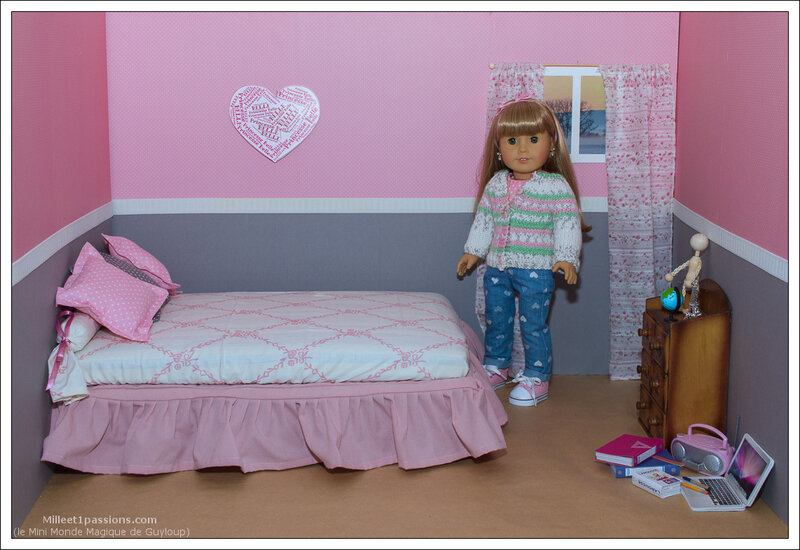 - Et une superbe couette bien épaisse !
- And a beautiful thick duvet !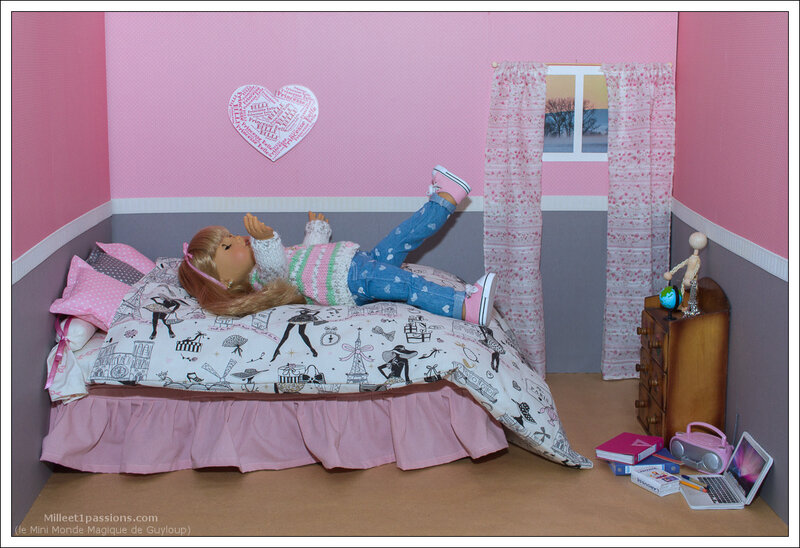 - Puisque tu es si pressée d'essayer ton nouveau lit, vas donc faire ta toilette et mettre ton pyjama !
- Voilà, c'est fait. Merci Mamounette pour ce beau lit douillet.
- Since you're so eager to try your new bed, go make your evening toilet and put on your pajamas !
- There it's done. Thank you Mamounette for this beautiful cozy bed.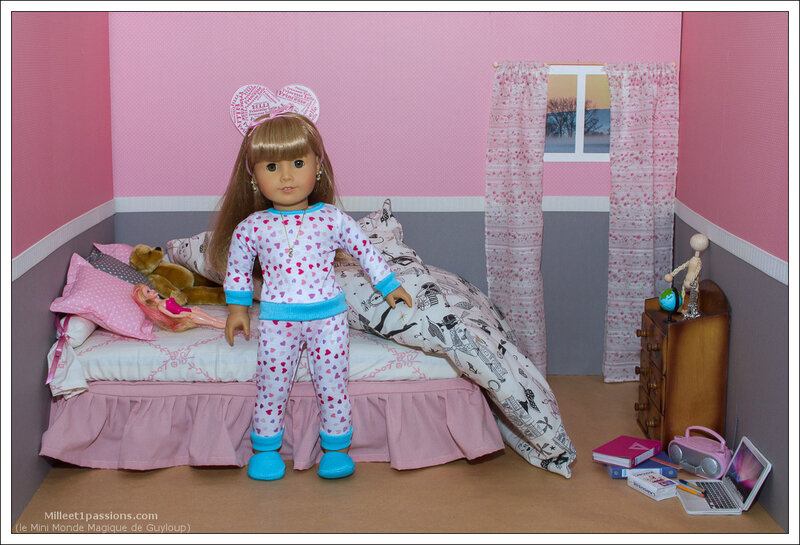 Quelques minutes plus tard, Belle dormait déjà, bien au chaud avec ses amis Nours et Babie.
Chuuuutttt.... ne la réveillons pas !
A few minutes later, Belle was already sleeping, warm with her friends Nours and Babie.
Chuuuutttt .... do not wake her !
J'ai eu l'idée de faire ce lit "dans une boîte" parce que la place commence à se faire rare sur les étagères de ma pièce de bricolage, à force d'empiler tous les accessoires des poupées.
Au départ, je voulais faire un beau lit en bois, mais finalement, ce système est tout aussi joli, et il permet, une fois les photos terminées, de tout remettre dans la boite, qui, elle, se range très facilement sans encombrer.
La boite mesure 53 x 36 cm sur une hauteur de 10 cm ; c'est une boîte cadeau d'un grand magasin. Le matelas est une plaque de carton mousse (carton plume) avec du molleton, et un tissu rayé par dessus. Le reste de la couture bien ordinaire, jupe de lit, drap housse, oreillers et traversin, couette.
I had the idea to make this bed "in a box" because the place starts to be scarce on the shelves of my DIY room, by stacking all the accessories of the dolls.
Initially, I wanted to make a beautiful wooden bed, but finally, this system is just as pretty, and it allows, once the photos are completed, to put everything in the box, which, it is easy to store without cluttering.
The box measures 21 x 14 in on a height of 4 in; it's a gift box from a department store. The mattress is a cardboard foam board with fleece, and a striped fabric from above. The rest of the ordinary seam, bed skirt, fitted sheet, pillows and bolster, duvet.
♥♥♥