26 août 2018
Il y a quelques jours, les 4 amis se promenaient tranquillement.
There are some days, the four friends were walking quietly.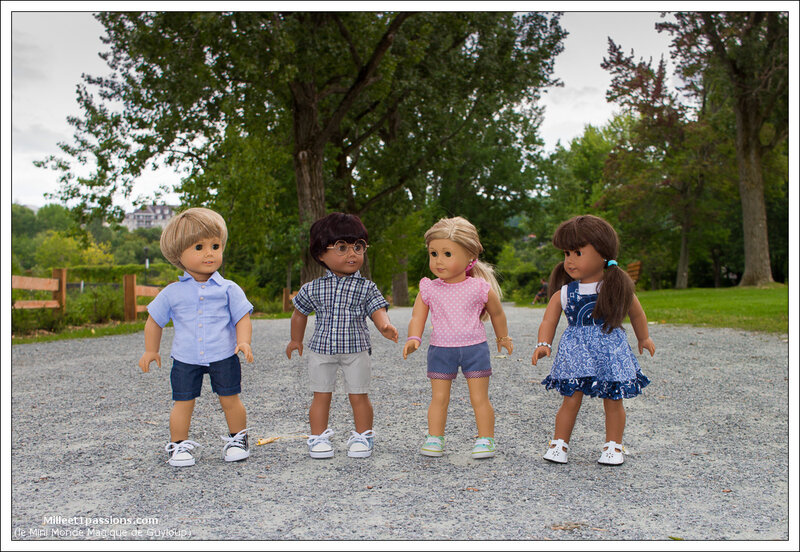 Ils parlaient de la prochaine rentrée scolaire avec intérêt car ils sont scolarisés à domicile pour raison artistique (danse pour Isabelle, musique pour les 3 autres).
They talked about the next school year with interest as they are home schooled due to artistic activities (dance for Isabelle, music for the other 3).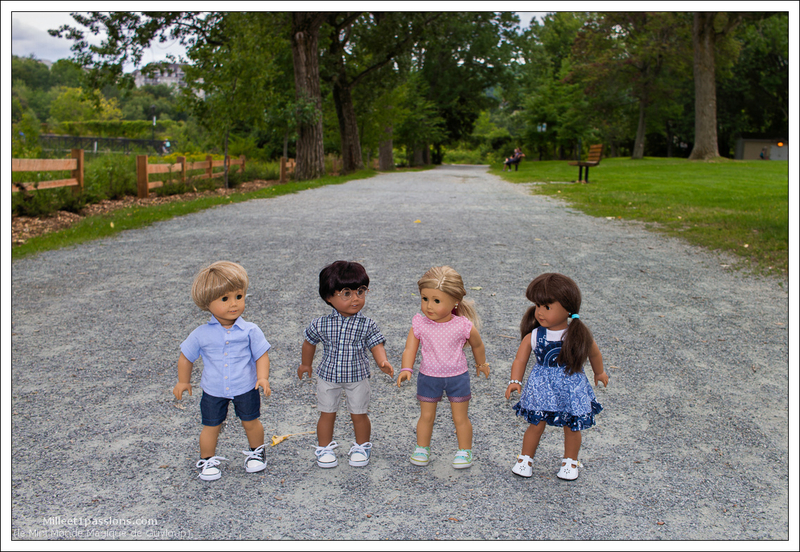 Ils craignent un peu la découverte de la jeune institutrice qui va venir les contrôler chaque jour : ils ne l'ont pas encore rencontrée et ils espèrent bien qu'elle sera gentille et pas trop sévère.
- Demain, on va aller faire une grande promenade en vélo propose tout à coup Émilie.
- Tu sais bien que la roue avant de mon vélo est tordue, répond son frère Ethan
- Pas grave, lui répond-elle, tu monteras derrière moi sur le porte-bagage.
Et le lendemain, les voici partis.
Attention aux grosses roches, dit Ethan, on va tomber sur on se cogne dessus.
They fear some the discovery of the young teacher who will come check them every day : they have not yet met and hope that she will be nice and not too severe.
- Tomorrow we will go to great bike ride, offers suddenly Emilie.
- You know that the front wheel of my bike is twisted, meets his brother Ethan
- Okay, she replied, you go up behind me on the rack.
And the next day here they are.
Watch out for large rocks, says Ethan, it will fall on you bump it.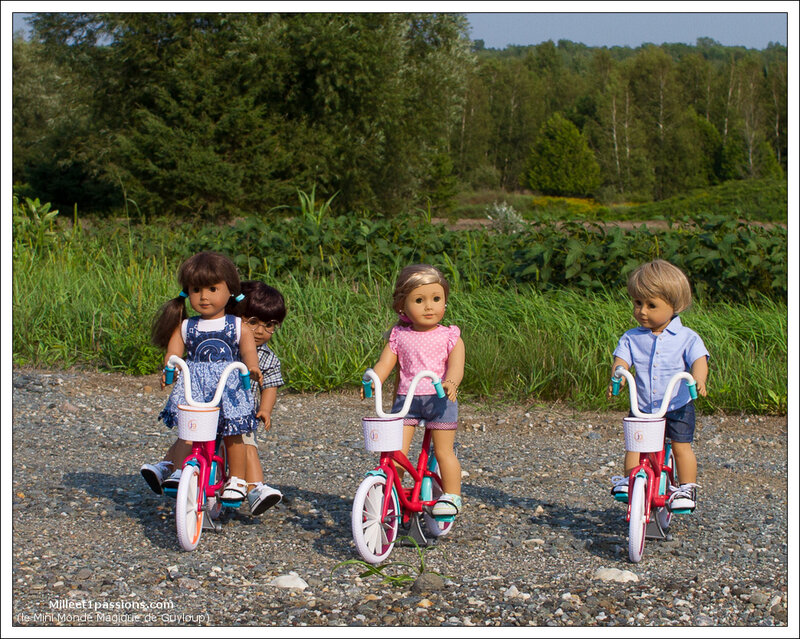 Mais justement, Ludovic n'y fait pas attention car il est en train de se chamailler avec sa soeur Isabelle !
Et paf... c'est l'accident ! Ludovic est tombé.
Les autres lâchent leur vélo et se précipitent vers lui.
But precisely Ludovic does not notice a big rock because it is bickering with his sister Isabelle !
And bam ... it's an accident ! Ludovic fell.
Other unleash their bike and rush toward him.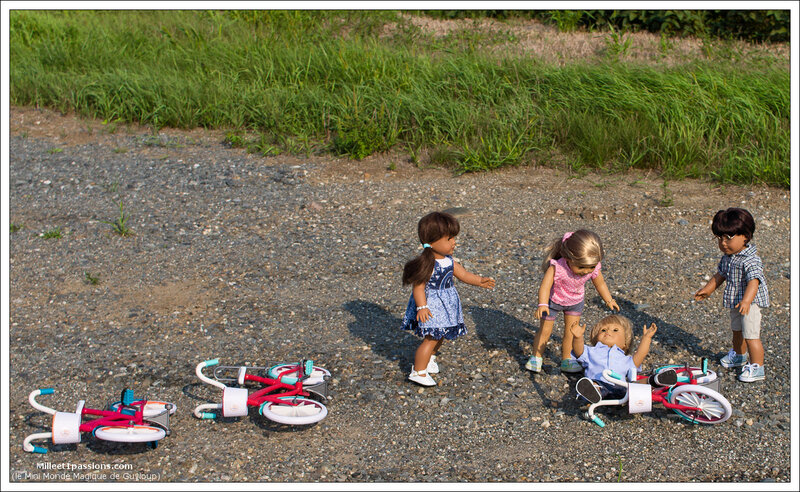 Isabelle est très inquiète pour son frère et se penche pour l'aider à se relever.
- Oh la la, j'ai super mal au pied, lui dit-il, je me le suis tordu et en plus la pédale a cogné très fort dessus quand je suis tombé.
Isabelle is very worried about her brother and leans in to help him up.
- Oh dear, my foot hurts a lot, he said, it twisted and in addition the pedal hard hit on it when I fell.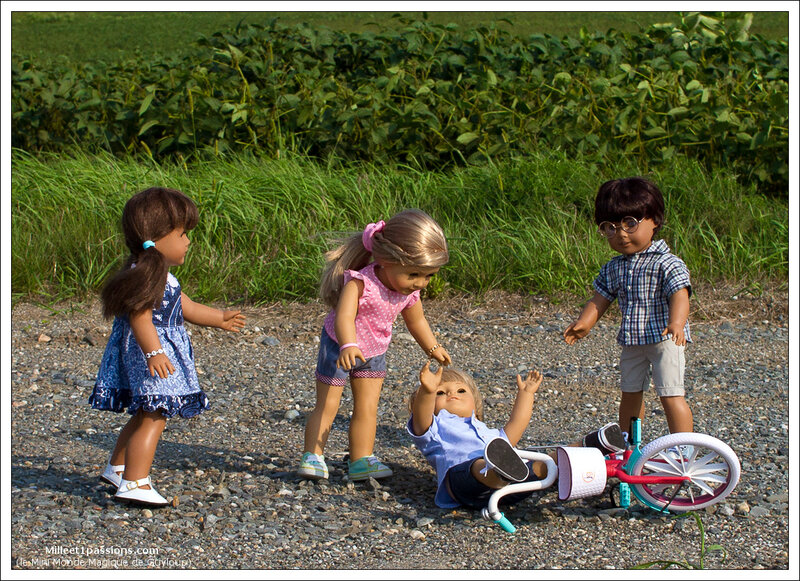 - Et bien, heureusement qu'on est venu avec trois vélos seulement dit Émilie.
Ils rentrent lentement ; Ludovic confie son vélo à Éthan et monte derrière sa soeur sur le porte-bagage.
Arrivés à la maison, Mamounette a emmené Ludovic aux urgences.
Comme ça se passe au Dollsland, il n'y aucune attente, et les services médicaux des hopitaux sont absolument parfaits.
Aussitôt pris en charge, Ludovic passe une radio.
Verdict : une légère fracture de la maléole, mais nécessitant quand même un plâtre pendant au moins 3 semaines :-(((
- Well, fortunately we came with three bikes only, said Emilie.
They go slowly ; Ludovic lends his bike to Ethan and sits down behind her sister on the rack.
Got home, Mommy took Ludovic emergencies.
As it happens at Dollsland, there is no waiting, and medical services in hospitals are absolutely perfect.
Immediately supported, Ludovic pass radio.
Verdict : a slight fracture of the malleolus, but still need a cast for at least 3 weeks: - (((
Le lendemain, Ethan et Émilie viennent chez Ludovic et Isabelle.
Ils se promènent autour de la maison, et Émilie dit :
- Ludo a trop de mal à se déplacer, on ne va pas pouvoir aller se promener jusqu'au village pour s'acheter une glace comme on avait prévu.
The next day, Ethan and Emily come to Ludovic and Isabelle.
They walk around the house, and Emily says :
- Ludo too hurt to move, we will not be able to go walking to the village to buy an ice cream as we had expected.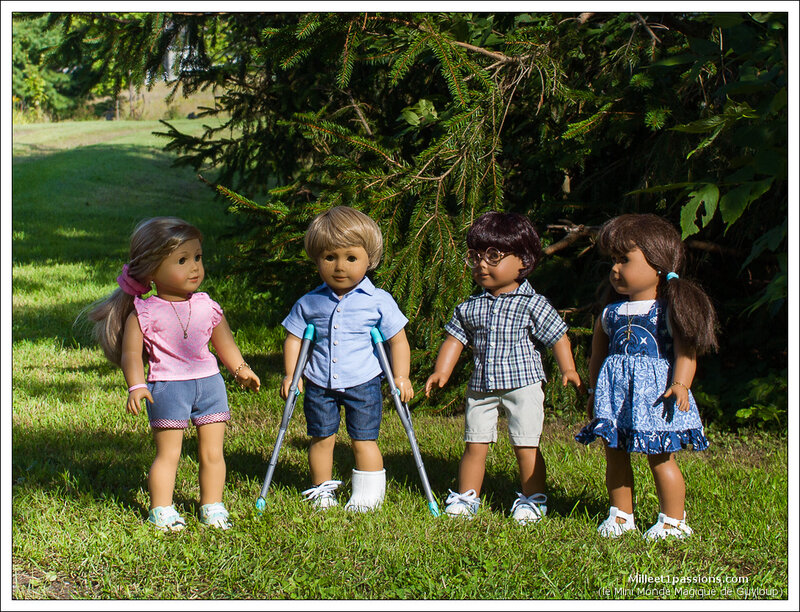 - Oh, ça, c'est pas grave, répond Isabelle, je t'assure que Mamounette a tout prévu pour consoler Ludovic, et nous aussi, par la même occasion.
- Oh, that's okay, meets Isabelle, I assure you Mommy has everything to console Ludovic, and us at the same time.
- Mais oui, installez-vous, leur dit Ludovic, et regardez ce que Mamounette nous a préparé !
- Yes, sit, Ludovic said, and look what Mommy prepared us !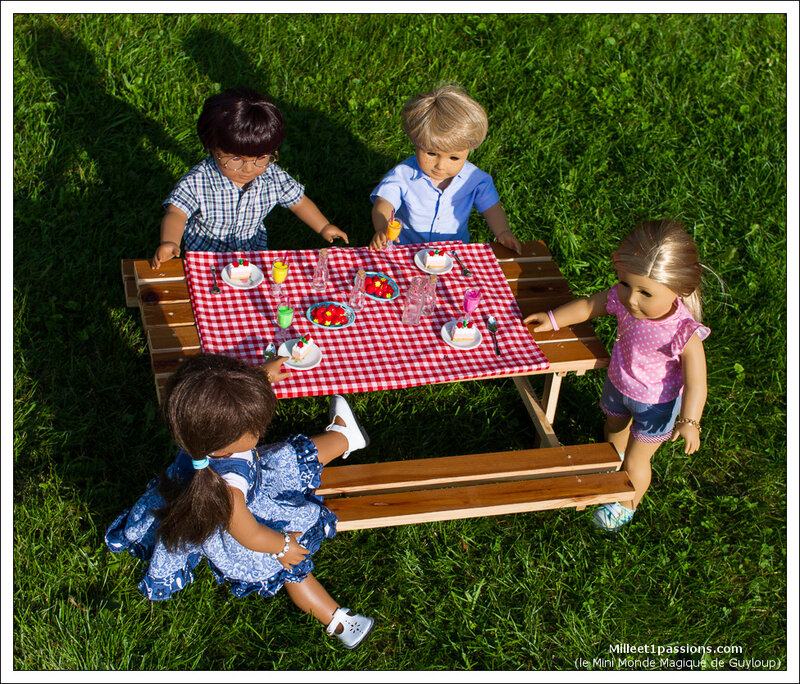 - Waouh ! du gâteau fraisier, avec plein de crème Chantilly et des fraises supplémentaires, c'est génial ! dit Ethan.
- Whoa ! Strawberry cake with lots of whipped cream and extra strawberries, it's great ! Ethan said.
- Et des jus de fruits pressés en plus !
- And squeezed fruit juices in add !
- Vous avez vraiment une super Mamounette, conclut Émilie.
- Ça c'est bien vrai, répond Isabelle, elle nous aime tous beaucoup !
- You really have a great Mommy concludes Emilie.
- That's right, meets Isabelle, she loves us all so much !
À bientôt
Bon lundi, et bonne rentrée aux enfants canadiens.
See you soon
Good Monday and welcome back to school to Canadian children.
♥♥♥
31 juillet 2018
Youpiiii, les images se réaffichent sur les blogs de Canalblog.
J'en profite pour vous montrer les folies des enfants !
️Isabelle (Isa), et son frère Ludovic (Ludo), sont allés faire du vélo avec leurs amis, Emilie et son frère Ethan (le petit copain d'Isabelle).
Isa et Ethan ont fait des acrobaties... sous l'œil admiratif, mais un peu inquiet d'Emilie et Ludo !
Yay, the images are posted on the blogs of Canalblog.
I take this opportunity to show you the follies of children!
Isabelle (Isa), and her brother Ludovic (Ludo), went cycling with their friends, Emilie and her brother Ethan (Isabelle's boyfriend).
Isa and Ethan have done acrobatics ... under the admiring gaze, but a little worried, of Emilie and Ludo !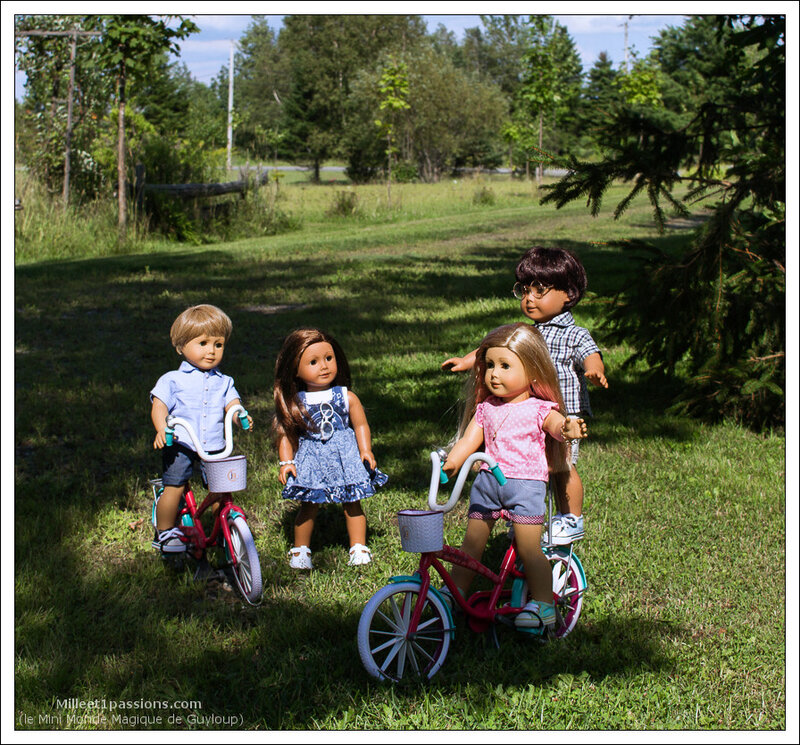 07 juillet 2018
En fin d'après-midi, j'ai croisé Charlotte et Nanea (ainsi que Coconut dans le panier) qui revenaient d'une promenade à vélo.
In the late afternoon, I met Charlotte and Nanea (and Coconut in the basket) who were returning from a bike ride.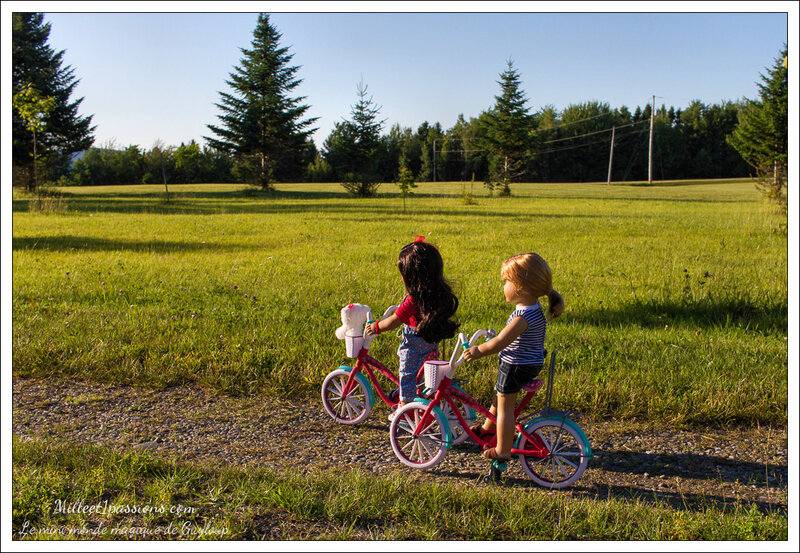 20° de ressenti en moins... cela fait tellement de bien, on revit, on peut ressortir. Et comme vous le voyez, les poupées aussi !!
20 ° felt less ... it's so good, we live again, we can come out. And as you see, the dolls too !!
Bon dimanche / Have a nice Sunday
♥♥♥