11 septembre 2018
Et de 4 gilets ! cette fois j'ai utilisé les 4 pelotes multicolores que j'avais trouvées chez Michaels (gamme Abby). Malheureusement, ils ne les ont pas continuées cet automne et il n'y en a plus depuis que la nouvelle collection de saison est arrivée.
And 4 vests! this time I used the 4 multicolored balls that I had found in Michaels (Abby range). Unfortunately, they have not continued this fall and there is none since the new season collection has arrived.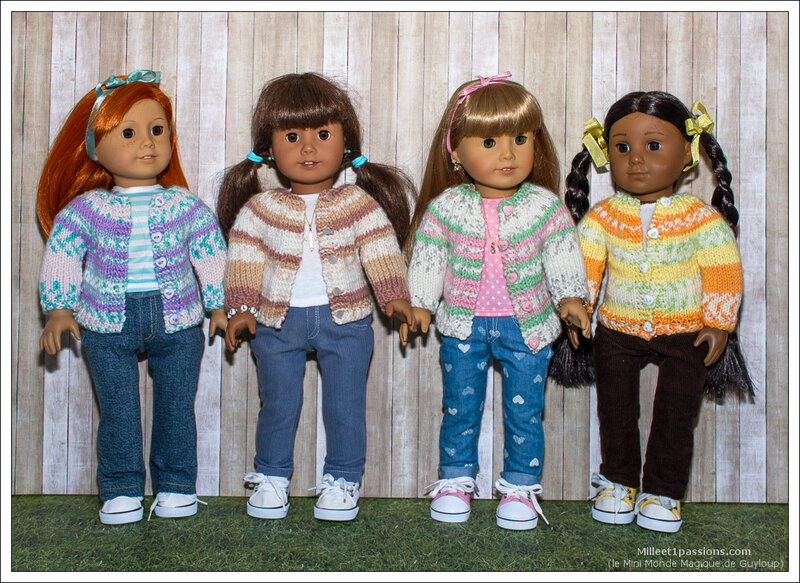 et voici 2 pulls tricotés avec la même méthode que les gilets ci-dessus :
and here are 2 sweaters knitted with the same method as the vests above :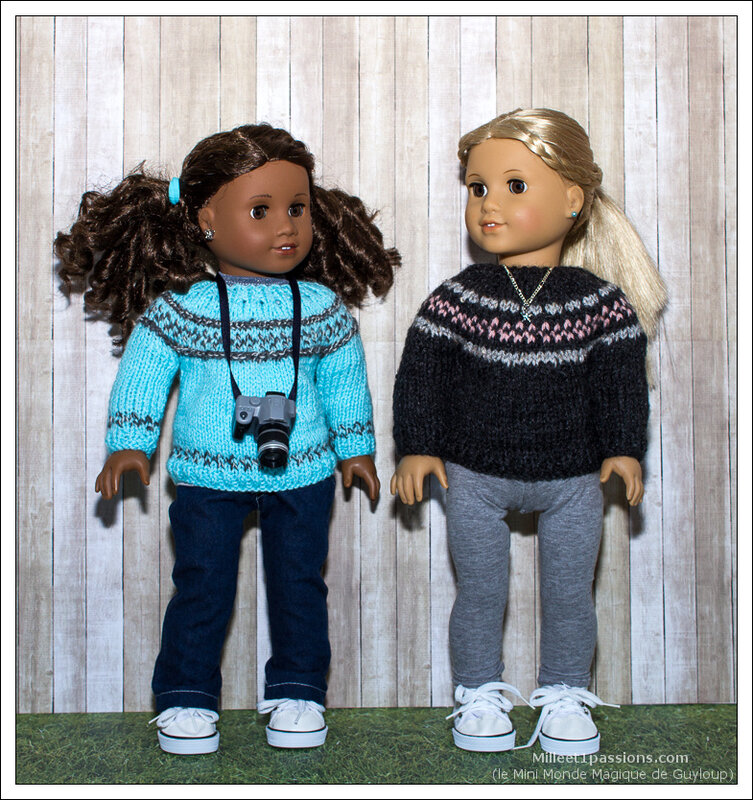 En effet, l'avantage de ce pull-gilet est qu'il est réversible, et peut être mis d'une manière ou d'une autre, selon l'envie du jour.
J'ai fait un tutoriel "pour débutante" sur ce pull-gilet pour poupées 18 pouces/46 cm de type American Girls et Journey girls.
Ma méthode n'est peut être pas très orthodoxe, mais elle est très efficace !
Vous pouvez le télécharger ici : TUTORIEL_PULL_GILET (un commentaire serait apprécié !)
Que mes amies anglophones soient patientes, je sais qu'on me l'a demandé plusieurs fois, mais il me faut le temps de raduire ce tutoriel avec les expressions et abbréviation du tricot en anglais car elles sont très très différentes des expressions en français.
Indeed, the advantage of this sweater-vest is that it is reversible, and can be put one way or another, according to the desire of the day.
I made a tutorial "for beginner" on this sweater-vest for 18 inches dolls as American Girls and Journey girls.
My method may not be very orthodox, but it is very effective!
You can download it here in french : TUTORIEL_PULL_GILET
That my English-speaking friends are patient, I know that I have been asked several times, but I need time to translate this tutorial with the expressions and abbreviation of knitting in English because they are very very different from the expressions in French.
♥♥♥
10 mars 2018
Aujourd'hui, j'ai cousu pour Rachel (Journey Girl édition limitée 2017) un sweat shirt et une visière.
Rachel est une passionnée de course à pied ; elle envisage même de faire un ou deux marathons cet année ! alors elle s'entraine, elle court... Meredith lui a offert un husky de la dernière portée de sa chienne et il l'accompagne toujours dans ses entrainements. Je pense qu'elle arrivera première, alors j'ai mis un chiffre 1 sur son sweat shirt et une étoile sur la visière !!!
Today, I sewed for Rachel (Journey Girl limited edition 2017) a sweatshirt and a visor.
Rachel is passionate about running; she even plans to do one or two marathons this year! then she trains, she runs ... Meredith offered him a husky from the last litter of hierdog and he always accompanies him in his training. I think she will arrive first, so I put a number 1 on her sweatshirt and a star on the visor !!!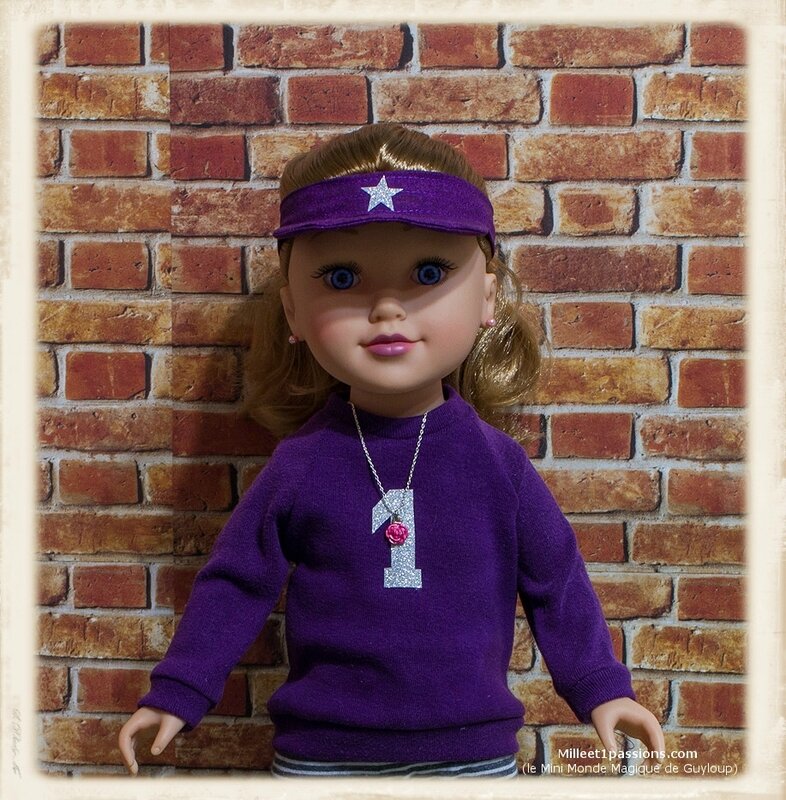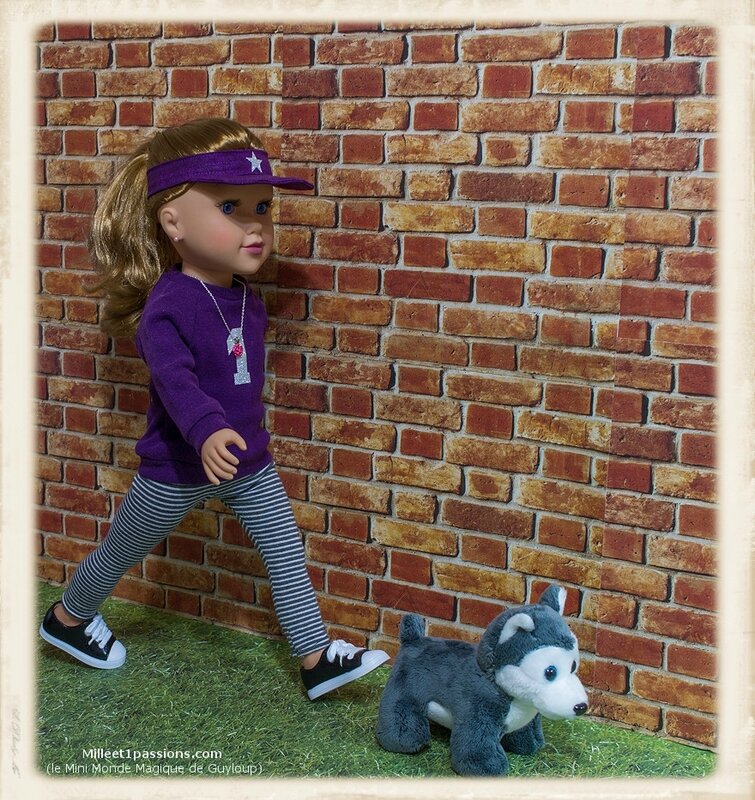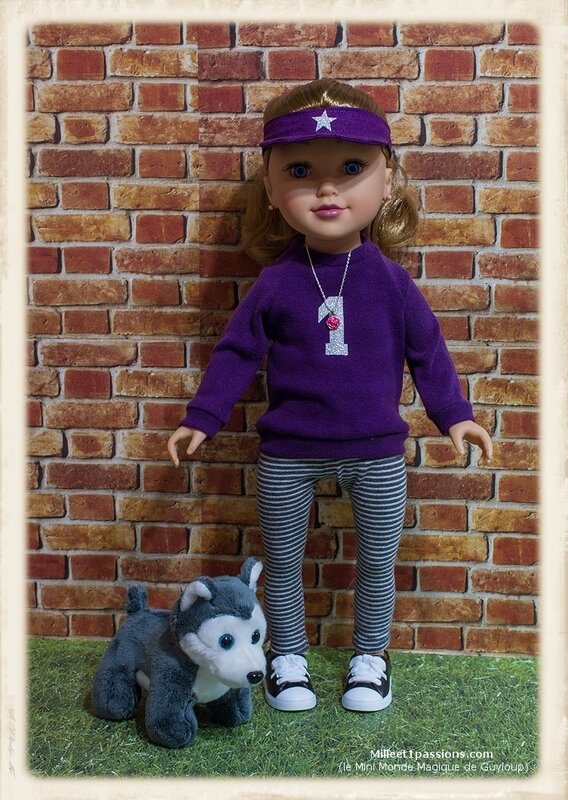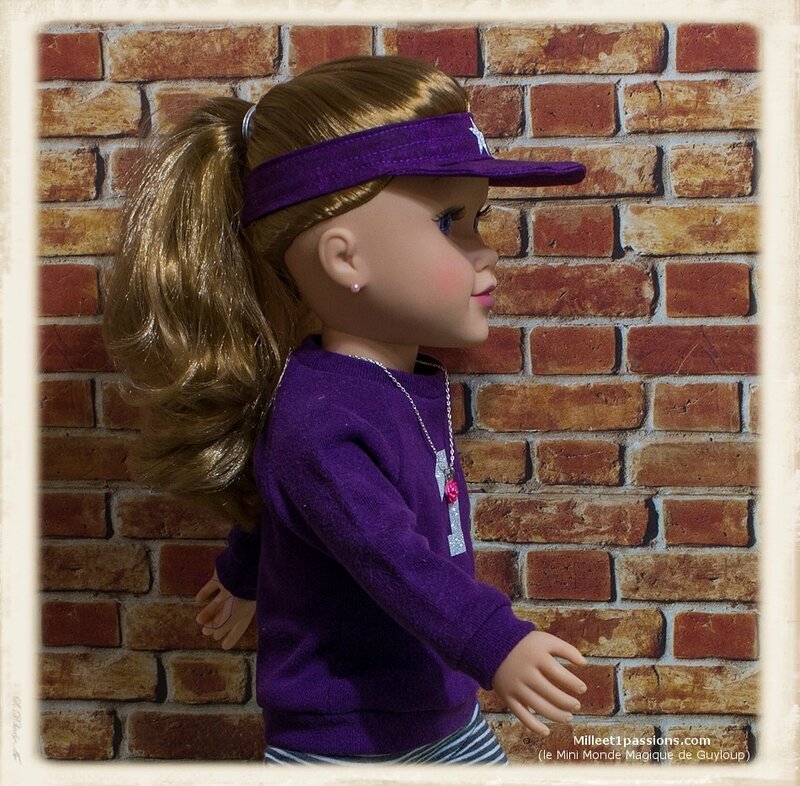 Le chiffre et l'étoile sont découpés avec la Silhoutte Caméo et thermocollés sur le tissu.
Si vous voulez faire vous aussi une visière pour votre poupée 18 pouces, voici le patron à télécharger ci-dessous, et la marche à suivre ;
1) découpez une visière de la taille et forme de votre choix dans du carton, puis de découpez 2 épaisseurs de tissu de 1/4 " (6 mm) plus grand tout le tour que cette visière ;
2) cousez les 2 tissus endroit contre endroit sur la partie courbe extérieure, retournez, repassez, puis v glissez le carton dedans ; surjetez la partie ouverte ;
3) coupez une longue bande de 13 " (33 cm), surjetez un côté, pliez en 3 et repassez en laissant la partie surjetée sur l'extérieur ;
4) insérez la visière bien au milieu entre les tissus repliés, cousez tout le long pour fermer et fixer la visière en même temps ; cousez à nouveau 2 niveaux de couture droite pour donner un peu de fermeté à la bande de tissu ;
5) pliez un peu les extrémités de la bande, et fixez-y du velcro pour attacher la visière autour de la tête.
Number one and star are cut with the Silhoutte Cameo and heat-sealed on the fabric.
If you want to make a visor for your 18 inch doll too, here is the pattern to download below, and the procedure to follow;
1) print and cut a visor from cardboard, then cut 2 layers of fabric 1/4 "(6 mm) larger all the way around this visor;
2) sew the 2 fabrics right side up on the outside curved part, turn it back, iron, slide the cardboard in ; serge the open part;
3) cut a long strip of 13 " (33 cm), serge one side, fold in 3 and iron leaving the serged part on the outside;
4) Insert the visor in the middle between folded fabrics, sew all the way to close and secure the visor at the same time ; sew 2 levels of straight seam again to give some firmness to the fabric band ;
5) bend the ends of the band a bit, and sew velcro to attach the visor around the head.
Pattern here - Patron ici : visi_re
♥♥♥
12 décembre 2017
Bien couvertes pour affronter la météo du jour (il neige toujours), Jordana et son amie sont allées prendre un bon bol d'air frais.
Vous noterez les gants, les écharpes, la capuche du manteau et le protège-oreilles : elles ne peuvent plus râler qu'elles ont froid !
Cliquez sur la photo pour la voir plus détaillée.
Well covered to face the weather of the day (it is still snowing), Jordana and her friend went to take a good breath of fresh air.
You'll notice the gloves, the scarves, the hood of the coat and the ear protectors: they can not grumble any more because than they are cold !
Click on the picture to see more detail.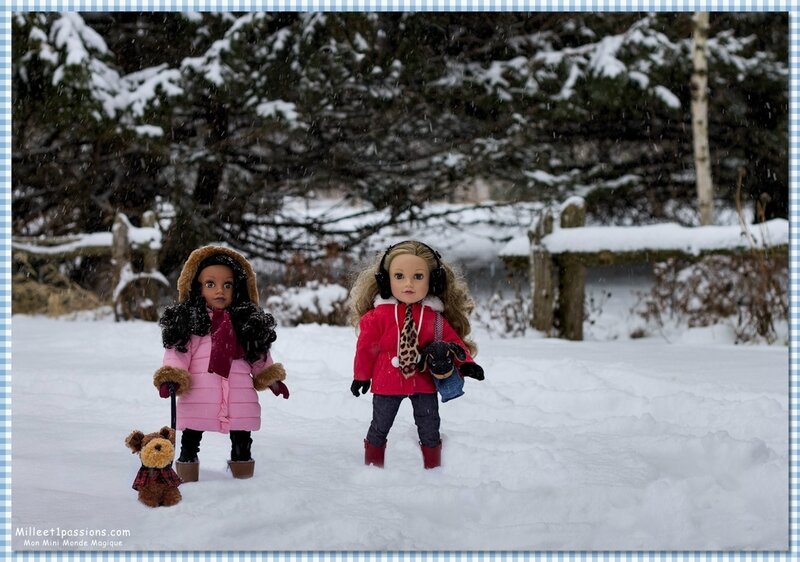 Pour faire le protège-oreilles noir de Jordana, ou le blanc de de Meredith (photo du message précédent) :
- j'ai coupé une bande de 1,5 cm de large (5/8") dans un flacon du produit avec lequel je nettoie ma peau ; le flacon de plastique assez rigide conserve sa forme et a la taille idéale pour la tête de la poupée ; j'ai ouvert l'anneau obtenu pour avoir un bandeau serre-tête :
To make Jordana's black earmuff, or Meredith's white (picture from the previous post):
- I cut a 1.5 cm wide band (5/8 ") in a bottle of the product that I clean my skin with ; the rather rigid plastic bottle retains its shape and has the ideal size for the head of the doll ; I opened the ring obtained to have a band headband :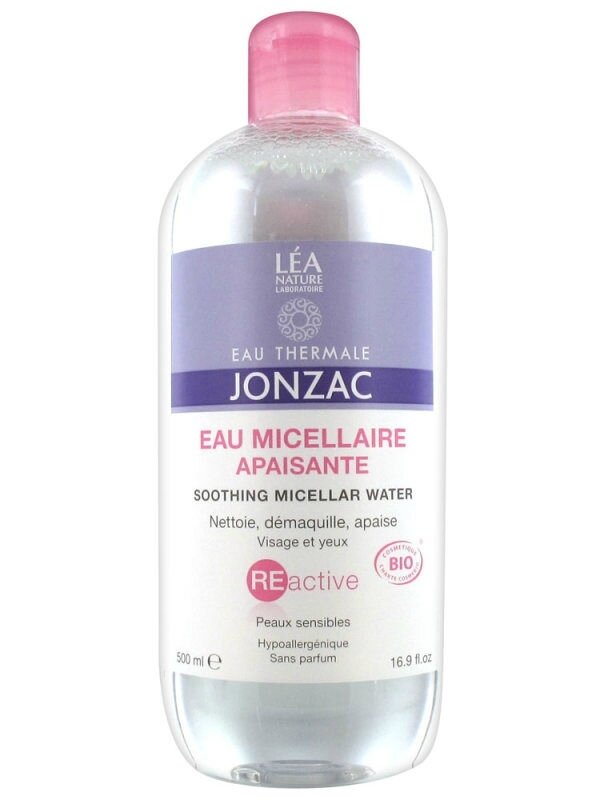 - j'ai recouvert ce bandeau de plastique avec du tissu (collé avec de la colle blanche "à tout faire" Tacky Glue, flacon doré) - j'ai coupé 2 cercles de carton rigide de 4 cm (1 3/4") de diamètre ;
- j'ai ensuite coupé 2 cercles de 7 cm (3") dans de la peluche (en l'occurence, des gilets pour enfants, blanc et noir, trouvés chez notre genre d'Emmaüs local), mais on peut aussi utiliser de la feutrine ;
- j'ai collé les cercles de carton au centre des certcles de peluche (bien sur, du côté sans poils !) ; puis j'ai cranté le tour de la peluche en 8 parties, et j'ai coupé (supprimé) la 8e partie pour faire le passage du cerceau serre-tête ;
- j'ai collé les deux extrémités du bandeau sur ces 2 cercles de peluche cartonnée (côté carton ), là où j'ai supprimé la 8e partie de peluche ;
- j'ai rabattu et collé les 7 parties de peluche restantes sur le carton.
- I covered this strip of plastic with fabric (glued with white glue "to do everything" Tacky Glue, golden bottle) ;
- I cut 2 circles of rigid cardboard 4 cm (1 3/4 ") of diameter ;
- I then cut 2 circles 7 cm (3 ") in plush fabric (in this case, vests for children, white and black, found in our kind of local Goodwill, Salvation army), but you can also use felt ;
- I glued the circles of cardboard in the center of the plushed fabric (of course, on the hairless side !) ; then I scoured the lap of the plush in 8 parts, and I cut (deleted) the 8th part to make the passage of the headband hoop ;
- I glued the two ends of the headband on these 2 circles plush cardboard (cardboard side), where I removed the 8th part of plush ;
- I folded and glued the remaining 7 pieces of plush fabric on the cardboard.
Une fois séché, voici ce que vous obtiendrez :
Once dried, here's what you'll get:
À bientôt / See you soon,
♥♥♥
27 novembre 2017
Comme vous vous en souvenez peut-être, j'ai déjà transformé des poupées filles en poupées garçons (voir ICI et ICI ).
Cette fois, je voulais un garçon noir.
Je m'interrogeais sur les cheveux : comment les couper, et les friser.... et j'ai trouvé la solution en 3 mots : couper, raser, coller.
Comme pour les autres garçons, j'ai acheté une poupée fille de My Life as (marque des poupées 18 pouces/45 cm du supermarché Walmart), que voici :
As you may remember, I have already turned dolls girls boys dolls (see HERE and HERE).
This time, I wanted a black boy.
I wondered about the hair : how to cut, and curl .... and I found the solution in 3 words: cut, shave, paste.
As for other boys, I bought a girl doll from My Life as (brand of dolls 18 inches / 45 cm Walmart supermarket), here: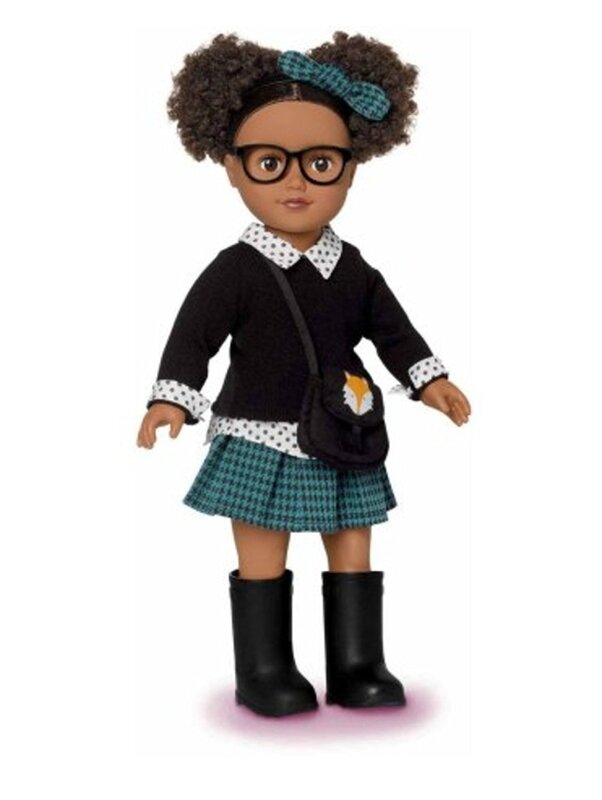 J'ai coupé les couettes sur toute leur partie frisée :
I cut the tips of the hair on all their curly part: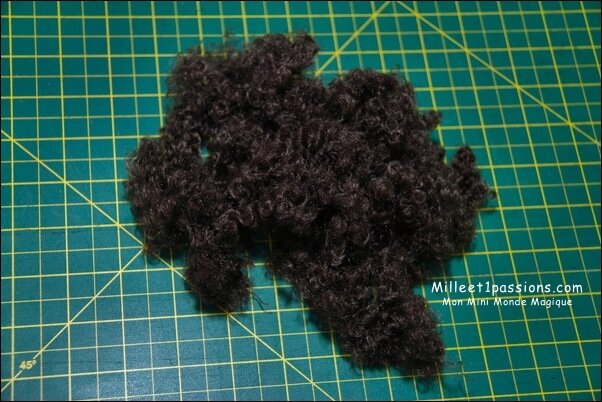 J'ai ensuite rasé totalement la tête de la poupée,
j'ai pris ensuite de la colle Tacky Glue (le flacon doré ; elle devient transparente au séchage),
et j'ai collé les cheveux coupés (en appuyant fortement à plusieurs reprises régulièrement pendant une heure).
Comme pour les autres garçons, j'ai effacé les cils, le fard à joues et le rouge à lèvre, épaissi les sourcils, et recoupé les cils trop longs.
I then completely shaved the head of the doll,
I then took Tacky Glue glue (the golden bottle, it becomes transparent on drying),
and I stuck the cut hair (pressing strongly several times regularly for one hour).
As for the other boys, I erased the lashes, the blush and the lipstick, thickened the eyebrows, and cut the eyelashes too long.
Et voilà le résultat : Chavonne vous présente Thomas, son petit cousin :
And here's the result: Chavonne introduces you to Thomas, her little cousin :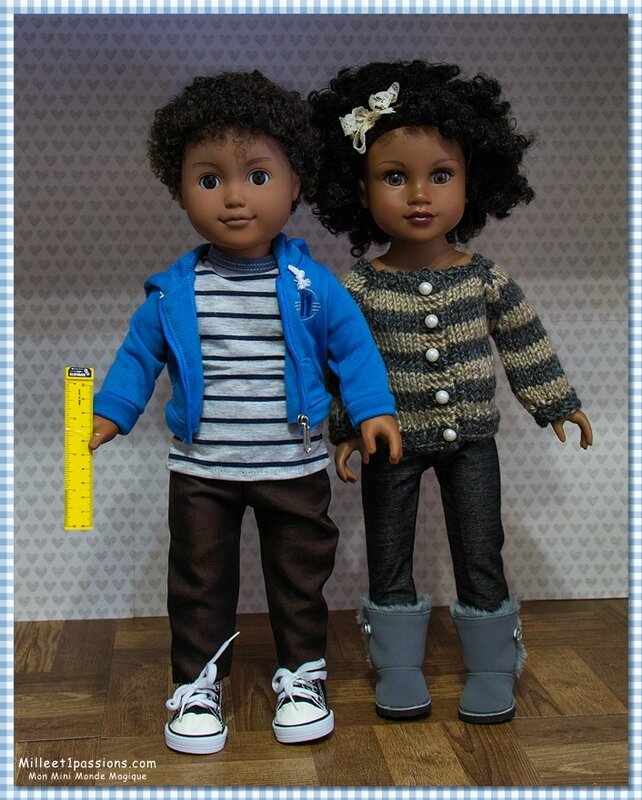 Gros plans sur ce ravissant jeune homme :
Close-ups of this lovely young boy :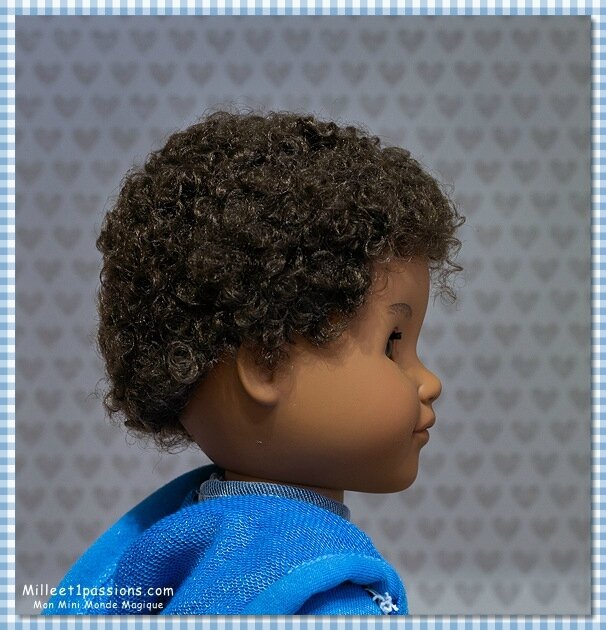 À bientôt / See you soon,
♥♥♥
13 mai 2017
Plusieurs personnes m'ont demandé de leur montrer en images comment faire des tongs pour les poupées ; voici un petit tutoriel.
Several people asked me to show them in pictures how to make flip flops for the dolls; Here is a little tutorial.
Tout dabord, il vous faut une poupée dont les pieds sont en matière "pleine" au niveau des orteils ; c'est le cas de la plupart, mais je vous conseille quand même de vérifier en piquant une aiguille dans la partie du pied se situant juste avant le début des orteils.
Si c'est bon, voici la méthode :
First, you need a doll whose feet are in "full" material at the toes; This is the case for most, but I still advise you to check by stitching a needle in the part of the foot located just before the beginning of the toes.
If it's good, here's the method:
1) on commence par découper les formes suivantes dans du carton et dans une plaque de mousse de couleur (boutiques de scrapbooking).
The following shapes are first cut out of cardboard and a colored foam sheet (scrapbooking shops).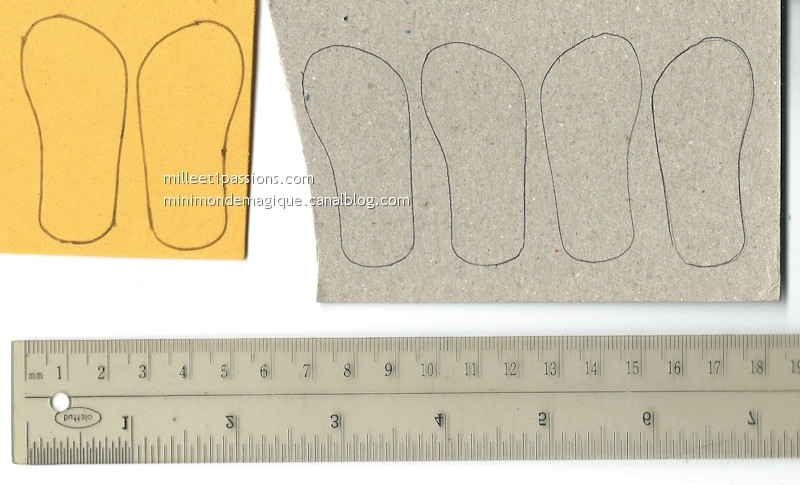 En cliquant ICI Scan_tongs vous obtiendrez la taille originale pour les poupées Teen Trends (17 pouces / 43 centimètres), dont le pied mesure 5 cm de longueur x 2,5 de large, soit 2 pouces x 1 pouce ; à adapter selon la poupée à qui vous destinez ces tongs.
By clicking Here : Scan_tongs you will get the original size for the Teen Trends (17 inches / 43 centimeters), whose foot is 5 cm long x 2.5 wide, 2 inches x 1 inch; To adapt according to the doll to whom you intend these flip-flops.
2) on découpe ces formes, puis on perce un trou à l'emplacement du passage du ruban (se baser sur le pied de la poupée pour déterminer l'endroit) dans une forme de mousse + une forme de carton, ceci pour la droite et pour la gauche :
Cut these shapes, then drill a hole at the location of the ribbon (based on the doll's foot to determine the location) in a foam form + a cardboard shape, this for the right and for the left: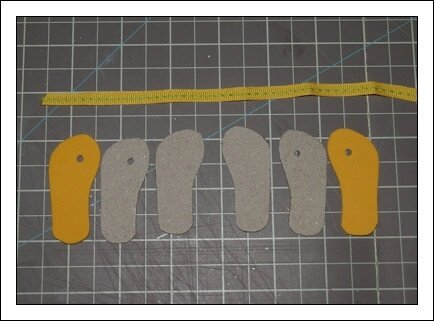 (le ruban 5 mm que j'ai utilisé est un peu trop large, un 3 mm est idéal)
(the 5 mm ribbon I used is a little too wide, a 3 mm is ideal)
3) on colle une des formes de mousse sur la forme correspondante de carton percé, puis on passe le ruban plié en 2 dans le trou, et on le fixe en dessous :
one of the forms of foam is bonded to the corresponding form of the punched cardboard, then the folded ribbon is passed through the hole and fixed below: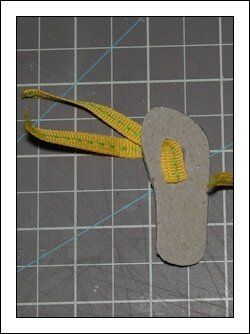 4) arrive "l'opération chirurgicale" (pour les âmes sensibles, on avertit la poupée qu'elle ne ressentira aucune douleur !!). On pose la lame du cutter à la naissance du gros orteil, et en appuyant légérement on trace une première ligne de découpe vers l'extérieur afin de ne pas déraper dans la découpe définitive ; on se replace à la naissance du gros orteil, et en appuyant très fort, on le sépare totalement du doigt voisin.
arrives "the surgical operation" (for the sensitive souls, one warns the doll that she will feel no pain !!). The blade of the cutter is placed at the beginning of the big toe, and by lightly pressing a first cutting line is drawn outwards so as not to slip into the final cut; We return to the beginingof the big toe, and pressing very hard, we completely separate it from the neighboring finger.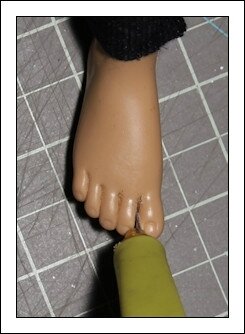 5) on écarte un peu le gros orteil (pas trop fort pour ne pas risquer de le casser, juste un peu avec l'ongle ou la lame du cutter), et on glisse les 2 rubans :
we move the big toe a little (not too strong, so as not to risk breaking it, just a little with the nail or the blade of the cutter), and we slip the 2 ribbons: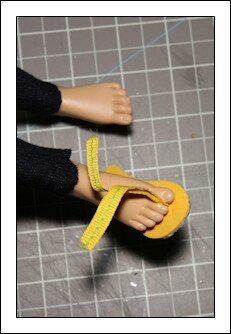 6) on regarde en dessous du pied, on met de la colle, on y fixe les 2 bandes de rubans :
we look under the foot, we put glue, we fix the 2 strips of ribbons: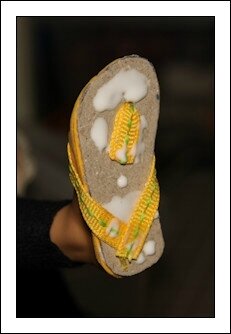 7) on recouvre le tout avec la forme de carton restante :
cover the whole with the remaining cardboard form: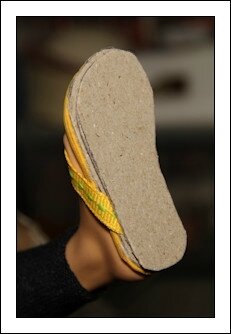 À ce moment là, je pose quelques pinces Wonder Clips (voir ICI ; j'adore ces pinces, elles servent pour tout) afin de bien presser les 3 épaisseurs et obtenir une semelle régulière.
At this point, I put a few Wonder Clips (see HERE, I love these clips, they serve for everything) to press the 3 thicknesses well and get a regular soles.
Après séchage complet, retirer les tongs des pieds de la poupée, et poncer légèrement le tour pour uniformiser le contour.
After complete drying, remove the flip-flops from the doll's feet, and lightly sand the contour to even out the outline.
C'est fini.
It's finish.
Les lui ré-enfiler : on voit alors voit une poupée ravie de ses nouvelles tongs !
Put them on anew : then we see a doll happy with her new flip-flops!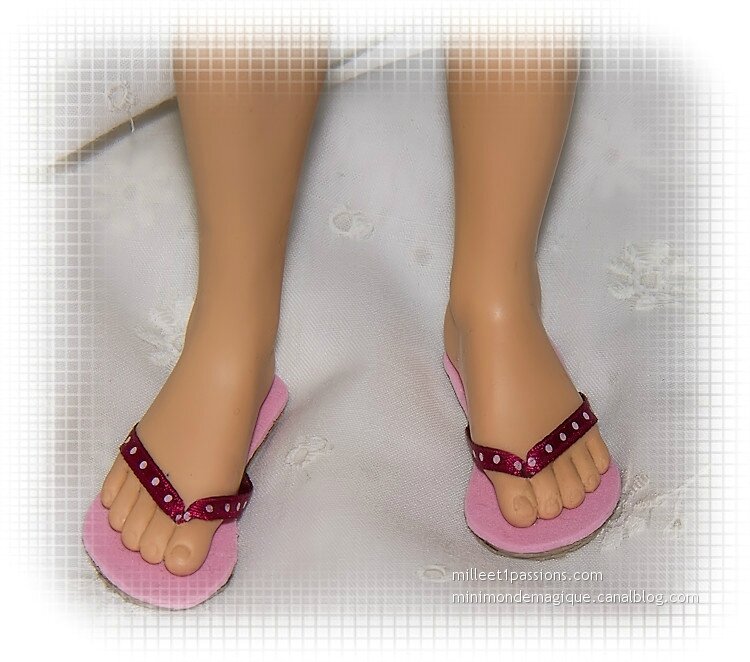 Ici, c'est Kianna, la reine du smoothie aux fruits qui vous remercie d'avoir lu ce tutoriel :-)
Here is Kianna, the queen of the fruit smoothie who thanks you for reading this tutorial :-)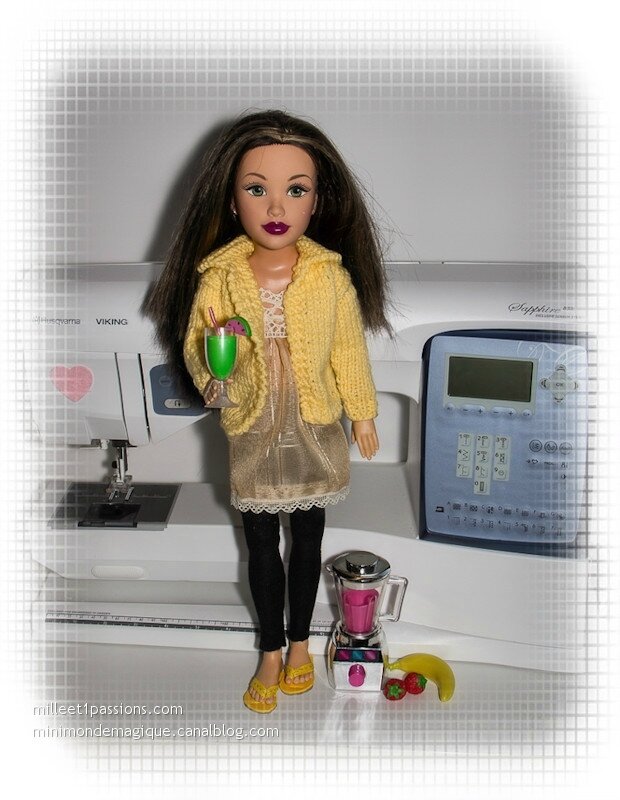 À bientôt - See you soon
Guyloup ♥