15 décembre 2017
Kyla, version 2017, est arrivée hier... elle a le teint très mat, et sera la demi-soeur de Thomas. Sachant qu'elle allait arriver, je lui avais tricoté un pull d'une teinte vive pour réhausser son joli teint.
Kyla, version 2017, arrived yesterday ... she has a very dull complexion, and will be the half-sister of Thomas. Knowing she was coming, I had knitted a sweater of a bright shade to enhance her pretty complexion.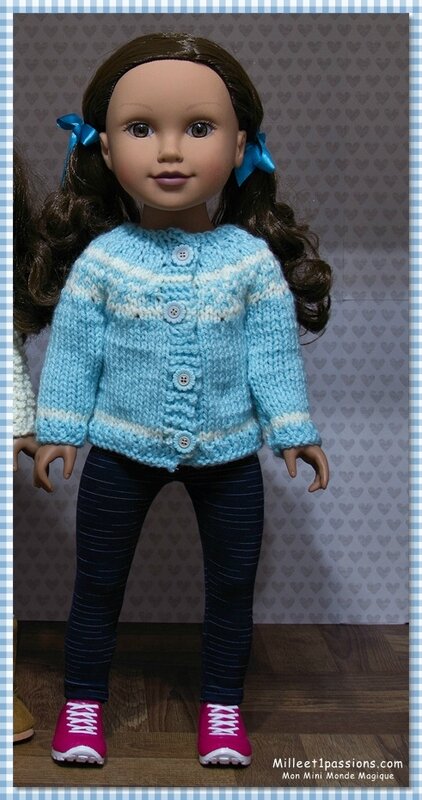 Et elle ne semble pas plus sage que les autres ! voyez-donc, elle a aussitôt rejoint Thomas et Mikaella sur l'escalier et les encourage...
mais le pire, c'est qu'elle a immédiatement lié amitié avec la douce Melody (Meredith 2011) qui s'est mise aussitôt à vouloir elle aussi participer aux bêtises :-)
And she does not seem wiser than the others! See, she immediately joined Thomas and Mikaella on the stairs and encouraged them ...
but the worst thing is that she immediately made friends with the sweet Melody (Meredith 2011) who immediately started wanting to participate in the nonsense :-)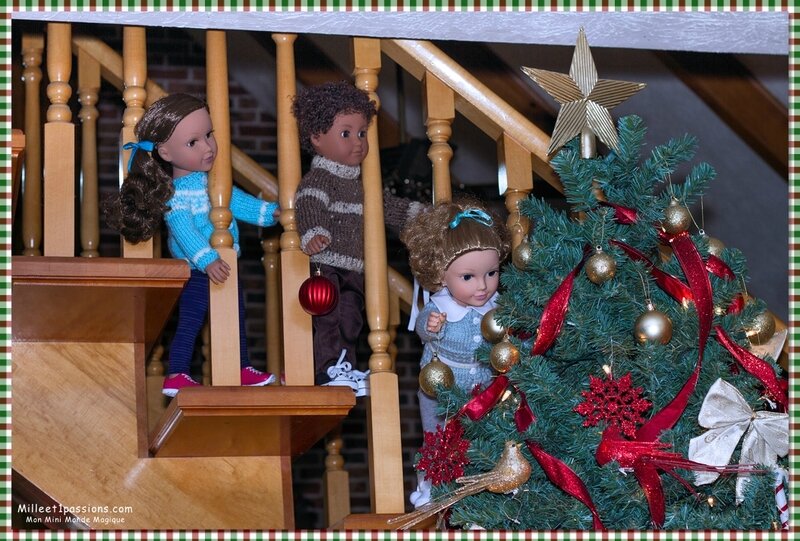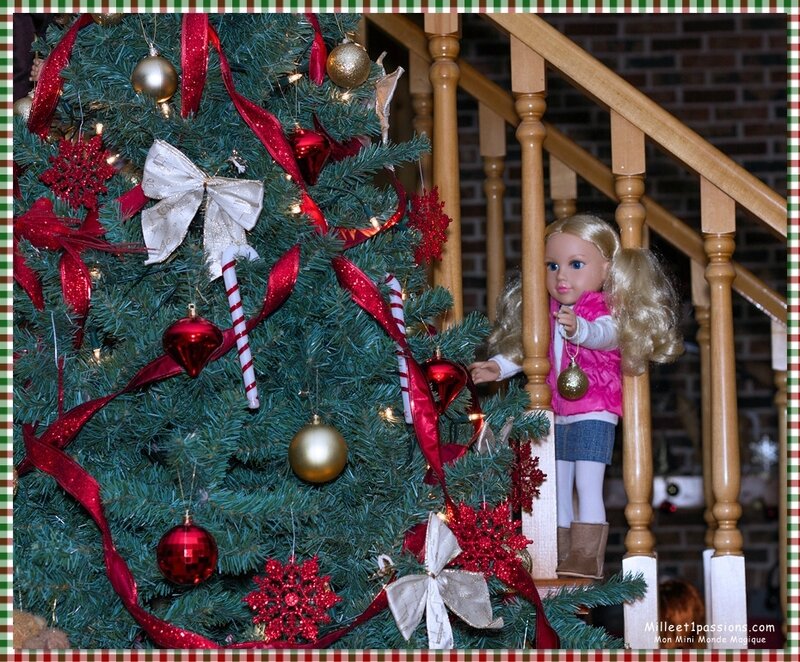 Pas facile à gérer ces enfants là !
Not easy to handle these kids there !
À bientôt, See you soon,
♥♥♥
12 décembre 2017
Bien couvertes pour affronter la météo du jour (il neige toujours), Jordana et son amie sont allées prendre un bon bol d'air frais.
Vous noterez les gants, les écharpes, la capuche du manteau et le protège-oreilles : elles ne peuvent plus râler qu'elles ont froid !
Cliquez sur la photo pour la voir plus détaillée.
Well covered to face the weather of the day (it is still snowing), Jordana and her friend went to take a good breath of fresh air.
You'll notice the gloves, the scarves, the hood of the coat and the ear protectors: they can not grumble any more because than they are cold !
Click on the picture to see more detail.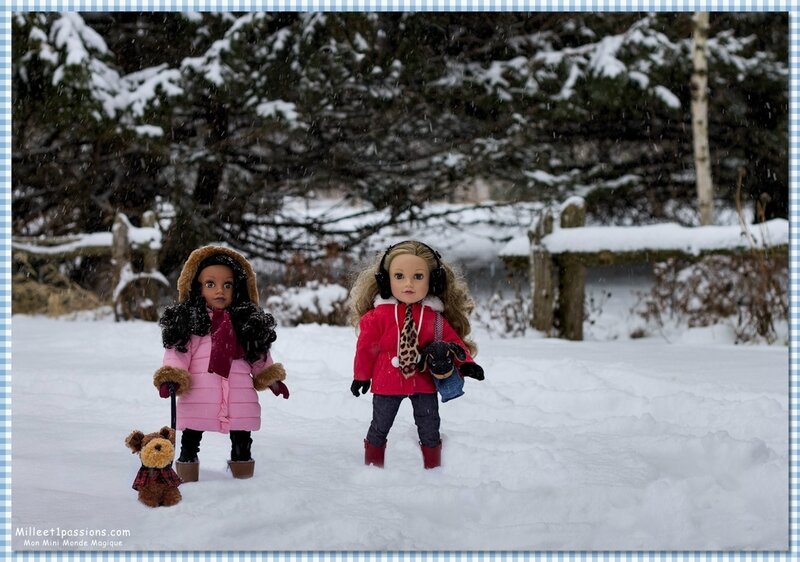 Pour faire le protège-oreilles noir de Jordana, ou le blanc de de Meredith (photo du message précédent) :
- j'ai coupé une bande de 1,5 cm de large (5/8") dans un flacon du produit avec lequel je nettoie ma peau ; le flacon de plastique assez rigide conserve sa forme et a la taille idéale pour la tête de la poupée ; j'ai ouvert l'anneau obtenu pour avoir un bandeau serre-tête :
To make Jordana's black earmuff, or Meredith's white (picture from the previous post):
- I cut a 1.5 cm wide band (5/8 ") in a bottle of the product that I clean my skin with ; the rather rigid plastic bottle retains its shape and has the ideal size for the head of the doll ; I opened the ring obtained to have a band headband :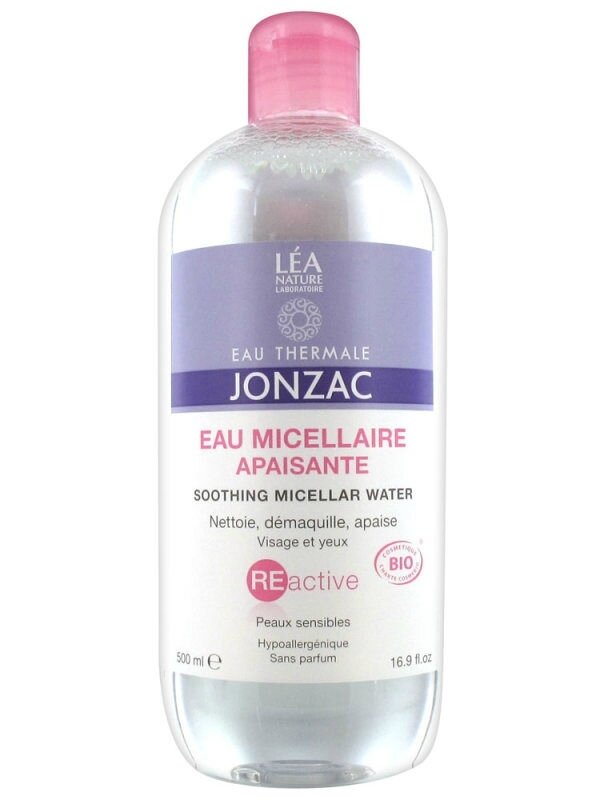 - j'ai recouvert ce bandeau de plastique avec du tissu (collé avec de la colle blanche "à tout faire" Tacky Glue, flacon doré) - j'ai coupé 2 cercles de carton rigide de 4 cm (1 3/4") de diamètre ;
- j'ai ensuite coupé 2 cercles de 7 cm (3") dans de la peluche (en l'occurence, des gilets pour enfants, blanc et noir, trouvés chez notre genre d'Emmaüs local), mais on peut aussi utiliser de la feutrine ;
- j'ai collé les cercles de carton au centre des certcles de peluche (bien sur, du côté sans poils !) ; puis j'ai cranté le tour de la peluche en 8 parties, et j'ai coupé (supprimé) la 8e partie pour faire le passage du cerceau serre-tête ;
- j'ai collé les deux extrémités du bandeau sur ces 2 cercles de peluche cartonnée (côté carton ), là où j'ai supprimé la 8e partie de peluche ;
- j'ai rabattu et collé les 7 parties de peluche restantes sur le carton.
- I covered this strip of plastic with fabric (glued with white glue "to do everything" Tacky Glue, golden bottle) ;
- I cut 2 circles of rigid cardboard 4 cm (1 3/4 ") of diameter ;
- I then cut 2 circles 7 cm (3 ") in plush fabric (in this case, vests for children, white and black, found in our kind of local Goodwill, Salvation army), but you can also use felt ;
- I glued the circles of cardboard in the center of the plushed fabric (of course, on the hairless side !) ; then I scoured the lap of the plush in 8 parts, and I cut (deleted) the 8th part to make the passage of the headband hoop ;
- I glued the two ends of the headband on these 2 circles plush cardboard (cardboard side), where I removed the 8th part of plush ;
- I folded and glued the remaining 7 pieces of plush fabric on the cardboard.
Une fois séché, voici ce que vous obtiendrez :
Once dried, here's what you'll get:
À bientôt / See you soon,
♥♥♥
10 décembre 2017
Chavonne voulait un pull à capuche, encore une fois, je nai pas su dire non !
Chavonne wanted a hoodie, again, I could not say no !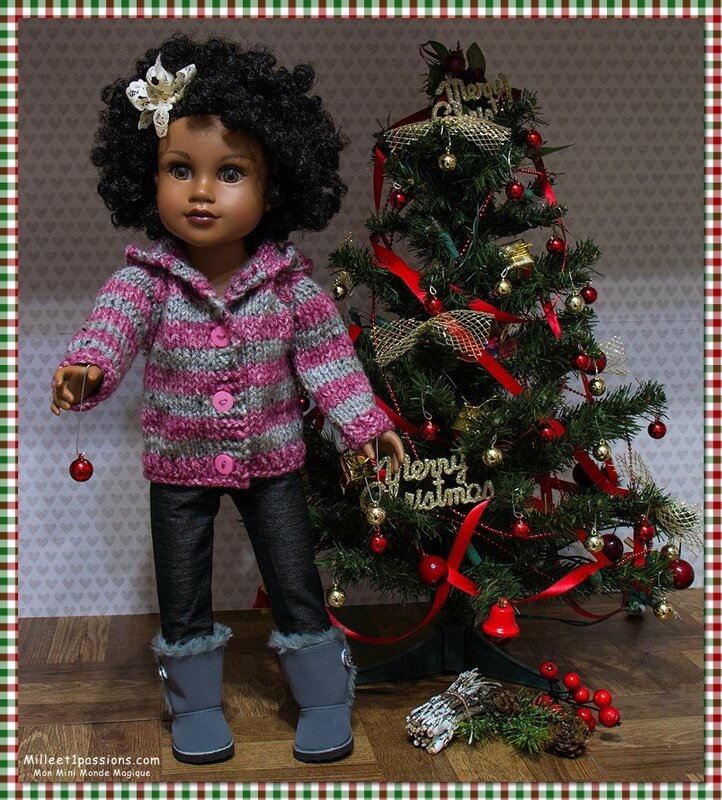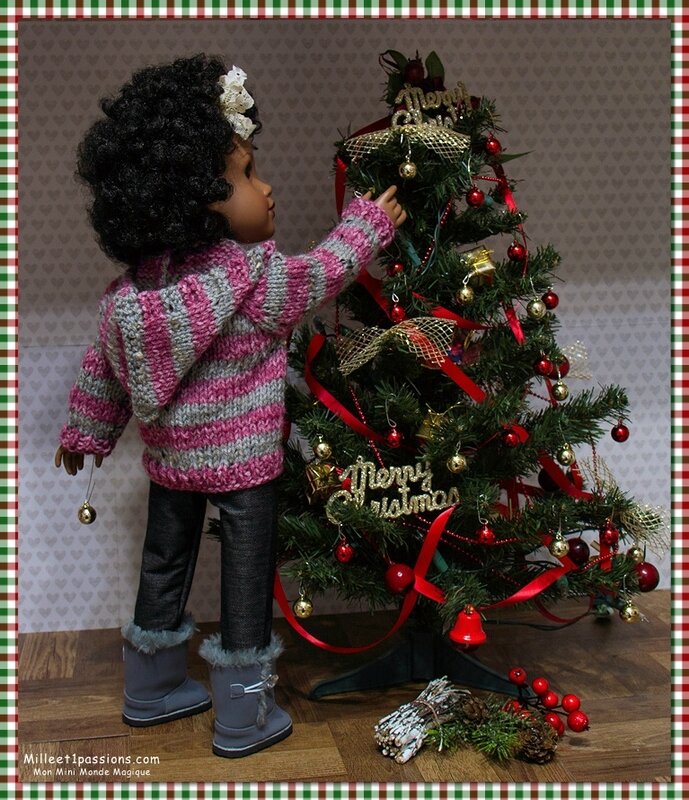 Et comme il va y avoir de nouvelles arrivantes prochainement, et que le défi tricot pour poupée de ce mois-ci sur mon forum était un pull de style islandais, j'ai fait ces deux là :
And as there will be newcomers soon, and this month's doll knitting challenge on my forum was an Icelandic style sweater, I did these two :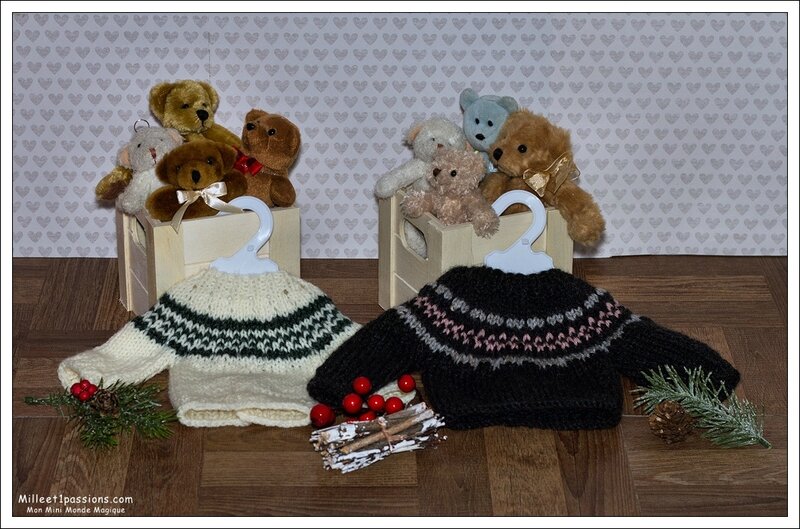 À bientôt, See you soon,
♥♥♥
24 novembre 2017
Mademoiselle Ilee voulait avoir chaud pour répéter ses romances irlandaises au violon ; je lui ai donc tricoté à son tour un gilet bien douillet.
Miss Ilee wanted to be hot to repeat her Irish romances on the violin ; so I knitted him in his turn a very cozy vest.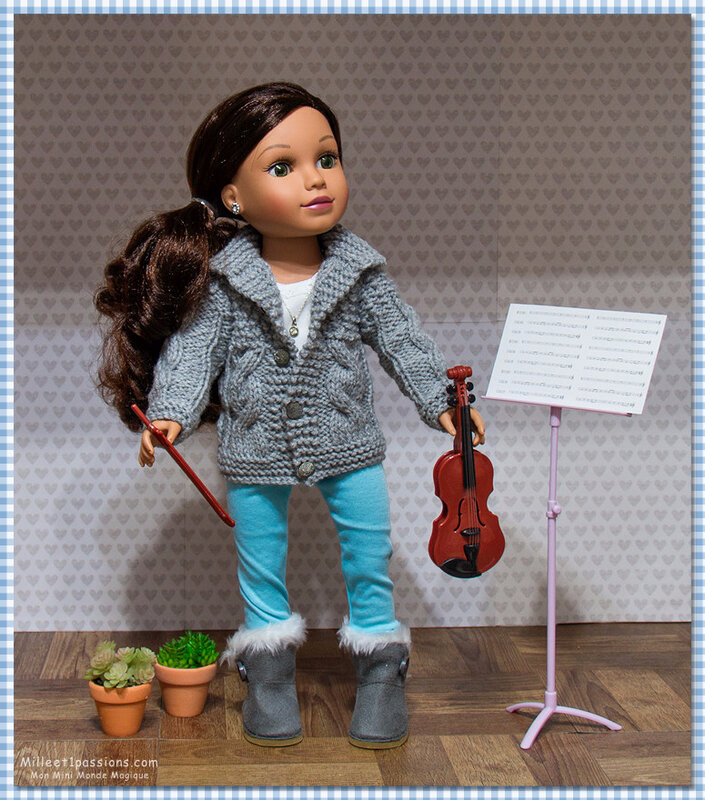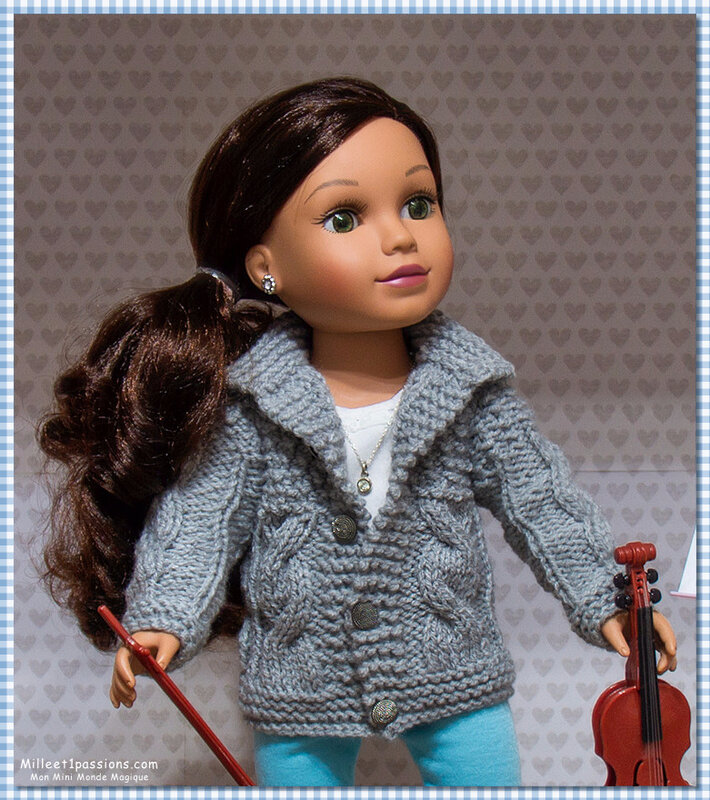 À bientôt / See you soon,
♥♥♥
18 novembre 2017
Ayant voulu tester ma science toute neuve des torsades, je me suis lancée avec ce pull-tunique pour Kyla.. dont je suis assez fière, même si il parait que ce n'est pas beau d'être content de soi ! Je n'ai pas suivi de tutoriel : j'ai pris un stylo et un papier pour calculer les espacements, et vogue la galère... voici le résultat :-)
Having wanted to test my new science of cables, I launched myself with this tunic-sweater for Kyla .. I'm pretty proud, even if it seems that it's not nice to be happy with oneself ! I did not follow a tutorial: I took a pen and a paper to calculate the spacings, and vogue galley ... here is the result :-)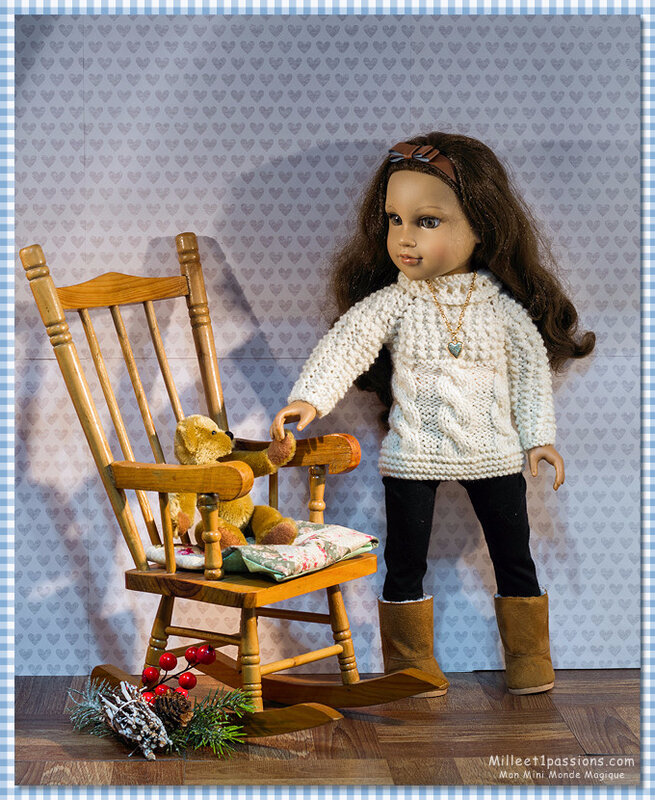 À bientôt, See you soon,
Guyloup
16 novembre 2017
Callie voulait aussi un bonnet avec des torsades, je lui en ai fait un, et un petit snood assorti.
Callie also wanted a hat with twists, I made her one, and a little matching snood scraf.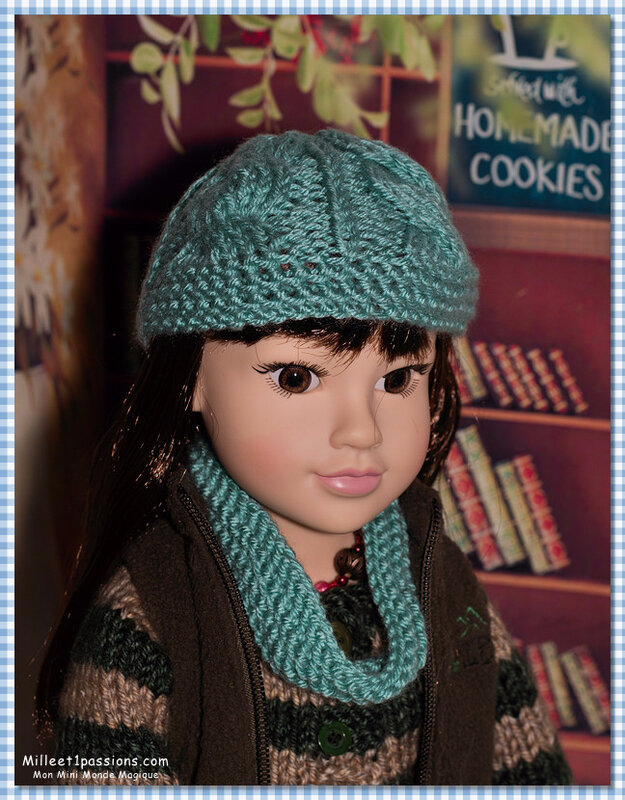 À bientôt, See you soon,
♥♥♥
24 octobre 2017
Quand on aime, on ne compte pas.... et voilà donc un pull de plus !
Cette fois, c'est la douce Mikaella qui a été gâtée avec ce nouveau pull et une petite paire de bottes chaudes pour l'hiver :-)
When you love, you don't count the cost ...and here is a sweater more!
This time, it's the sweet Mikaella who was spoiled with this new sweater and a little pair of warm boots for the winter :-)
Son ours provient de ma collection de "Ganz Bears Cottage Collectables", j'espère qu'elle en prendra soin !
Her bear comes from my collection of "Ganz Bears Cottage Collectables", I hope she will take care of it !
À bientôt, See you soon,
♥♥♥
19 octobre 2017
Nouveau pull (patron ici) et nouveaux jeans (patron ici ) pour Callie-Lian, qui est passée à la SPA pour adopter un petit chien.

New sweater (patron here) and new jeans (pattern here) for Callie-Lian, who went to the SPCA to adopt a small dog.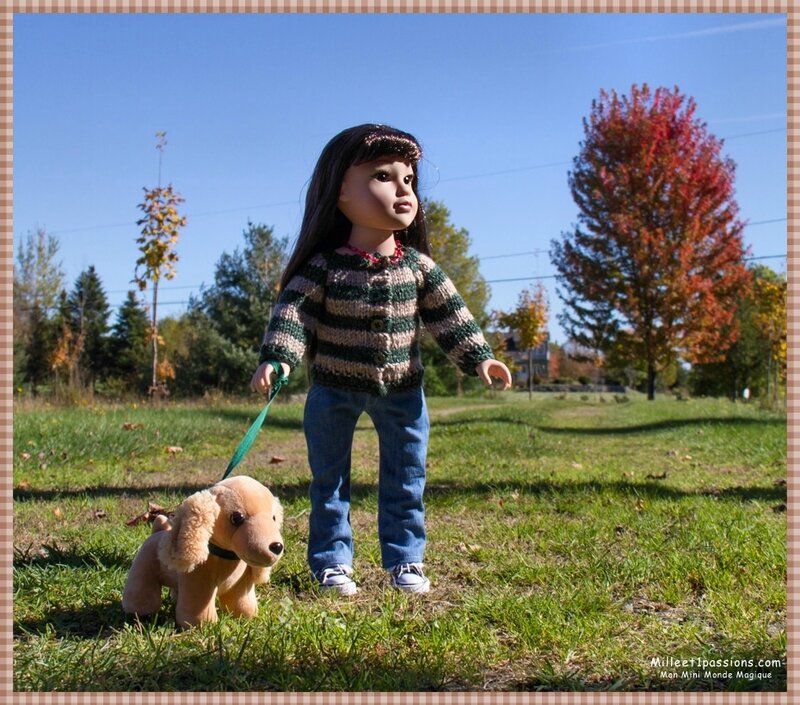 ♥♥♥
27 septembre 2017
For English translation, or any other language, use the Google "select a language" button at the top of the left column.
Sauf erreur de ma part, il semblerait que j'ai oublié de vous montrer ce petit ensemble de rentrée cousu et tricoté pour Dana il y a quelques temps déjà.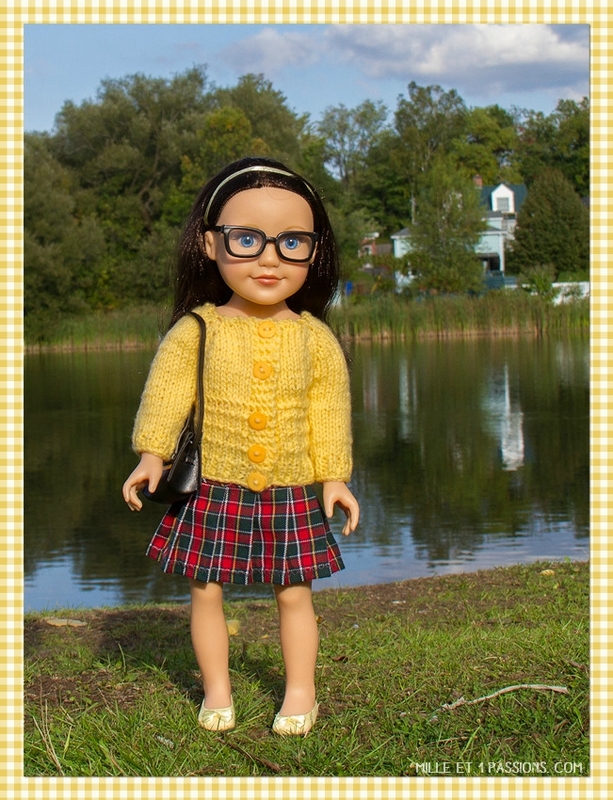 16 septembre 2017
Un pull pour Jonathan... toujours avec le même patron !
A swater for Jonathan... always with the same pattern !