20 avril 2018
(for translation, use the button at the top left)
Julie est gourmande, et quand on est gourmande, on a tendance a prendre quelques rondeurs. Elle l'a réalisé quand je lui a cousu une veste à capuche en sweatshirt et qu'elle a vu que ses petits bras potelés étaient un peu serrés lorsqu'elle l'a enfilée.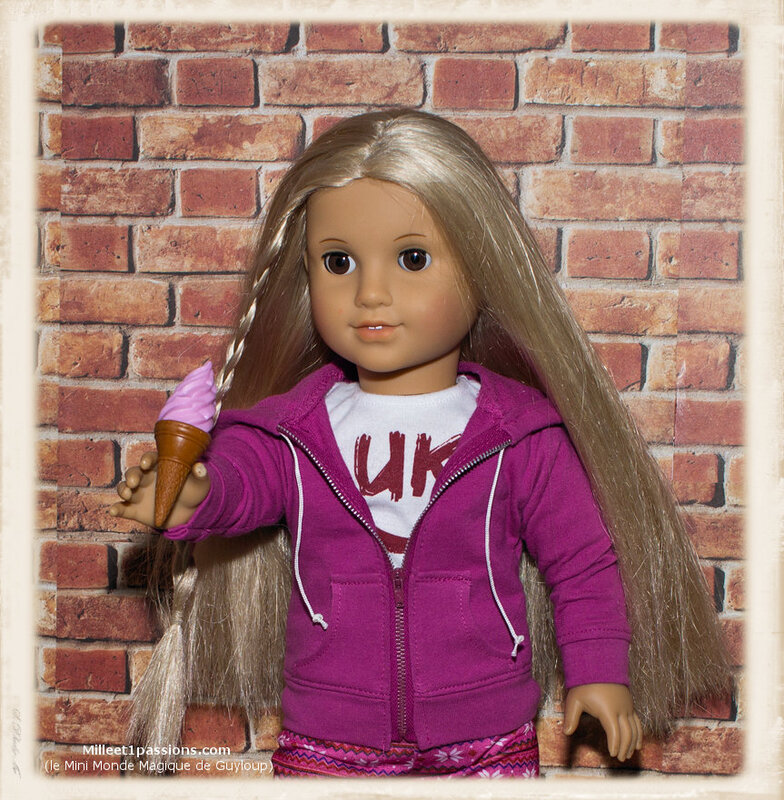 Son amie Rachel, la spécialiste de la course à pied (celle à qui j'avais fait un sweat-shirt et une casquette visière, ICI) lui a proposé de l'accompagner de temps en temps pour lui faire faire du sport et perdre un peu de poids.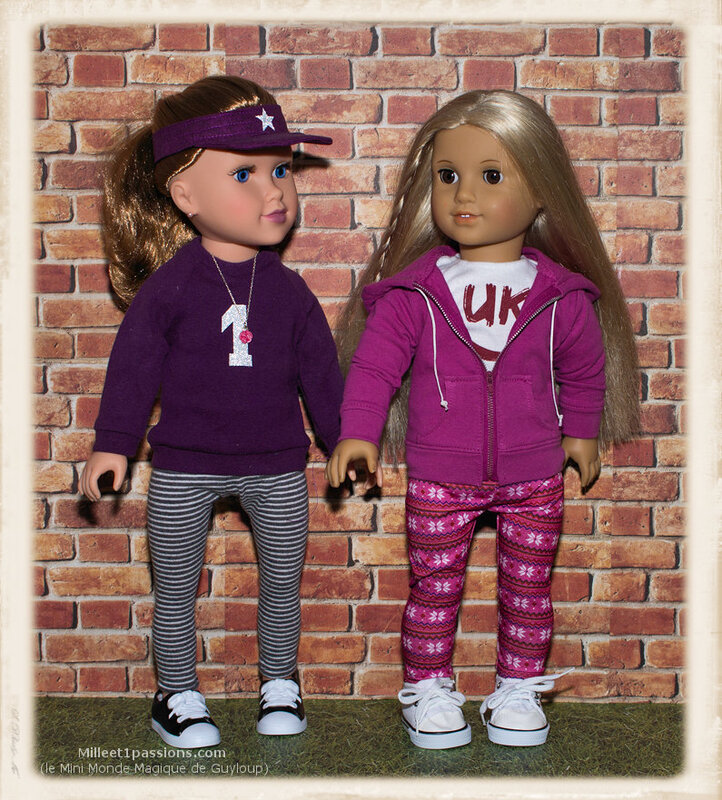 Mais c'est dur !! voici leur première sortie, on y voit Rachel qui suit Julie de près en lui répétant : "allez, fais un effort, allonge ta foulée" !!!
Julie est une American Girl "Historical characters" BeForever de 2007, nommée Julie Albright
Rachel est une Journey Girl "Edition limitée" de 2017
Le patron de la veste à capuche se trouve ici : https://www.pixiefaire.com/products/hoodie-18-doll-clothes
♥♥♥
14 mars 2018
J'ai tricoté un gilet blanc torsadé pour Kendra et cousu un sweat-shirt pour Kelly. Le gilet me plait, mais je suis déçue du sweat-shirt, la couleur va bien à Kelly, mais je lui trouve un petit air "mémé" qui ne m'emballe pas trop ; couleur ? motifs du tissu ? je ne sais pas, mais je pense qu'elle aura prochainement autre chose en remplacement.
I knitted a twisted white jacket for Kendra and sewed a sweatshirt for Kelly.
The jacket I like, but I'm disappointed with the sweatshirt, the color goes well to Kelly, but I find him a little air "granny" that I do not like too much; color ? fabric patterns? I do not know, but I think she will soon have something else to replace.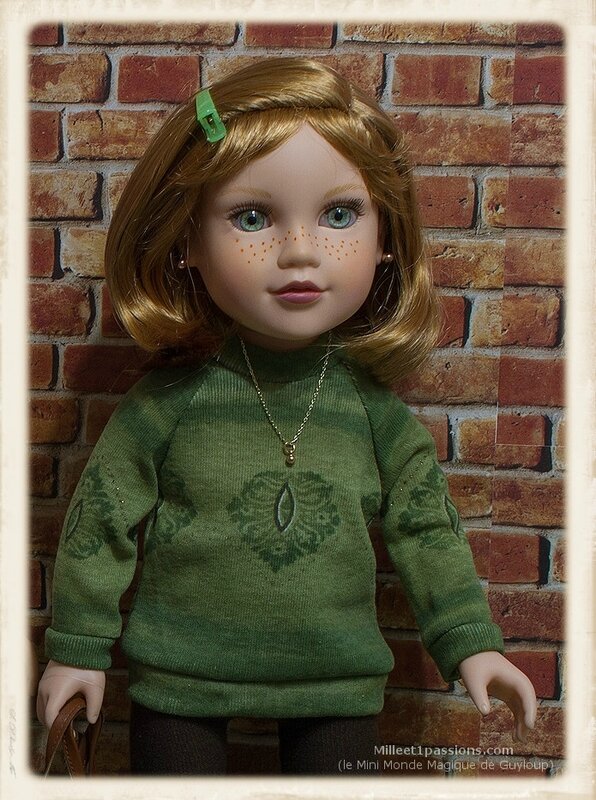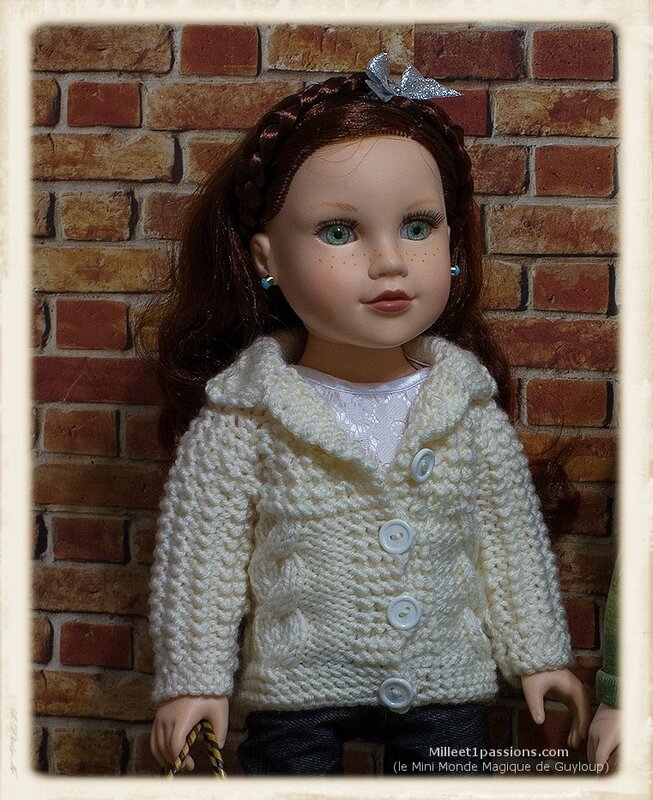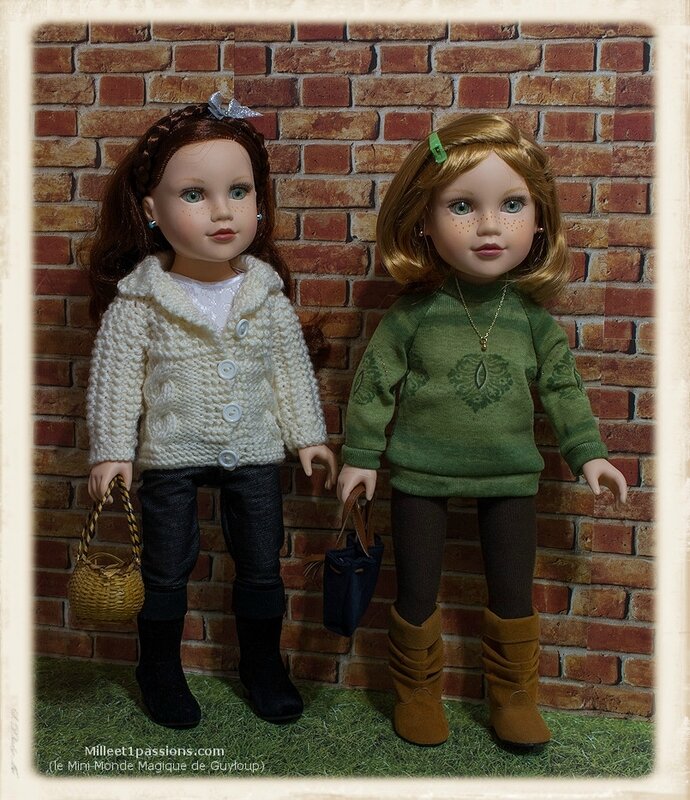 ♥♥♥
13 octobre 2017
En rentrant de sa promenade avec Chavonne, la pauvre Jordana était gelée et elle m'a demandé de lui coudre un sweat-shirt bien chaud.... je ne pouvais pas lui dire non !
Je lui ai donc cousu un sweat-shirt noir, sur lequel j'ai fait des décorations à l'aide de tissu monté sur du Heat n' Bond (ce qui correspond au Vliesofix français, voir ici : https://www.youtube.com/watch?v=CFUhP1IawS0 ), que j'ai découpé avec des formes de fleurs sur la Bishot (voir ici : https://www.youtube.com/watch?v=J1UyiKNaoeg ), puis appliqué sur le sweat-shirt.
Ensuite, elle a pris un biscuit et un lait-fraise, et elle est allée se reposer dans son rocking-chair ! vous noterez comme son chien semble intéressé par le biscuit :-)
On returning from her walk with Chavonne, poor Jordana was frozen and she asked me to sew a hot sweatshirt ... I could not tell her no!
So I sewed her a black sweatshirt, on which I made decorations using fabric mounted on Heat n 'Bond (which corresponds to the French Vliesofix, see here: https://www.youtube .com / watch? v = CFUhP1IawS0), which I cut with flower shapes on the Bishot (see here: https://www.youtube.com/watch?v=J1UyiKNaoeg), then applied on the sweat- shirt.

Then she took a biscuit and strawberry-milk, and she went to rest in her rocking-chair ! you will notice how his dog seems interested in the cookie :-)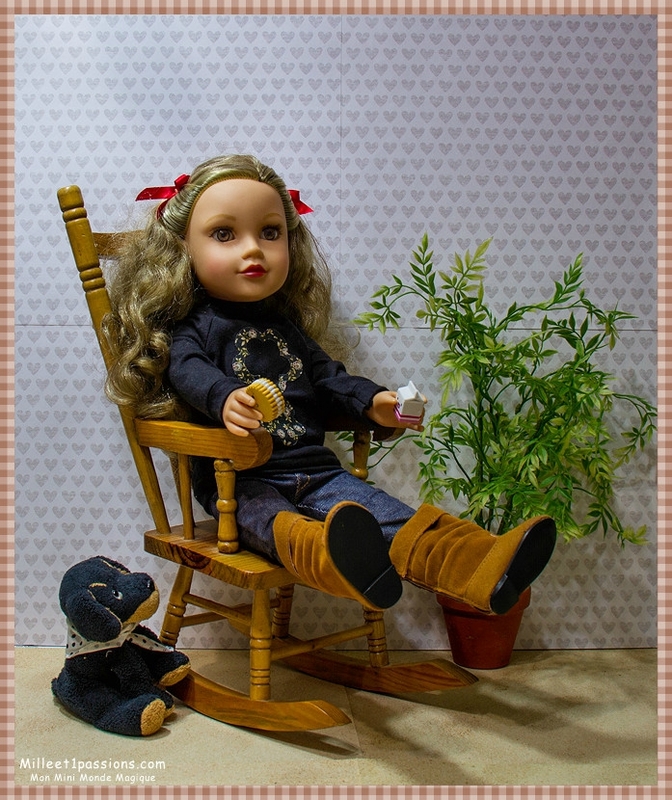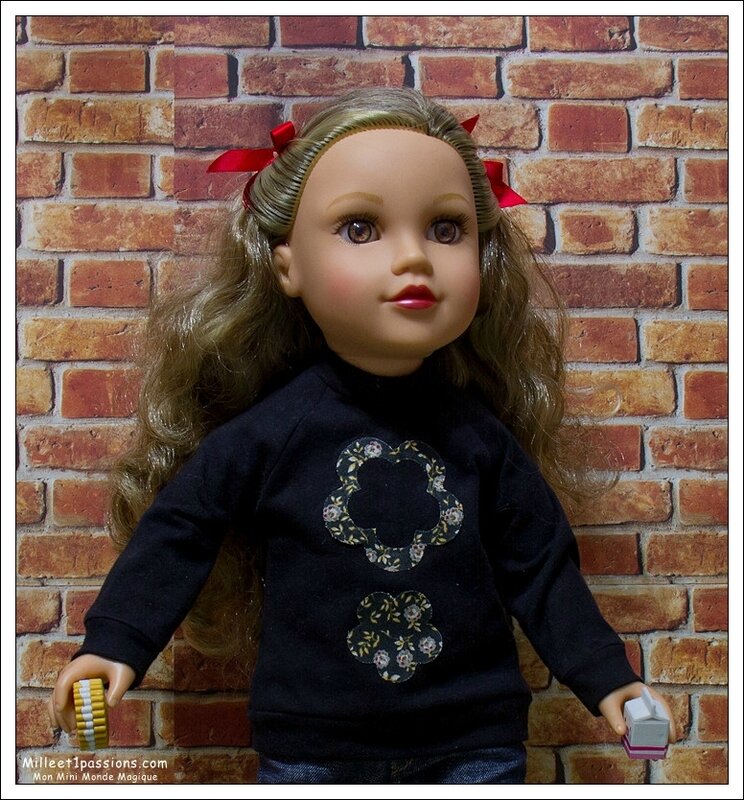 12 octobre 2017
Une petite couture ultra-simple et rapide : un sweat-shirt pour Chavonne la musicienne.
J'ai utilisé le patron qui se trouve ici ; mon seul regret est que l'auteur a prévu une bande pour le cou qui me semble trop étroite, notamment par rapport aux bandes des manches et du bas ; sur le prochain que je ferai, la bande sera plus large.
A very simple and fast little seam: a sweatshirt for Chavonne the musician.
I used the pattern here ; my only regret is that the author has provided a band for the neck that seems to me too narrow, especially with respect to the bands of the sleeves and the bottom ; on the next I will do, the tape will be wider.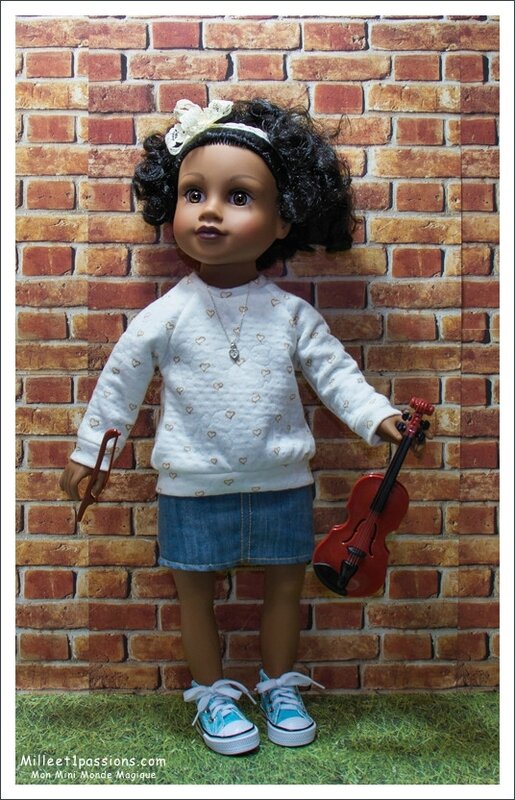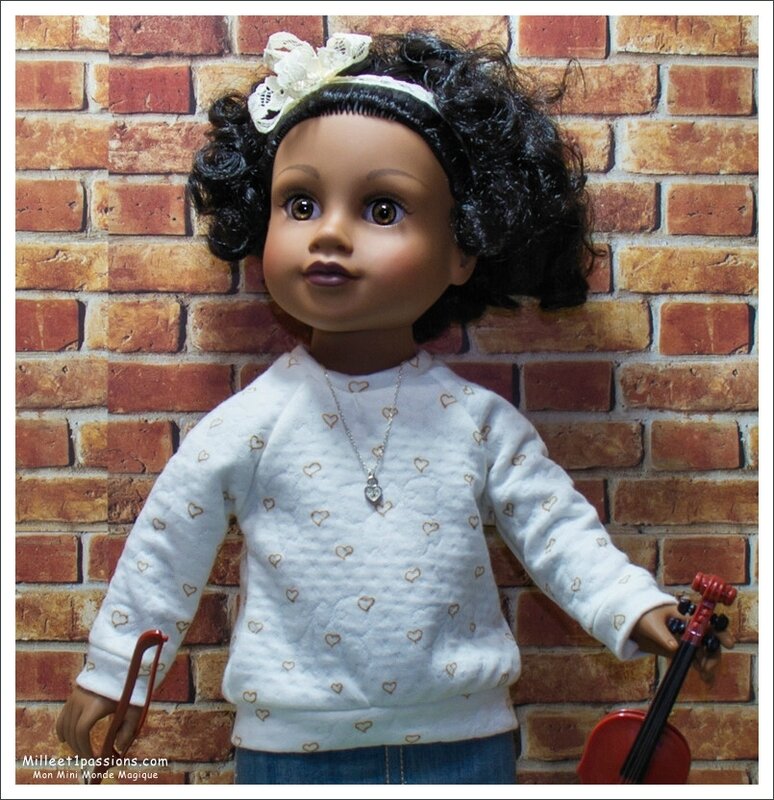 À bientôt, See you soon
♥♥♥