31 mars 2018
"SOUVENT FEMME VARIE, BIEN FOL EST QUI S'Y FIE"... le roi François 1er avait gravé ces 2 vers sur la fenêtre de sa chambre au château de Chambord, au 16e siècle, sans doute suite à une déception amoureuse !... ces vers sont revenus à ma mémoire lorsque j'ai changé une nouvelle fois de perruque pour ma petite American Girl rescapée !!
Et cette fois : c'est la bonne ! je l'adore en rousse :-)
Et vous ?
En plus, je trouve ce sweat-shirt que j'avais fait pour une autre et que je n'aimais pas du tout sur l'autre (je lui trouvais un air "mémé") lui va super bien à elle.
"OFTEN WOMAN VARIES, WELL FOL IS WHO IS RELYING" ... King Francis I had engraved these 2 verses on the window of his room at the castle of Chambord, in the 16th century, undoubtedly following a disappointment in love! .. these verses came back to my memory when I changed a wig once again for my little American Girl survivor !!
And this time: it's the good! I love it in red :-)
And you ?
In addition, I find this sweatshirt that I had done for another and I did not like at all on the other (I found him a "granny") it is great for her.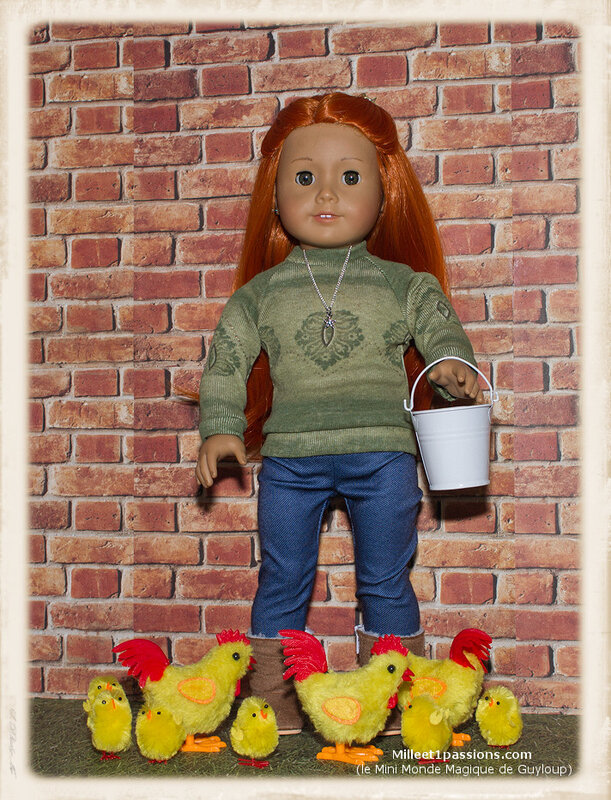 06 janvier 2018
Le Canada va gagner la coupe Stanley sans aucun doute car voici Sean, son meilleur joueur qui vient d'arriver sur la glace !
Canada will win the Stanley Cup without a doubt because here is Sean, our best player who has just arrived on the ice !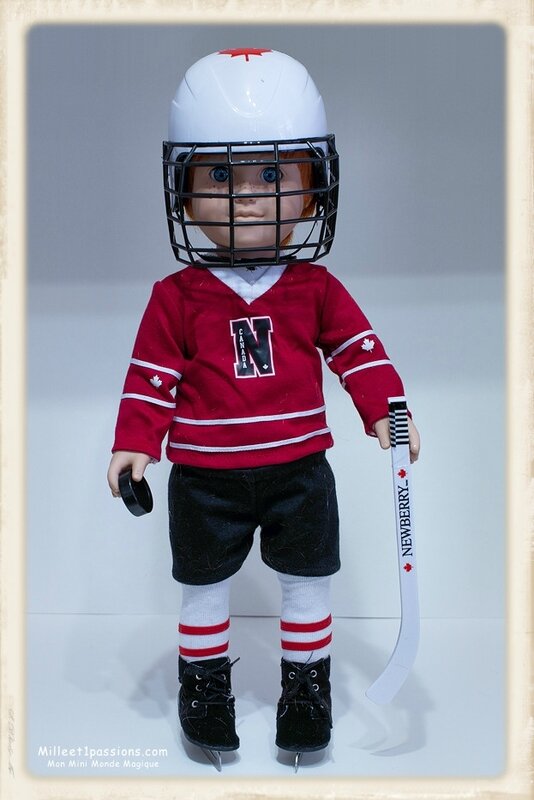 Sean est accompagné de sa soeur, Fiona, patineuse elle aussi, mais en artistique.
Leurs amis les appellent Fifi Brindacier et Poil de Carotte... devinerez-vous pourquoi ?!!
Sean is accompanied by his sister, Fiona, skater too, but in artistic.
Their friends call them Pippi Longstocking and Carrot Hair ... will you guess why ? !!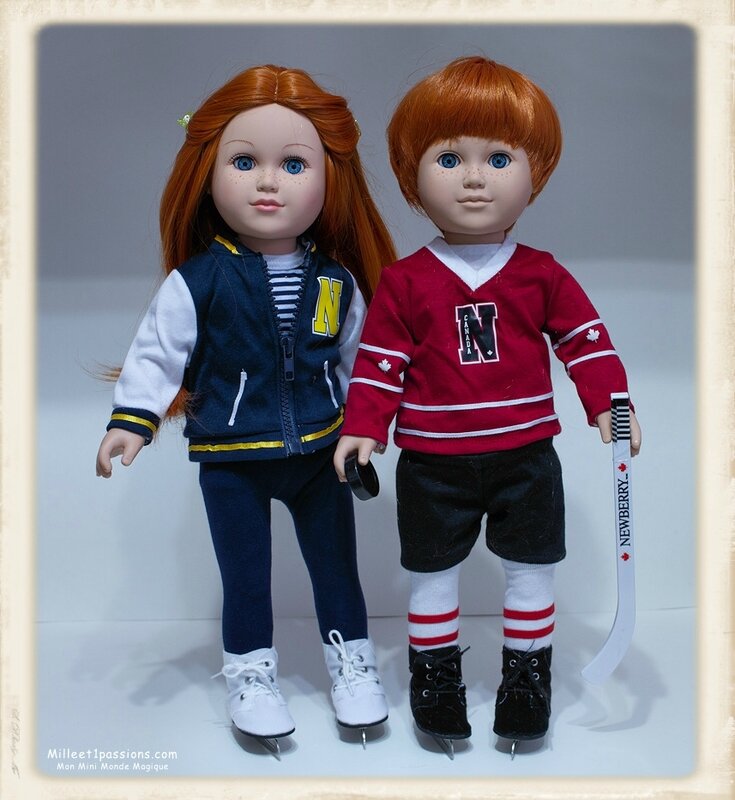 Fiona et Sean sont des poupées de 18 pouces (46 cm) de la marque My Life as, diffusée par les hypermarchés Walmart ; je les ai "customisés" en leur ajoutant une perruque. Les vêtements sont de Newberry, la marque des grands magasins Sears, offerts par mon adorable petit mari à Noël (oui, il aime le hockey !).
Fiona and Sean are 18-inch (46 cm) dolls from My Life as, distributed by Walmart hypermarkets; I "customized" them by adding a wig. The clothes are from Newberry, the brand of Sears department stores, offered by my lovely husband at Christmas (yes, he loves hockey!)..
À bientôt, See you soon,
♥♥♥
23 décembre 2017
J'ai trouvé une perruque pour poupée American Girl en vente pour un tout petit prix ; je ne sais pas pourquoi, mais en la voyant, j'ai immédiatement pensé à Kelsey, et je me suis dit : "pourquoi pas ?".
Quand je l'ai reçue, je lui ai essayée et j'ai adoré le résultat.
Du coup, Kelsey auburn est devenue Kelly blonde (pas de regrets car j'ai une autre Kelsey).
I found an American Girl doll wig on sale for a very small price ; I do not know why, but seeing it, I immediately thought about Kelsey, and I thought : "Why not?"
When I received it, I tried it and I loved the result.
Suddenly, auburn Kelsey became Kelly blonde (no regrets because I have another Kelsey).
J'ai eu envie de lui donner un style un peu différent : vous l'avez peut-être remarqué, la plupart de mes filles sont habillées comme moi, c'est à dire en jeans ou en leggins, alors je lui ai fait une jupe, un collant, un gilet assorti, et je lui ai mis des petites chaussures sages.
I wanted to give her a style a little different: you may have noticed, most of my girls are dressed like me, ie in jeans or leggings, so I made her a skirt, a tights, a matching waistcoat, and I put her some nice varnished little shoes.
Version modifiée Kelly :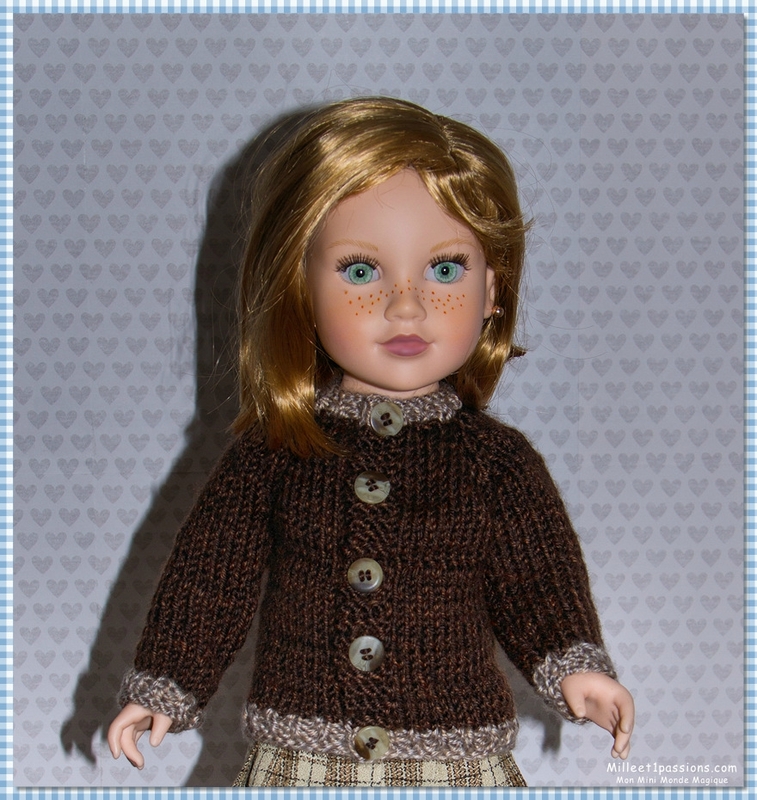 Version originale Kelsey :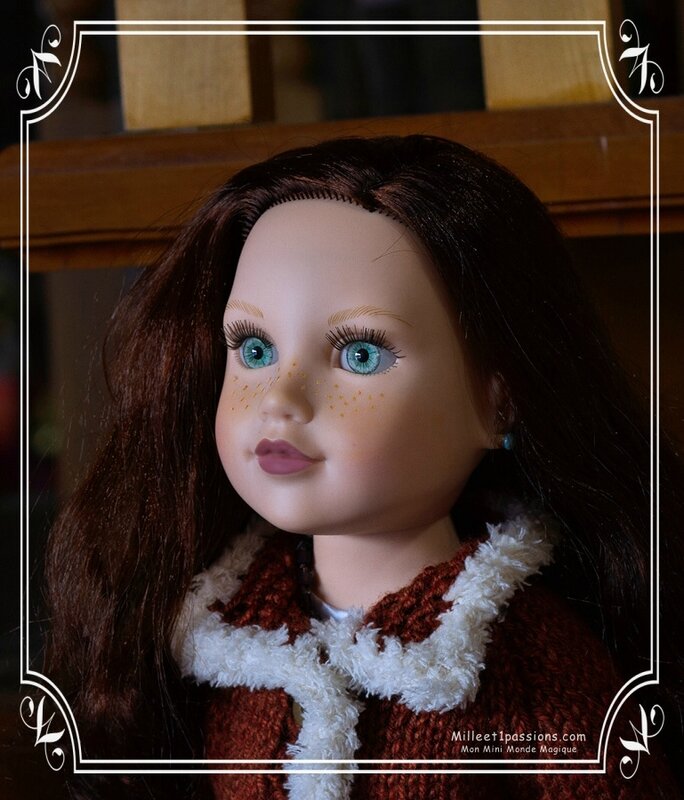 N'est-ce pas incroyable comme une couleur de cheveux peut changer une personne ?
Is not it amazing how a hair color can change someone ?
Joyeux Noël encore, Merry Christmas again,
♥♥♥