01 février 2018
Vous avez vu récemment la bande des "enfants terrible" qui sortaient jouer dehors sans gants ni bonnets, et faisaient un caprice parce que voulais les faire rentrer.
Maintenant, voici 3 des "enfants sages" (ils sont plus nombreux que cela, vous en verrez d'autres bientôt).
Et... à quoi jouent les enfants sages ? à des jeux tranquilles dans la maison, en attendant que le temps leur permettent de sortir sans rique.
Or, ces jeux, il faut que je les leur fabrique parce qu'on n'en trouve pas beaucoup à leur taille dans les magasins !
Et voilà que je leur ai fabriqué un jeu de Mikado.
Vous souvenez-vous de ce jeu là ? y avez-vous joué ? y jouez-vous encore avec vos enfants ou petits-enfants ?
Quoi qu'il en soit, voici Melody et Mikaella en pleine partie, et Kyla qui joue les arbitres !
You have recently seen the band of "terrible children" coming out to play outside without gloves or hats, and doing a whim because they wanted to get them back.
Now here are 3 "wise children" (they are more than that, you will see others soon).
And ... what are the good children doing? to quiet games in the house, waiting for the weather to allow them to go out without risk.
Now these games, I have to make them because they do not find much in their size in stores !
And now I made them a game of Mikado.
Do you remember that game? did you play there? Do you still play with your children or grandchildren?
Anyway, here is Melody and Mikaella in the middle of the game, and Kyla playing referees !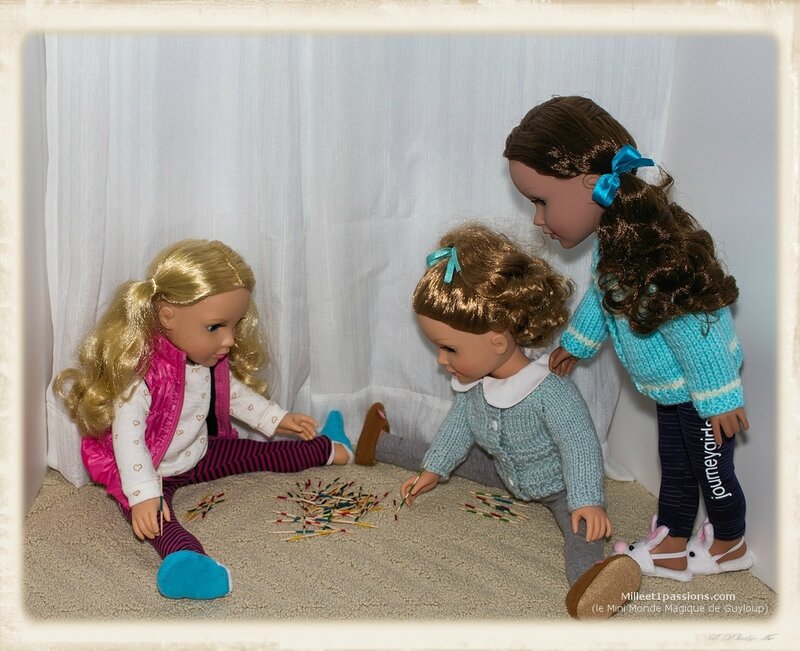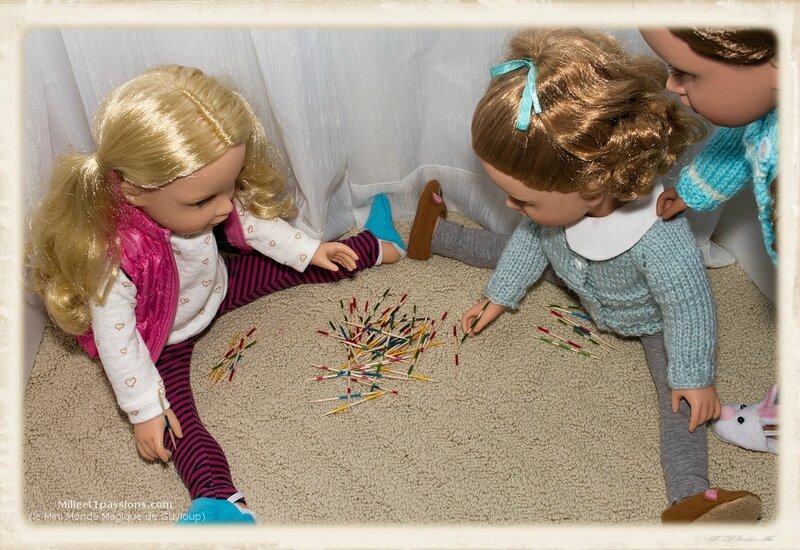 Melody est un modèle de Journey Girls Meredith, premier modèle année 2011.
Melody is a model of Journey Girls Meredith, first model year 2011.
J'ai fait les baguettes du Mikado avec des cure-dents et des feutres.
I made the Mikado chopsticks with toothpicks and markers.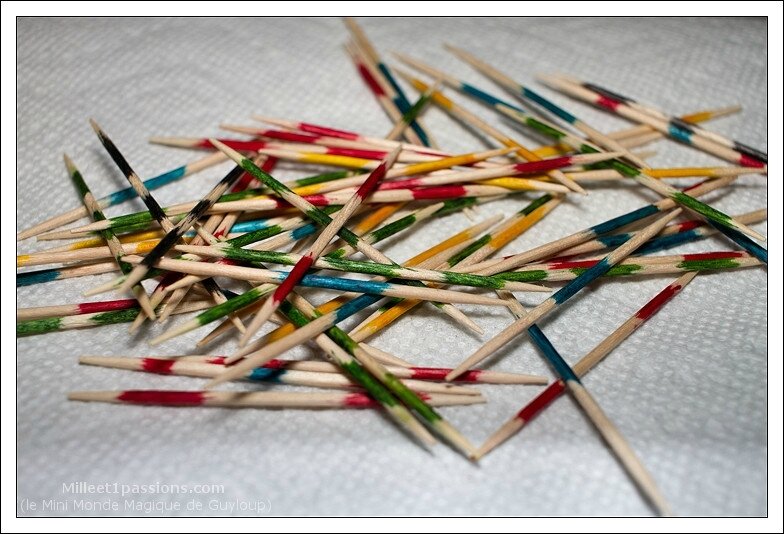 Bientôt, les jeux des autres enfants sages :-)
Soon, the games of other wise children :-)
♥♥♥
27 janvier 2018
Aujourd'hui, nous avons eu un grand beau soleil de "le printemps s'approche", et ce sont mes grandes filles actives qui sont sorties promener leurs chiens ; sauf Kelsey qui est restée à la maison (enrhumée je pense !).
Today, we had a great sun, style "the spring approaches", and it's my big active girls who went out to walk their dogs; except Kelsey who stayed at home (cold, I think !).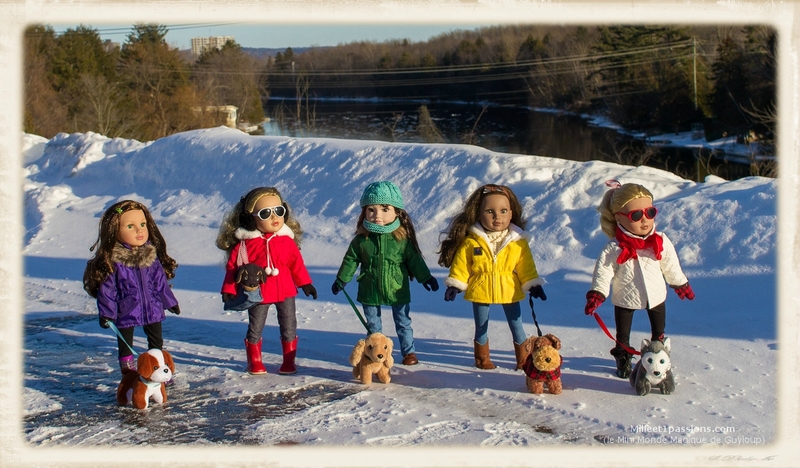 Malheureusement, c'est à nouveau terminé, le temps gris est de retour demain :-(
Unfortunately, it's over again, the gray weather is back tomorrow :-(
♥♥♥
25 janvier 2018
Vous vous souvenez que parmi toutes mes poupées, j'ai une vraie petite bande de gripettes (enfants espiègles en québécois) ?
Et bien voilà la bande au complet qui est sortie en catimini jouer dehors sous prétexte qu'il y avait du soleil aujourd'hui !
You remember that among all my dolls, I have a real little band of gripettes (mischievous children in Quebec) ?
Well, here is the whole band that went out to play outside on the pretext that there was sun today !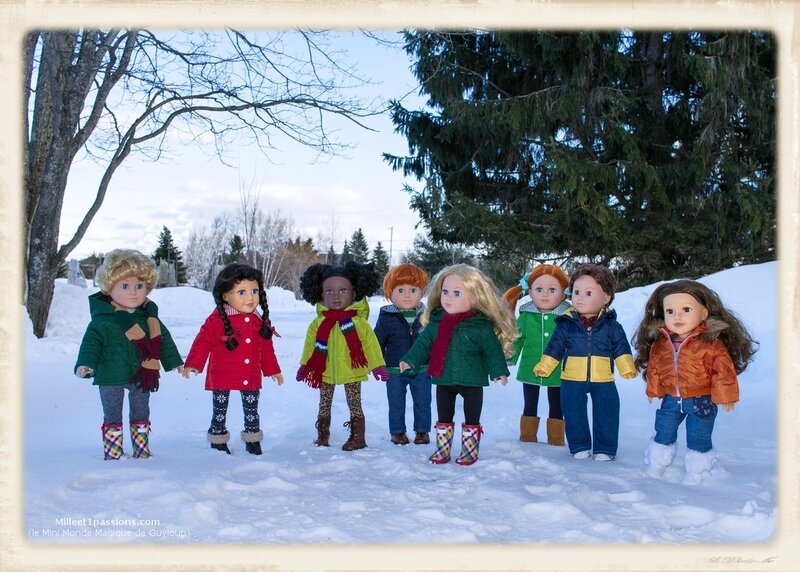 Quand j'ai voulu les faire rentrer parce qu'il faisait froid, ils ont protesté énergiquement, certains tapaient même du pied, comme vous le voyez sur la photo...
que pouvais-je faire ? je les ai laissé jouer dehors...
et vous, par cette température, auriez-vous été vous promener ?
When I wanted to get them back because it was cold, they grumbled, as you can see in the photo ...
what could I do ? I let them play outside ...
and you, by this temperature, would you have been walking ?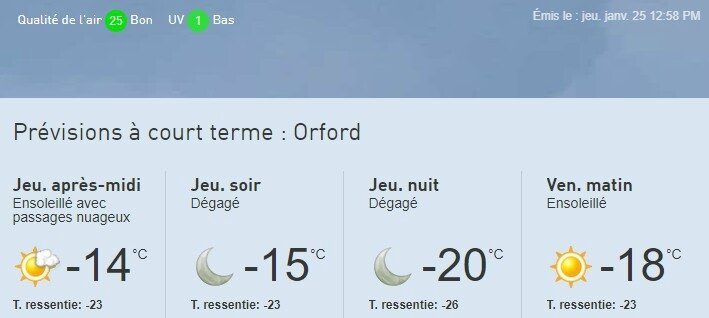 ♥♥♥
Je n'aimais que moyennement la coiffure de Dana parce que je trouvais que ses cheveux lui dégageaient trop le front.
Comme je trouve que son visage de lutin coquin lui donne plus un air de fillette que de jeune fille, je la préférais pourtant avec les cheveux attachés qu'avec les cheveux lâchés.
J'ai réglé le problème une fois de plus avec une perruque.
Que les amoureuses de Dana ne m'en veuille pas ! elle-même a l'air tellement heureuse avec sa nouvelle coiffure ; voyez-vous même :
I only moderately liked Dana's hairstyle because I thought her hair pulled her forehead too much.
As I find her face as a mischievous goblin gives it more a girlish look than a girl, I preferred her with the hair attached only with the hair loose.
I fixed the problem once again with a wig.
That the lovers of Dana do not want me ! she herself looks so happy with her new hairstyle ; do you even see:
Avant / before :
Et vous, qu'en pensez-vous ?
♥♥♥
21 janvier 2018
Comme j'ai cousu des tabliers à 4 de "mes filles", elles ont décidé de préparer un dessert pour ce soir.
Julia voulait se servir du robot Kitchen Aid, mais les trois autres n'étaient pas rassurées : ça leur paraissait un peu gros pour elles !
Grace affirmait que son fouet manuel suffisait bien, Charlotte regardait l'engin d'un air perplexe, quand à Ilee, elle restait prudemment en retrait à l'arrière !!
As I sewed aprons to 4 of "my girls", they decided to make a dessert for tonight.
Julia wanted to use the Kitchen Aid robot, but the other three were not reassured: it seemed a little big for them!
Grace said that her manual whip was good enough, Charlotte looked at the machine with a puzzled look, when to Ilee, she remained cautiously behind the rear !!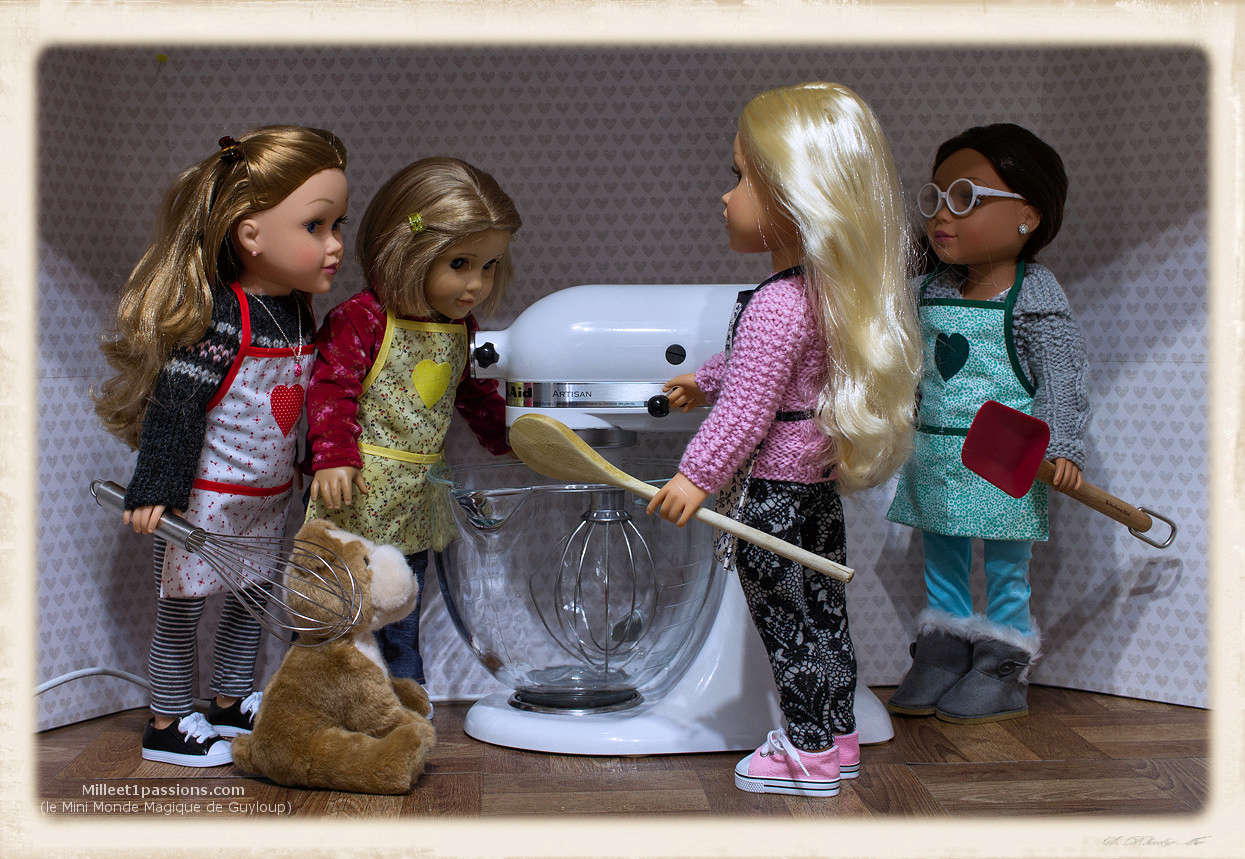 Qu'à cela ne tienne, a dit Julia, puisque c'est ainsi, on va le faire à la main... un, deux, trois, c'est parti !
Never mind, said Julia, since this is so, we will do it by hand ... one, two, three, go !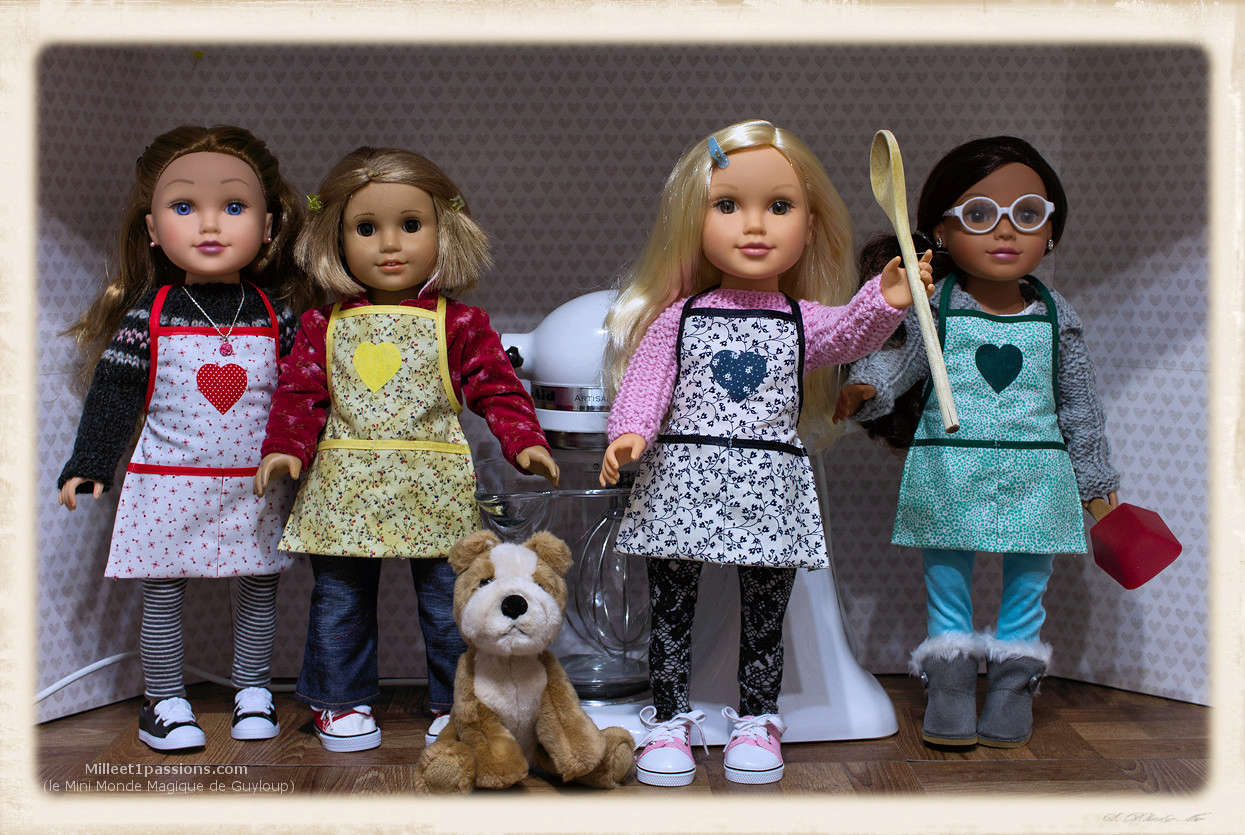 Deux heures plus tard, la cuisine était en chantier, les tabliers neufs étaient plein de taches, mais elles avaient fait un superbe fraisier... pour quatre : les coquines avaient pâtissé pour elles seulement !
Two hours later, there was a mess in the kitchen, the new aprons were full of stains, but they had made a beautiful strawberry ... for four: the naughty had pasted for them only !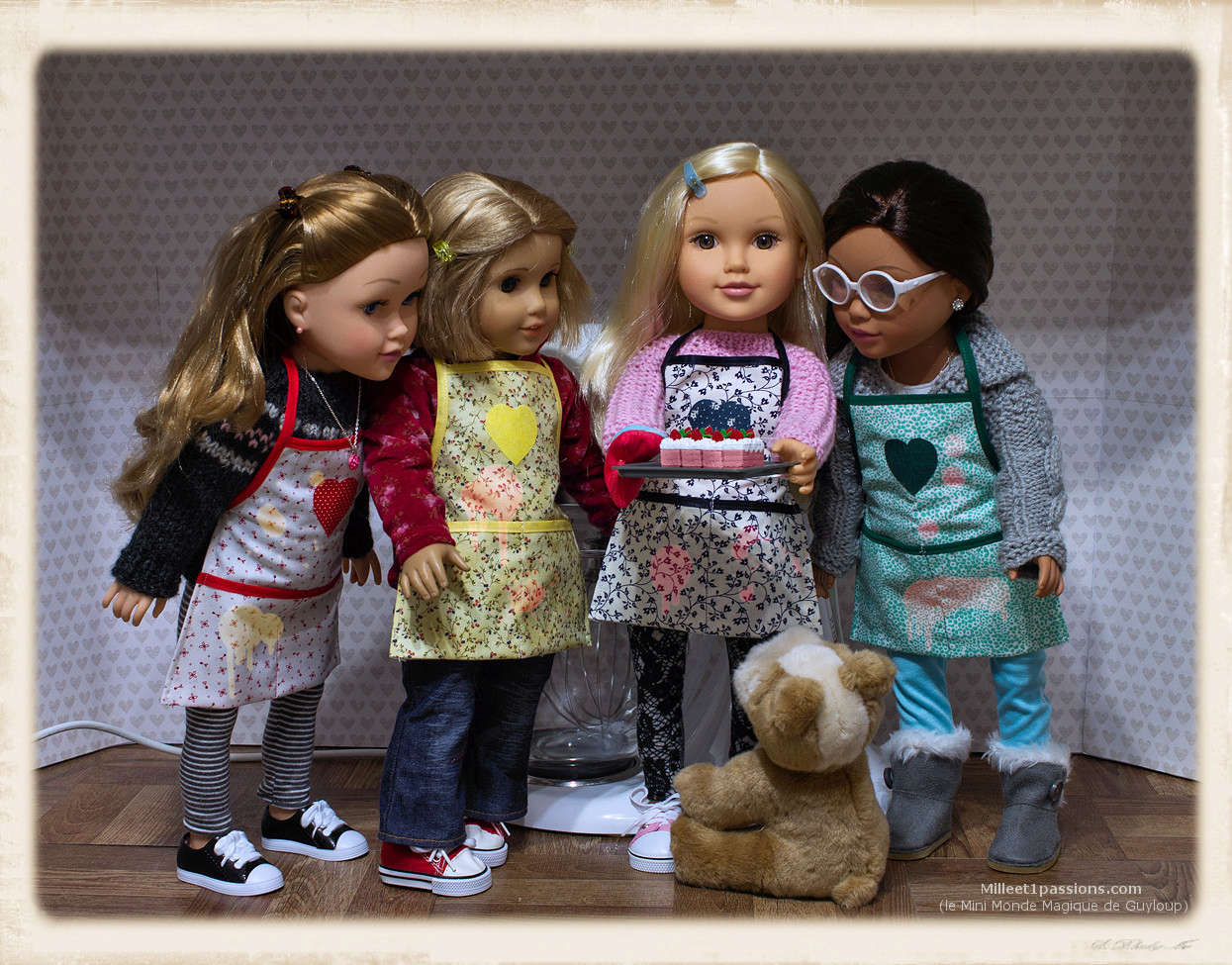 Si vous voulez faire un tablier à votre demoiselle, voici le patron du mien : super facile à faire en 15 minutes si vous avez du biais tout prêt à poser.
If you want to make an apron to your doll, here's the pattern of mine: super easy to do in 15 minutes if you have any bias ready to sew.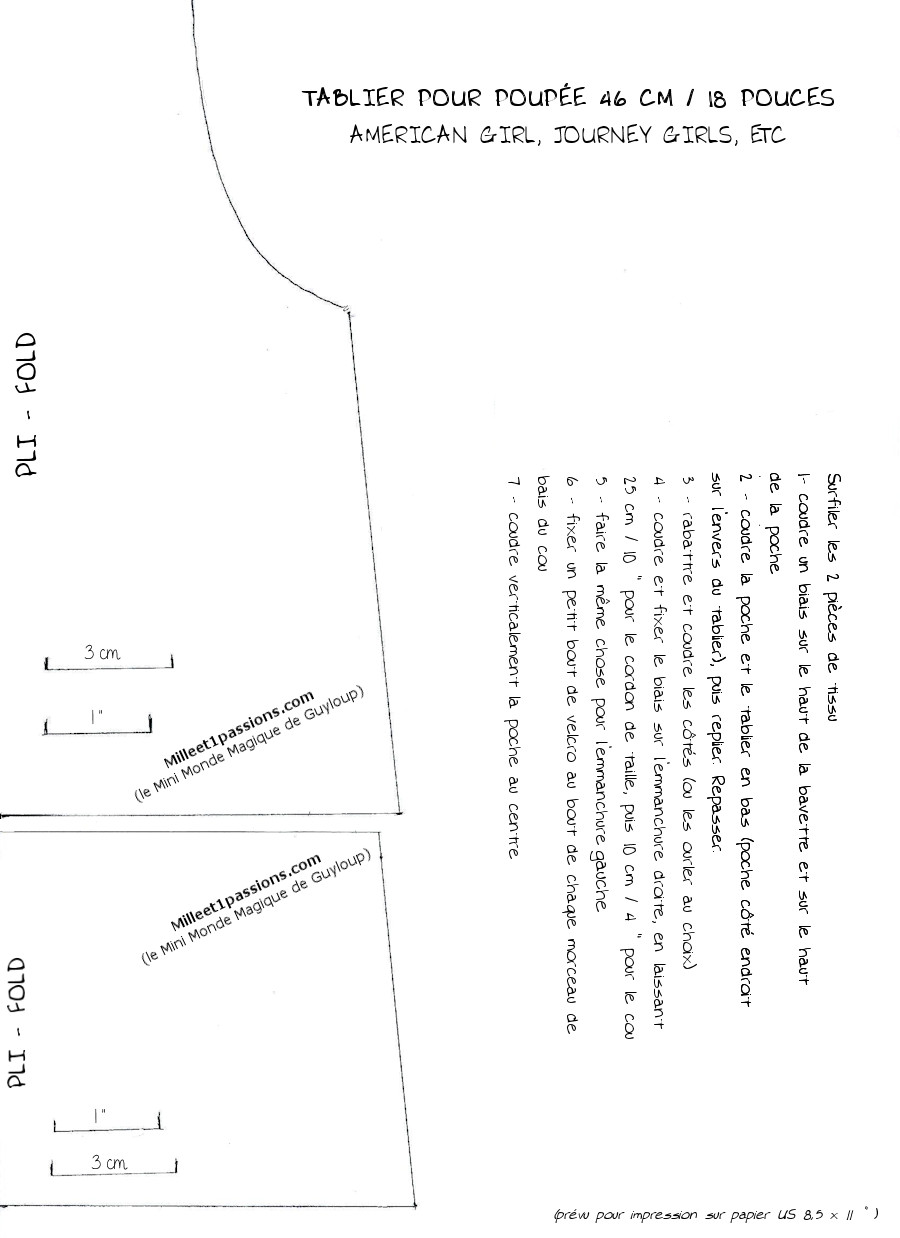 Il semble que Canalblog recommence à mal fonctionner :
1) je réponds aux commentaires comme je l'ai toujours fait (en réponse aux messages d'avis dans la messagerie), et mes réponses n'apparaissent pas sur le site ;
2) j'ai été obligée d'héberger les photos sur l'hébergeur de mon forum car il est impossible d'uploader des photos sur le blog depuis deux jours, sur le système avancé, j'ai un avis d'Error #2032 Package upload error: httpStatus = 500, et quand j'essaie le système simple, j'ai un message qui dit : There was no appropriate FILE found in the upload... alors que mes photos sont bien en format JPG.
J'avoue que Canalblog commence à me saouler..... grrrrr
À bientôt, See you soon
♥♥♥
19 janvier 2018
Je ne sais pas si vous connaissez les Sylvanians, ces miniatures des petits animaux de la forêt (si vous ne connaissez pas, c'est ici : http://sylvanianfamilies.fr/ ; bien que la plupart des miens soient des Sylvanians vintage, que je préfère à ceux d'aujourd'hui).
Je n'avais jamais présenté ici ma famille de petits lapins ; je rattrape cet oubli immédiatement !
Chut, ne faites pas de bruit pour ne pas les effrayer, et suivez-moi, vous allez découvrir qu'ils se sont installé un petit nid douillet dans une forêt mystérieuse, au lieu-dit "la clairière enchantée".
I do not know if you know the Sylvanians, these miniatures of the little animals of the forest (if you do not know, it's here: http://sylvanianfamilies.net/uk/ although most of mine are vintage Sylvanians, which I prefer to those of today).
I had never introduced my family of little rabbits here ; I catch up with this forgetfulness immediately !
Hush, do not make any noise not to frighten them, and follow me, you will discover that they have settled a small cozy nest in a mysterious forest, at a place called "enchanted clearing".
Si l'image vous plait, je vous l'offre en fond d'écran haute définition, à télécharger ici :
If you like the picture, I offer it in HD wallpaper, to download here :
http://pimg.imagesia.com/fichiers/1fj/img-1280-ecran_imagesia-com_1fjy8.jpg
♥♥♥
12 janvier 2018
Voici Fiona qui portait fièrement le nouveau pull que je lui ai tricoté, pour faire son entrainement quotidien.
Here is Fiona who proudly wore the new sweater that I knit her, to do her daily training.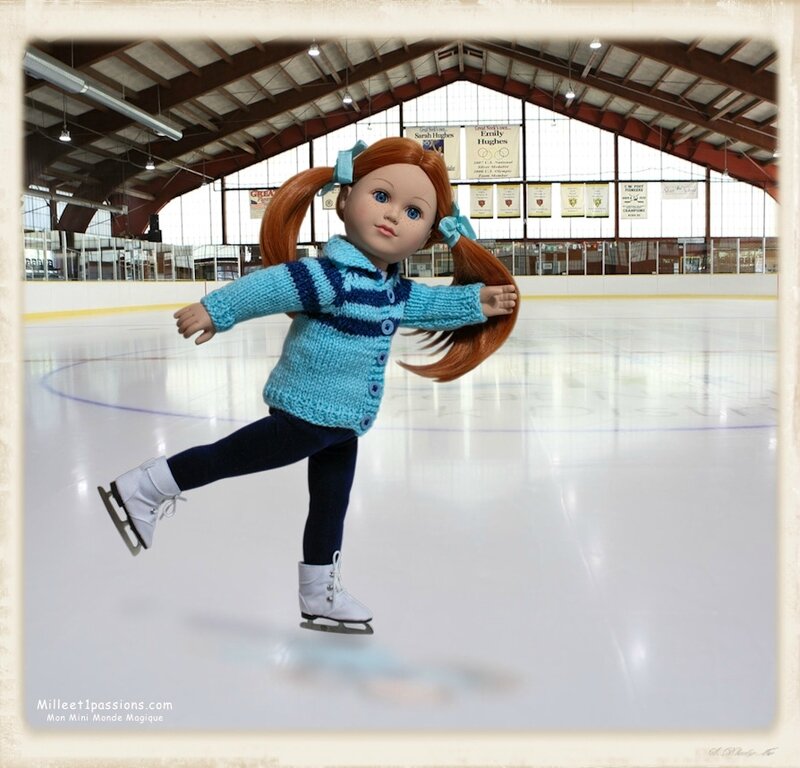 Fiona est une poupée My Life as à laquelle j'ai mis une perruque rousse.
Fiona is a My Life as doll with a redhair wig.
♥♥♥
11 janvier 2018
On continue la balade du 10 janvier, jour exceptionnel car ensoleillé comme je l'expliquais hier !
Cette fois, c'est Taryn et Sean que j'ai rencontrés au parc du lac des Nations à Sherbrooke, illuminés par le soleil boréal qui descendait déjà l'horizon (15 h 45), bien que les jours aient déjà passablement rallongés, ce qui est bien agréable.
We continue the ride of January 10, exceptional day because sunny as I explained yesterday!
This time it was Taryn and Sean that I met at the Lake des Nations Park in Sherbrooke, illuminated by the northern sun that was already coming down the horizon (3:45 pm), although the days have already gone quite long, which is nice.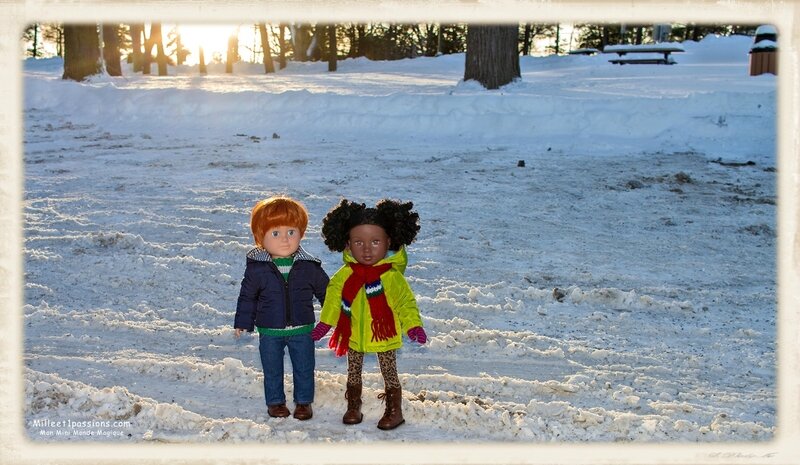 Pour voir les 2 images en taille réelle, cliquez ici : IMG_1175__cran et ici IMG_1168__cran : puis cliquez encore une fois sur l'image qui s'affichera
To see the 2 full size images click here : IMG_1175__cran et ici IMG_1168__cran ; and then, click again on the image that will be displayed
♥♥♥
10 janvier 2018
Nous avons enfin eu une belle journée aujourd'hui (entre une tempête de neige qui s'est terminée hier, et une tempête de verglas qui arrive cette nuit !) : il fallait en profiter vite pour sortir s'aérer un peu.
J'ai vu Eireen et Callie-Ann passer devant mon objectif durant leur promenade ; je vous offre donc un peu de soleil sur la neige.
We finally had a nice day today (between a snowstorm that ended yesterday, and an ice storm that arrives tonight!): It was necessary to enjoy it quickly to go out a little aeration.
I saw Eireen and Callie-Ann pass in front of my lens during their walk ; so I offer you a little sun on the snow.
Pour voir l'image en taille réelle, cliquez ici : IMG_1150__cran ; puis encore une fois sur l'image qui s'affichera
To see the full size image, click here : IMG_1150__cran ; and then again on the image that will be displayed
D'autres petits amis se sont promenés aussi, vous les verrez demain à leur tour.
Other little friends have been walking too, you will see them tomorrow at their turn.
♥♥♥
07 janvier 2018
Liste de mes poupées 18 pouces (46 cm) avec des détails.
Summary of my 18 inch dolls with details.
Marque - Brand American Girl

Les filles – The girls

GRACE.......................................................

Grace Thomas - Girl of the year 2015

MARIANNE

Blaire Wilson - Girl of the year 2019

DELPHINE

McKenna Brooks - Girl of the year 2012

MAEVA

Nanea Mitchell - Historical Characters / BeForever

BELLE

Isabelle Palmer - Girl of the year 2014

LEANE

Lea Clark - Girl of the year 2016

JULIETTE

Julie Albright - Historical Characters

ÉMILIE, dite Mimi

Custom Just Like You #42

REBECCA

Rebecca Rubbin - BeForever

GABRIELLE, dite GABY

Gabriela McBride - Girl of the year 2017

MAYLEE

Custom Truly Me #64

CHARLOTTE

Custom Truly me #

ALIX (ALICE)

Custom Truly

Me ?

SPRING RAIN (PLUIE DE PRINTEMPS) Mookijiwangimiwan

Kaya'aton'my - Historical CharacterS

KITTY

Custom Kit Kittredge

HORTENSE

Josefina Montoya - Historical characters

LISETTE

Samantha Parkington - Historical characters

ROSE

Truly me #61

PERRINE

Felicity Merriman - Historical characters

NOÉLINE

Kirsten Larson - Historical characters

GARANCE

Addy Walker

NINON

Truly me #27

Les garcons – The boys

ALEXANDRE, dit ALEX

Custom American girl of Today / Just Like you #2

ETHAN

Custom

LOÎC

Custom Samantha Parkington pré-Mattel

BASTIEN

Custom Marisol Luna

LOGAN

Logan Everett

KENJI

Custom Truly Me #64

LUDOVIC, dit Ludo

Custom Isabelle Palmer

JEREMY

(AMIK = Castor, en langue ojibwée / Beaver, in ojibway language)

Custom Kaya'aton'my - Historical Character

VICTOR

Custom Trult Me#

VINCENT

Custom Addy Walker

ROMAIN

Custom Chrissa Maxwell

AUGUSTE

Custom Samantha Parkington

NARCISSE

Kirsten Larson

AUTUMN SUN (SOLEIL D'AUTOMNE) Binaakwiig giizis

Custom Kaya'aton'my - Historical Character

EUGÈNE

Custom Julie Albright - Historical Characters
------------------------------------------------------------------------------
Marque / Brand Journey Girls
anciennement diffusées par ToysRus
Alana "Limited Edition Celebration Collection Gift Set" de 2015 ; boite qui contenait 2 poupées : Alana et Kara-Rose

Alana ; 2015 Limited Edition Celebration Collection Gift Set model , box contained 2 dolls: Alana and Kara-Rose

X

custom Callie 2014

custom Callie 2014

Callie 2017

Chavonne 2016

X

Chavonne 2013

Custom Dana 2015

(Danette)

Dana 2016 X

custom Dana 2015

X

Édition Limitée 2016 (2 poupées sans nom dans la boîte, voir la secondeci-dessous).

Limited Edition model of 2016 (2 dolls without name in the box, see the second, below).

X

Édition Limitée de 2016 (2 poupées sans nom dans la boîte, voir la seconde ci-dessus). Seul modèle de JG blonde à avoir des yeux noisette, toutes les autres blondes ont les yeux bleus

Limited Edition model 2016 (2 dolls without name in the box, see the second above). Only blonde JG model to have hazel eyes, all other blondes have blue eyes

X

Ille Holiday Edition de 2016, la seule Ilee brune ; existait aussi au choix en Ilee blonde

Holiday Edition model 2016, the only brunette Ilee; also existed with the choice of blonde Ilee

Ilee 2017

(Ingrid)

X

custom Ilee 2017

Jordana Holiday Edition 2013

Kara Rose ; modèle "Limited Edition Celebration Collection Gift Set" de 2015, boite qui contenait 2 poupées : Alana et Kara-Rose

2015 Limited Edition Celebration Collection Gift Set model, box contained 2 dolls: Alana and Kara-Rose

XX

custom 2014 Kelsey

Kelsey ; 2014

(Kendra)

X

Custom Kelsey 2014

(Abby Sciutto)

Kelsey 2017

Kyla 2011, originellement diffusée sous le nom de Alana, elle a changé de nom en 2012 pour devenir Kyla. Son visage a changé en 2013 :

Kyla 2011 originally sold as Alana, she changed her name in 2012 to Kyla. Her face changed in 2013 :

Kyla 2017

Meredith 2011

Meredith 2015

X

Mikaella 2016

X

Custom Mikaella ; 2016

Édition Limitée 2017, poupée sans nom

Limited Edition 2017, doll without name

X

Taryn 2011 devenue Chavonne en 2012

Taryn 2011

become Chavonne in 2012
-------------------------------------------------------------
Marque / Brand Newberry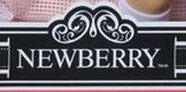 poupées diffusées par Sears, grands magasins nord-américains qui ont fait faillite au 31/12/17 - fabriquées par Lotus, comme les Journey Girls. Les noms des poupées sont ceux donnés par Newberry.

dolls released by Sears, North American department stores that went bankrupt at 31/12/17 - made by Lotus, like the Journey Girls. The names of the dolls are those given by Newberry.

Abigail

Katie
-----------------------------------------------------------------------------
Marque / Brand My Life as
poupées diffusées par les hypermarchés nord-américains Walmart

Ces poupées n'ont pas de nom, ceux que vous voyez sont donc de mon choix.

dolls distributed by North American hypermarkets Walmart

These dolls have no name, so those you see are my choice.

Jessica

Jonathan ; custom

Robin ; custom

Christophe ; custom

Thomas ; custom