19 janvier 2018
J'ai fait un comparatif en photo des morphologies et capacités de mouvement des 4 marques de poupées 18 pouces (46 cm) suivantes : Journey Girls (ToysRus), American Girl (Pleasant Company), My Life as (Walmart), Newberry (Sears), ainsi que de leur stabilité et qualité de cheveux et vinyle.
Commençons par la morphologie, de face et de profil :
I did a photo comparison of the morphologies and movement abilities of the following 4 brands of 18 inch (46 cm) dolls : Journey Girls (ToysRus), American Girl (Pleasant Company), My Life as (Walmart), Newberry (Sears ), as well as their stability and quality of hair and vinyl..
Let's start with morphology, face and profile :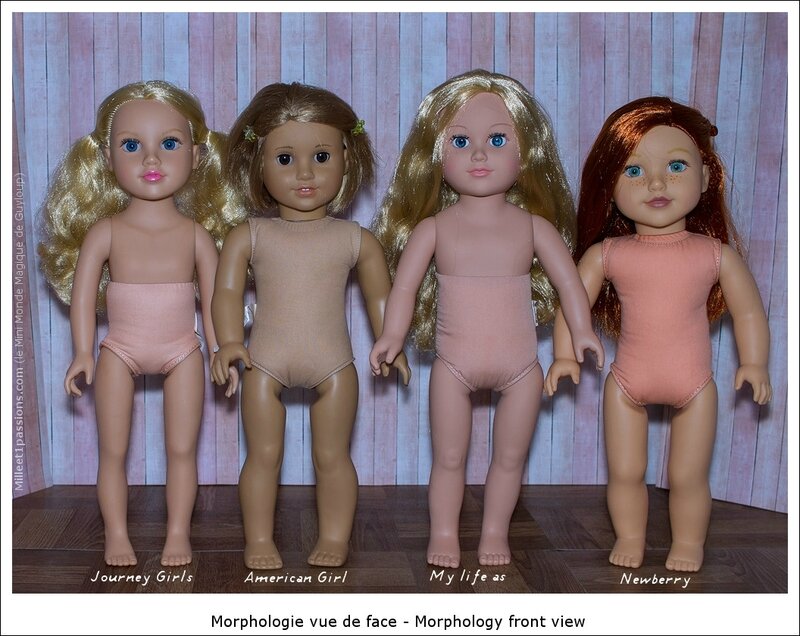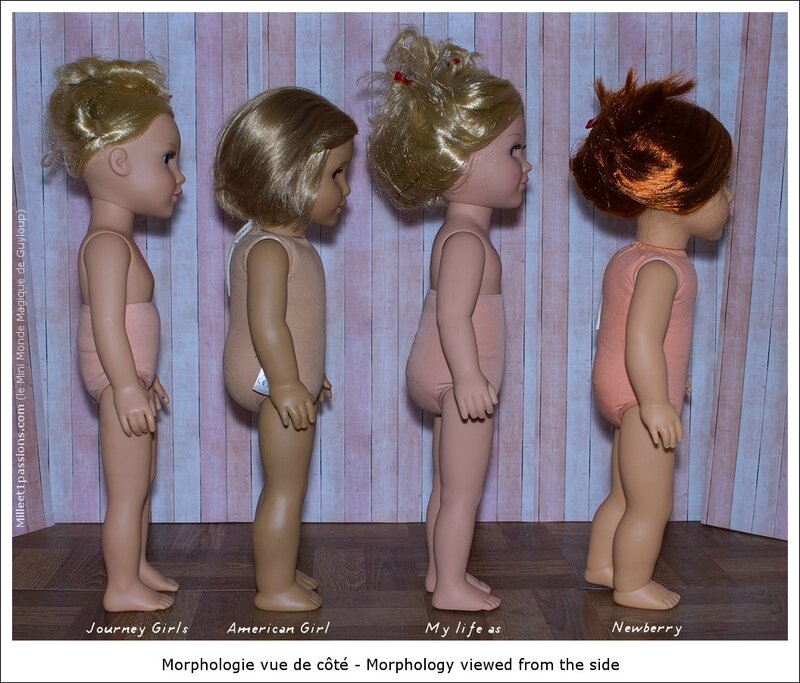 Longueur des bras / Arm length :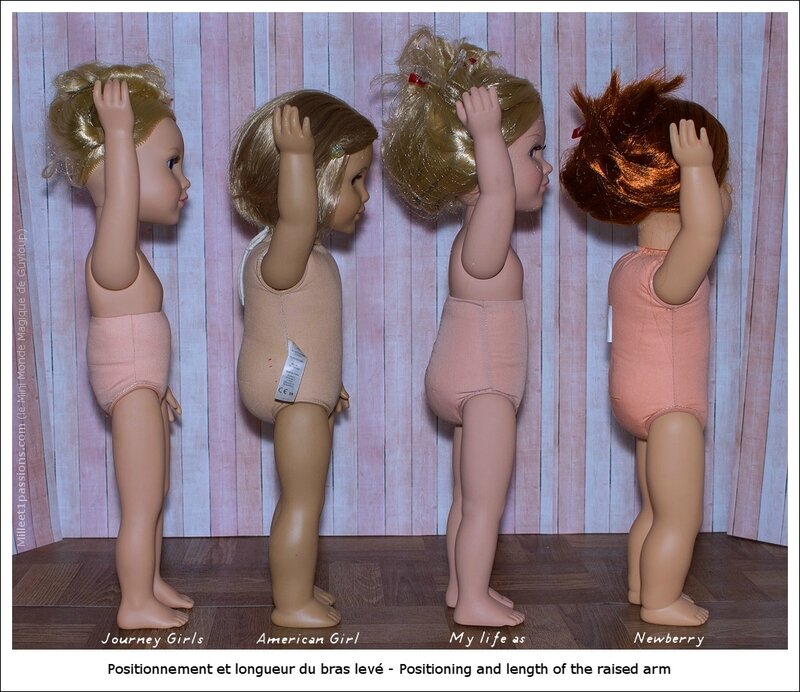 Continuons avec les capacités de mouvements corporels / Let's continue with the capabilities of body movements :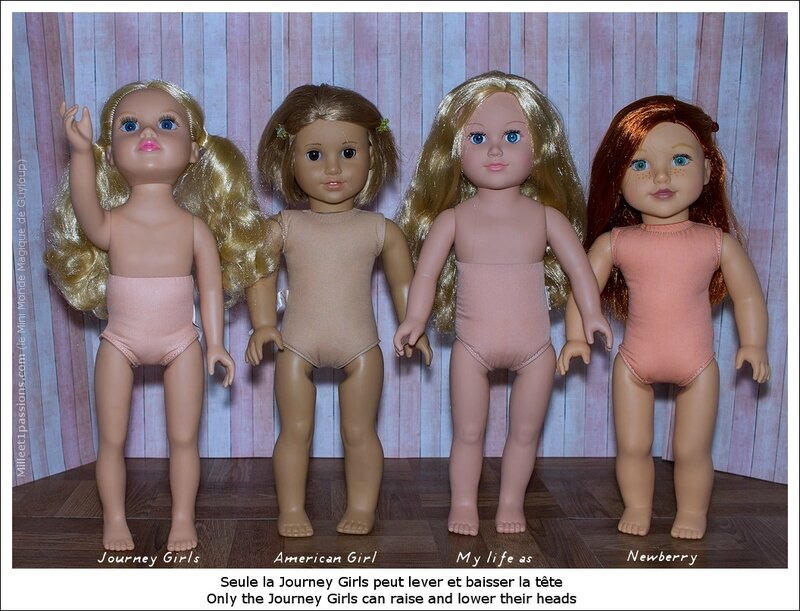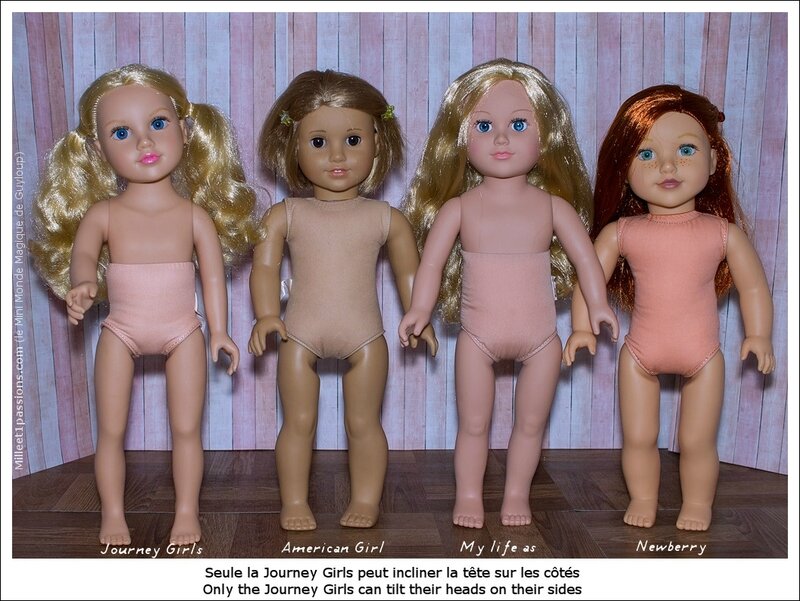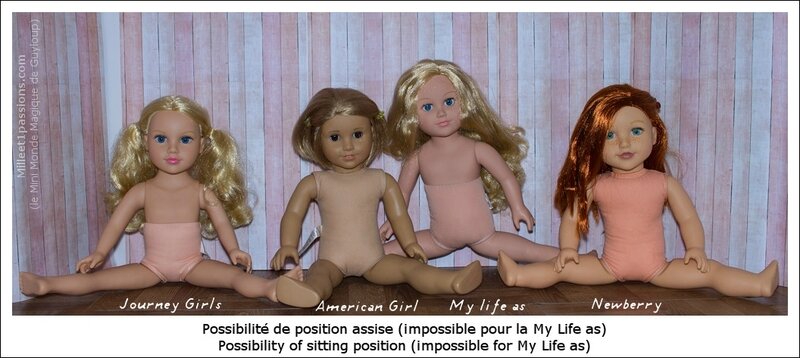 Une autre différence, et non des moindres, est que la Journey Girls et la My Life as ont le haut du corps en vinyle, ce qui leur permet de porter des vêtements à bretelle ou décolletés sans laisser voir le tissu au cou et épaules.
Another difference, and not least, is that the Journey Girls and My Life as have the upper body made of vinyl, which allows them to wear straps or neckwear without showing the fabric around the neck and shoulders.
En ce qui concerne la couture : bien que la plupart des patrons pour 18 inch doll soient conçus pour les American Girls, ils vont bien aux autres ; toutefois, dans certains cas, il sera conseillé de réduire un peu la largeur du torse d'environ 1 cm (les 2 marges de couture verticales) si on veut un vêtement ajusté pour une Journey Girl.
Regarding sewing : although most 18 inch doll patterns are designed for American girls, they are good to others ; however, in some cases it will be advisable to reduce the chest width a little by about 3/8" (about the 2 vertical seam margins) iif you want a tight fitting fit for a Journey Girl.
En ce qui concerne la stabilité de ces poupées : AG et JG l'emportent haut la main, car par expérience, sauf rares exceptions (poupée dans l'herbe haute ou des roches inégales, etc) toutes mes photos sont faites sans aucune aide ni support. Par contre, les My Life aset les Newberry sont très raides aux articulations et ont peu d'amplitude de mouvement de jambes, ce qui les rend assez instables car on a du mal à placer les pieds où on veut exactement parce que les jambes "ne suivent pas" le mouvement qu'on veut leur faire faire ; elles sont donc un peu difficiles à positionner pour qu'elles restent debout sans tomber en avant ou arrière.
Regarding the stability of these dolls : AG and JG win hands down, because by experience, except rare exceptions (doll in the tall grass or uneven rocks, etc) all my photos are made without any help or support. On the other hand, My Life as and Newberryare very stiff at the joints and have very little amplitude of movement of legs, which makes them quite unstable, because has difficulty in placing the feet exactly where one wants because the legs "do not follow" the movement one wants them to do; they are therefore a little difficult to position so that they remain standing without falling forward or backward.
Au niveau des cheveux : les Journey Girls ont des cheveux implantés, ce que je trouve dommage car si ils sont abimés, il faudra les raser pour mettre une perruque (les perruques vendues pour American Girl vont parfaitement aux autres comme vous l'avez vu dans certains de mes articles précédents). Toutefois, la qualité des cheveux des Journey Girl est belle, souple et ne s'emmêlant pas trop. Les cheveux des American Girls sont magnifiques, et très proches de vrais cheveux, ils permettent des coiffures plus élaborées que les cheveux implantés des 3 autres marques. Les cheveux des My Life as sont très doux mais s'emmêlent très vite (vent, déplacements, habillage). Les cheveux des Newberry sont beaux, mais manquent de densité et s'emmêlent également assez vite.
In terms of hair : Journey Girls have hair implanted, which I find unfortunate because if they are damaged, it will shave to put a wig (the wigs sold for American Girl go perfectly to others as you saw in some of my previous articles). However, the quality of the Journey Girl's hair is beautiful, flexible and does not get tangled up too much. The hair of the American Girls is very beautiful, and very close to real hair, they allow hairstyles more elaborate than the implanted hair of the other 3 brands. The hair of My Life as are very soft but get tangled very quickly (wind, movement, dressing). Newberry's hair is beautiful, but lacks density and also gets tangled up fast enough.
Pour ce qui concerne le vinyle, on enfonce très facilement une épingle dans l'oreille ou le crane d'une My Life as et d'une Newberry, assez difficilement dans la Journey Girl, et plus que difficilement dans l'American Girl. Un détail que je n'aime pas : le vinyl des jambes des My Life as est peu épais, et elles s'enfoncent quand on appuie dessus pour les saisir fermement.
As for vinyl, it is very easy to insert a pin in the ear or the skull of a My Life as and a Newberry, quite difficult in the Journey Girl, and more than with difficulty in the American Girl. One detail that I do not like: the vinyl legs of My Life as is thin, and they sink when you press on them to grasp them firmly.
Peut-être un de ces jours ajouterai-je une poupée de la marque Our Generation (Target) afin de compléter ma comparaison sur les poupées 18 pouces les plus connues.
Maybe one of these days I will add a doll of the brand Our Generation (Target) to complete my comparison on the most famous dolls 18 inches.

♥♥♥
23 avril 2017
Une jolie Gabby blonde est venue rejoindre la rousse Courtney dont je vous parlais récemment ICI ; elle aussi a eu droit à des leggins et des tongs, ainsi qu'à une tunique.
Et comme il ne fait toujours pas très chaud dans notre Canada, je leur ai tricoté des pulls à capuche ; un blanc pour Gabby, et un bleu pour Courtney, réplique exacte de celui que j'avais tricoté en bien plus petit pour Éva (voir ICI ).