20 juin 2018
Au Québec, on appelle les Amérindiens du nom de Autochtones. C'est curieux car il semble que certains Québecois ne savent pas que le mot "autochtone" veut en réalité dire "né dans le pays", quelque soit ce pays, en effet, beaucoup pensent que autochtone est synonyme de amérindien.
Le 21 juin marque au Canada la "Journée nationale des peuples Autochtones", c'est le jour qui a été choisi pour rendre hommage aux Premières Nations (autre appellation des Amérindiens dans le pays), aux Inuits et aux Métis du Canada : les premiers habitants de ce pays et leurs descendants (pour celles qui ne le savent pas, mon mari est métis amérindien lui-même, nation des Algonquins).
Le choix du 21 juin s'explique du fait que cette date correspond au solstice d'été ; cette journée, la plus longue de l'année, a toujours été l'occasion de fêtes parmi les nations amérindiennes. De nos jours, cette journée est soulignée par les Amérindiens eux-mêmes et par de nombreux Canadiens dans tout le pays.
June 21 marks "National Aboriginal Day" in Canada, the day chosen to honor First Nations (another name for Native Americans in Canada), Inuit and Métis in Canada. inhabitants of this country and their descendants (for those who do not know it, my husband is a native Amerindian himself, an Algonquin nation).
The June 21 election is due to the fact that this date corresponds to the summer solstice; this day, the longest of the year, has always been the occasion of festivals among the Amerindian nations. Today, this day is highlighted by the Indians themselves and by many Canadians across the country.
À cette occasion, Callie a revêtu sa robe cérémonielle, et la voici qui traverse la prairie avec son cheval Summer rain (pluie d'été).
On this occasion, Callie donned her ceremonial robe, and here she crosses the meadow with her horse Summer rain.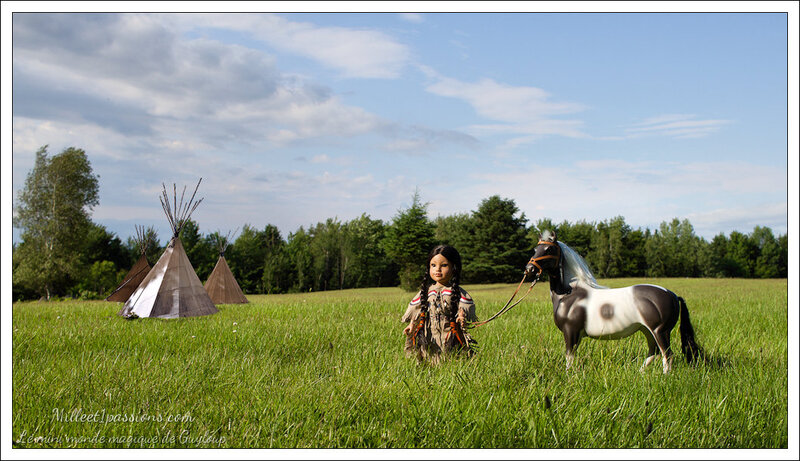 La saison des pow-wow (fête sinter-tribales) va bientôt commencer, et j'espère que la météo de l'été nous permettra d'aller à quelques uns d'entre eux et de vous rapporter des photos et vidéos plus nombreuses que je l'avais fait l'an dernier (voir ici : http://www.milleet1passions.com/archives/2017/07/10/35466457.html ).
La différence est que cette année, Callie, et son amie Kaya vont nous accompagner ! (Kaya est une poupée American Girl amérindienne, qui s'en vient doucement par la poste depuis le Nevada, que vous découvrirez prochainement).
The pow-wow season will begin soon, and I hope the summer weather will allow us to go to some of them and bring you more photos and videos than I did it last year (see here: http://www.milleet1passions.com/archives/2017/07/10/35466457.html).
The difference is that this year, Callie, and her friend Kaya will accompany us! (Kaya is a Native American Girl doll, which comes slowly by post from Nevada, which you will discover soon).
Bon solstice d'été à toutes / Happy summer solstice to all :-)