03 juin 2018
Kelsey est une rousse flamboyante au teint très pâle, et ce n'est pas ce qu'il y a de plus simple pour trouver des couleurs qui lui vont bien (rappelez-vous mon hésitation pour la couleur de son pull l'hiver dernier, ICI).
J'ai réglé le problème avec un grand classique : rayures marine et blanc, et corsaire en jeans.
Comme cette jolie Kelsey est une passionnée de photo de paysages, elle bat la campagne dès qu'elle le peut, donc je lui ai ajouté un chapeau de cow-boy en paille pour préserver son teint de porcelaine des rayons UV, et des lunettes de soleil pour protéger ses yeux clairs de la lumière estivale (elle les a à la main droite, et son tél portable dans la gauche).
Kelsey is a flamboyant redhead with a very pale complexion, and it's not that easy to find colors that suit her (remember my hesitation for the color of her sweater last winter) .
I solved the problem with a classic: navy and white stripes, and corsair jeans.
As this lovely Kelsey is passionate about landscape photography, she is outdoors whenever she can, so I added a straw cowboy hat to preserve her porcelain complexion from UV rays, and sunglasses. sun to protect her clear eyes from the summer light (she has them on the right hand, and her mobile phone in the left).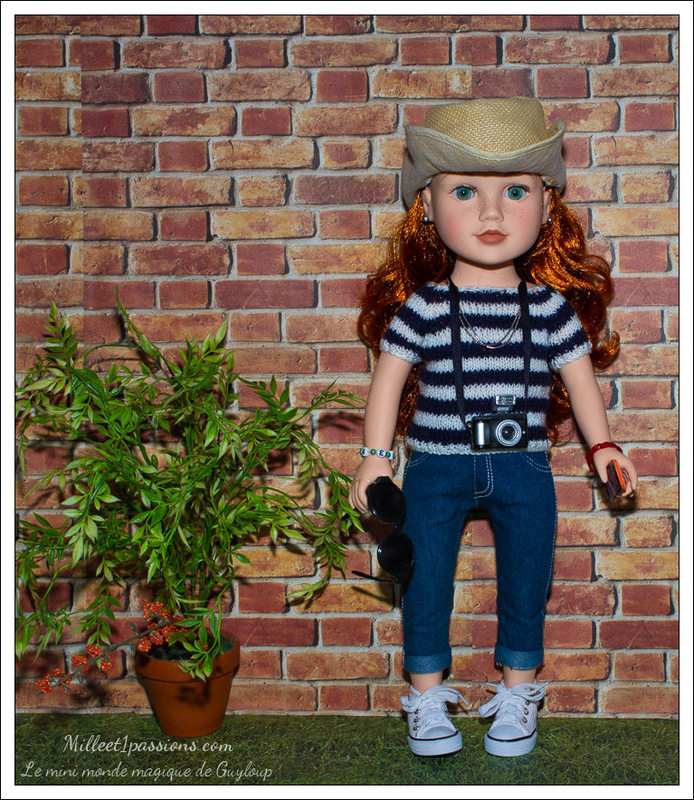 Kelsey est une Journey Girls de 2017. Kelsey is a Journey Girls of 2017.
Le tutoriel du pull se trouve ici / The tutorial of the sweater is here ICI (tricoté en 3 mm),
Le tutoriel du jeans, arrangé en corsaire est ici / The tutorial of the jeans, arranged in corsair is here ICI
Le tutoriel du chapeau est ici / The tutorial of the hat is here ICI
IMpression pour téléphone ici / Print for phone ICI
J'espère que vous avez passé un bon dimanche, et qu'il en sera de même pour la semaine qui commence.
I hope you had a good Sunday, and it will be the same for the week that begins.
♥♥♥
17 mars 2018
Ayant cousu un nouveau pantalon et tricoté un nouveau pull pour mes "ti-gars" (le pantalon de velours beige de Yvan, et le pull rayé beige et vert de Thomas), je me suis dit qu'une photo du groupe des garçons au complet serait sympa. La voilà :
Having sewn on new pants and knitted a new sweater for my "little guys" (Yvan's beige velvet trousers, and Thomas's beige and green striped sweater), I thought a picture of the boys' group at complete would be nice. Here it is :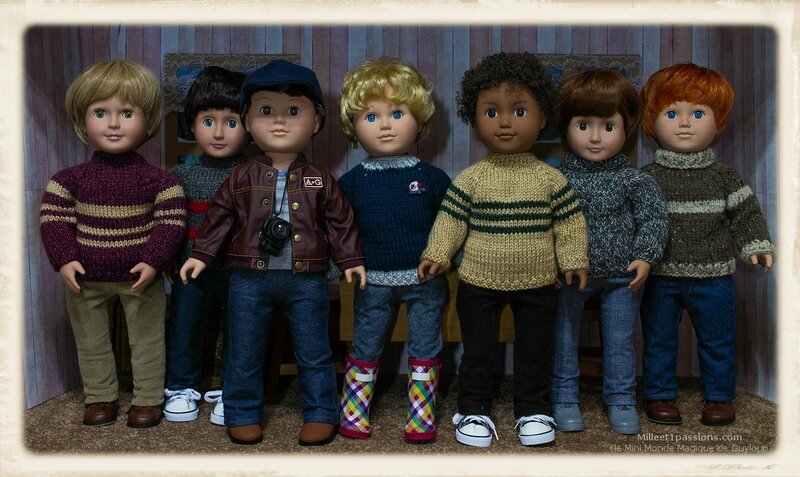 En dehors du blouson "de cuir" et du swearshirt en dessous (vêtements American Girls), tout ce que portent mes garçons sort de ma machine à coudre et de mes aiguilles à tricoter..... et tous ces garçons étaient à l'origine des poupées filles que j'ai transformées.
Apart from the "leather" jacket and the swearshirt underneath (American Girls clothes), everything my boys wear comes out of my sewing machine and my knitting needles ..... and all these boys were originally girls dolls that I transformed.
Si je n'ai pas présenté cette photo dehors, c'est que le printemps n'est pas encore de saison au Québec, il faudra patienter encore un mois et demie environ avant d'en ressentir les effets.
Actuellement, après deux semaines de tempêtes de neige, nous sommes repartis pour des températures de -20° C :
If I did not present this picture outside, it is because the spring is not yet in season in Quebec, it will have to wait another month and a half before feeling the effects.
Currently, after two weeks of snowstorms, we left for temperatures of -4 ° F:
et ce matin, c'était avec du blizzard en plus, ce qui crée ce qu'on appelle de la "poudrerie", c'est à dire qu'on ne voit rien, on en prend plein la figure, les rafales nous bousculent, fait voltiger tout ce qui traîne, déplace les "bancs de neige" (congères, en québécois), bref, ce n'est pas agréable du tout.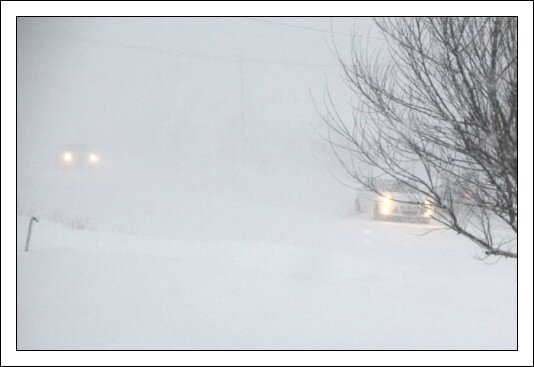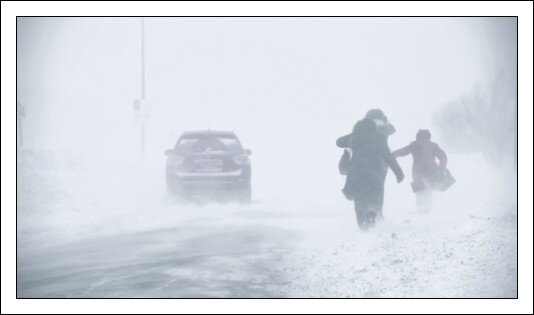 Apparemment, il ne fait pas beau en France non plus, avec un petit coup de froid et quelques flocons prévus à nouveau, j'espère que la végétation ne sera pas trop endommagée chez vous.
Bref, vivement le printemps !!!
En attendant qu'il arrive, je vous souhaite un :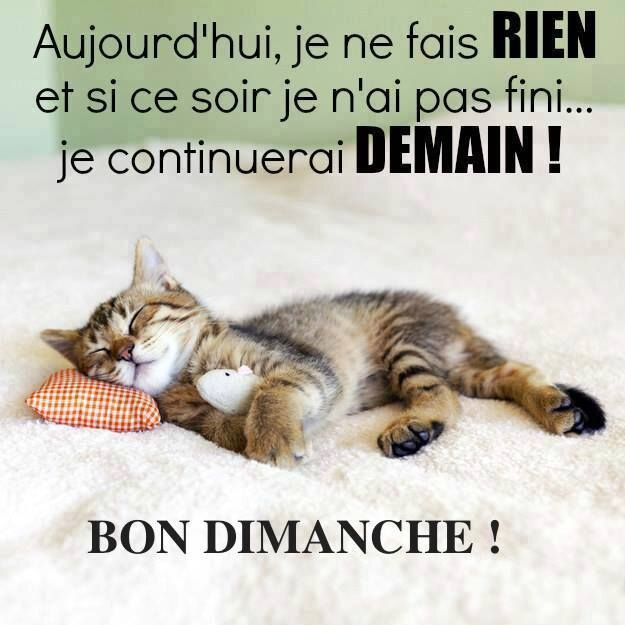 ♥♥♥
14 mars 2018
J'ai tricoté un gilet blanc torsadé pour Kendra et cousu un sweat-shirt pour Kelly. Le gilet me plait, mais je suis déçue du sweat-shirt, la couleur va bien à Kelly, mais je lui trouve un petit air "mémé" qui ne m'emballe pas trop ; couleur ? motifs du tissu ? je ne sais pas, mais je pense qu'elle aura prochainement autre chose en remplacement.
I knitted a twisted white jacket for Kendra and sewed a sweatshirt for Kelly.
The jacket I like, but I'm disappointed with the sweatshirt, the color goes well to Kelly, but I find him a little air "granny" that I do not like too much; color ? fabric patterns? I do not know, but I think she will soon have something else to replace.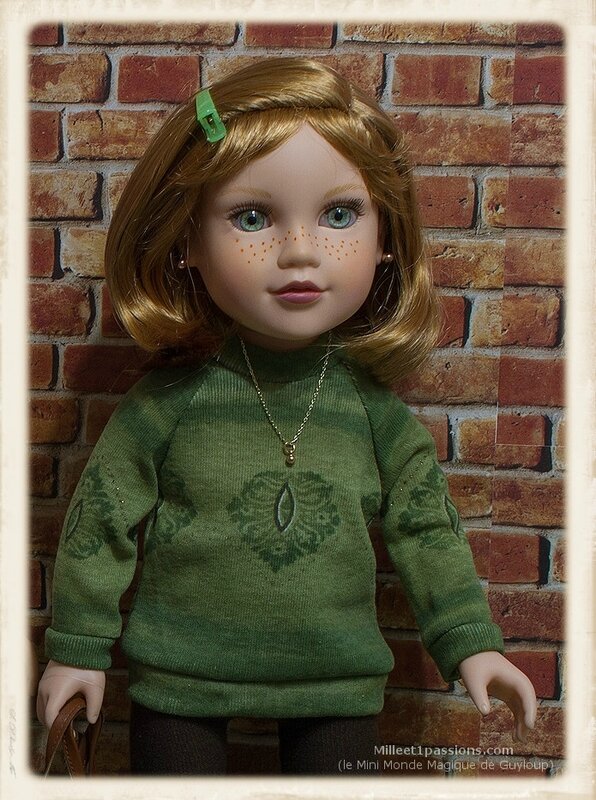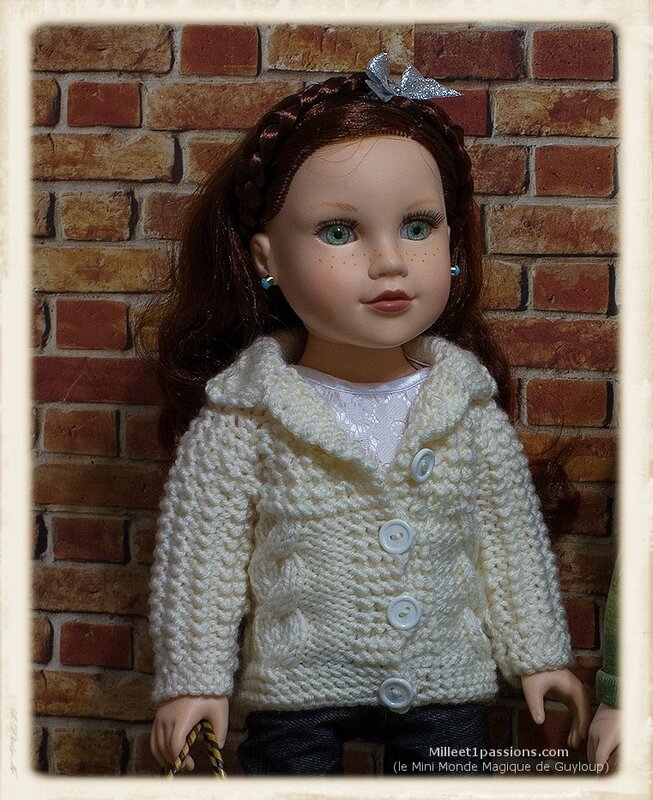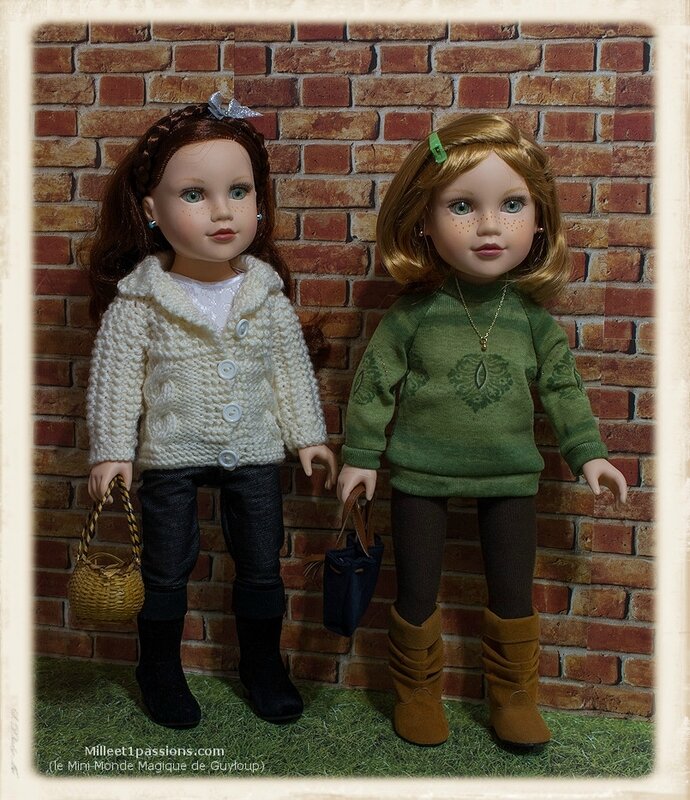 ♥♥♥
15 février 2018
Avec la teinte de ses cheveux et son teint très clair, Kelsey me pose un problème de couleur ; je lui ai tricoté 2 pulls, lequel lui va le mieux à votre avis ?
With the hue of her hair and her very fair complexion, Kelsey poses a problem of color; I knitted 2 sweaters, which one is best for you ?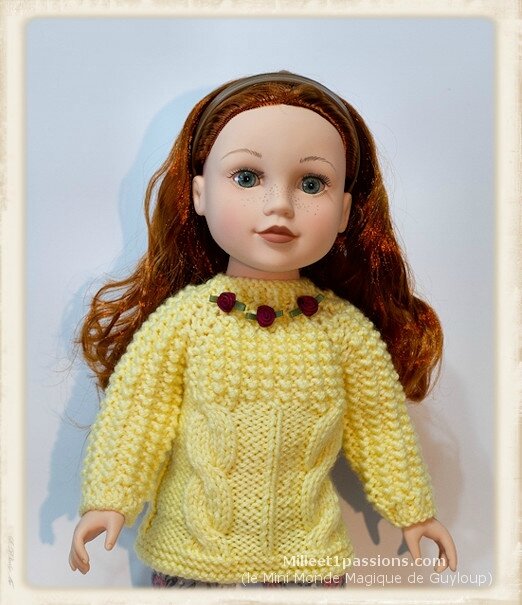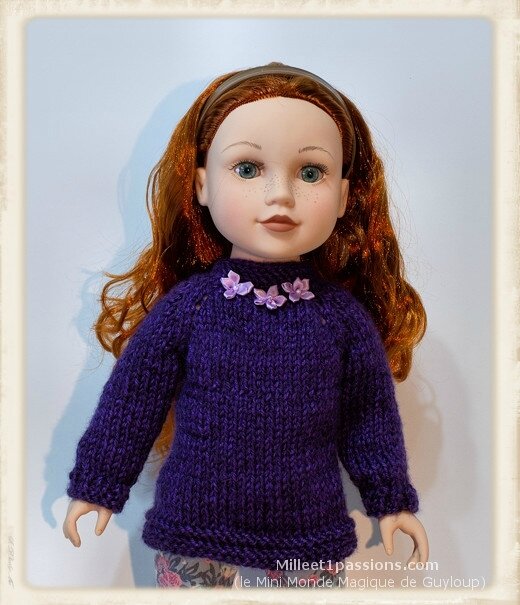 ♥♥♥
12 janvier 2018
Voici Fiona qui portait fièrement le nouveau pull que je lui ai tricoté, pour faire son entrainement quotidien.
Here is Fiona who proudly wore the new sweater that I knit her, to do her daily training.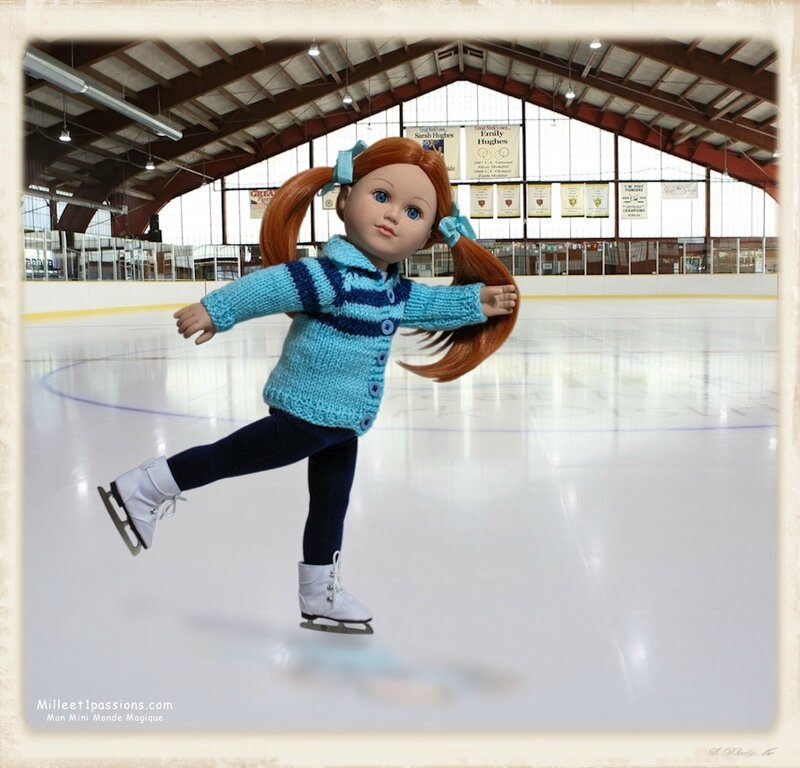 Fiona est une poupée My Life as à laquelle j'ai mis une perruque rousse.
Fiona is a My Life as doll with a redhair wig.
♥♥♥
09 janvier 2018
Je ne pouvais pas laisser Sean habillé en tenue de hockey 24/24 h, donc je lui ai tricoté un pull, cousu un jeans et un blouson matelassé ; à noter que le blouson était un des 3 défis de couture pour poupée de novembre 2017 sur mon propre forum, je n'étais pas en avance pour répondre au défi !!
I could not leave Sean dressed in hockey clothings for 24 hours a day, so I knitted him a sweater, sewn jeans and a quilted jacket ; to note that the jacket was one of the 3 sewing challenges for doll of November 2017 on my own forum, I was not in advance to answer the challenge !!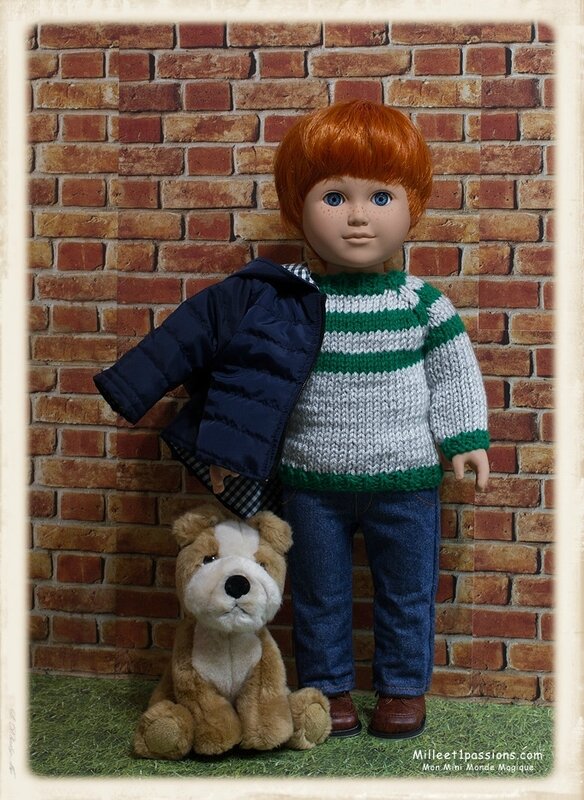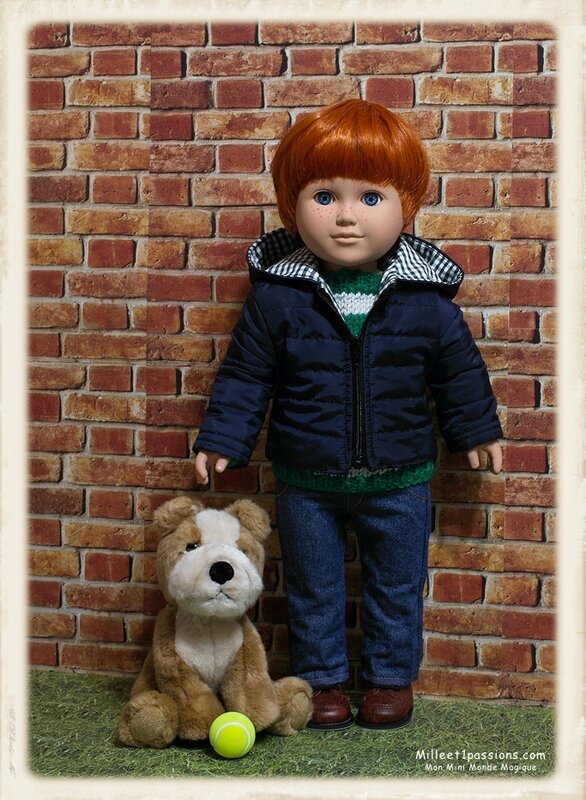 Si cela vous intéresse, le patron du blouson se trouve ici : https://www.pixiefaire.com/products/quilted-parka-bundle-18-doll-clothes
Le patron du jeans se trouve ici : https://www.pixiefaire.com/products/boys-jeans-bundle-18-doll-clothes
If this interests you, the pattern of the jacket is here: https://www.pixiefaire.com/products/quilted-parka-bundle-18-doll-clothes
The pattern of the jeans is here : https://www.pixiefaire.com/products/boys-jeans-bundle-18-doll-clothes
À bientôt, See you soon
♥♥♥
15 décembre 2017
Kyla, version 2017, est arrivée hier... elle a le teint très mat, et sera la demi-soeur de Thomas. Sachant qu'elle allait arriver, je lui avais tricoté un pull d'une teinte vive pour réhausser son joli teint.
Kyla, version 2017, arrived yesterday ... she has a very dull complexion, and will be the half-sister of Thomas. Knowing she was coming, I had knitted a sweater of a bright shade to enhance her pretty complexion.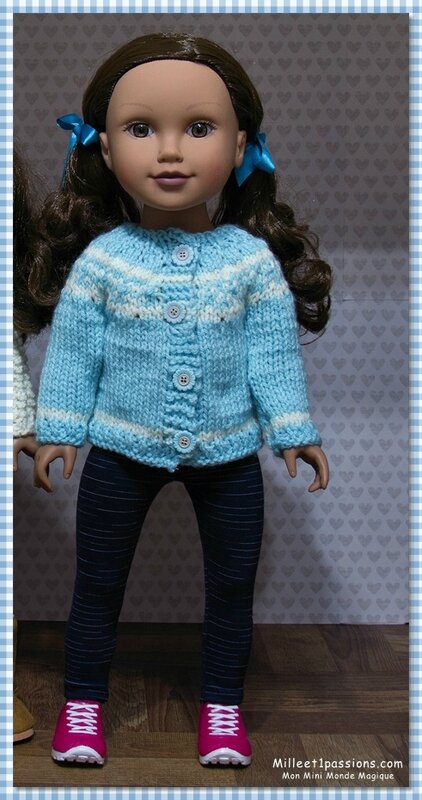 Et elle ne semble pas plus sage que les autres ! voyez-donc, elle a aussitôt rejoint Thomas et Mikaella sur l'escalier et les encourage...
mais le pire, c'est qu'elle a immédiatement lié amitié avec la douce Melody (Meredith 2011) qui s'est mise aussitôt à vouloir elle aussi participer aux bêtises :-)
And she does not seem wiser than the others! See, she immediately joined Thomas and Mikaella on the stairs and encouraged them ...
but the worst thing is that she immediately made friends with the sweet Melody (Meredith 2011) who immediately started wanting to participate in the nonsense :-)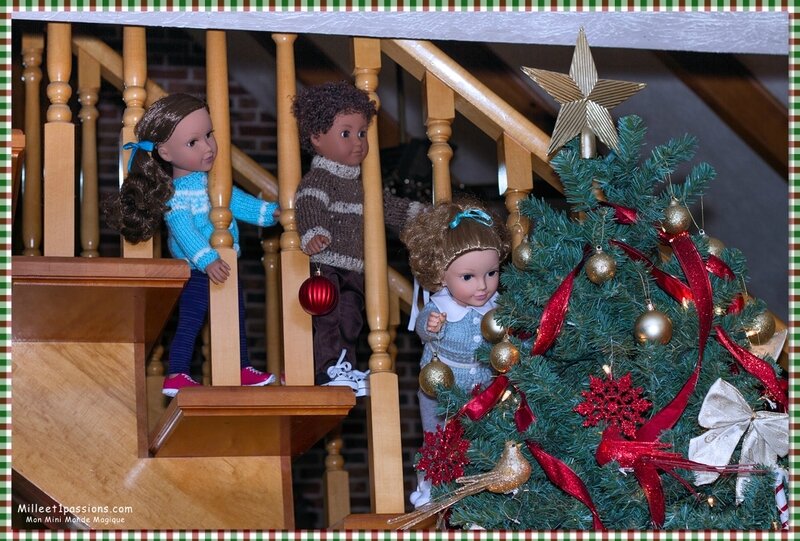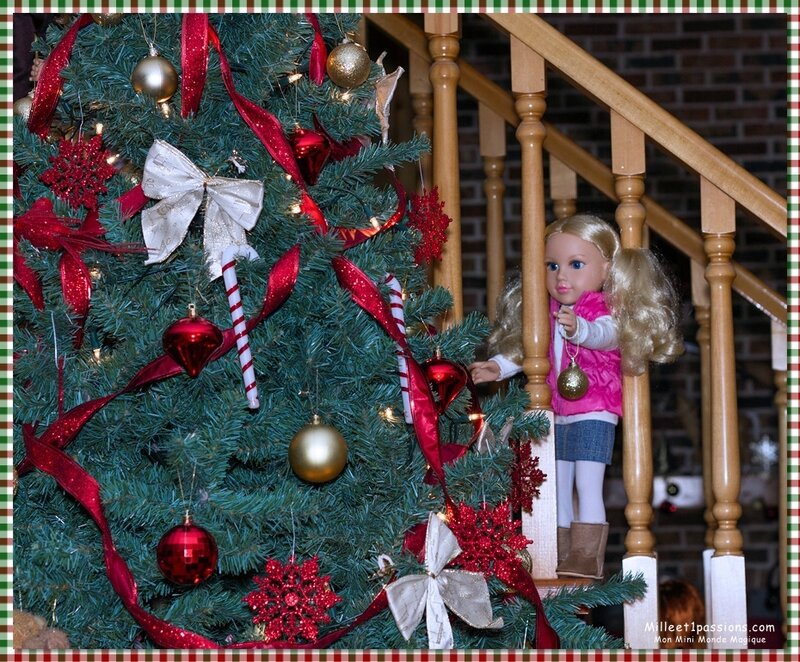 Pas facile à gérer ces enfants là !
Not easy to handle these kids there !
À bientôt, See you soon,
♥♥♥
24 novembre 2017
Mademoiselle Ilee voulait avoir chaud pour répéter ses romances irlandaises au violon ; je lui ai donc tricoté à son tour un gilet bien douillet.
Miss Ilee wanted to be hot to repeat her Irish romances on the violin ; so I knitted him in his turn a very cozy vest.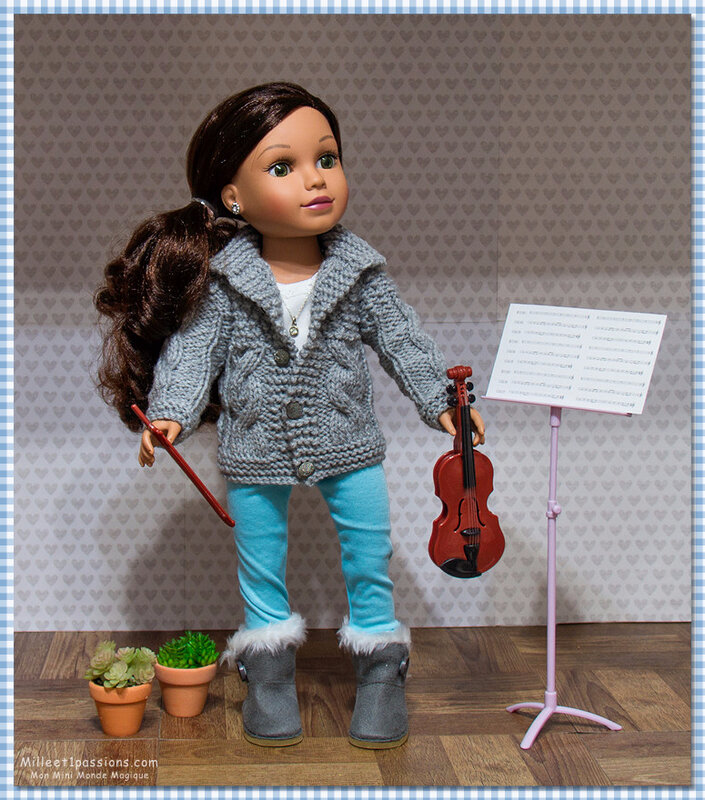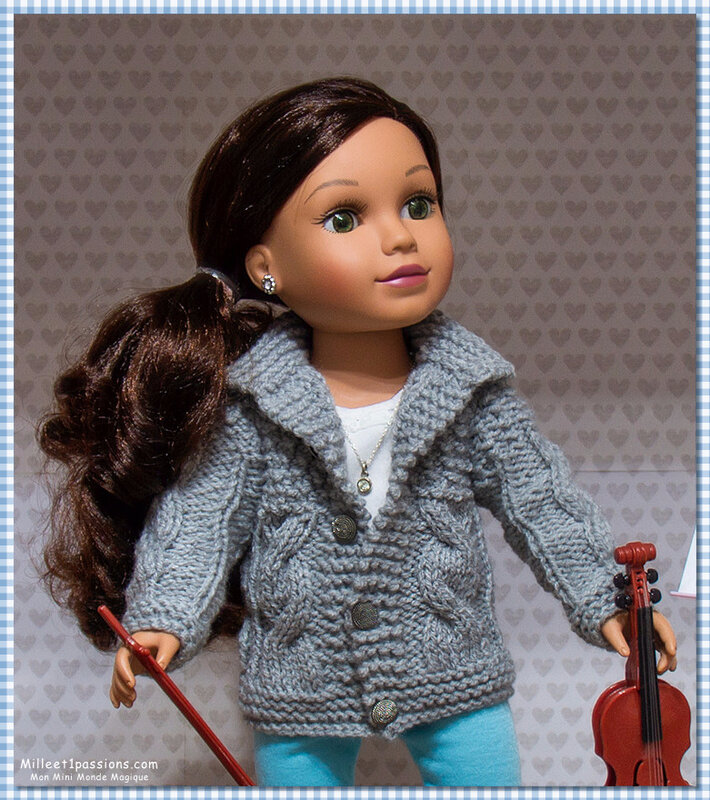 À bientôt / See you soon,
♥♥♥
18 novembre 2017
Ayant voulu tester ma science toute neuve des torsades, je me suis lancée avec ce pull-tunique pour Kyla.. dont je suis assez fière, même si il parait que ce n'est pas beau d'être content de soi ! Je n'ai pas suivi de tutoriel : j'ai pris un stylo et un papier pour calculer les espacements, et vogue la galère... voici le résultat :-)
Having wanted to test my new science of cables, I launched myself with this tunic-sweater for Kyla .. I'm pretty proud, even if it seems that it's not nice to be happy with oneself ! I did not follow a tutorial: I took a pen and a paper to calculate the spacings, and vogue galley ... here is the result :-)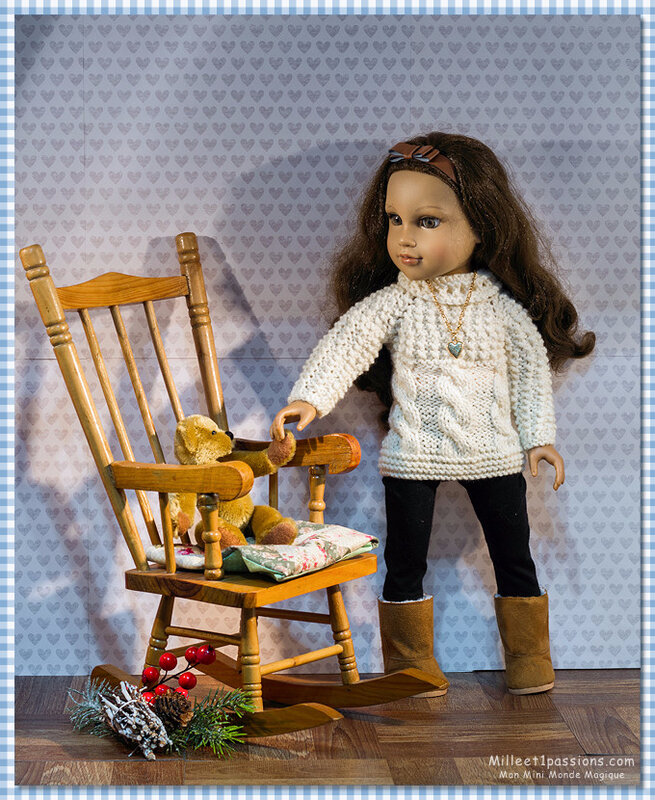 À bientôt, See you soon,
Guyloup
16 novembre 2017
Callie voulait aussi un bonnet avec des torsades, je lui en ai fait un, et un petit snood assorti.
Callie also wanted a hat with twists, I made her one, and a little matching snood scraf.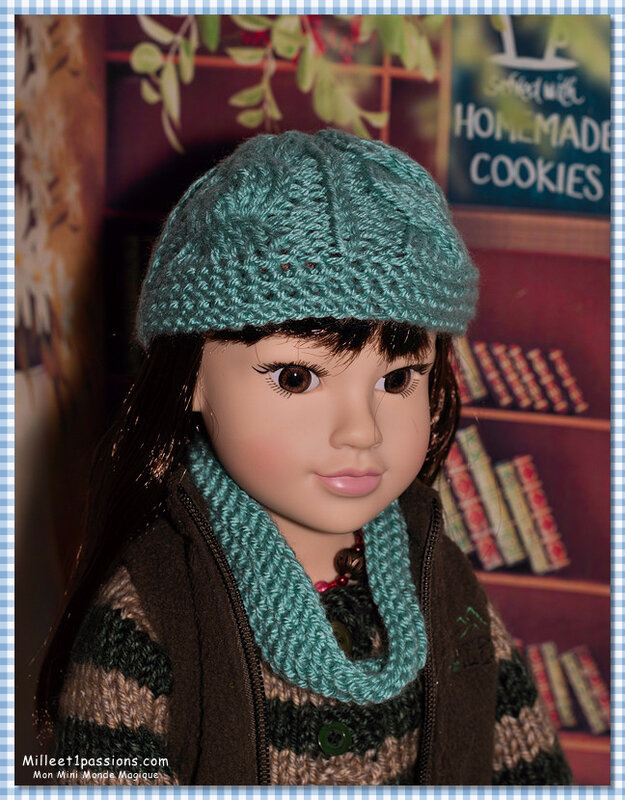 À bientôt, See you soon,
♥♥♥