07 décembre 2017
En cette saison, le sujet est récurrent, on l'entend partout, on se pose la question entre collègues et amis.
Et bien sur, mes "filles" n'y échappent pas !
Meredith et Abigail bavardent en promenant leurs chiens... et Meredith pose donc la fameuse question du moment :
- tu as prévu quoi pour Noël, toi ?
À votre avis, que lui a répondu Abigail ???
In this season, the subject is recurrent, we hear everywhere, we ask the question between colleagues and friends.
And of course, my "girls" do not escape!
Meredith and Abigail talk while walking their dogs ... and Meredith asks the famous question of the moment:
- what did you expect for Christmas?
In your opinion, what did Abigail answer to her ???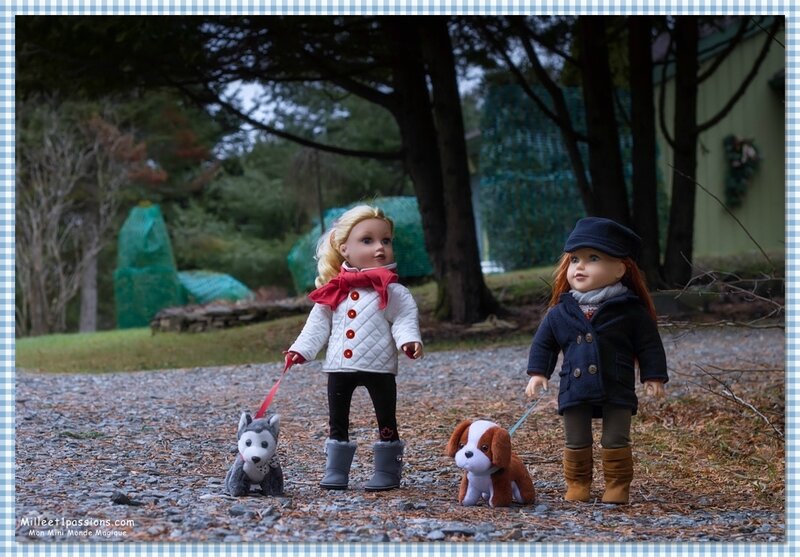 Comme vous le voyez, la neige avait re-fondu encore une fois !.... mais ce soir, c'est reparti,et ça tombe (j'espère juste que ça va fondre à nouveau !).
As you can see, the snow had melted again ! .... but tonight, it's gone again, and it's falling (I just hope it'll melt again !).
À bientôt / See you soon
♥♥♥
02 décembre 2017
Mon petit dernier "poupé" ???
Poupée, sans le E féminin final ?
En anglais, ça va, les mots sont invariables, mais en français, c'est difficile de dire "ma petite dernière poupéE", puisque le mot poupée est féminin en français, bien que ça soit un garçon ; pourtant il n'y a pas de masculin à ce mot.
On parle beaucoup de féminiser des noms dans la langue française, comme docteur, facteur, auteur, professeur, etc, qui sont masculins et "traditionnellement" invariables en grammaire, mais qu'en est-il des noms féminins non prévus pour le masculin ?
Bref, voici Thomas, mon petit dernier, devant "leur" sapin de Noël, qui vous présente son nouveau pull d'hiver à col roulé que j'ai terminé tout à l'heure :
My little last "poupé" ("doll")???
Poupé, without the final female E in French (normally "poupée") ?
In English, that's fine, most of the words are invariable between masculine and feminine, but in French, it's difficult to say "my little last doll", since the word doll is feminine in French, although it's a boy; yet there is no masculine at this word.
There is much talk of feminizing names in the French language, such as doctor, postman, author, teacher, etc., who are masculine and "traditionally" invariable in grammar, but what about feminine names not intended for the masculine?
In short, here Thomas, my youngest, in front of "their" Christmas tree, who presents his new winter turtleneck sweater I finished earlier :
À bientôt / See you soon,
♥♥♥