15 juin 2018
Comme le chantait Georges Brassens :
"les amoureux qui se bécotent sur les bancs publics, bancs publics, bancs publics... ont une petite gueule bien sympathique" !
Chanson ici : https://youtu.be/ML3QbTy7qxY

As Georges Brassens sang :
"lovers who smooch themselves on public benches, public benches, public benches ... have a nice little mouth" !
Song here : https://youtu.be/ML3QbTy7qxY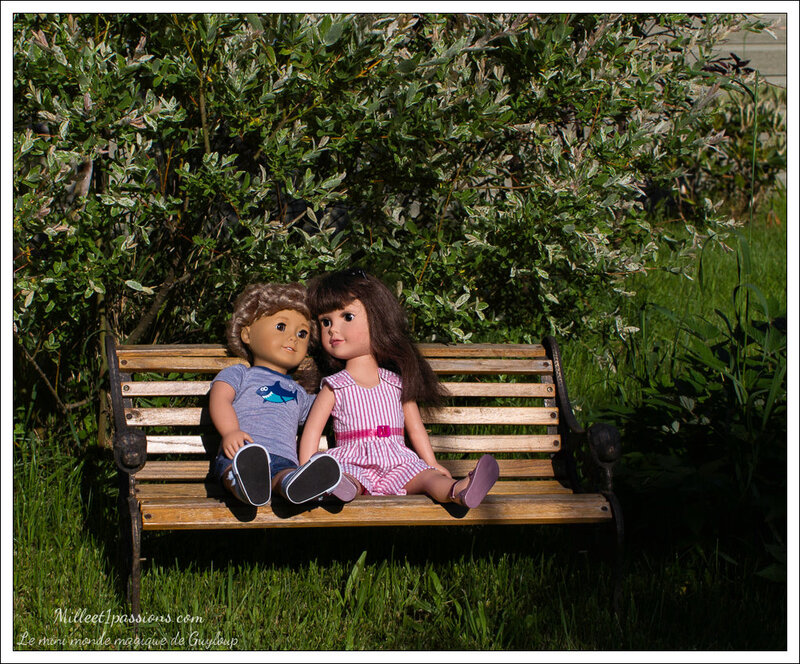 14 juin 2018
(for translation, use the button at the top left / para traducción, use el botón en la parte superior izquierda)
Je vous expliquais précédemment comment j'avais changé la couleur des yeux bleus d'une poupée.
Je n'étais pas satisfaite de sa perruque, voilà qui est rattapé avec cette perruque à frange American Girl.
Voici donc Mikaella devenue Miky, et son nouveau style tout en douceur et innocence :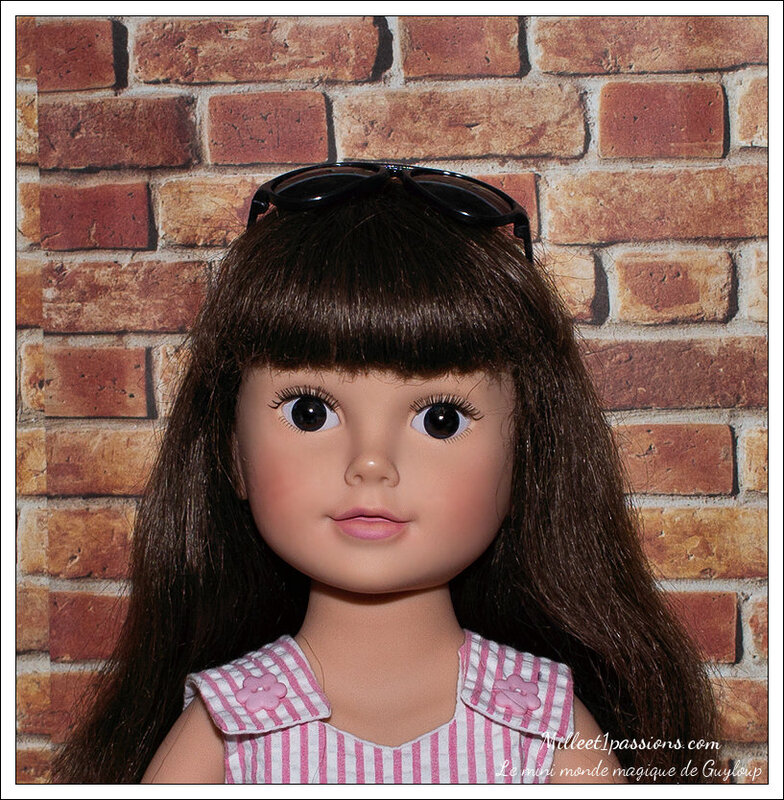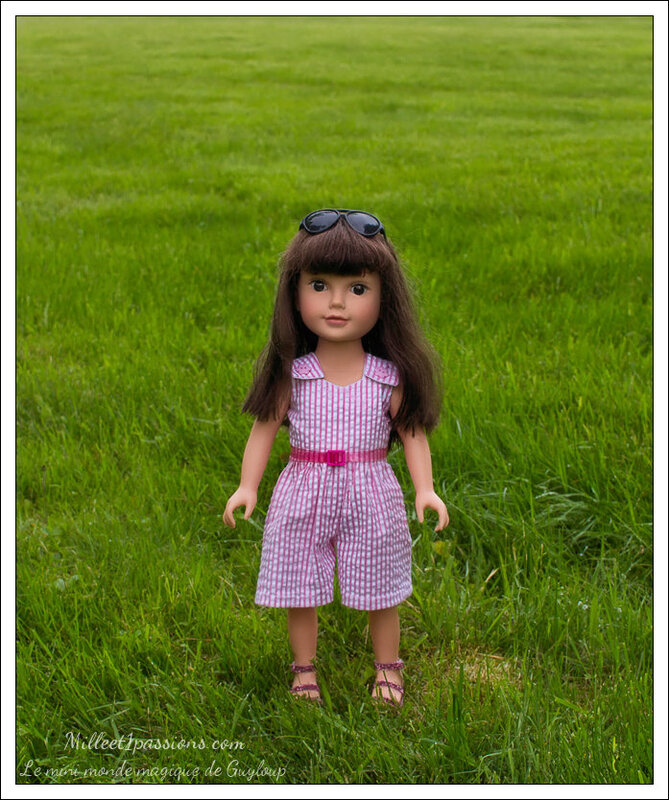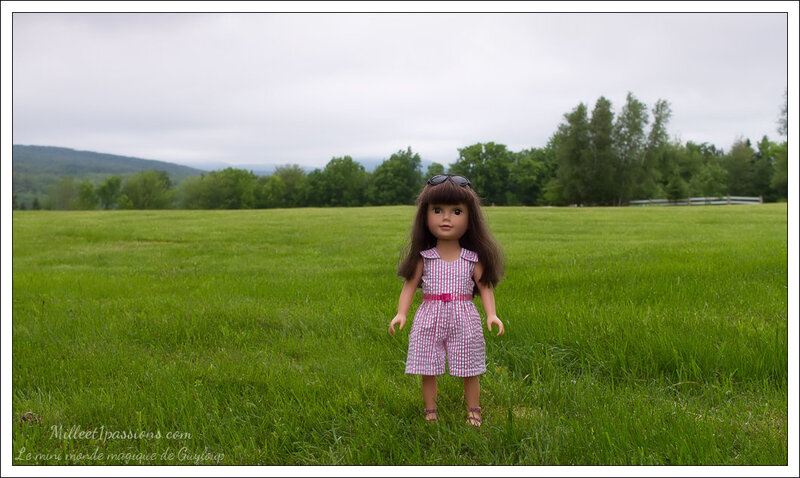 (vous contaterez que les fleurs de la photo du message précédent ont disparu, ainsi que le soleil).
J'ai légèrement estompé la couleur de ses lèvres, et voici un "Avant / après" :
Difficile de croire qu'il s'agit de la même, ne trouvez-vous pas ?
♥♥♥
11 juin 2018
Il y a de très nombreux mois que je cherchais un modèle de Journey Girls que je ne trouvais nulle part. Deux copines françaises chanceuses en ont trouvé sur le Bon Coin, mais ici, il n'y en avait aucune, ni en local ni sur Ebay. Il s'agissait de Mikaella Limited Edition Holiday 2014, sortie à l'époque en version blonde et version brunette :
It's been many, many months since I was looking for a Journey Girls model that I could not find anywhere. Two lucky French girlfriends found some on the Bon Coin, but here there were none, either locally or on Ebay. It was Mikaella Limited Edition Holiday 2014, released at the time in blond and brunette version: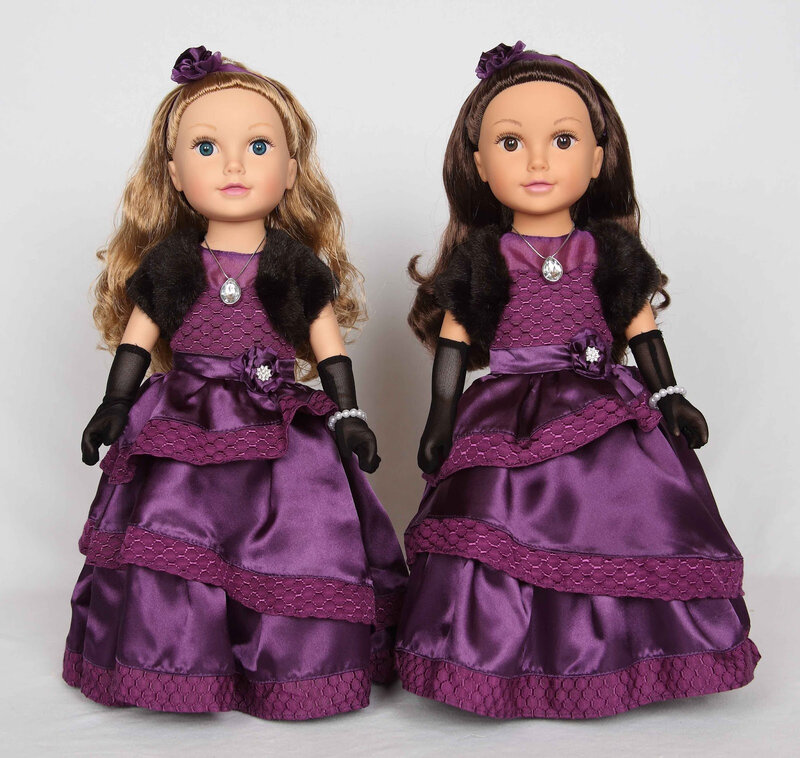 (photo de http://journeygirladventures.blogspot.com/p/mikaella.html)
J'avais 2 Mikaella blondes aux yeux bleux (achetées selon mon habitude sur des petites annonces à prix tout doux), mais pas la brunette aux yeux de braise qui me faisait tant envie.
De guere lasse, j'ai décidé de tenter quelque chose. C'était risqué, mais qui n'essaie rien n'a rien, n'est-ce pas ce que dit le dicton !!!
Donc, j'ai pris une des 2 blondes, et .................................. j'ai coloré ses iris avec un stylo-feutre à alcool indélébile (marque BIC, modèle Mark it, c'est dans le genre des feutres Sharpie) couleur brun.
Et... tadadam ! voici le résultat :
I had 2 Mikaella blue-eyed blondes (bought as usual on low-priced ads), but not the fiery-eyed brunette that made me so eager.
I was so tired I decided to try something. It was risky, but trying nothing has nothing, is not that the saying goes !!!
So, I took one of the 2 blondes, and .................................. I colored his irises with an indelible alcohol felt pen (mark BIC, Mark it model, it is in the type of Sharpie markers) brown color.
And ... tadadam! Here is the result :
Il me reste à trouver une perruque ressemblant à celle de la véritable Mikaella brunette, car je n'aime pas celle-ci avec ses cheveux raides (que j'ai mal placée en plus, car on aperçoit des cheveux blonds sur la droite).
It remains for me to find a wig resembling that of the real brunette Mikaella, because I do not like it with her straight hair (which I misplaced more, because we see blond hair on the right).
Du coup, j'ai fait la même chose à la 2e Mikaellea blonde, mais avec un stylo-feutre mauve... et la voici avec de superbes iris bleu violet.
So, I did the same thing to the 2nd blonde Mikaellea, but with a purple felt pen ... and here it is with beautiful purple blue iris.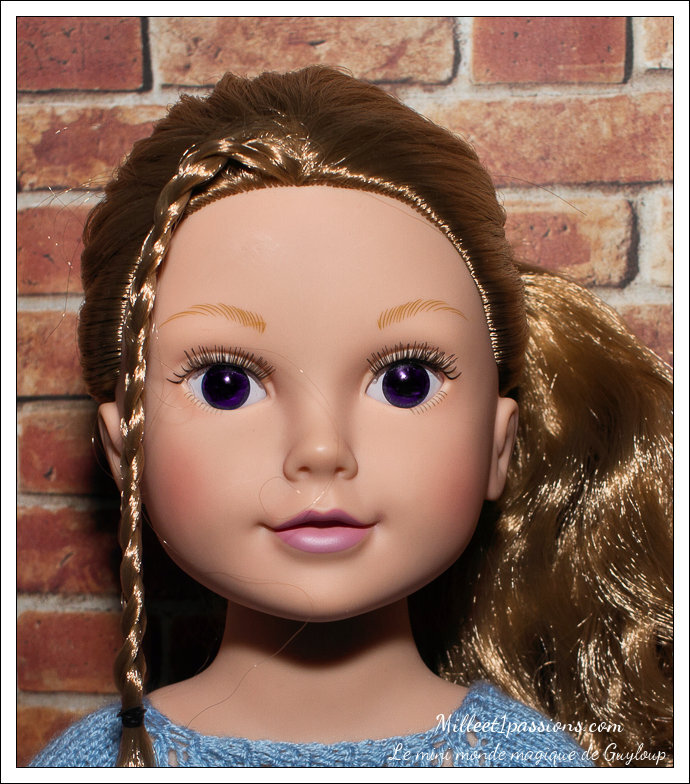 (désolée pour le cheveux en plein milieu de son visage ! sorry for the hair in the middle of her face !)
J'espère que cela pourra donner des idées à celles qui voudraient changer la couleur des yeux de leurs demoiselles... Si c'est le cas : attention : restez à l'intérieur de liris, sans aller jusqu'au bord, cela suffit, et évite de risquer de toucher la paupière inférieure ou supérieure, ce qui serait dramatique avec un feutre indélébile.
I hope this can give ideas to those who would change the color of the eyes of their young ladies ... If so: be careful : stay inside liris, without going to the edge, this is enough , and avoids the risk of touching the lower or upper eyelid, which would be dramatic with an indelible pen.
♥♥♥
12 février 2018
Ayant eu une seconde Mikaella (Journey Girl), j'ai voulu la customiser ; voici donc Mikaella à gauche, l'originale, et Miky à droite (perruque + maquillage légèrement modifié).

Having had a second Mikaella (Journey Girl), I wanted to customize her ; here is Mikaella on the left, the original, and Miky on the right (wig + makeup slightly modified).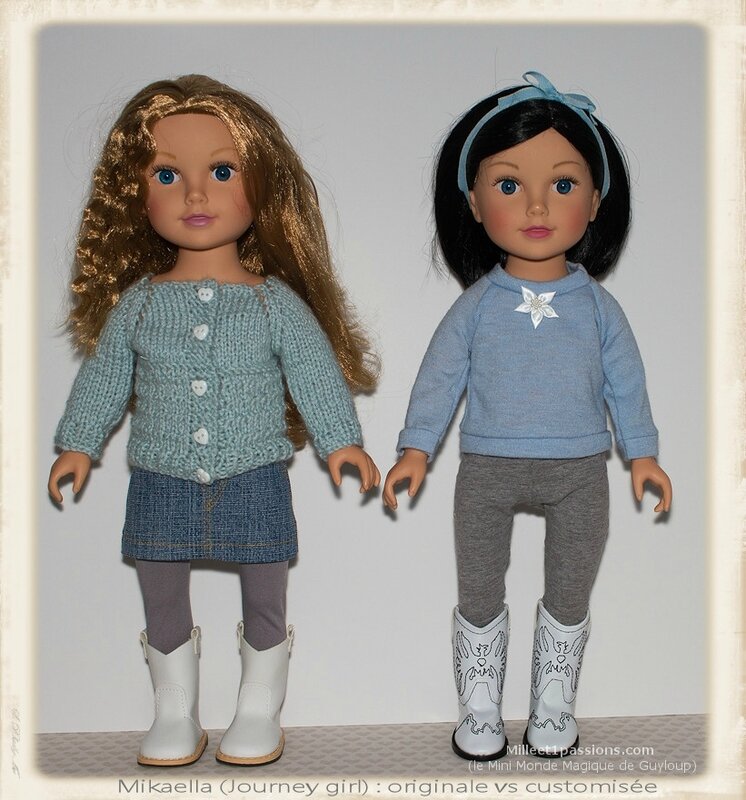 Laquelle préférez-vous ?
Which one do you prefer ?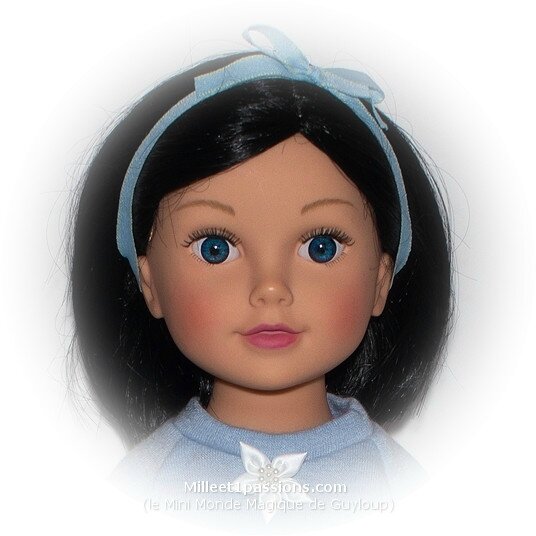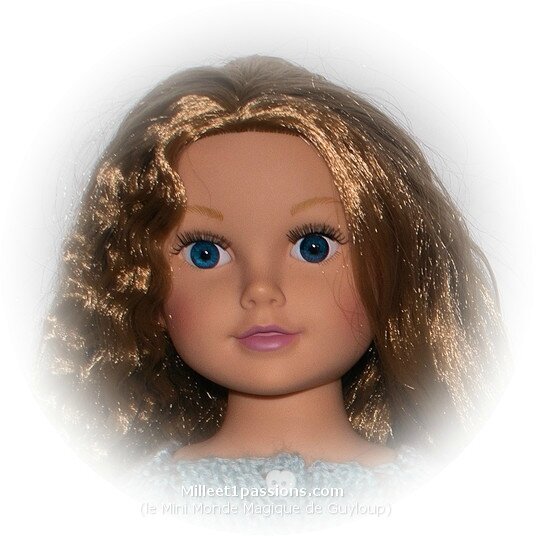 ♥♥♥
01 février 2018
Vous avez vu récemment la bande des "enfants terrible" qui sortaient jouer dehors sans gants ni bonnets, et faisaient un caprice parce que voulais les faire rentrer.
Maintenant, voici 3 des "enfants sages" (ils sont plus nombreux que cela, vous en verrez d'autres bientôt).
Et... à quoi jouent les enfants sages ? à des jeux tranquilles dans la maison, en attendant que le temps leur permettent de sortir sans rique.
Or, ces jeux, il faut que je les leur fabrique parce qu'on n'en trouve pas beaucoup à leur taille dans les magasins !
Et voilà que je leur ai fabriqué un jeu de Mikado.
Vous souvenez-vous de ce jeu là ? y avez-vous joué ? y jouez-vous encore avec vos enfants ou petits-enfants ?
Quoi qu'il en soit, voici Melody et Mikaella en pleine partie, et Kyla qui joue les arbitres !
You have recently seen the band of "terrible children" coming out to play outside without gloves or hats, and doing a whim because they wanted to get them back.
Now here are 3 "wise children" (they are more than that, you will see others soon).
And ... what are the good children doing? to quiet games in the house, waiting for the weather to allow them to go out without risk.
Now these games, I have to make them because they do not find much in their size in stores !
And now I made them a game of Mikado.
Do you remember that game? did you play there? Do you still play with your children or grandchildren?
Anyway, here is Melody and Mikaella in the middle of the game, and Kyla playing referees !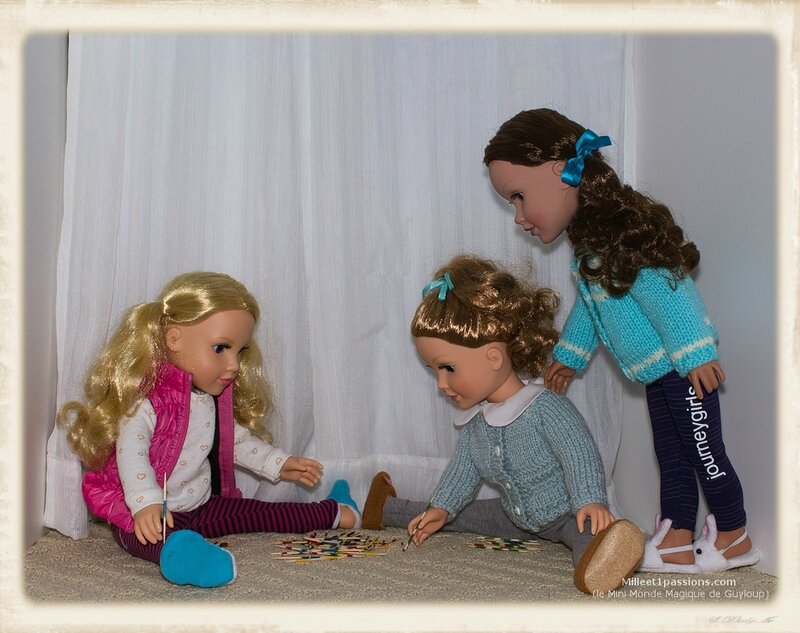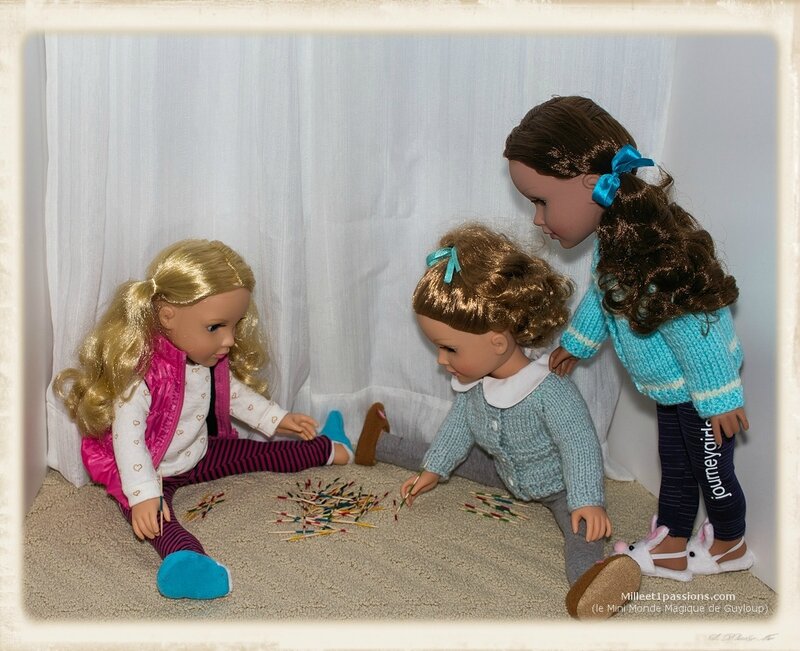 Melody est un modèle de Journey Girls Meredith, premier modèle année 2011.
Melody is a model of Journey Girls Meredith, first model year 2011.
J'ai fait les baguettes du Mikado avec des cure-dents et des feutres.
I made the Mikado chopsticks with toothpicks and markers.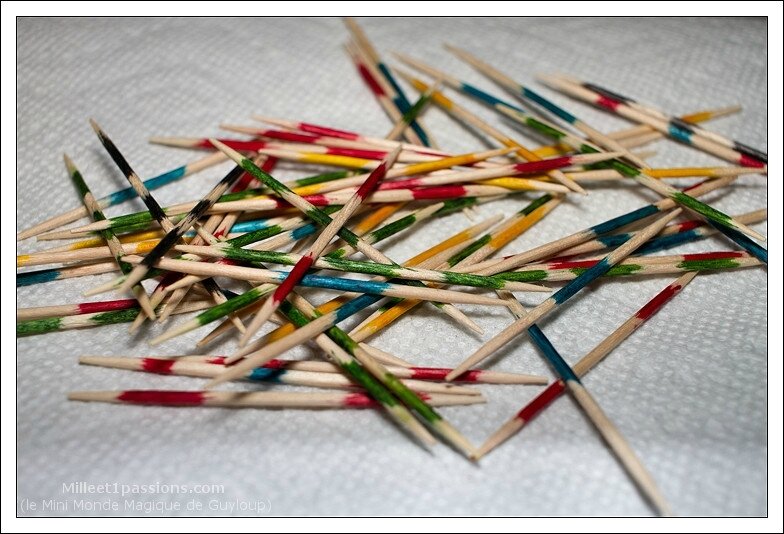 Bientôt, les jeux des autres enfants sages :-)
Soon, the games of other wise children :-)
♥♥♥
13 décembre 2017
J'entendais parler dans l'escalier qui mène à la mezzanine :
- tu es sur que tu me tiens bien ?
- mais oui, tu ne crains rien, le ruban est solide et je le tiens bien fort, et puis, après celle-là, il restera une seule une boule à rajouter...
Alors, je suis venue voir qui parlait dans la maison, bien sur...
Et bien, regardez ça, c'était Thomas qui retenait Mikaella en équilibre sur le bord extérieur de la marche au moyen d'un ruban, pour qu'elle accroche des boules supplémentaires dans le haut du sapin !
A-t-on idée de faire de telles accrobaties aussi dangereuses.... qui aurait pu imaginer que des poupées soient aussi peu sages que ça ? j'ai l'impression d'être revenue à l'époque où mes fils étaient petits car ils auraient bien été capables de faire un truc pareil !
I heard talking on the stairs leading to the mezzanine:
- Are you sure you're holding me well?
- but yes, you do not fear anything, the ribbon is solid and I hold it very strong, and then, after that, there will remain only one ball to add ...
So, I came to see who was talking in the house, of course ...
Well, look at that, it was Thomas who was holding Mikaella in balance on the outside edge of the walk with a ribbon, so that she hangs extra balls in the top of the tree!
Is there any idea of making such dangerous acrobatics .... who could have imagined that dolls are as wiser as that? I feel like I came back to the days when my sons were young because they would have been able to do something like that !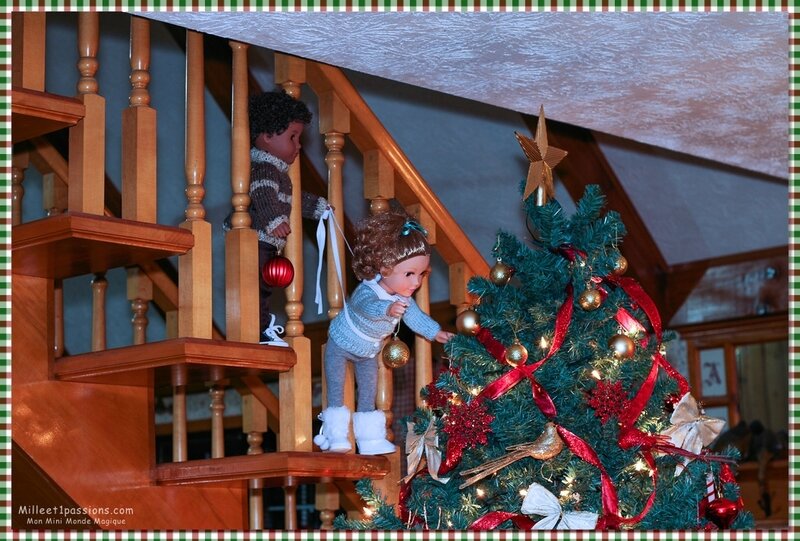 À bientôt, See you soon,
♥♥♥
08 septembre 2017
Mikaella est frileuse, elle voulait un pull dont le col puisse se remonter pour tenir son petit cou bien au chaud !
Mikaella is chilly, she wanted a sweater whose collar can go up to hold her little neck warm !