17 mars 2018
Ayant cousu un nouveau pantalon et tricoté un nouveau pull pour mes "ti-gars" (le pantalon de velours beige de Yvan, et le pull rayé beige et vert de Thomas), je me suis dit qu'une photo du groupe des garçons au complet serait sympa. La voilà :
Having sewn on new pants and knitted a new sweater for my "little guys" (Yvan's beige velvet trousers, and Thomas's beige and green striped sweater), I thought a picture of the boys' group at complete would be nice. Here it is :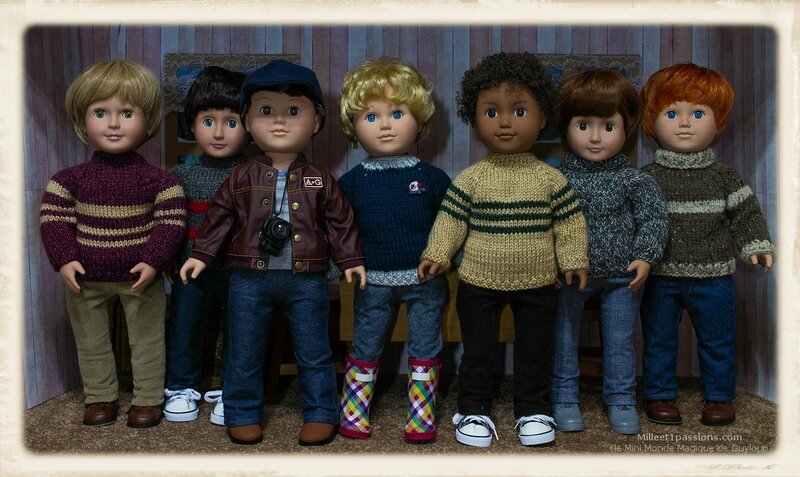 En dehors du blouson "de cuir" et du swearshirt en dessous (vêtements American Girls), tout ce que portent mes garçons sort de ma machine à coudre et de mes aiguilles à tricoter..... et tous ces garçons étaient à l'origine des poupées filles que j'ai transformées.
Apart from the "leather" jacket and the swearshirt underneath (American Girls clothes), everything my boys wear comes out of my sewing machine and my knitting needles ..... and all these boys were originally girls dolls that I transformed.
Si je n'ai pas présenté cette photo dehors, c'est que le printemps n'est pas encore de saison au Québec, il faudra patienter encore un mois et demie environ avant d'en ressentir les effets.
Actuellement, après deux semaines de tempêtes de neige, nous sommes repartis pour des températures de -20° C :
If I did not present this picture outside, it is because the spring is not yet in season in Quebec, it will have to wait another month and a half before feeling the effects.
Currently, after two weeks of snowstorms, we left for temperatures of -4 ° F:
et ce matin, c'était avec du blizzard en plus, ce qui crée ce qu'on appelle de la "poudrerie", c'est à dire qu'on ne voit rien, on en prend plein la figure, les rafales nous bousculent, fait voltiger tout ce qui traîne, déplace les "bancs de neige" (congères, en québécois), bref, ce n'est pas agréable du tout.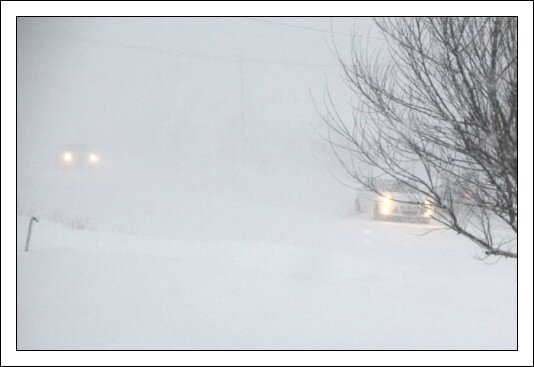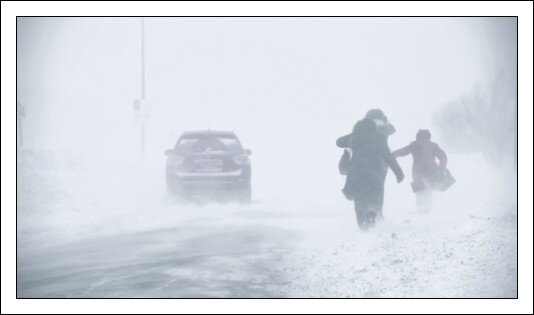 Apparemment, il ne fait pas beau en France non plus, avec un petit coup de froid et quelques flocons prévus à nouveau, j'espère que la végétation ne sera pas trop endommagée chez vous.
Bref, vivement le printemps !!!
En attendant qu'il arrive, je vous souhaite un :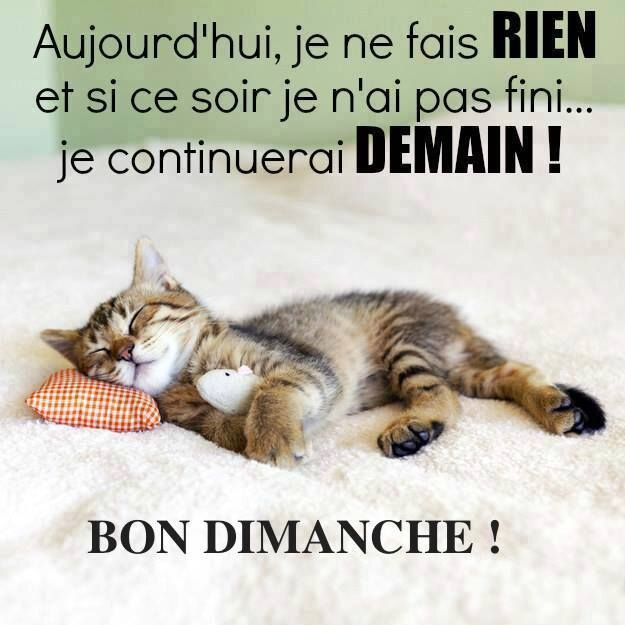 ♥♥♥
14 mars 2018
J'ai tricoté un gilet blanc torsadé pour Kendra et cousu un sweat-shirt pour Kelly. Le gilet me plait, mais je suis déçue du sweat-shirt, la couleur va bien à Kelly, mais je lui trouve un petit air "mémé" qui ne m'emballe pas trop ; couleur ? motifs du tissu ? je ne sais pas, mais je pense qu'elle aura prochainement autre chose en remplacement.
I knitted a twisted white jacket for Kendra and sewed a sweatshirt for Kelly.
The jacket I like, but I'm disappointed with the sweatshirt, the color goes well to Kelly, but I find him a little air "granny" that I do not like too much; color ? fabric patterns? I do not know, but I think she will soon have something else to replace.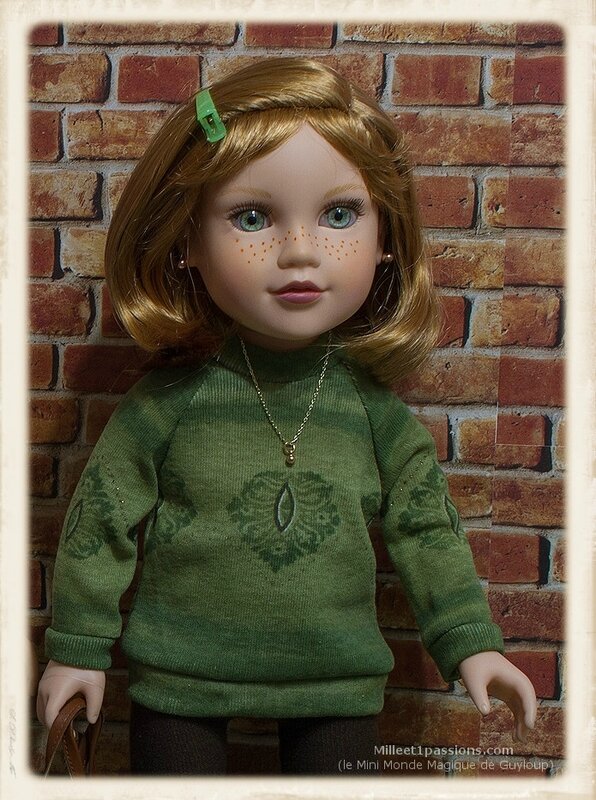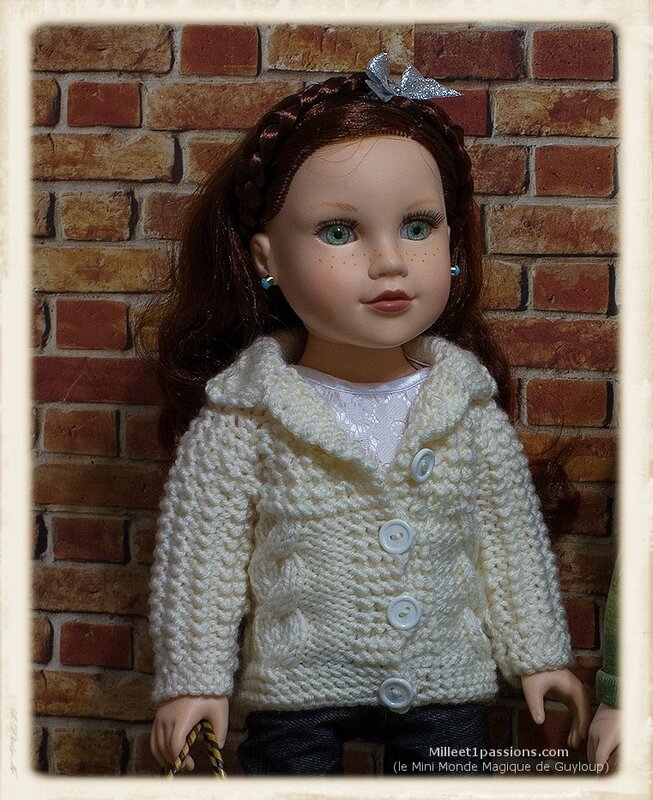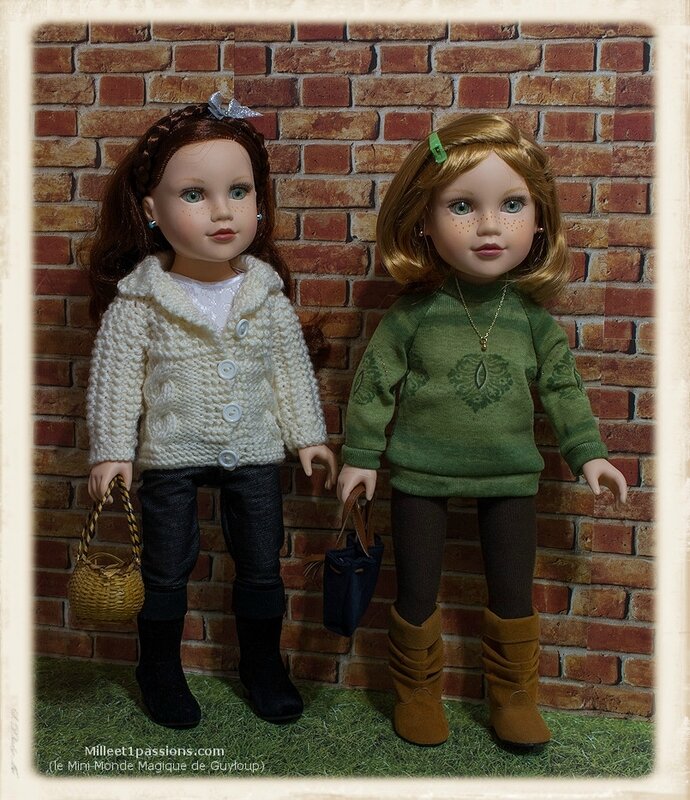 ♥♥♥
15 février 2018
Avec la teinte de ses cheveux et son teint très clair, Kelsey me pose un problème de couleur ; je lui ai tricoté 2 pulls, lequel lui va le mieux à votre avis ?
With the hue of her hair and her very fair complexion, Kelsey poses a problem of color; I knitted 2 sweaters, which one is best for you ?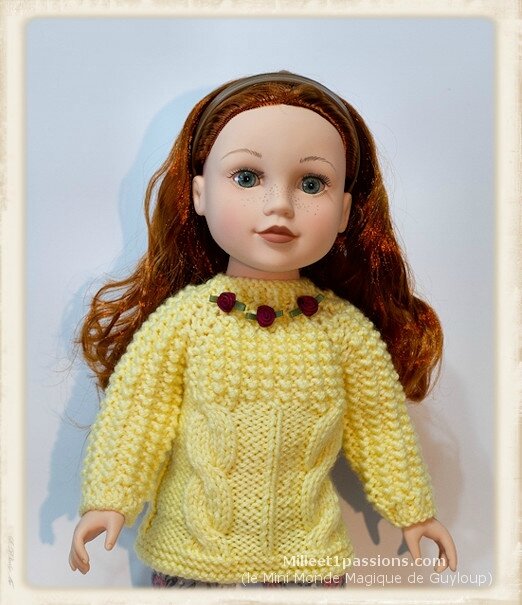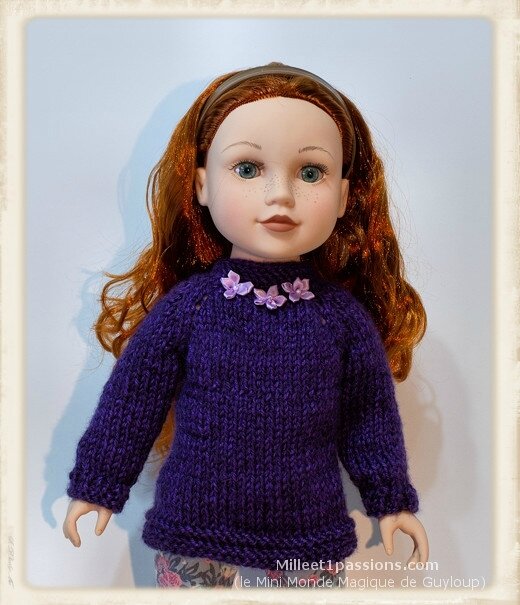 ♥♥♥
24 novembre 2017
Mademoiselle Ilee voulait avoir chaud pour répéter ses romances irlandaises au violon ; je lui ai donc tricoté à son tour un gilet bien douillet.
Miss Ilee wanted to be hot to repeat her Irish romances on the violin ; so I knitted him in his turn a very cozy vest.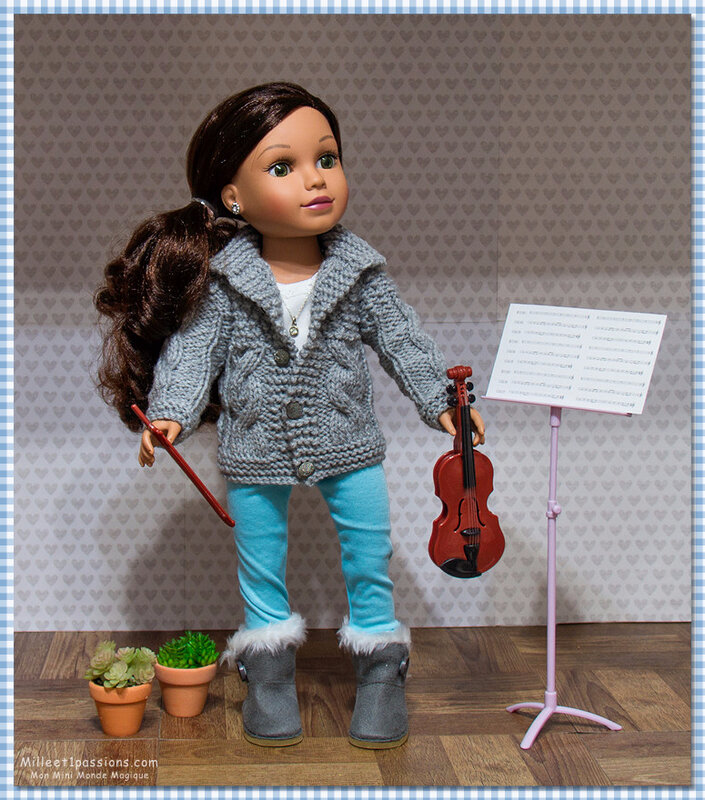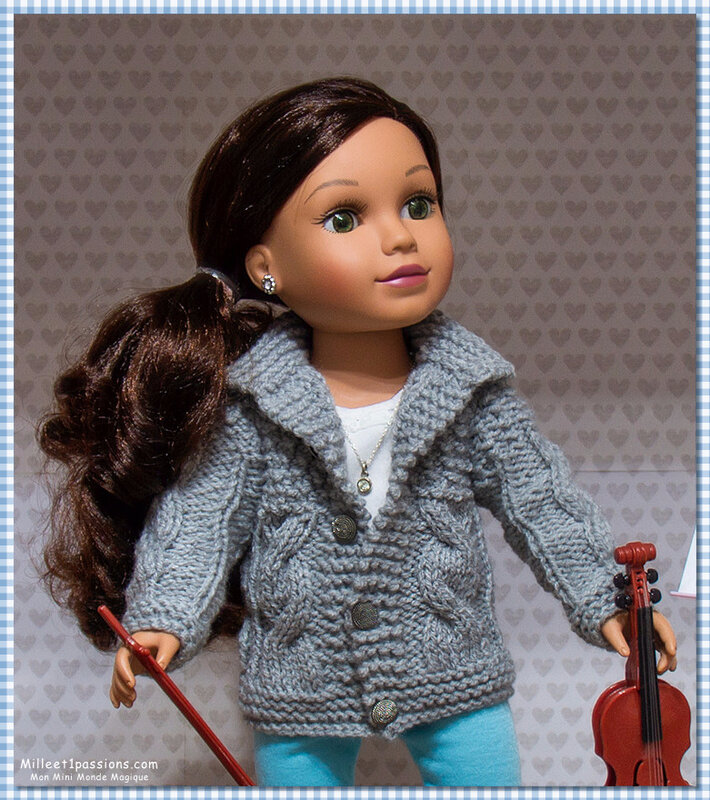 À bientôt / See you soon,
♥♥♥
18 novembre 2017
Ayant voulu tester ma science toute neuve des torsades, je me suis lancée avec ce pull-tunique pour Kyla.. dont je suis assez fière, même si il parait que ce n'est pas beau d'être content de soi ! Je n'ai pas suivi de tutoriel : j'ai pris un stylo et un papier pour calculer les espacements, et vogue la galère... voici le résultat :-)
Having wanted to test my new science of cables, I launched myself with this tunic-sweater for Kyla .. I'm pretty proud, even if it seems that it's not nice to be happy with oneself ! I did not follow a tutorial: I took a pen and a paper to calculate the spacings, and vogue galley ... here is the result :-)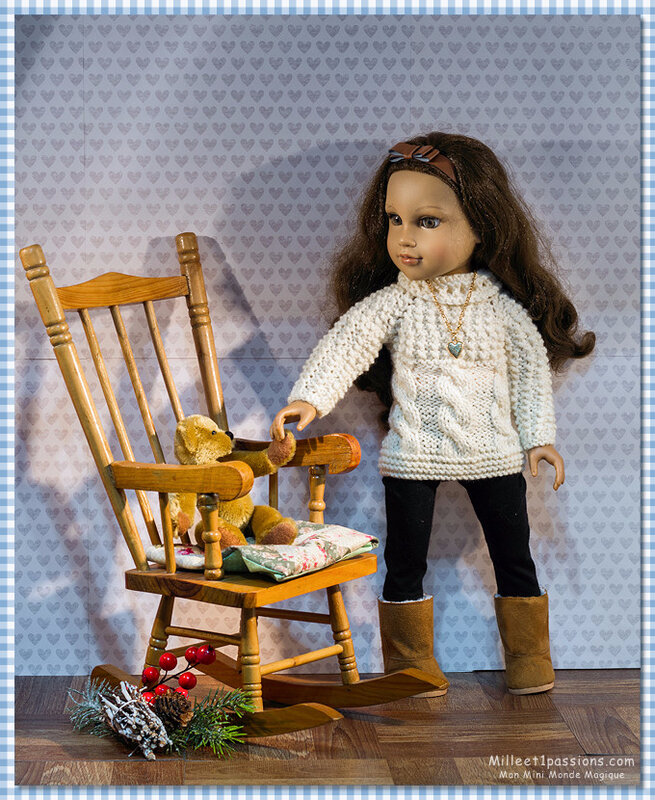 À bientôt, See you soon,
Guyloup
16 novembre 2017
Callie voulait aussi un bonnet avec des torsades, je lui en ai fait un, et un petit snood assorti.
Callie also wanted a hat with twists, I made her one, and a little matching snood scraf.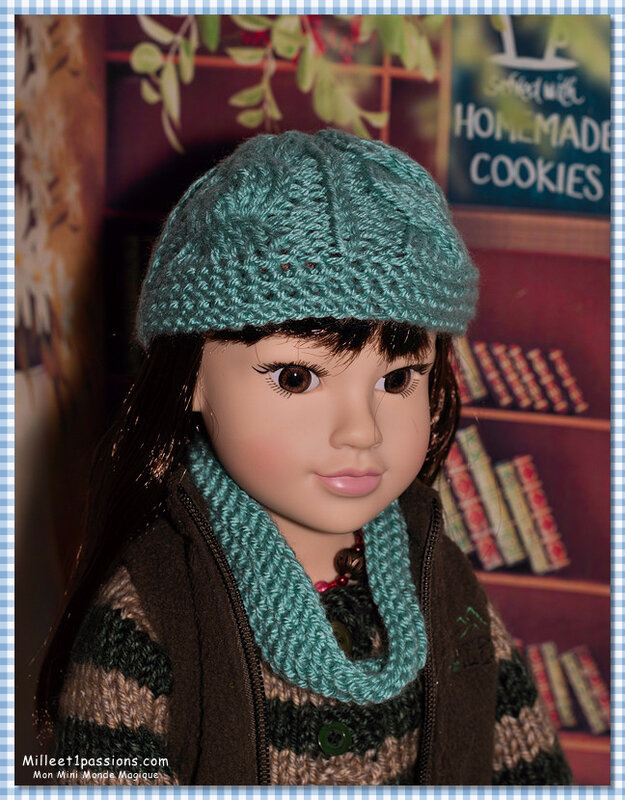 À bientôt, See you soon,
♥♥♥
24 octobre 2017
Quand on aime, on ne compte pas.... et voilà donc un pull de plus !
Cette fois, c'est la douce Mikaella qui a été gâtée avec ce nouveau pull et une petite paire de bottes chaudes pour l'hiver :-)
When you love, you don't count the cost ...and here is a sweater more!
This time, it's the sweet Mikaella who was spoiled with this new sweater and a little pair of warm boots for the winter :-)
Son ours provient de ma collection de "Ganz Bears Cottage Collectables", j'espère qu'elle en prendra soin !
Her bear comes from my collection of "Ganz Bears Cottage Collectables", I hope she will take care of it !
À bientôt, See you soon,
♥♥♥
01 octobre 2017
L'automne, c'est le temps des citrouilles. Meredith et son frère Jonathan sont allés en acheter une chez un agriculteur pour décorer la maison. Dana et Mikaella les ont accompagnés ; elles n'en revenaient pas de voir toutes les citrouilles qui étaient en vente, étalées sur la pelouse.... les bras leur en tombaient d'étonnement !
Vous verrez par la même occasion les nouveaux gilets que j'ai tricotés pour Dana et Mikaella (de dos).
Autumn is the time for pumpkins. Meredith and her brother Jonathan went to buy one from a farmer to decorate the house. Dana and Mikaella accompanied them ; they was amazed to see all the pumpkins that were on sale, spread out on the lawn .... they cannot believe it !
You will also see the new waistcoats that I knitted for Dana and Mikaella (back).
16 septembre 2017
Un pull pour Jonathan... toujours avec le même patron !
A swater for Jonathan... always with the same pattern !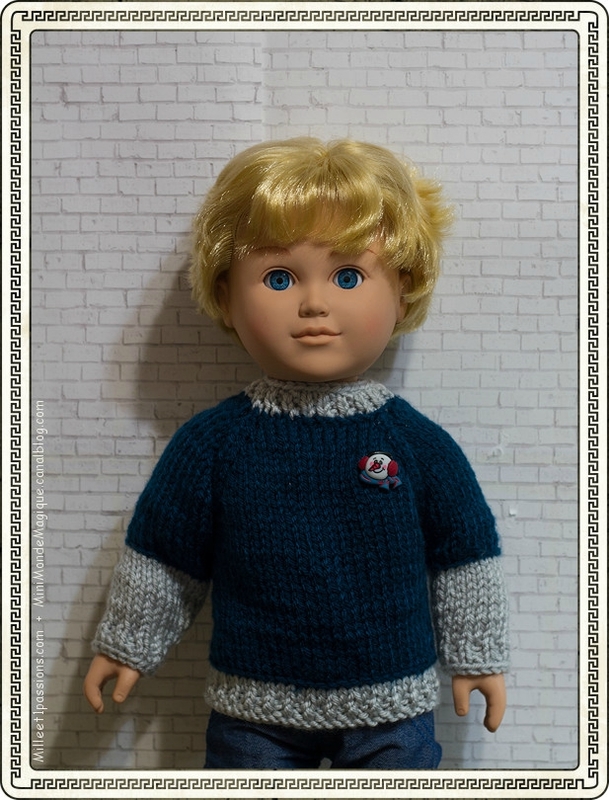 23 août 2017
Mission accomplie : j'ai terminé de tricoter 9 pulls pour mes 9 Teen Trends (la 10e conservant le pull bleu que je vous montrais ICI ).
Ces deux là ont l'air ravies de les porter ; il est vrai que depuis l'orage-tempête d'hier (qui a fait d'immenses dégats à Montréal), la température a bien chuté.
Mission accomplished: I finished knitting 9 sweaters for my 9 Teen Trends (the 10th retaining the blue sweater that I showed you HERE).
These two look pleased to wear them; It is true that since yesterday's storm-storm (which caused enormous damage in Montreal), the temperature has fallen.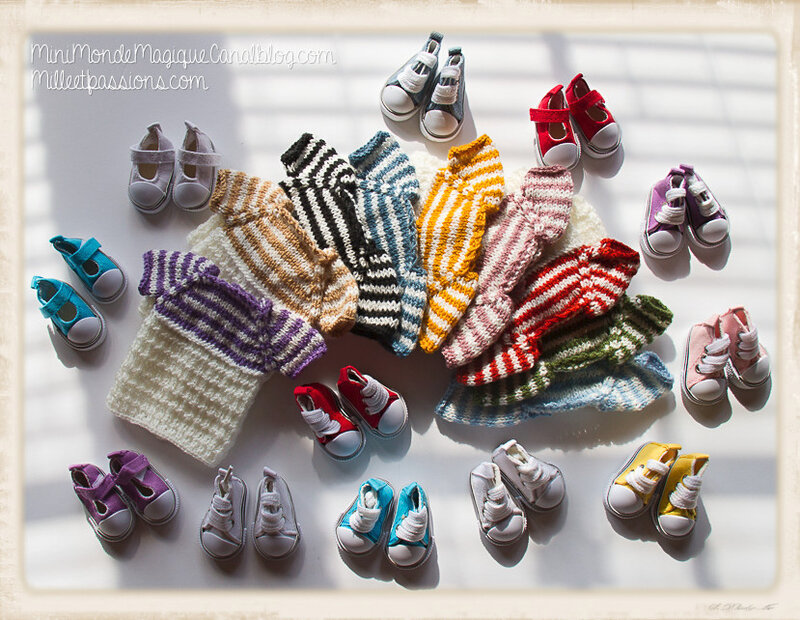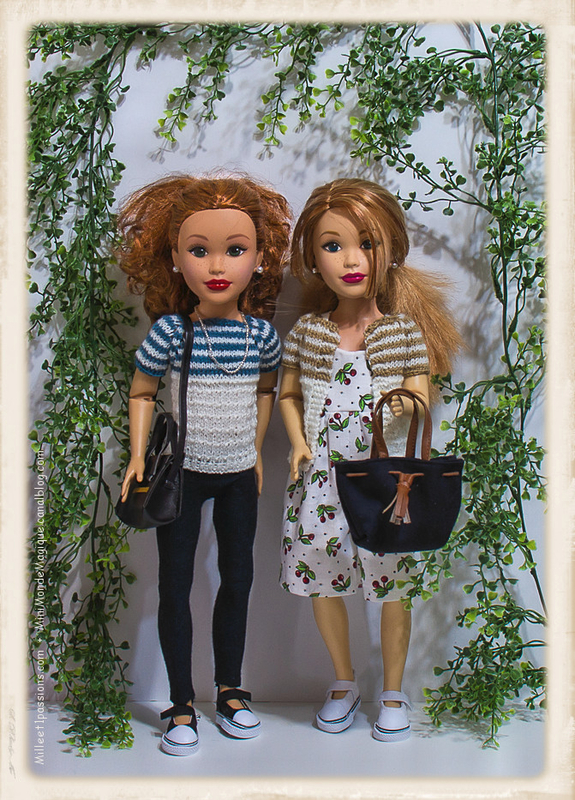 Pour les curieuses, voici le résultat de l'orage d'hier à Montréal ; par chance, chez nous, c'était très raisonnable par rapport à eux, mais je n'en menais pas large, c'était noir, et violent... mais pas au point de Montréal.
For the curious, here is the result of the storm of yesterday in Montreal; Fortunately, it was very reasonable with them, but I did not go wide, it was black, and violent ... but not at the point of Montreal.
http://quebec.huffingtonpost.ca/2017/08/22/des-orages-devastateurs-frappent-le-quebec-et-les-degats-sont-considerables_a_23157920/
http://www.journaldemontreal.com/2017/08/22/veille-dorages-violents-sur-plusieurs-regions-1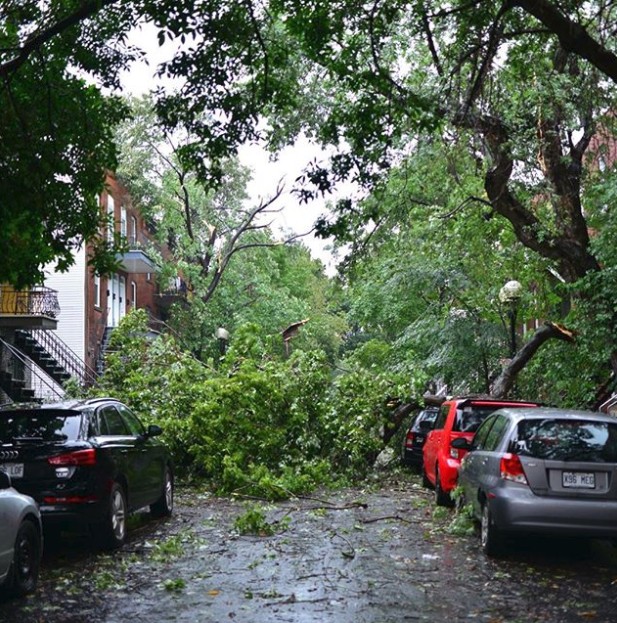 À bientot, See you soon,
Guyloup ♥