23 mars 2018
Jeudi après-midi, comme prévu, la température était bel et bien positive : il faisait + 4°C, le soleil se montrait, bref : le printemps est bel et bien là .... mais un printemps canadien seulement :-)
Du coup, en rentrant du lycée, Charlotte (American Girl) a décidé d"abandonner manteau et bottes, et de mettre une tenue printannière pour aller promener son chien. Mais c'était un peu présomptueux de sa part car aujourd'hui elle paie les pots cassés avec un gros rhume qui l'a obligée à rester à la maison au lieu d'aller en cours, comme l'a découvert Ilee (Journey Girl) lorsqu'elle est venue lui rendre visite.
Thursday afternoon, as expected, the temperature was very positive: it was + 4 ° C, the sun was showing, in short : the spring is well and truly there , but a Canadian spring only :-)
Suddenly, when she returned from high school, Charlotte decided to give up her coat and boots, and put on a spring outfil to walk her dog, but it was a little presumptuous of her because today she pays the price with a big cold that forced her to stay at home instead of going to school, as Ilee discovered when she came to visit her.
La voici qui part de chez elle :
- Allez Groseille, on va faire une grande promenade, la météo a dit que le soleil allait sortir.
Here she goes from home :
- Go Gooseberry, let's go for a long walk, the weather said the sun was coming out.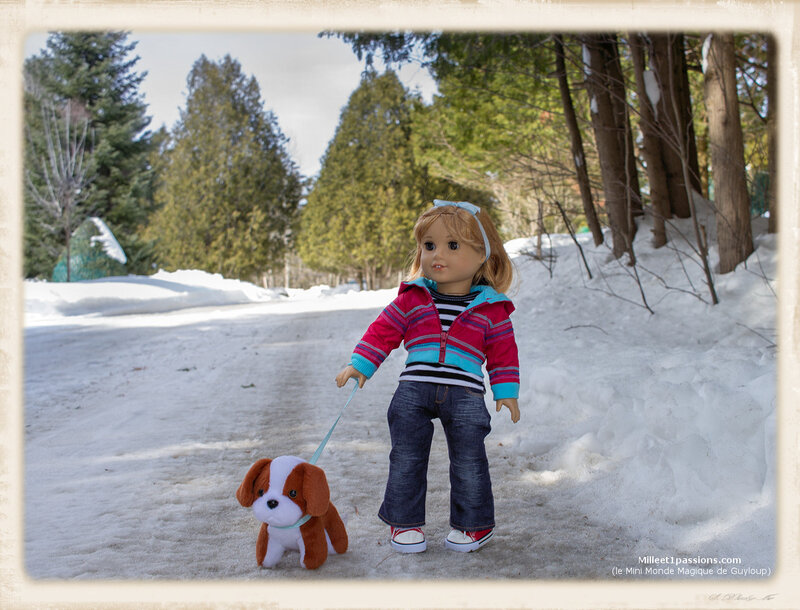 La voici arrivée au bord du lac (en arrière-plan, vous voyez le Mont Orford).
- Wow, dit-elle à son chien Groseille, tu as vu comme on est allés loin ; il faut rentrer maintenant parce que je commence à avoir un peu froid malgré ce beau soleil.
Here she comes to the edge of the lake (in the background, you see Mount Orford).
- Wow, she said to her dog Gooseberry, you have seen how far we have gone ! we have to go back now because I'm getting a little cold despite this beautiful sun.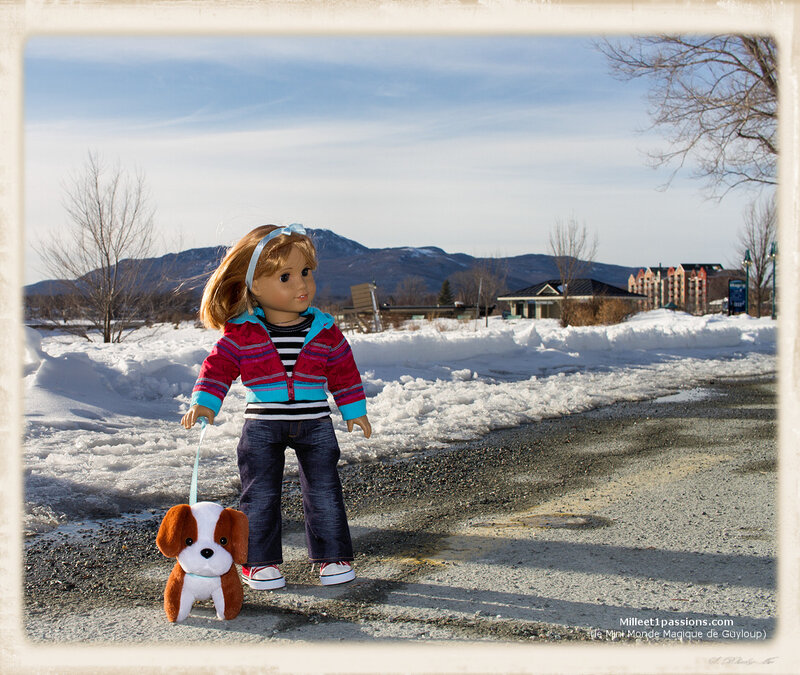 Et aujourd'hui, en sortant du lycée, son amie Ilee est passée la voir.
- Finalement, avec ton rhume, tu as de la chance : tu as évité l'interro de maths de ce matin !!! lui dit-elle.
And today, leaving high school, her friend Ille went to see her.
- Finally, with your cold, you're lucky : you avoided the interro math this morning! she told her.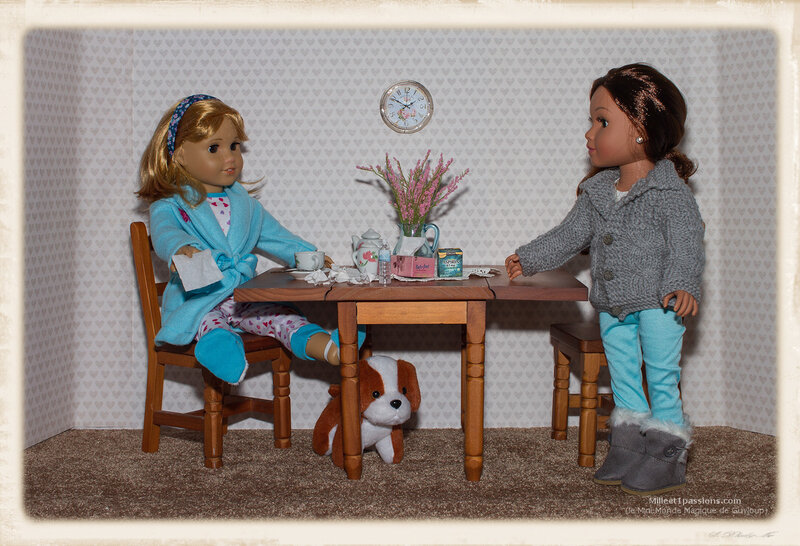 Régime tisane et aspirine pour Charlotte (vous remarquerez son petit nez rouge !!) :
Herbal tea and aspirin for Charlotte (you'll notice her little red nose !!) :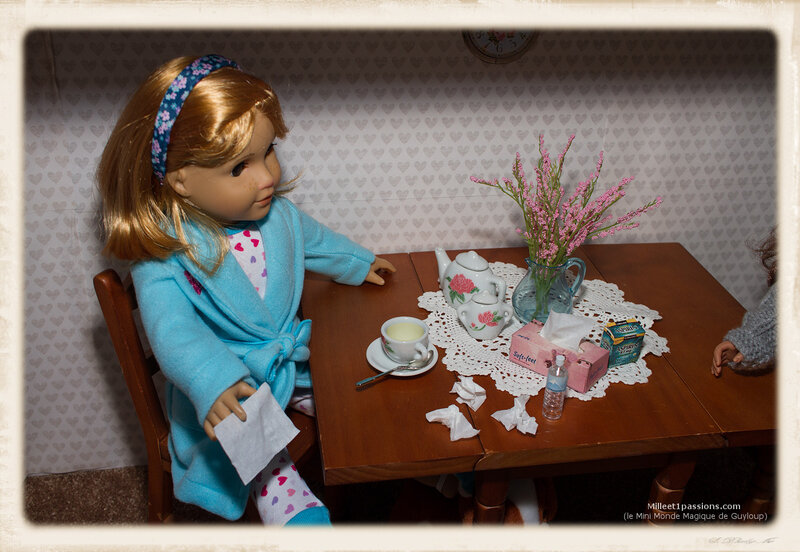 Gageons qu'elle sera vite guérie.... ça ne doit pas durer très longtemps un rhume de poupée !!
La boite de mouchoirs en papier et la boite d'aspirine sont de ma fabrication.
Let's bet she will be healed soon .... it must not last very long a cold doll !
Tissues box and Aspirin box are home made by me.
♥♥♥
26 décembre 2017
Quelques photos prises ce jour entre Sherbrooke et chez moi ; mettez un pull et une écharpe avant de les regarder, sauf si -20°C ne vous fait pas peur ; mais ça n'est encore rien, puisque demain après-midi nous aurons un ressenti de -31° !
Some photos taken today between Sherbrooke and my home; put on a sweater and scarf before looking at them unless -4°F do not scare you! but it's still nothing, since tomorrow afternoon we will have a feeling of -24 ° !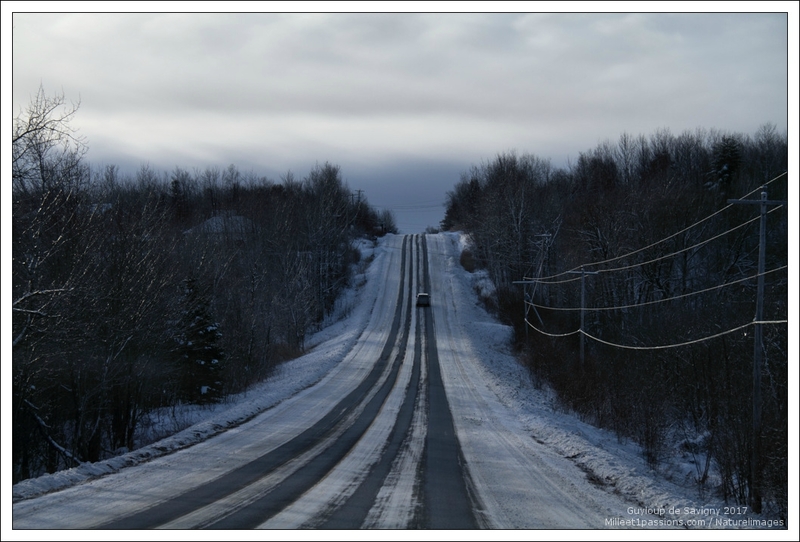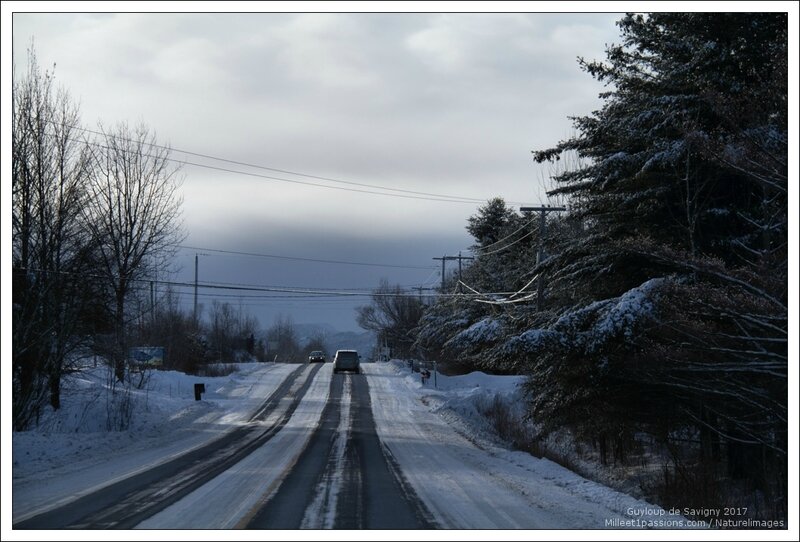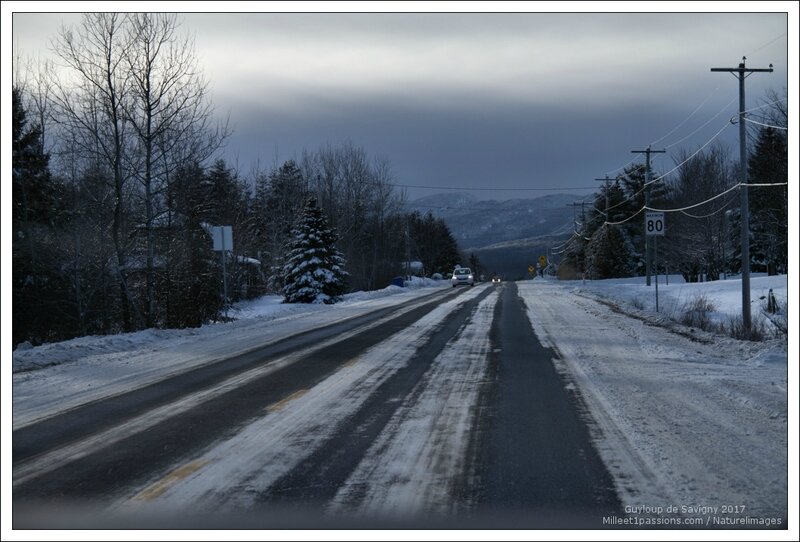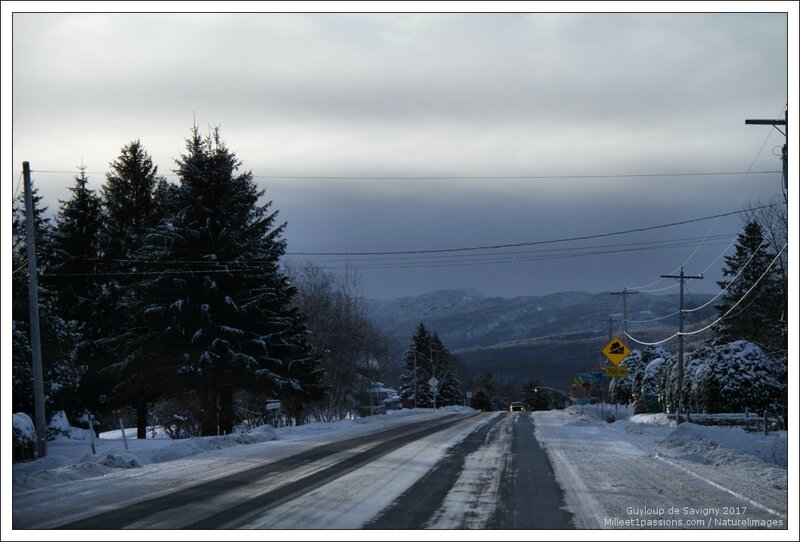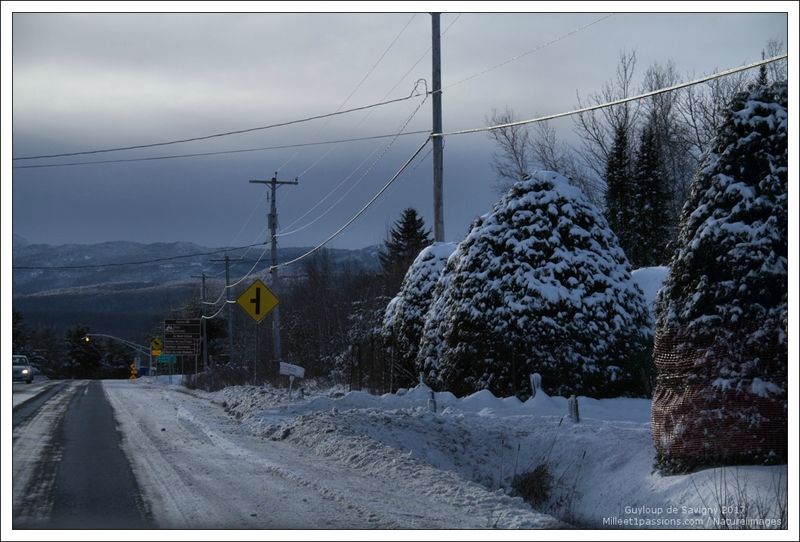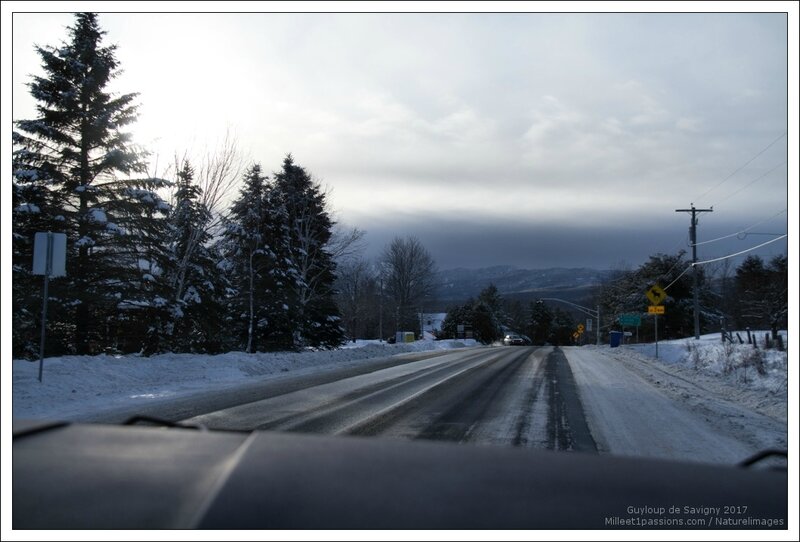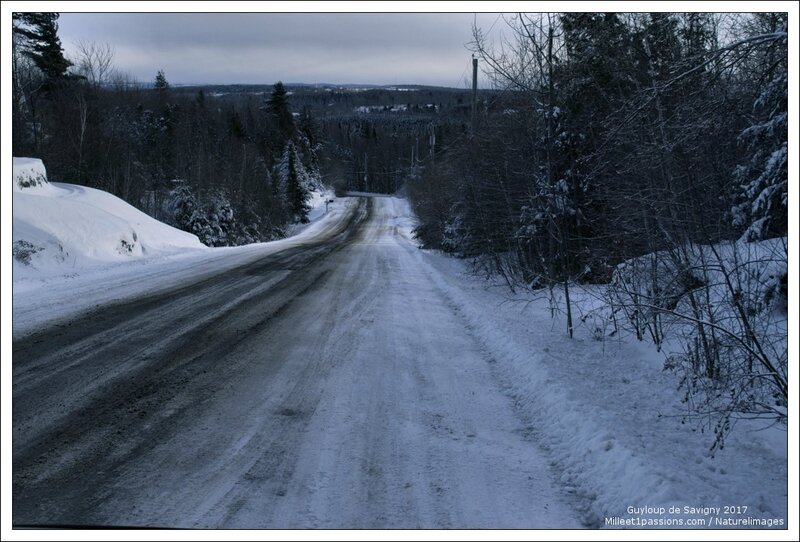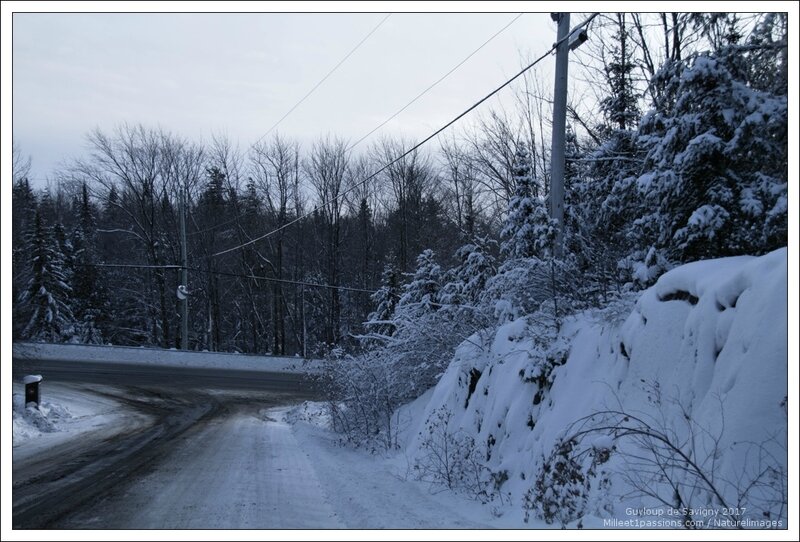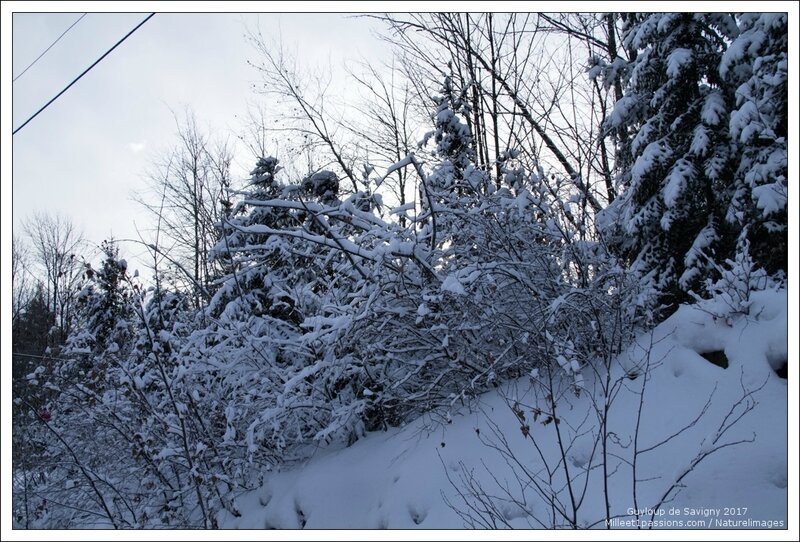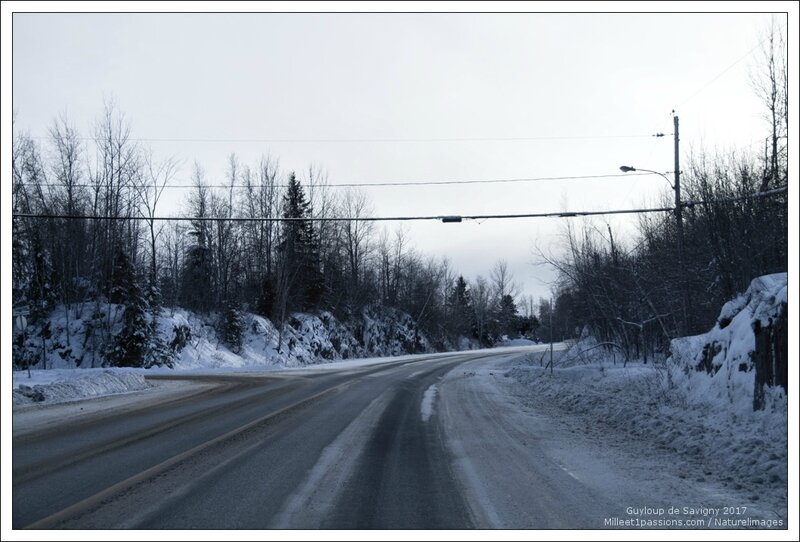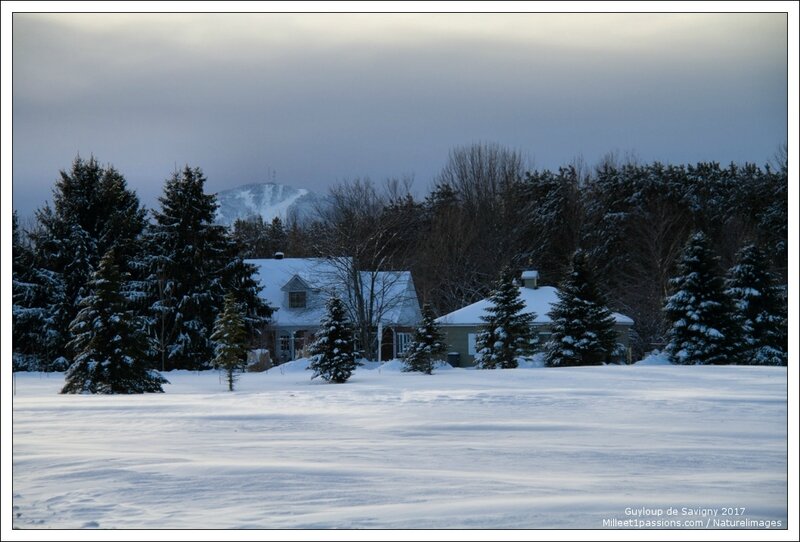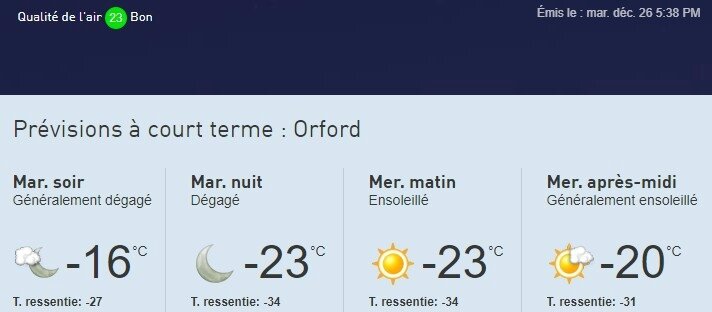 Au retour, Ilee était très contente de rentrer se mettre au chaud avec son chien, un chocolat chaud, des cookies et un bon bouquin.
"C'est ça, la vie : c'est dehors comme dans le coeur, il y a des moments froids et des moments chauds" a-t-elle commenté !!
On the way back, Ilee was very happy to go home with her dog, hot chocolate, cookies and a good book.
"That's it, life: it's outside as in the heart, there are cold moments and hot moments" she commented !!
À bientôt, See you soon,
♥♥♥
17 décembre 2017
Je ne résiste pas à tirer des portraits de mes Journey Girls tant elles sont photogéniques ; c'est un vrai bonheur de photographe que les voir passer aussi près de l'objectif !!
Après Chavonne, que vous aviez vue ICI , voici 3 autres demoiselles qui se sont prêtées sagement à la pose.
I can not resist taking portraits of my Journey Girls as they are photogenic ; it's a true photographer's happiness to see them go so close to the lens !!.
After Chavonne, that you had seen HERE, here are 3 other young ladies who lent themselves wisely to the pose.
Ilee la blonde, si romantique, que j'ai appelé Ingrid en raison de son allure scandinave, ses cheveux de clair de lune, son teint de lys et ses yeux limpides comme les fjords de Norvège :
Ilee the blonde, so romantic, that I called Ingrid because of her Scandinavian look, her moonlight hair, her lily complexion and her clear eyes like the fjords of Norway :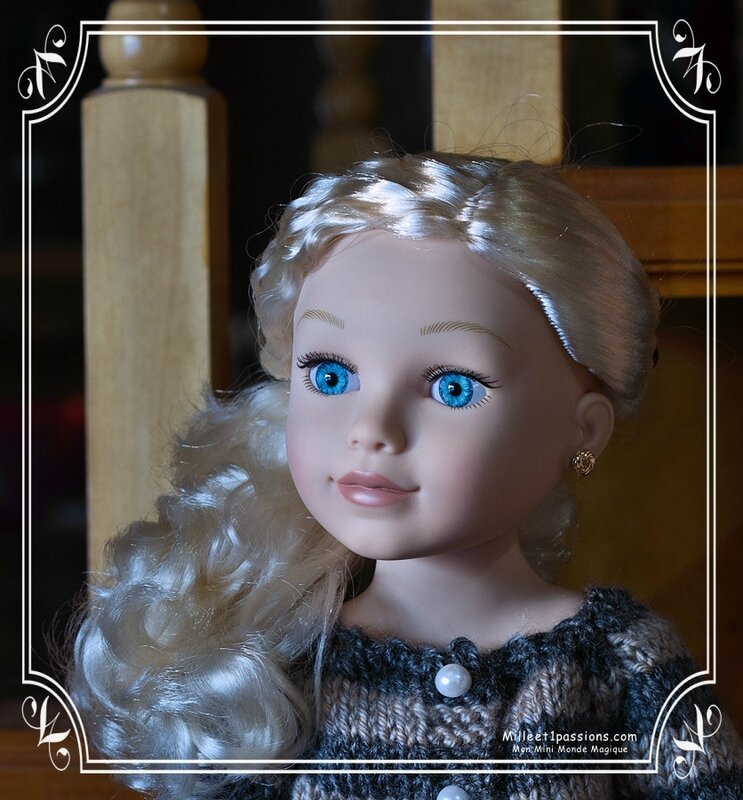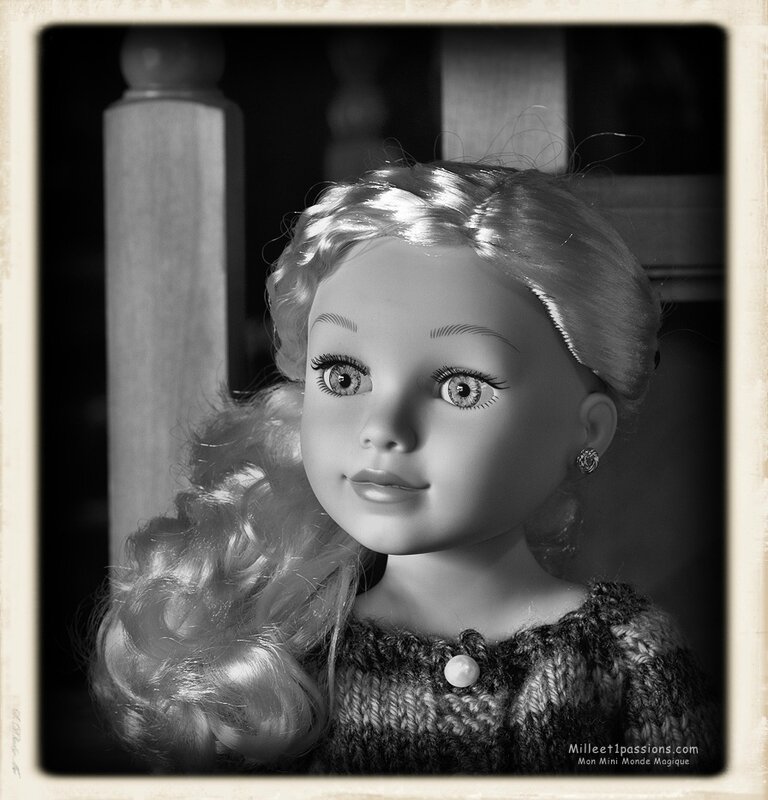 Jordana, aux cheveux blond cendré s et aux yeux noisette qui semblent toujours rêver d'ailleurs lointains :
Jordana, with ash-blond hair and hazel eyes who always seem to dream far away: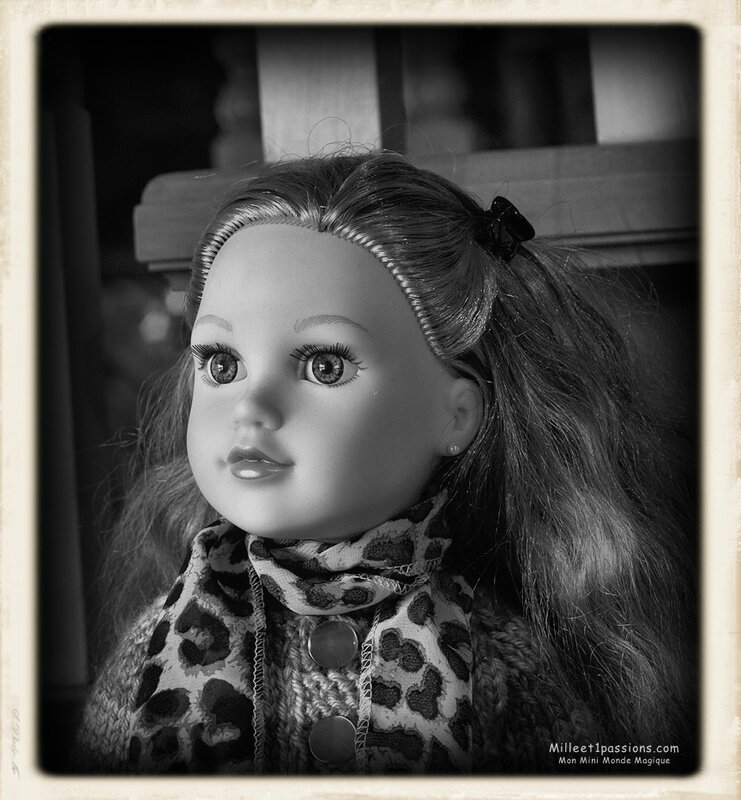 Kelsey l'observatrice, avec ses cheveux d'acajou et ses yeux clairs comme une cascade de montagne :
Kelsey the observer, with her mahogany hair and clear eyes like a mountain waterfall :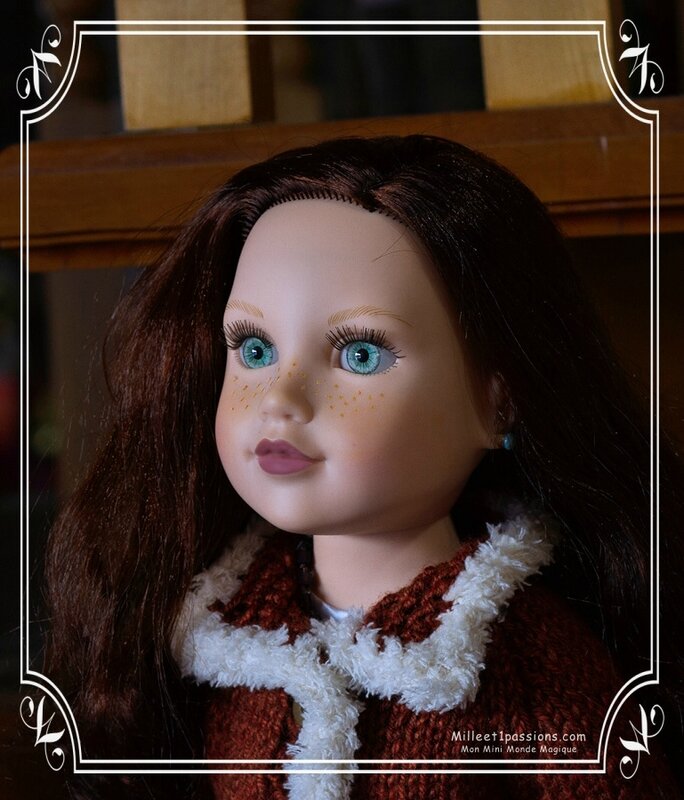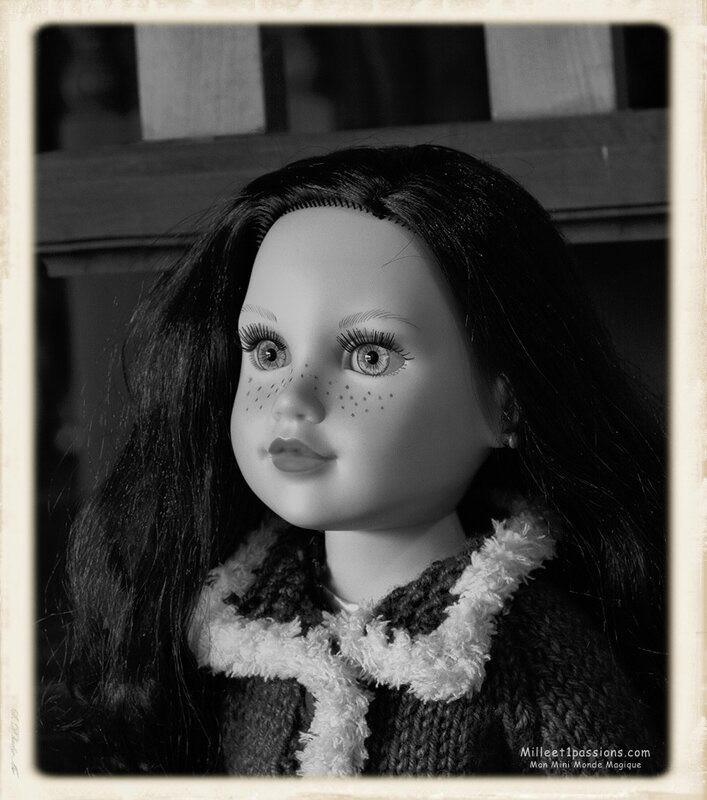 À bientôt / See you soon,
♥♥♥
24 novembre 2017
Mademoiselle Ilee voulait avoir chaud pour répéter ses romances irlandaises au violon ; je lui ai donc tricoté à son tour un gilet bien douillet.
Miss Ilee wanted to be hot to repeat her Irish romances on the violin ; so I knitted him in his turn a very cozy vest.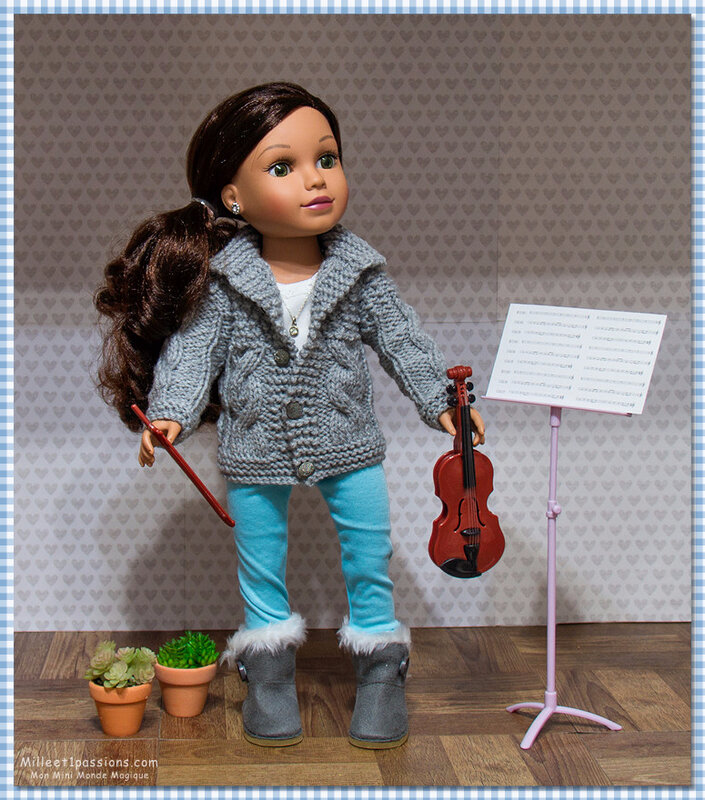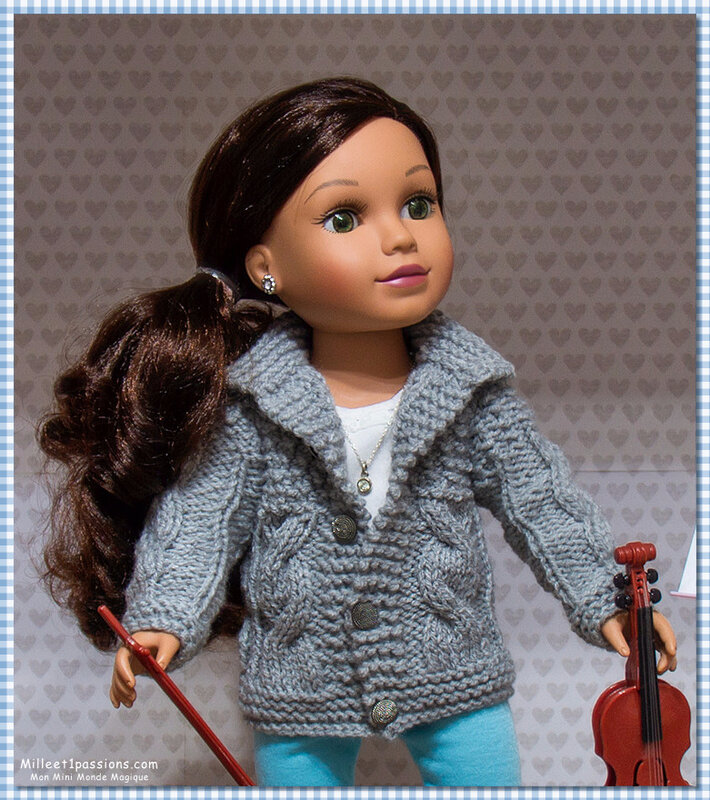 À bientôt / See you soon,
♥♥♥