30 août 2017
Mardi 29 aout, les filles sont allées se promener dans le secteur du lac Massawippi et de Ste Catherine de Hatley, une municipalité qui borde ce lac.
Le lac Massawippi fait 18 km2, tout en longueur, comme beaucoup de lac dans notre région :
On Tuesday, August 29th, the girls went for a walk in the area of Lake Massawippi and Ste Catherine de Hatley, a municipality that borders this lake..
The lake Massawippi is 18 km2, all in length, like a lot of lake in our region: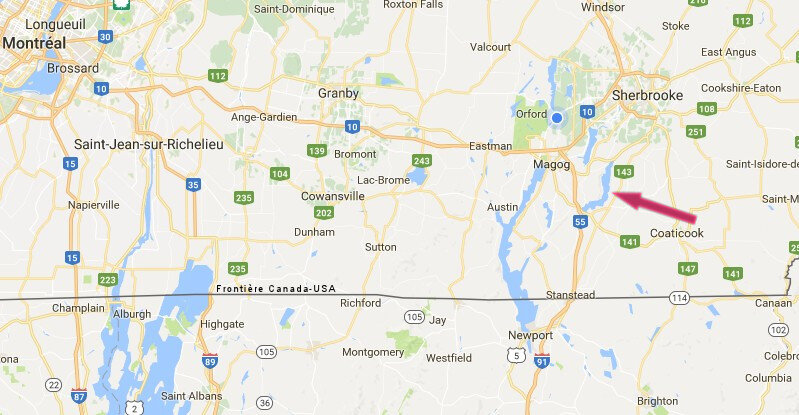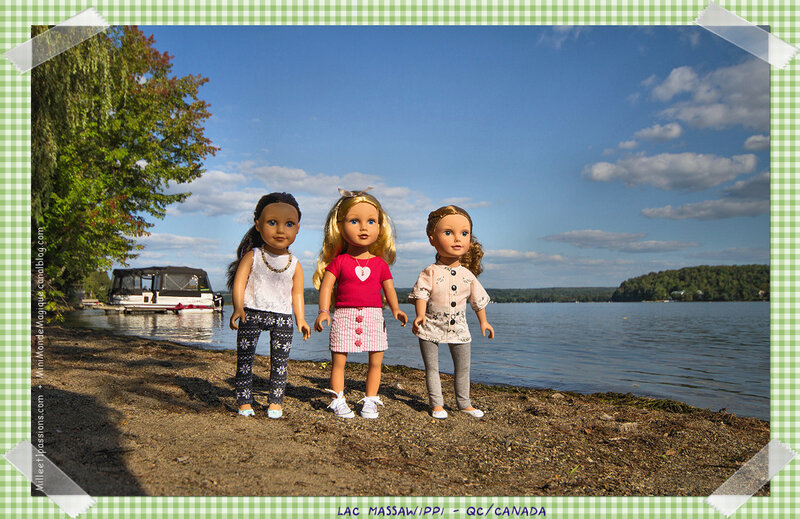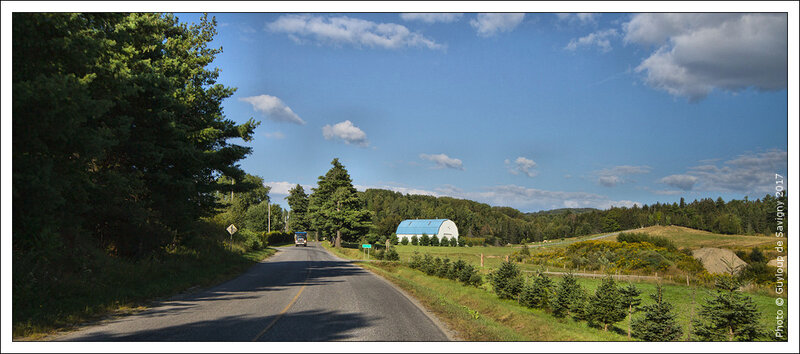 La vue superbe depuis la côte de Ste Catherine de Hatley :
The superb view from the coast of Ste Catherine de Hatley:

À bientôt pour une nouvelle promenade ! See you soon for a new walk !
Guyloup ♥
29 août 2017
Lundi 28 aout il faisait beau. Alors, les filles sont allées se promener le long de la frontière canado-américaine, jusqu'au joli lac Lyster, à l'endroit que vous voyez sur cette carte, sous la flèche rouge.
Monday the 28th of August it was fine. So the girls went for a stroll along the Canada-US border, to the pretty Lyster Lake, at the place you see on that map, under the red arrow.
La particularité du lac Lyster est de posséder une superbe falaise de plus de 200 m de hauteur qui plonge dans le lac. Des sentiers de randonnée sont disponibles de juin à octobre, mais l'escalade de la falaise est interdite depuis quelques années pour protéger une espèce en voie d'extinction : le faucon pélerin, dont quelques individus sont venus s'installer pour y nicher.
Une partie de la montagne est aussi utilisée pour la fabrication de sirop d'érable, une cabane à sucre étant installée au bord du sentier principal.
Voici donc quelques photos ramenées "par les filles" !
The peculiarity of Lake Lyster is to have a superb cliff over 200 m high that plunges into the lake. Hiking trails are available from June to October, but cliff climbing has been banned for a few years to protect an endangered species: the peregrine falcon, a few individuals have come to nest there.
A part of the mountain is also used for the manufacture of maple syrup, a sugar shack being installed on the edge of the main trail.
Here are some photos brought back "by the girls"!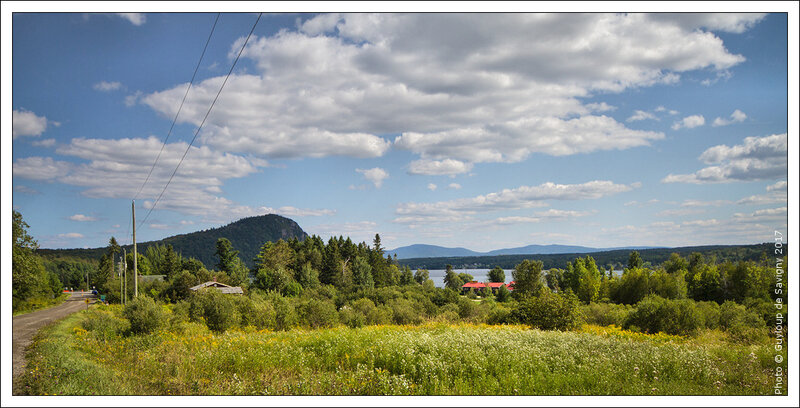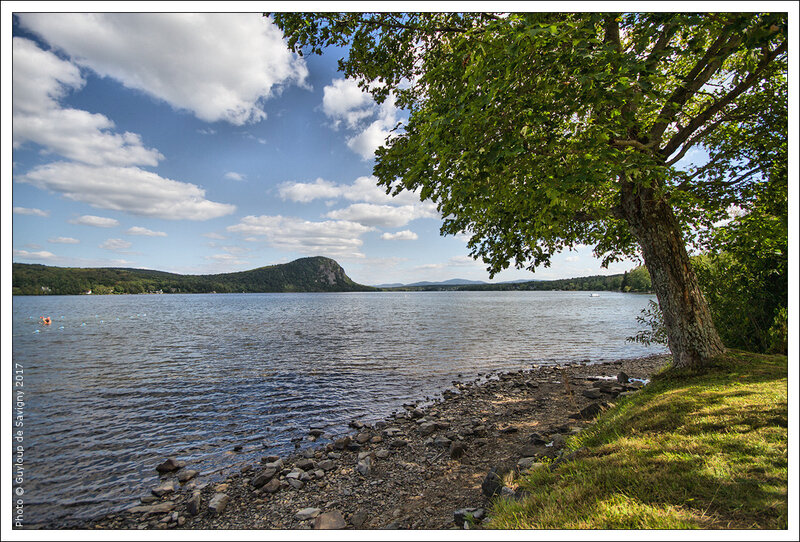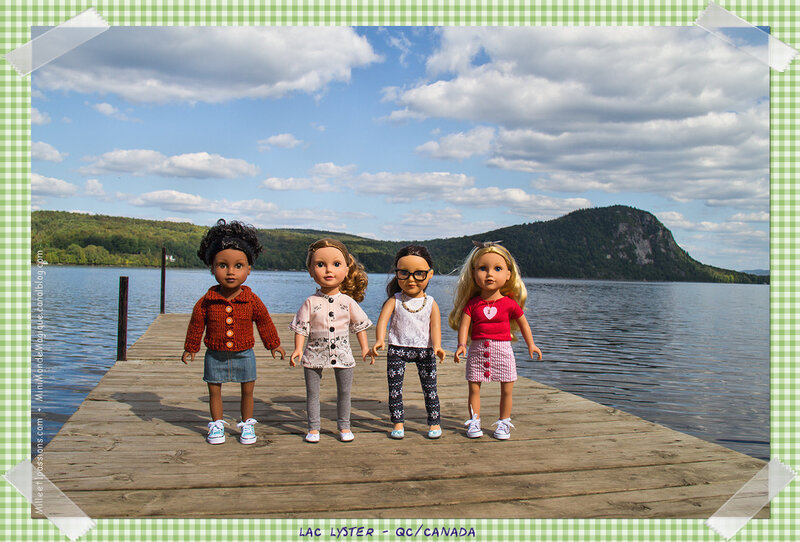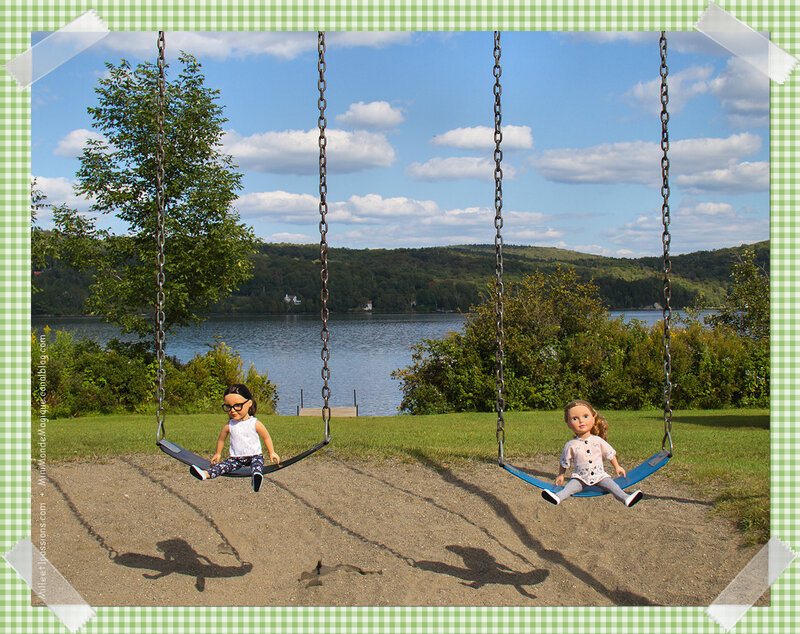 Et puis, quelques paysages bien typiques autour du lac Lyster :
And then, a few typical landscapes around Lake Lyster: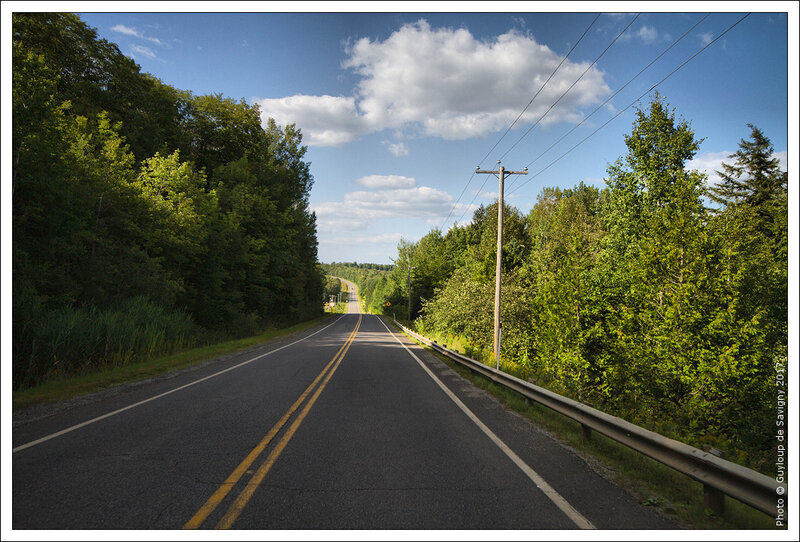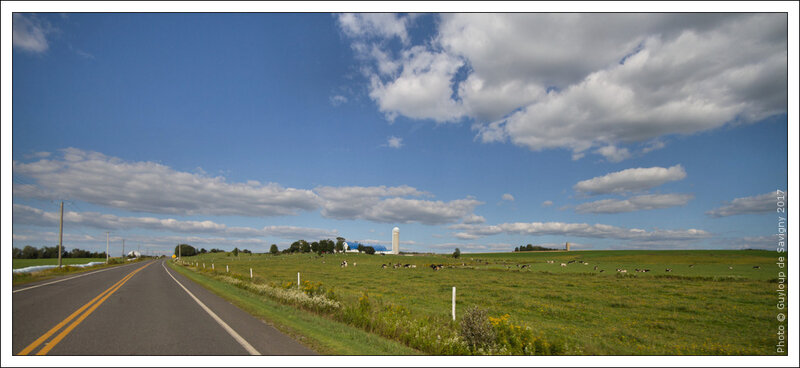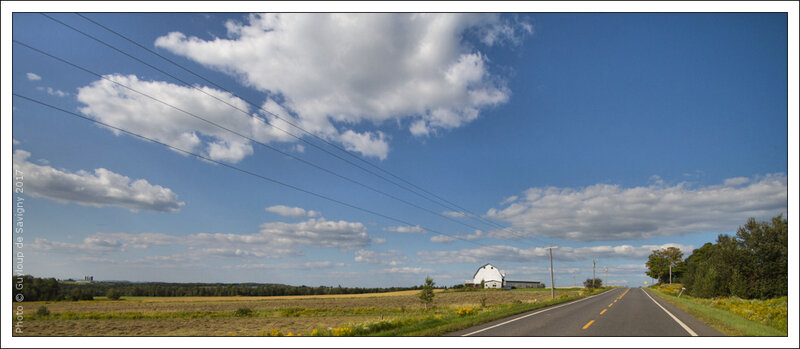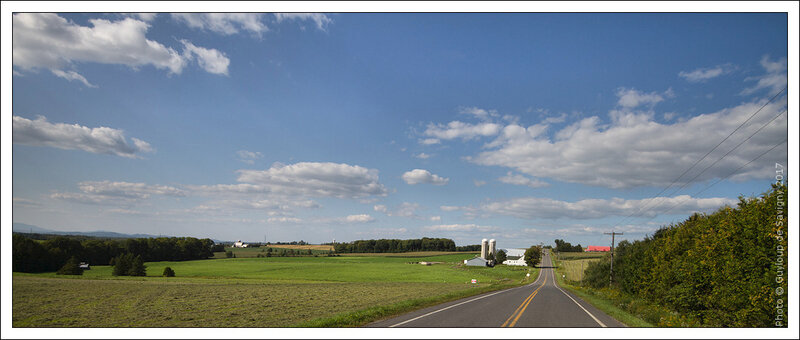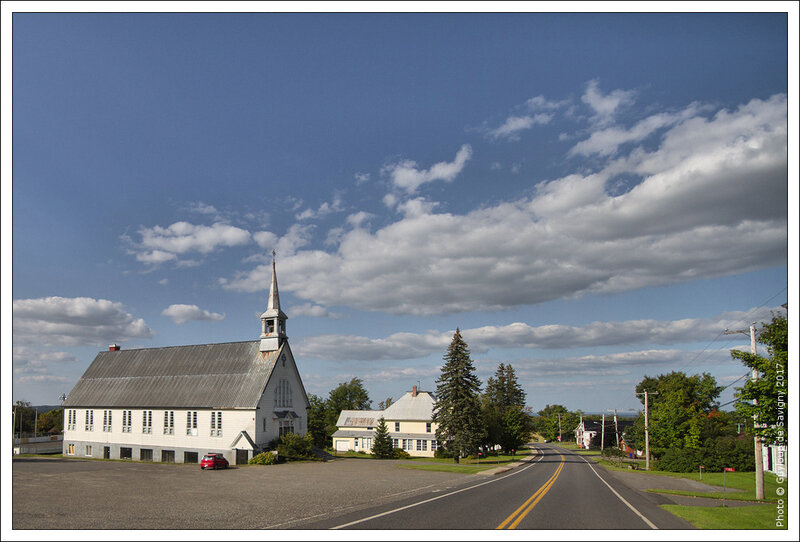 Je termine cette promenade par la photo d'une jolie maison située face au lac Lyster ; je me demande si je les envie plus pour la superbe vue sur le lac et sa falaise, ou si je les plains pour l'ennui occasionné par les centaines de touristes qui passent et stationnent là chaque été.
I conclude this walk with the picture of a beautiful house facing Lake Lyster; I wonder if I envy them more for the superb view of the lake and its cliff, or if I pity them for the inconvenience caused by the hundreds of tourists who pass and park there every summer.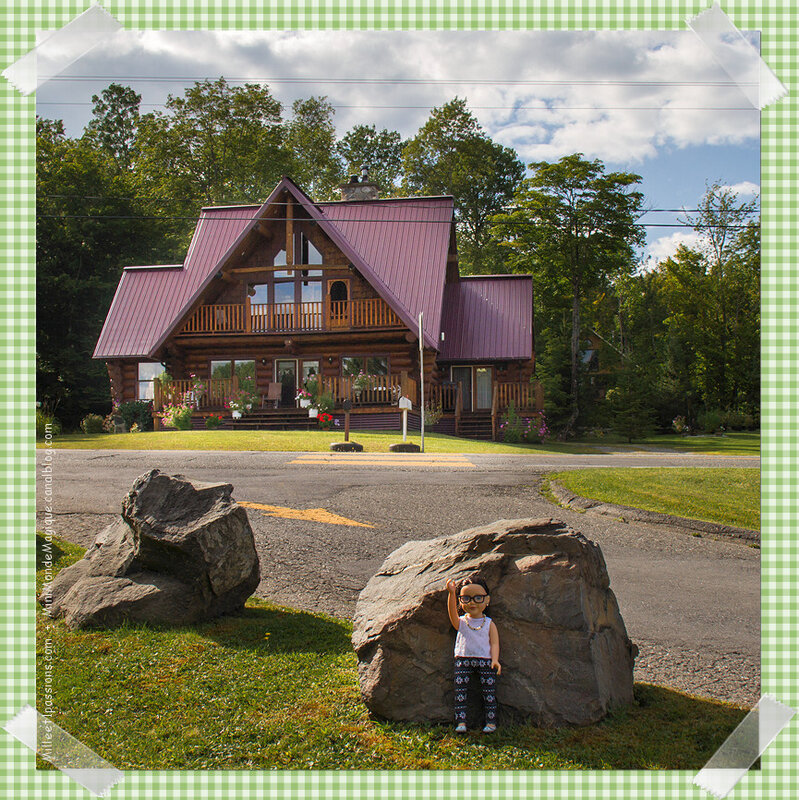 À bientôt pour la prochaine promenade / See you soon for the next walk
Guyloup & "les filles" ♥
28 août 2017
Je vois que les folies de Canalblog continuent : j'ai du passer par leur logo, puis par le tableau de bord, pour accéder à la création d'un nouveau message (et j'ai constaté que la moitié des images continuaient à ne pas s'afficher, et ceci aléatoirement quand on recharge la page du message concerné). La situation devient vraiment intolérable. On peut comprendre des problèmes techniques, mais quand ils se prolongent sur plusieurs semaines (en réalité plusieurs mois car cela fait un moment que des internautes me signalent les problèmes d'accès), et semblent même empirer, il y a de quoi se poser des questions sur la fiabilité de l'hébergeur lui-même.
I see that the follies of Canalblog continue: I had to go through their logo, then by the dashboard, to access the creation of a new message (and I found that half the images continued not to and this happens randomly when the page of the message concerned is reloaded). The situation becomes really intolerable. We can understand technical problems, but when they last for several weeks (in fact several months because it has been a long time since people have pointed out access problems to me), and even seem to get worse, there are questions about the reliability of the host itself.
Bref, voici un petit gilet bien chaud tricoté pour Chavonne. J'ai utilisé le même patron que pour les 9 pulls des poupées Teen Trends montrés récemment, mais avec des aiguille en taille US 4 (3,5 mm) et de la laine en conséquence bien sur, alors que j'avais tricoté ceux des Teen Trends avec des aiguilles US 2 (2,5 mm).
Une fois qu'il a été terminé, j'ai trouvé dommage qu'elle n'ait pas de col, cela me semblait plus logique en fonction de l'épaisseur du gilet, alors 'ai ajouté un col au point mousse en relevant simplement les mailles autour du cou.
In short, here is a little warm knitted vest for Chavonne. I used the same boss as for the 9 sweaters of the Teen Trends dolls shown recently, but with needles size US 4 (3.5 mm) and wool accordingly of course, while I had knitted those of Teen Trends with US 2 needles (2.5 mm).
Once it was finished, I found it unfortunate that it did not have a collar, it seemed more logical depending on the thickness of the vest, so I added a collar to the garter stitch by simply pick up stitches around the neck.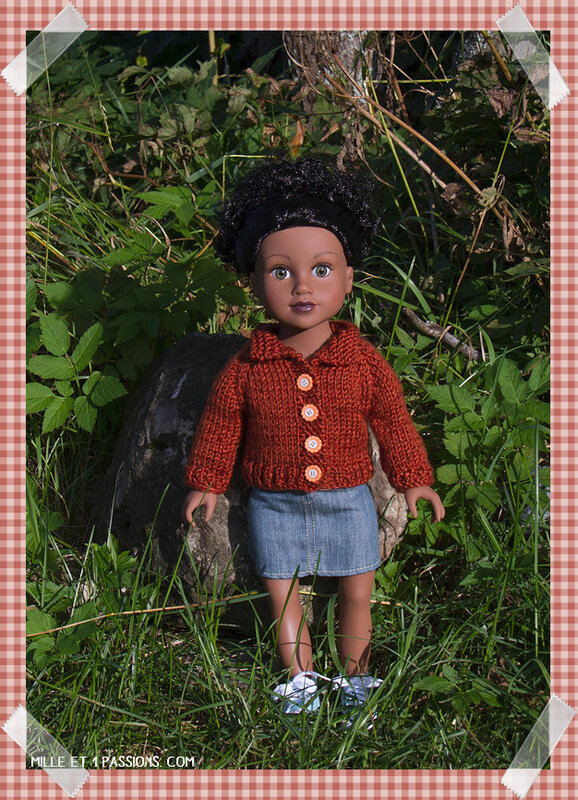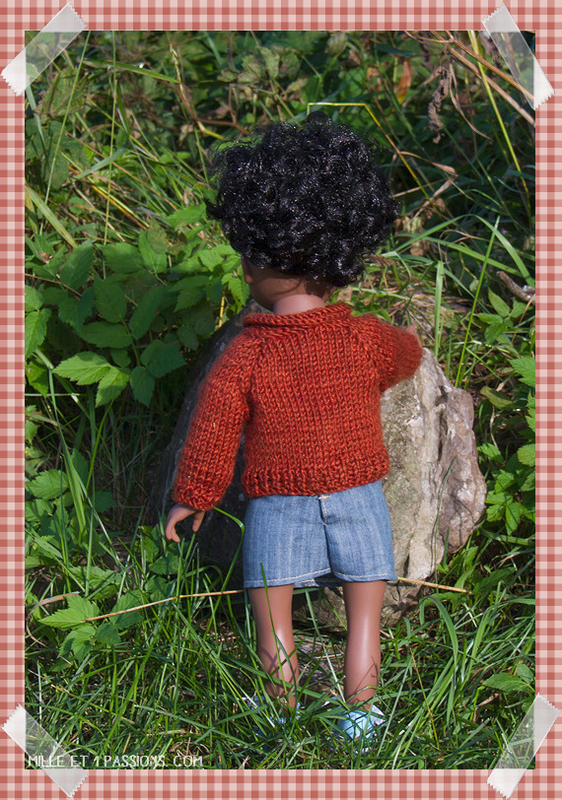 Demain, nous vous emmènerons faire un tour sur la frontière, au lac Lyster et son magnifique Mont Pinacle :-)
Tomorrow we will take you on a tour of the border, Lake Lyster and its magnificent Mount Pinacle :-)
À bientôt, See you soon,
Guyloup ♥
27 août 2017
En raison des troubles d'affichage de Canalblog actuellement, je vous conseille d'appuyer sur la touche F5 de votre clavier si toutes les images ne s'affichent pas, et ceci plusieurs fois tant que les 4 photos ne seront pas affichées ; j'espère de tout coeur qu'ils vont régler leurs problèmes rapidement (avant de finir par avoir envie de changer d'hébergeur malgré ma fidélité à leurs services depuis plus de 10 ans).
Due to the disturbing display of Canalblog currently, I advise you to press the F5 key on your keyboard if all the images do not appear, and this several times as long as the 4 photos will not be displayed; I hope with all my heart that they will solve their problems quickly (before ending up wanting to change webhost despite my loyalty to their services for more than 10 years).
-------
Mikaella est fière de vous présenter sa nouvelle tenue : des leggins gris fait dans un de mes vieux t-shirts, et une tunique faite à partir d'un bandana.
Mikaella is proud to present her new outfit: gray leggins made in one of my old t-shirts, and a tunic made from a bandana.
Un bandana est vraiment un tissu idéal pour obtenir une belle symétrie des motifs :
A bandana is really an ideal fabric to get a nice symmetry of patterns: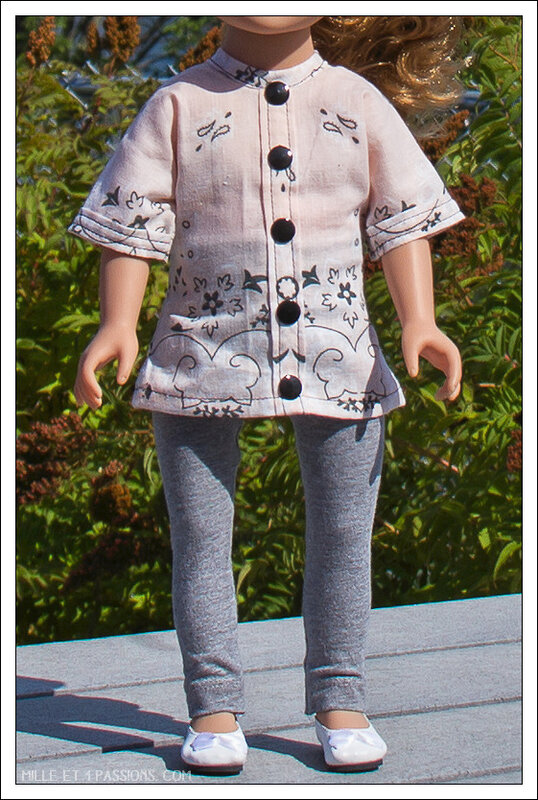 Il faisait beau aujourd'hui, mais frais (nous descendons à 7° la nuit), et elle a fait remarquer à Meredith que l'automne était bien là : les vinaigriers sont déjà fanés :
It was fine today, but cool (we go down at 7 ° at night), and she remarked to Meredith that the autumn was there: the vinegars are already faded: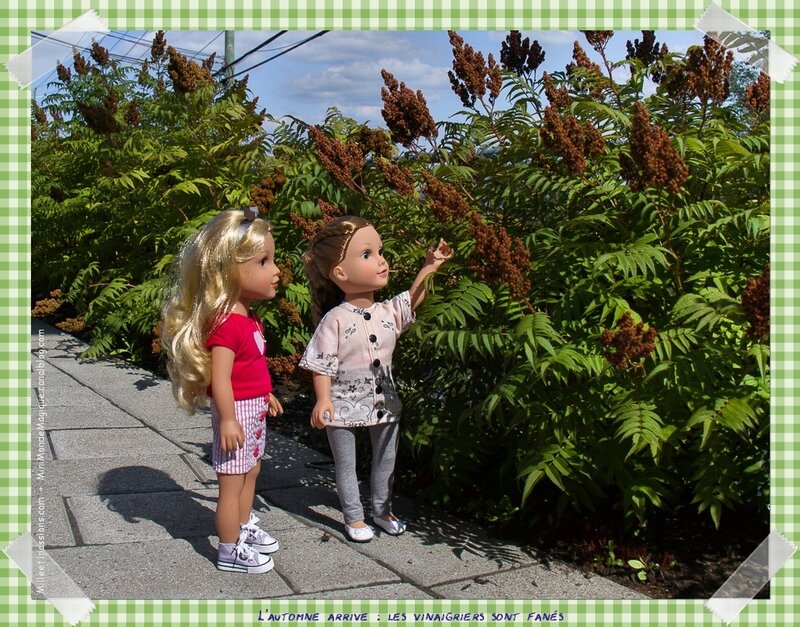 Et heureusement que je ne suis pas jalouse car elle est allée ensuite prendre un café glacé avec Petit mari !!!!!!
And luckily I'm not jealous as she went then to have an iced coffee with Dear little husband !!!!!!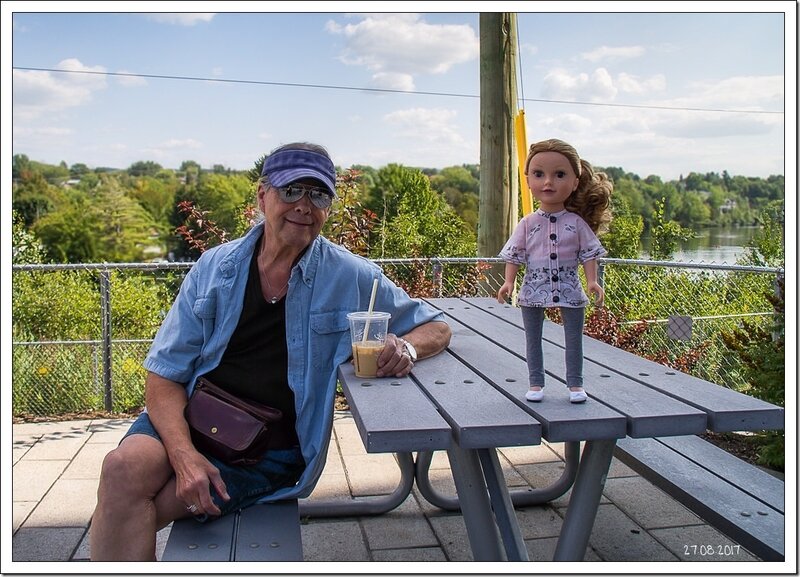 À bientôt, See yu soon,
Guyloup ♥
23 août 2017
Mission accomplie : j'ai terminé de tricoter 9 pulls pour mes 9 Teen Trends (la 10e conservant le pull bleu que je vous montrais ICI ).
Ces deux là ont l'air ravies de les porter ; il est vrai que depuis l'orage-tempête d'hier (qui a fait d'immenses dégats à Montréal), la température a bien chuté.
Mission accomplished: I finished knitting 9 sweaters for my 9 Teen Trends (the 10th retaining the blue sweater that I showed you HERE).
These two look pleased to wear them; It is true that since yesterday's storm-storm (which caused enormous damage in Montreal), the temperature has fallen.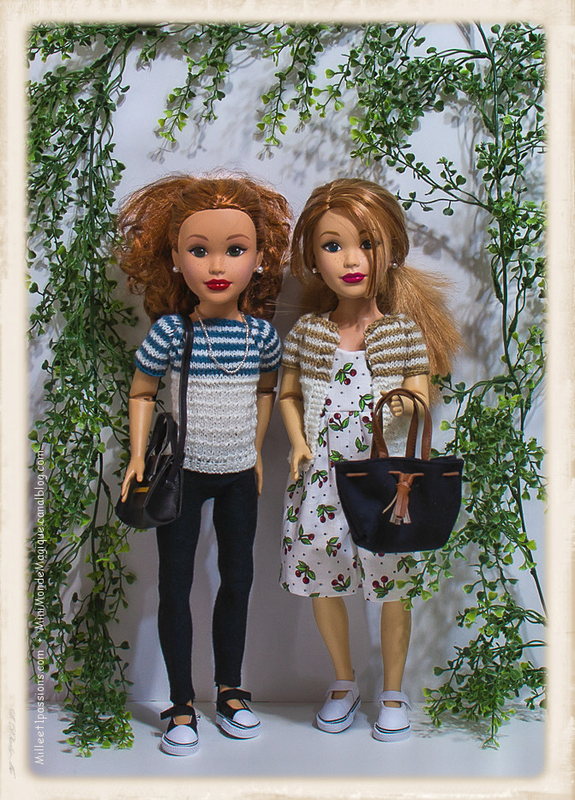 Pour les curieuses, voici le résultat de l'orage d'hier à Montréal ; par chance, chez nous, c'était très raisonnable par rapport à eux, mais je n'en menais pas large, c'était noir, et violent... mais pas au point de Montréal.
For the curious, here is the result of the storm of yesterday in Montreal; Fortunately, it was very reasonable with them, but I did not go wide, it was black, and violent ... but not at the point of Montreal.
http://quebec.huffingtonpost.ca/2017/08/22/des-orages-devastateurs-frappent-le-quebec-et-les-degats-sont-considerables_a_23157920/
http://www.journaldemontreal.com/2017/08/22/veille-dorages-violents-sur-plusieurs-regions-1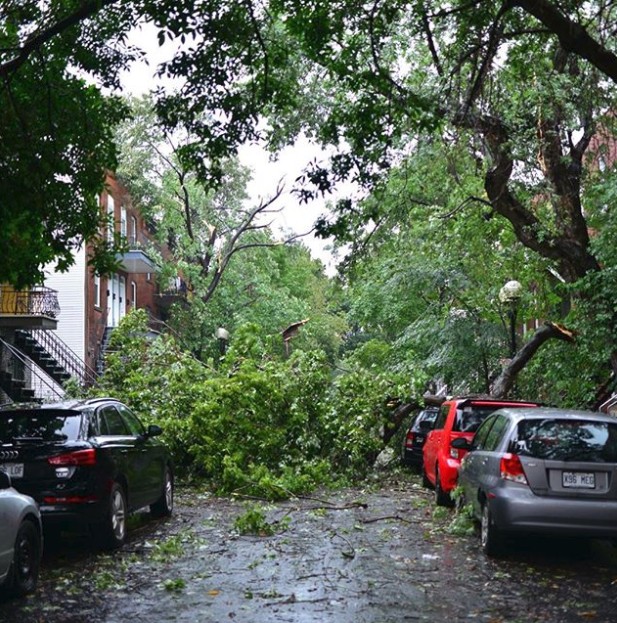 À bientot, See you soon,
Guyloup ♥
22 août 2017
Lorsque je fais les courses à Sherbrooke, il est de tradition de faire un arrêt à cet endroit pour y siroter un café glacé McDo en été, ou un de leurs délicieux chocolats froids en hiver :-)
C'est un bras de la rivière Magog, qui alimente le lac Memphrémagog dont je vous ai parlé et montré des photos la semaine dernière ; près d'une piste cyclable de la ville, il y a une petite halte dont l'aspect "sauvage" fait presque oublier le remue-ménage de la circulation à quelques pas de là (quand il n'y a pas de hors-bord tirant un skieur nautique qui passe à toute vitesse sur l'eau, bien sur !).
When shopping in Sherbrooke, it is traditional to make a stop at this place to sip a frozen McDo coffee in summer, or one of their delicious cold chocolates in winter :-)
It is an arm of the Magog River, which feeds Lake Memphremagog, of which I spoke to you and showed pictures last week; Close to a bike path in the city, there is a small stop, the "wild" aspect of which almost makes one forget the bustle of the traffic a few steps away (when there is no outboard Pulling a nautical skier who runs at full speed over the water, of course!).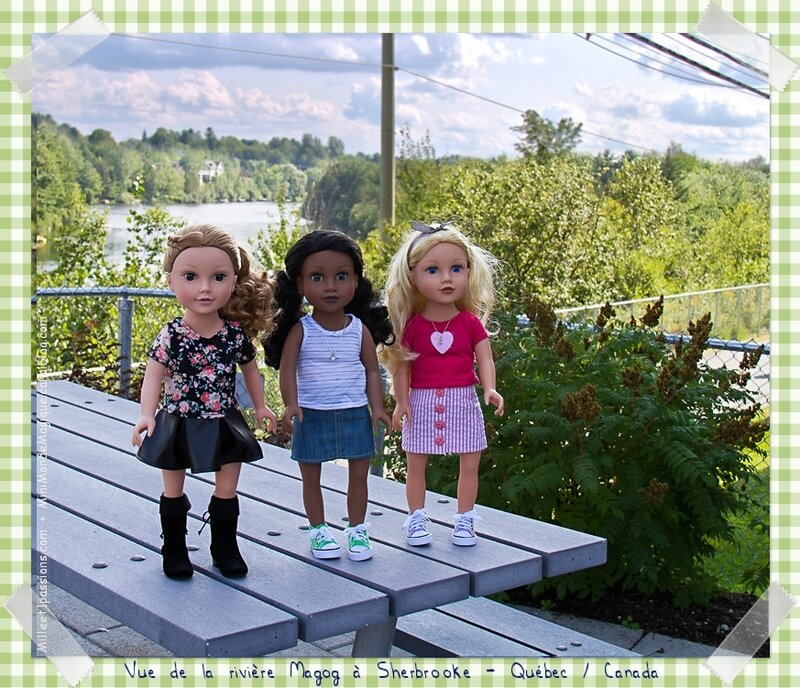 N'imaginez pas que toute la ville de Sherbrooke ressemble à ça, avec ses 163 000 habitants et son université, c'est en réalité ça., avec de très jolis quartiers que vous verrez bientôt dans un prochain reportage.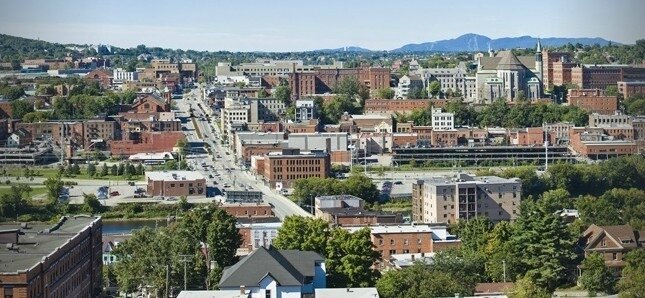 Ne soyez pas surprises de voir des poupées dans mes photos de paysages, c'est que je suis incrite à un groupe où nous présentons ainsi nos balades... et certains nous font visiter ainsi la forêt des Carpathes, voir ici : https://allamariya.blogspot.ca/2017/08/blog-post.html ou encore le parc de Yellowstone : http://journeygirladventures.blogspot.ca/2017/08/chaconnes-trip-to-yellowstone.html... et aussi : http://journeygirladventures.blogspot.ca/2017/08/chavonnes-trip-to-yellowstone-day-two.html
C'est une manière de rendre des décors un peu plus vivants et de bien s'amuser !
Do not be surprised to see dolls in my photos of landscapes, it is because I am a member of a group where we present our walks ... and some make us visit the forest of the Carpathians, see here: https: / / /allamariya.blogspot.ca/2017/08/blog-post.html or the Yellowstone Park: http: //journeygirladventures.blogspot.ca/2017/08/chaconnes-trip-to-yellowstone.html ... c 'Is a way to make decorations a little more alive and have a lot of fun!
À bientôt,
Guyloup ♥
Un t-shirt au dessin ethnique pour Callie l'amérindienne, et un ensemble jupe/t-shirt pour Kelsey la rousse aux yeux clairs.
J'ai galéré avec le tissu vert du t-shirt : souple, mou, soyeux, glissant, bref, il a tous les défauts possibles !
Le dessin sur le t-shirt est fait avec un tampon de scrapbooking + encre Stazon (indélébile), puis colorié avec des feutres à tissu.
A t-shirt with an ethnic design for Callie the Native American, and a skirt / t-shirt for Kelsey the red-haired with clear eyes.
I have gone with the green fabric of the t-shirt: soft, soft, silky, slippery, in short, it has all possible flaws!
The design on the green t-shirt is made with a scrapbooking stamps and black Stazon ink (indelible), I then colored it with fabric felts.
À bientôt,
Guyloup ♥
18 août 2017
Un peu de couture, cette fois pour la blonde Meredith (Journey Girls).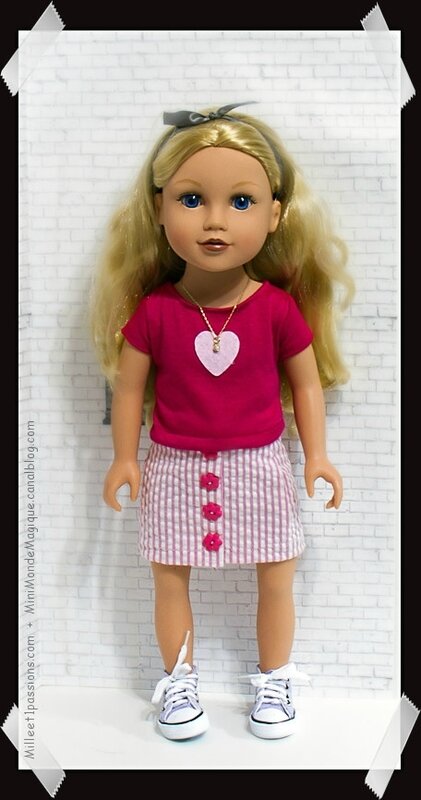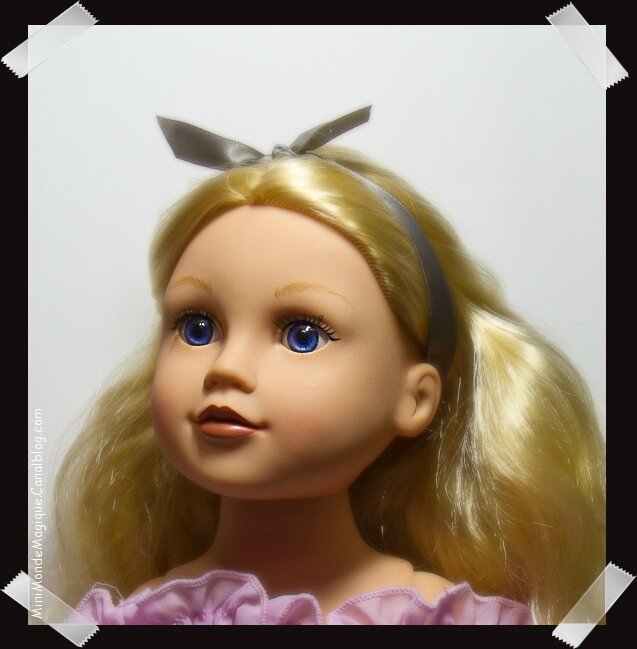 Bon samedi :-)
Guyloup ♥
17 août 2017
Salut, c'est encore moi, Kyla !
Je vous avais dit que Guyloup ne voulait pas m'emmener faire un tour aux USA lors de notre promenade de lundi... j'étais même jalouse car elle avait parlé d'emmener une autre poupée ! j'ai compris pourquoi, et je ne suis plus jalouse du tout : elle attendait que Callie, une charmante poupée amérindienne vienne me rejoindre pour nous faire visiter la partie est et la partie sud du lac Memphrémagog, donc du côté des USA.
Hi, it's me again, Kyla!
I told you that Guyloup did not want to take me to the USA on our Monday walk ... I was even jealous because she had talked about bringing another doll! I understood why, and I am no longer jealous at all: she was waiting for Callie, a charming Amerindian doll to join me to show us the eastern part and the southern part of Lake Memphremagog, so on the US side.
Voilà notre promenade en photo ; cette fois, nous avons pris la rive est du lac Memphrémagog, contrairement à notre promenade d'avant-hier (voir ICI) où nous étions sur la rive ouest. Pour vous situer, nous sommes allés dans la partie représentée par un rectangle violet sur cette carte (le trait noir est la frontière Canada/USA) :
Here is our walk in photo; This time we took the eastern shore of Lake Memphremagog, contrary to our walk the day before yesterday (see HERE) where we were on the west shore. To locate you, we went into the part represented by a purple rectangle on this map (the black line is the border Canada / USA):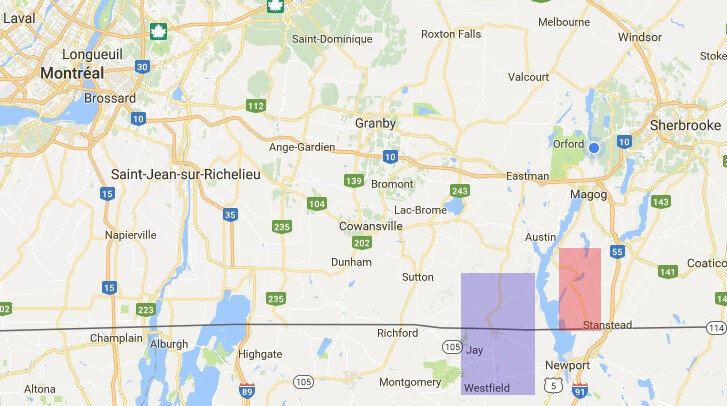 L'église du village de Austin :
The church of the village of Austin: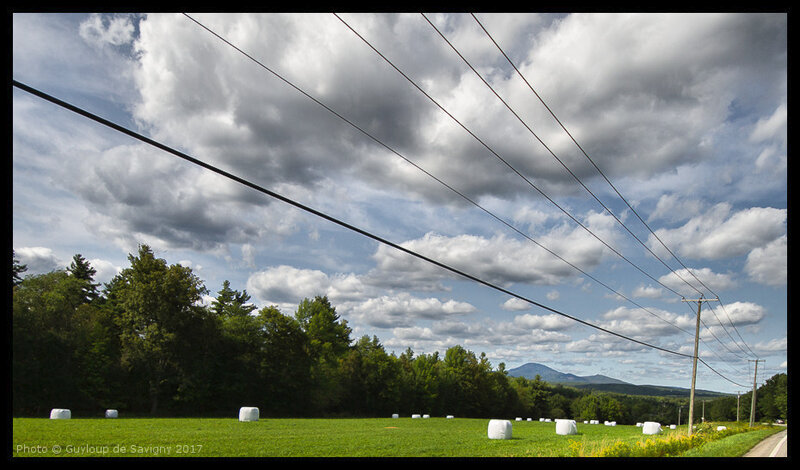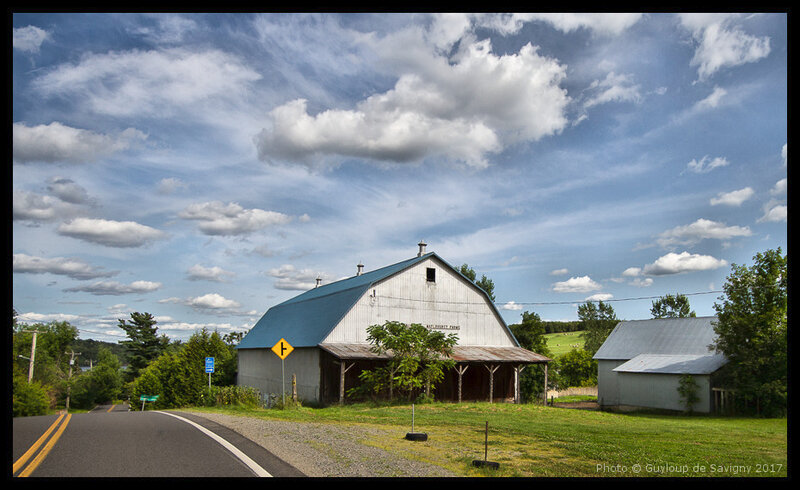 Le lac tout près de la frontière :
The lake near the border: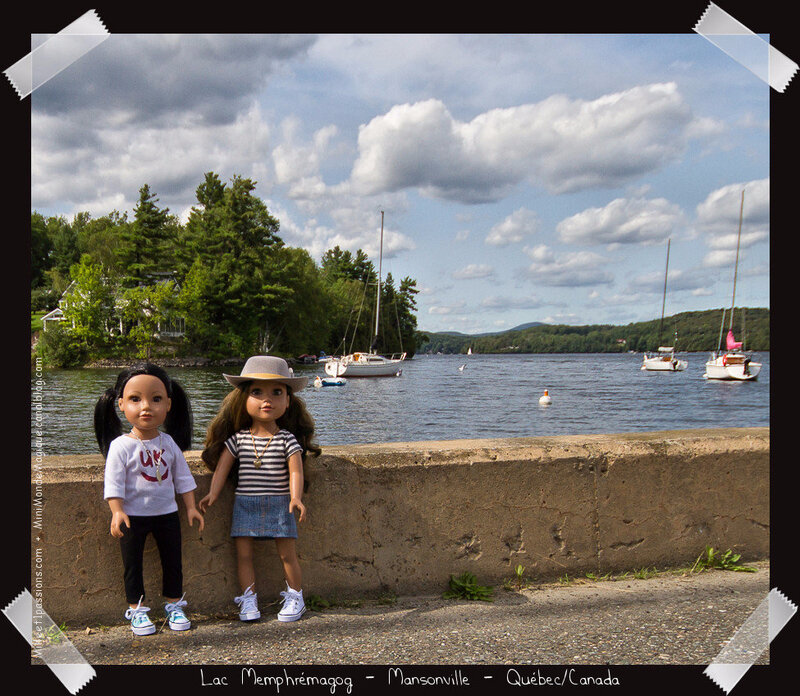 Nous ne sommes pas descendus tout le long du lac, nous avons bifurqué vers l'est, afin d'aller dans un secteur que Guyloup voulait nous faire voir car elle disait que c'est très beau. Donc, on quitte le lac, qu'on aperçoit derrière nous en contrebas.
We did not go down the entire length of the lake, we branched off to the east, to go to an area that Guyloup wanted to show us because she said it was very beautiful. So we leave the lake, which we can see behind us.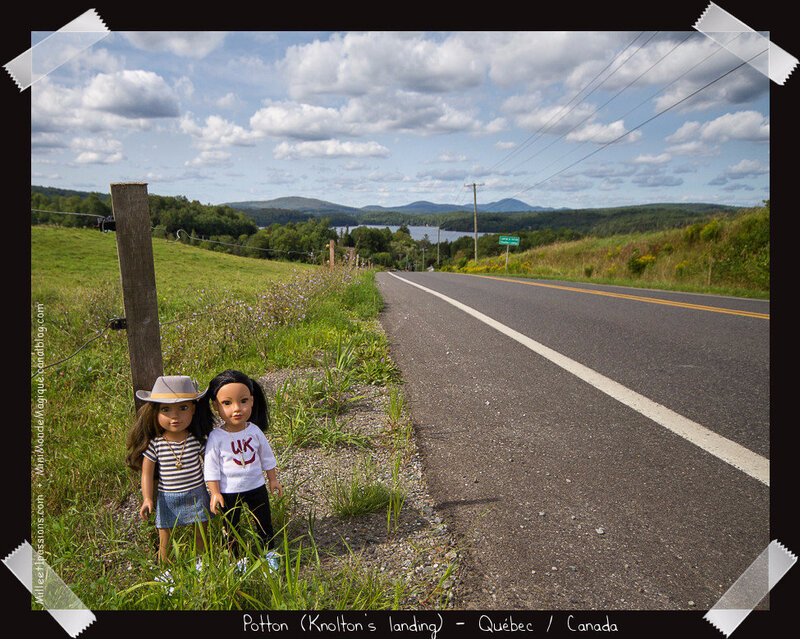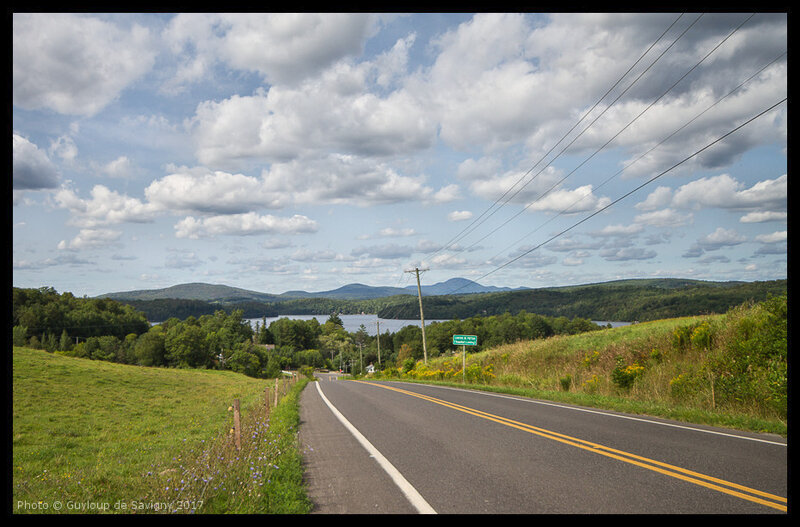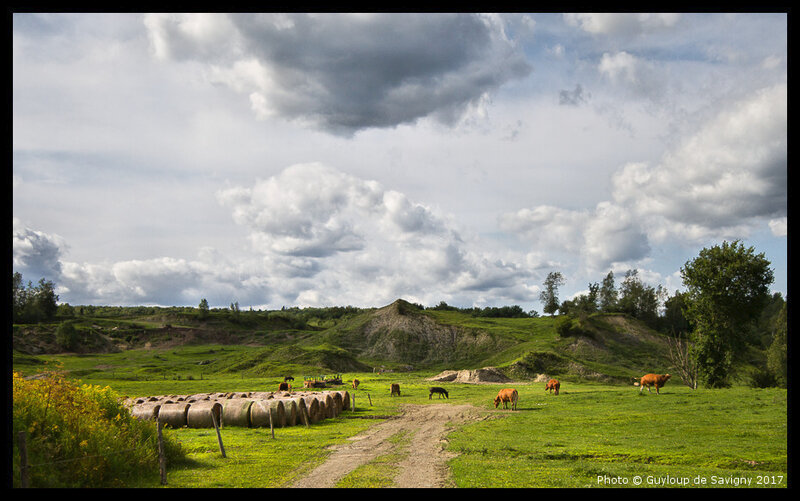 Et voilà, on passe la frontière, je suis très excitée, c'est la première fois que je vais au Vermont (je suis une poupée canadienne, moi !).
And then, we cross the border, I'm very excited, this is the first time I go to Vermont (I'm a Canadian doll, me!).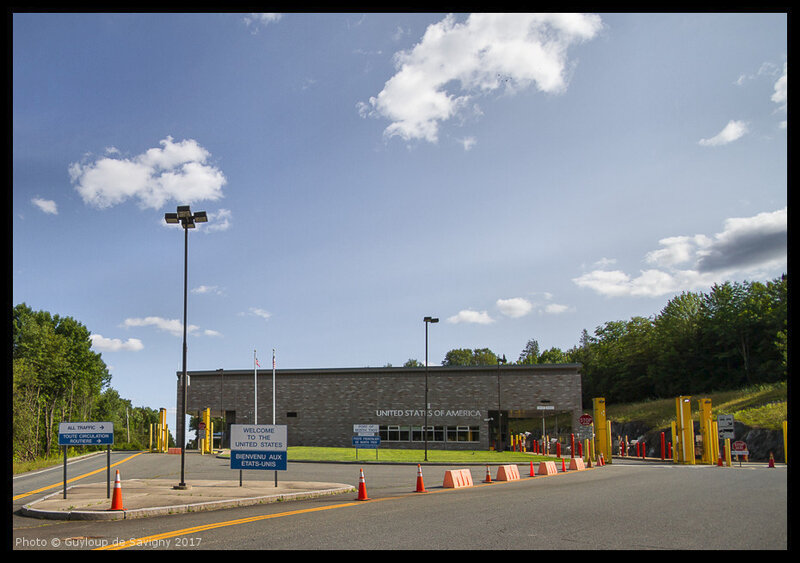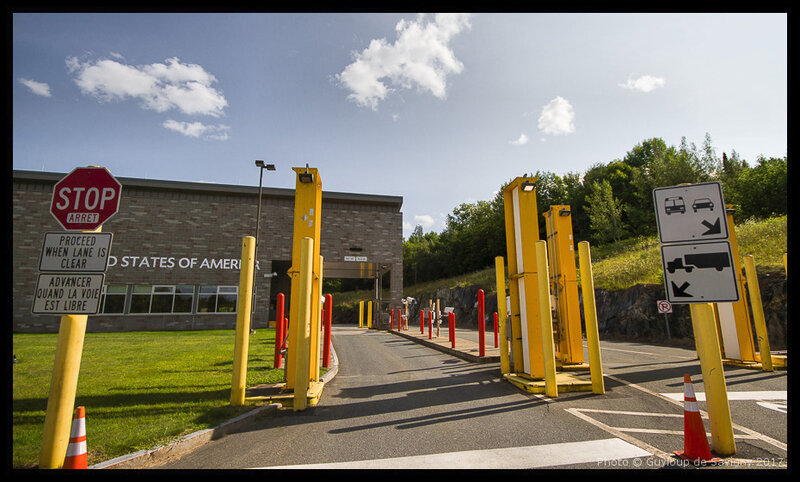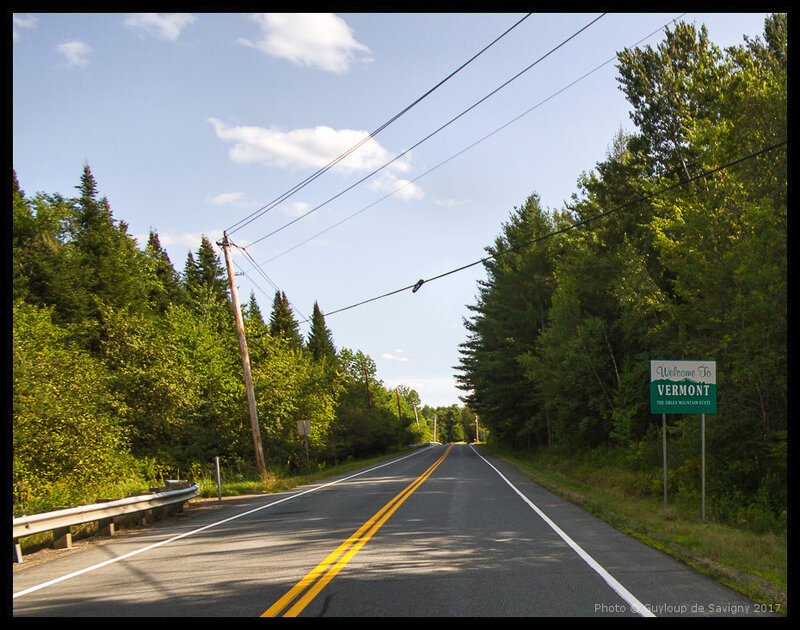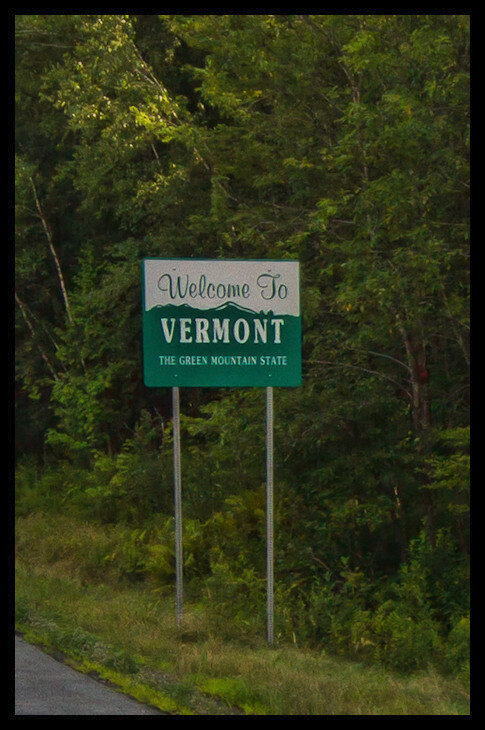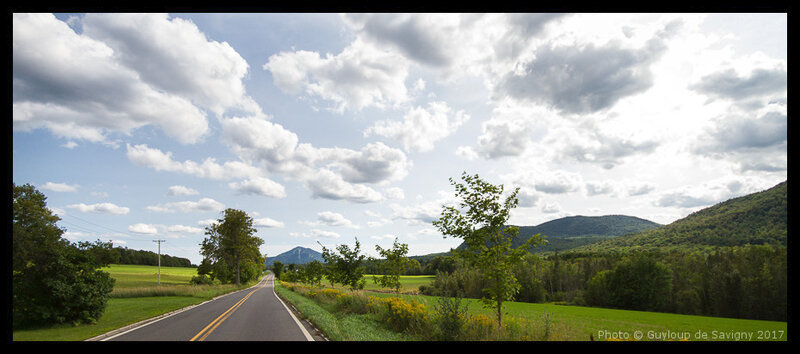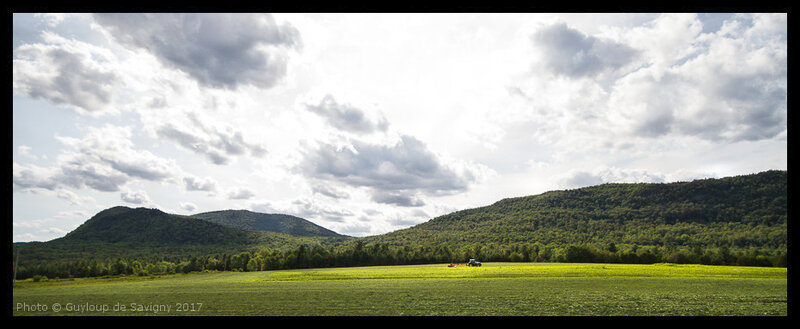 Avez-vous vu ? c'est si immense qu'un énorme tracteur passe presque inaperçu dans cette immensité !!!
Have you seen ? It is so immense that an enormous tractor passes almost unnoticed in this immensity!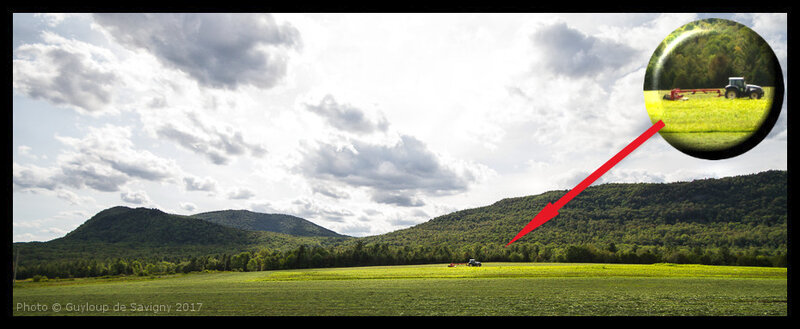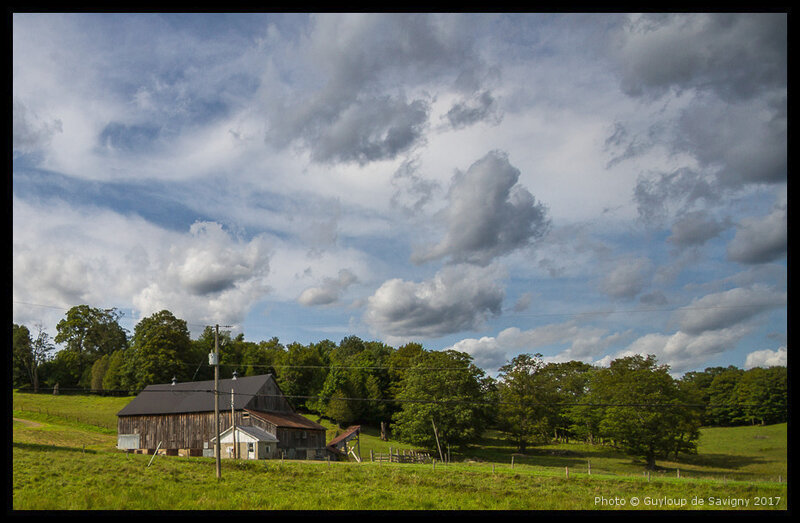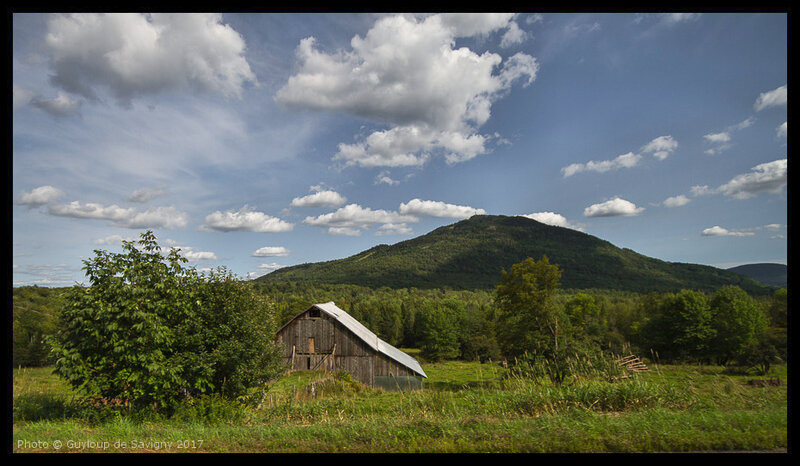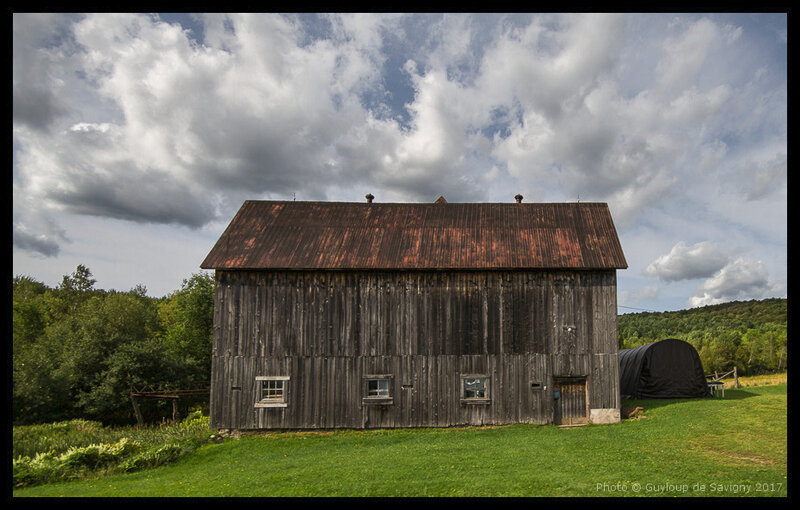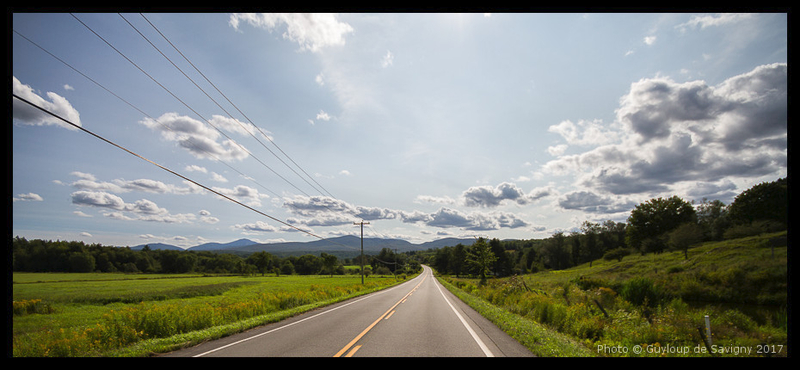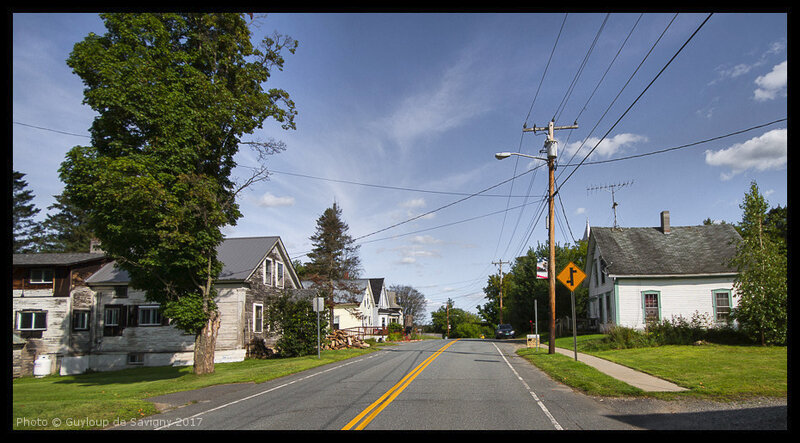 Et nous voià enfin à l'endroit que Guyloup aime bien, et on a trouvé qu'elle avait raison, c'est super beau, mais on avait quand même un peu peur de tomber quand elle nous a assises sur la barrière de sécurité !
And we finally see the place that Guyloup likes, and we found that she was right, it is super beautiful, but we were still a little afraid to fall when she sat us on the security fence!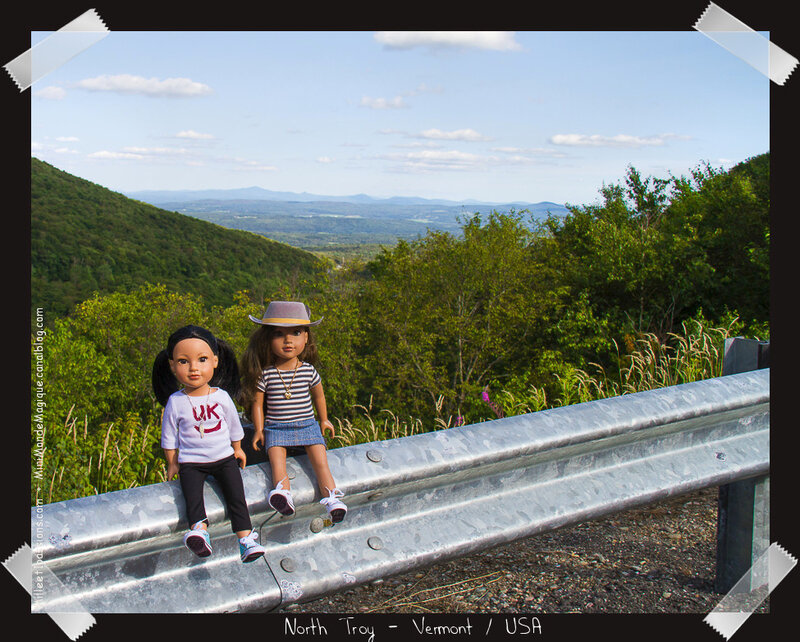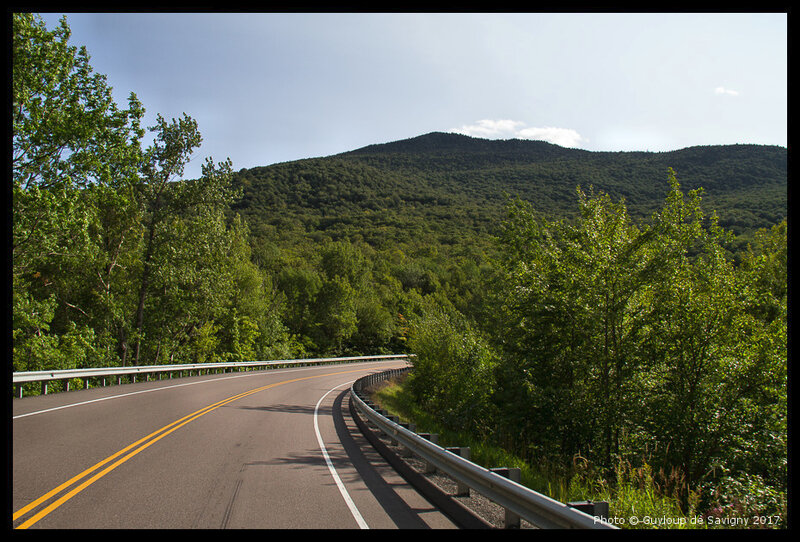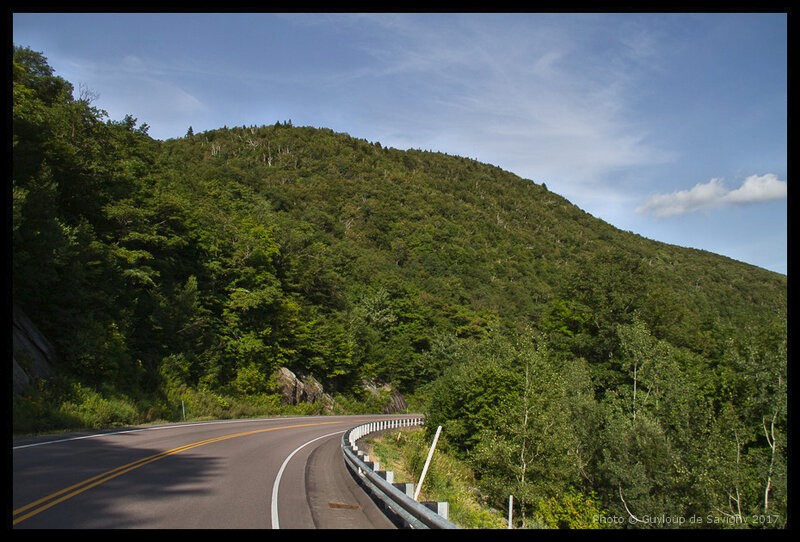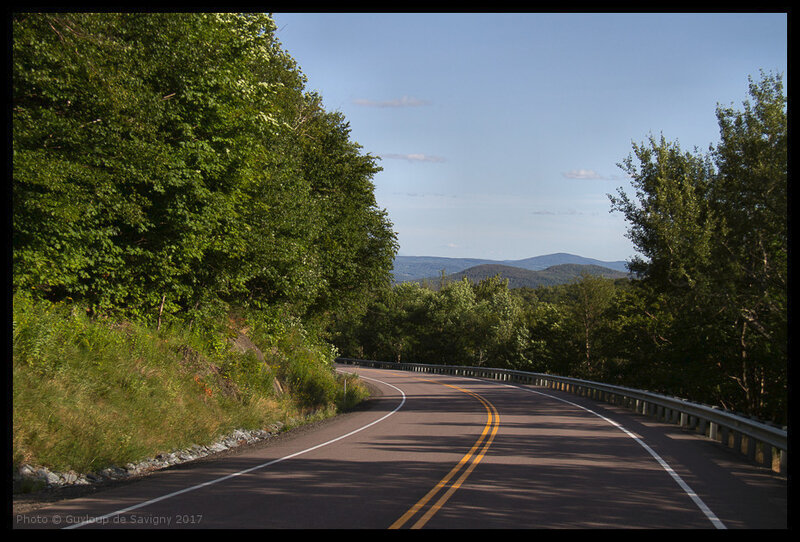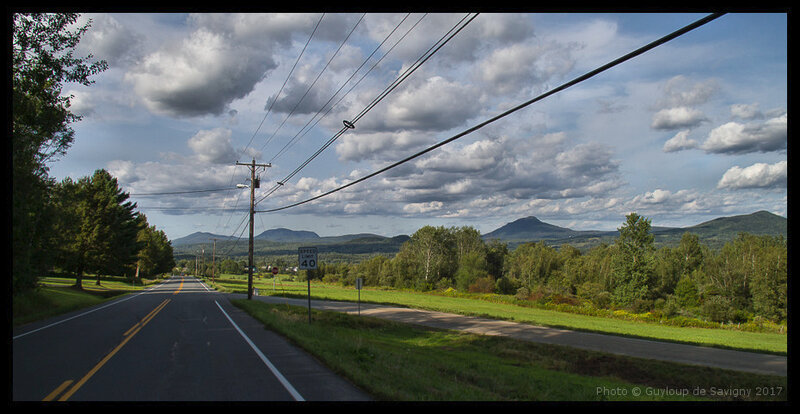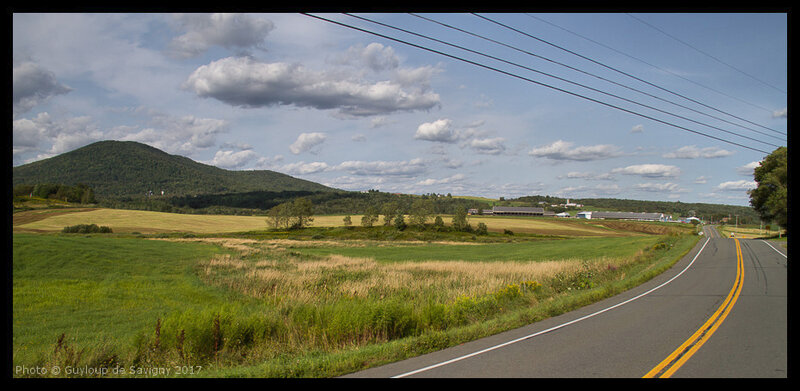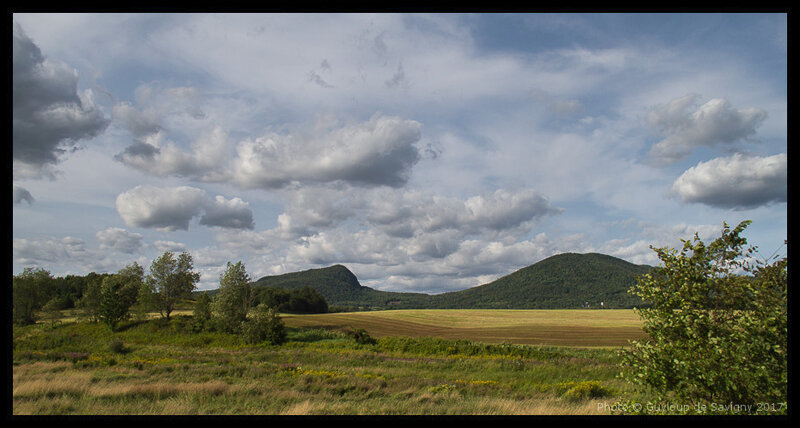 On retourne vers le Canada, c'est beaucoup plus plat :
We go back to Canada, it's much flatter: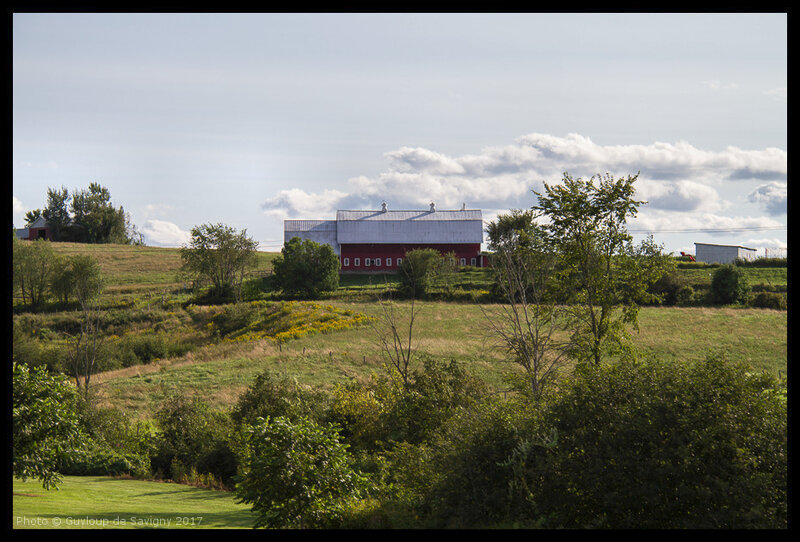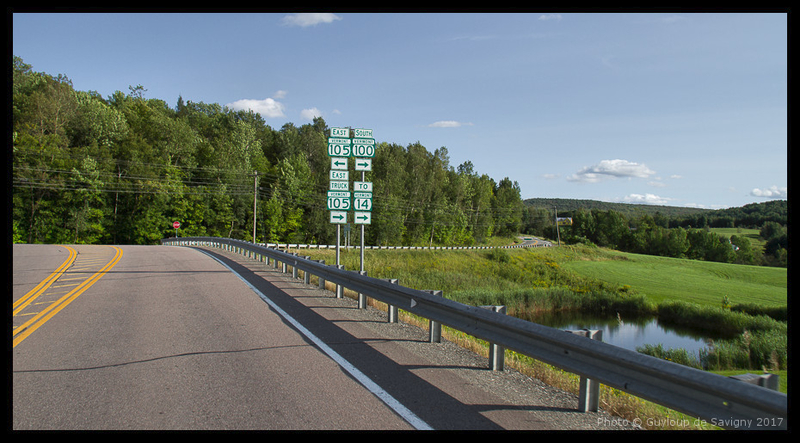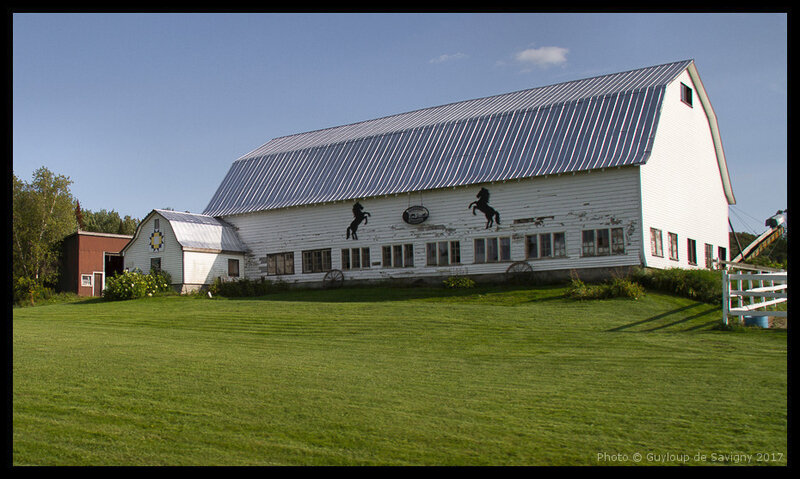 Tiens, on retrouve encore le lac !!! il faut dire qu'il fait 42 km de long, alors c'est difficile de ne pas retomber dessus tout le temps :-)
Here, we still find the lake! It must be said that it is 42 km long, so it is difficult not to fall on all the time :-)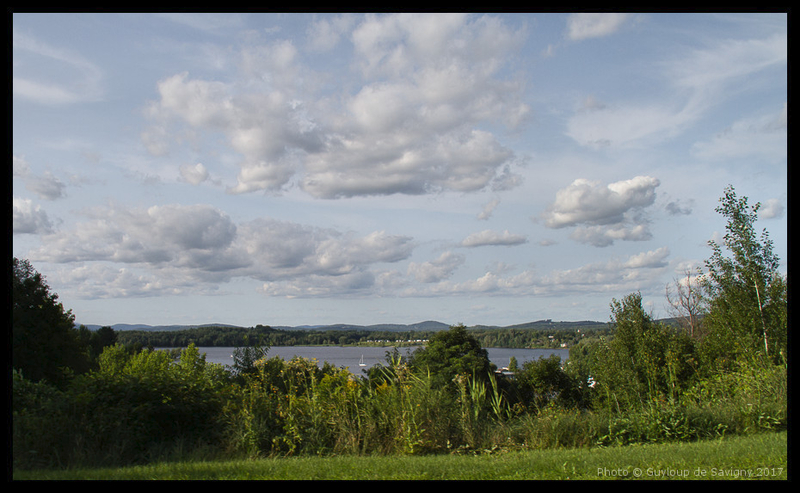 Une rue de Newport / VT :
A street in Newport / VT: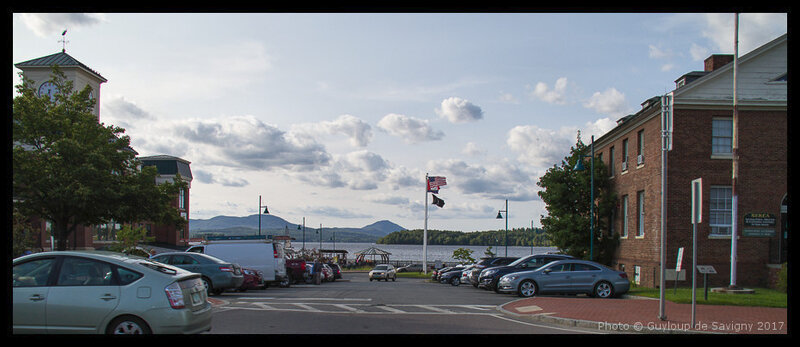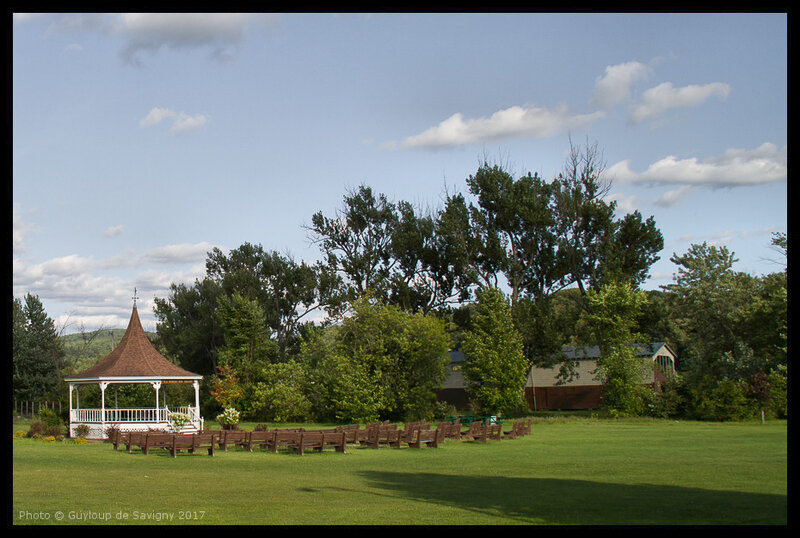 Et voilà, 5 km plus loin, on a repassé la douane canadienne, et on est rentrés à la maison.
À bientôt pour une nouvelle promenade :-)
And then, 5 km away, we went back to Canadian customs, and we went home.
See you soon for a new walk :-)
Kyla & Guyloup ♥
14 août 2017
Je publie une seconde fois ce message de lundi 14-08 car d'après ce qui m'a été dit par plusieurs internautes, la newsletter n'a pas été envoyée correctement par Canalblog.
Une demi-journée de soleil ????? cette année, ça ne se rate pas : on prend vite l'appareil photo et on va se promener dans la campagne ! et en rentrant, on fait profiter les copines des photos qu'on a prises.
Half a day of sunshine, this year, it does not miss: we quickly take the camera and we go for a walk in the countryside! And on the way back, we give the girlfriends the pictures we took.
J'avais emporté une poupée. Elle vient de la collection "Journey Girls", ce qui se traduirait par "Filles Voyageuses", il me semblait donc logique que ce soit elle qui vous fasse visiter la région !! Pur cela, j'ai choisi Kyla, une amoureuse de la nature et plus particulièrement des chevaux.
I had taken a doll. It comes from the collection "Journey Girls", so it seemed logical that it is she who will make you visit the region !! Pure that, I chose Kyla, a lover of nature and especially horses.
Nous avons commencé par aller vers Fitch Bay, via Georgeville :
We started by going to Fitch Bay, via Georgeville: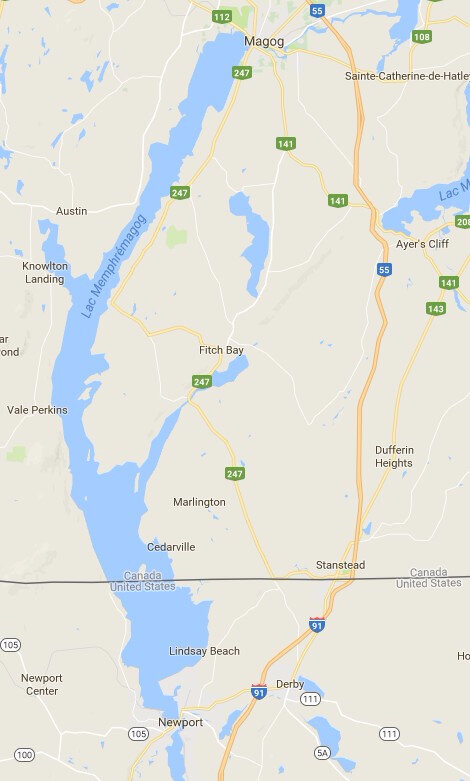 pour vous situer, c'est le rectangle rouge :
To locate you, it is the red rectangle: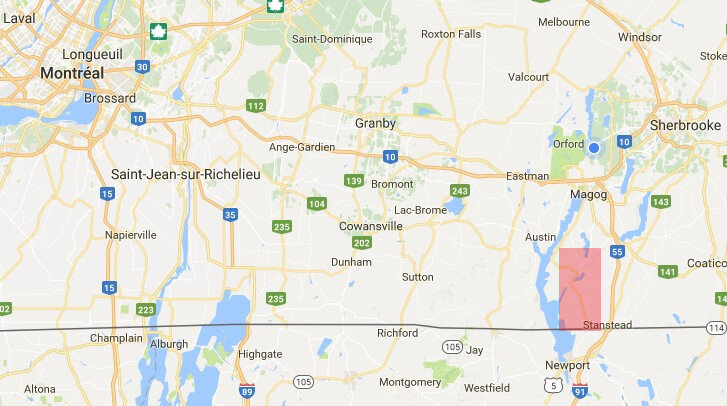 Je laisse parler Kyla qui vous raconte sa promenade !!

I let Kyla talk that tells you about her walk !!
:
J'étais contente quand Guyloup m'a emmenée visiter sa belle région.
En chemin, je n'ai pu résister à admirer cette jolie ferme-pension pour chevaux, ma passion !
I was glad when Guyloup took me to visit her beautiful area.
Along the way, I could not resist admiring this lovely farm-pension for horses, my passion!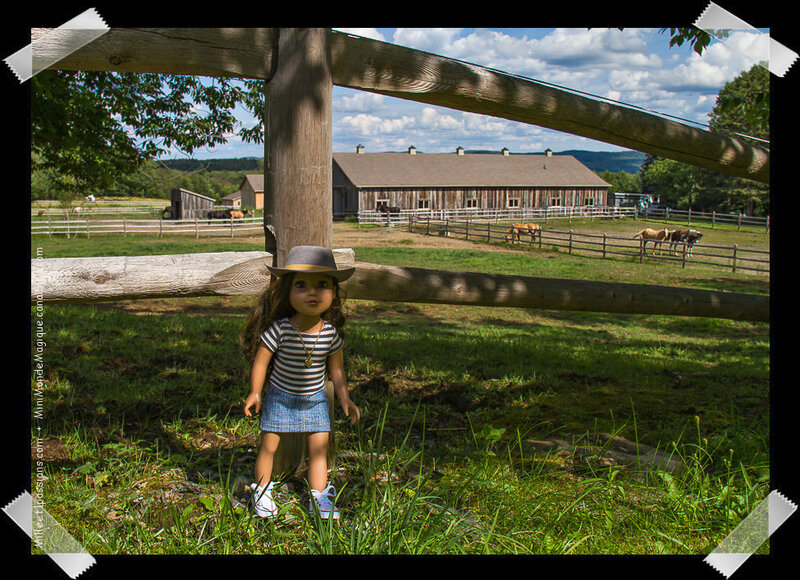 Le paysage est magnifique avec la vue sur le lac Memphrémagog en contrebas :
The landscape is beautiful with the view of Lake Memphremagog below: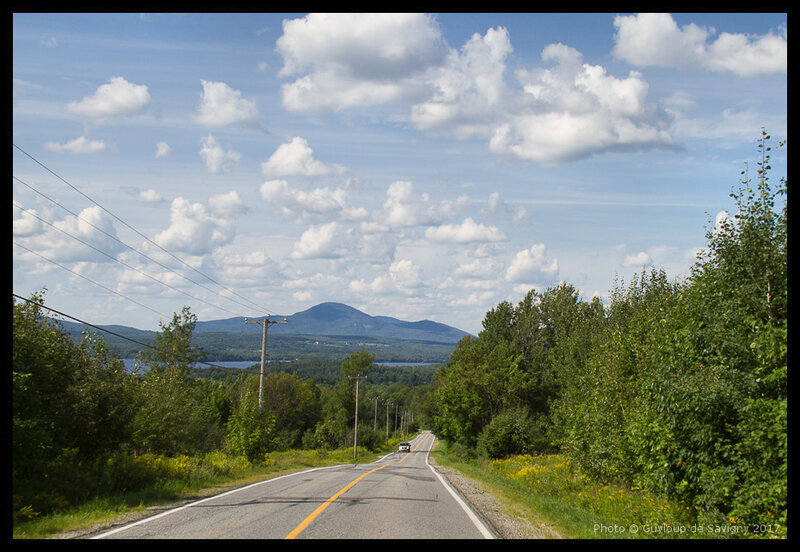 Une autre ferme, mais d'élevage moins agréable (porcs) :
Another farm, but of less pleasant breeding (pigs):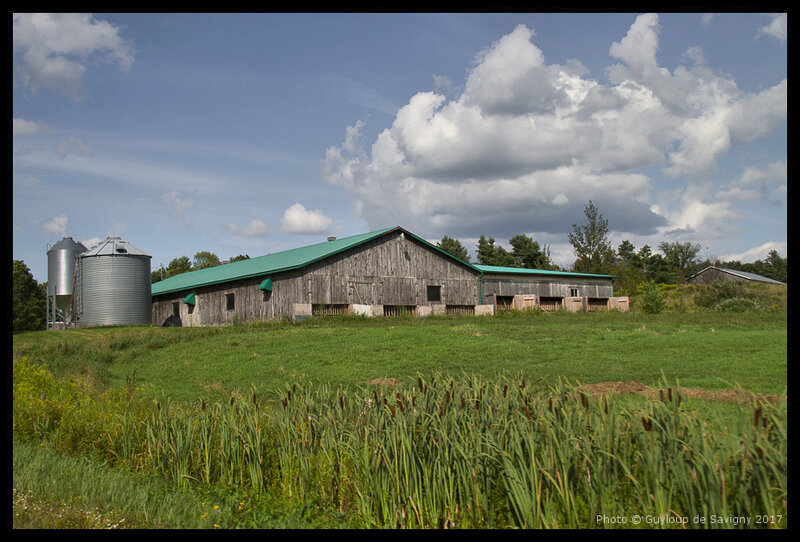 En arrivant dans le village de Georgeville, je suis alée faire un petit tour au bord du lac Memphrémagog, long de 42 kilomètres, situé à cheval sur la frontière Canada-USA (plus d'infos ici : https://fr.wikipedia.org/wiki/Lac_Memphr%C3%A9magog ).
When I arrived in the village of Georgeville, I went to take a stroll along Lake Memphremagog, 42 kilometers long, straddling the Canada-USA border (more info here: https: //en.wikipedia. Org / wiki / Lac_Memphr% C3% A9magog).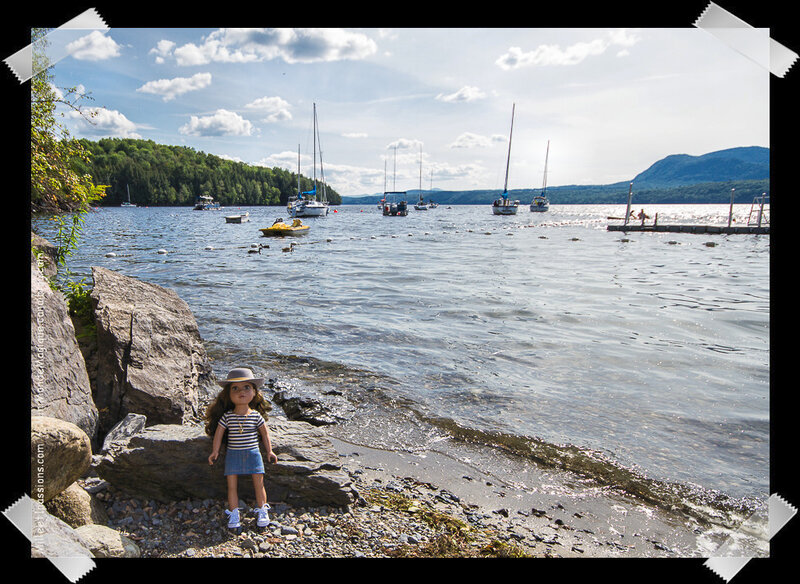 Un coup d'oeil à la Marina de Georgeville :
A look at the Georgeville Marina:
En prenant la direction de Fitch Bay, on a croisé ces églises ; difficile de ne pas les remarquer, il y en a un nombre incroyable partout, chaque moindre village ayant plusieurs obédiences : catholiques, anglicanes, évangélistes, luthériennes, etc !
In the direction of Fitch Bay, we crossed these churches; Difficult not to notice them, there are an incredible number everywhere, each smaller village having several obediences: Catholics, Anglicans, Evangelists, Lutherans, etc !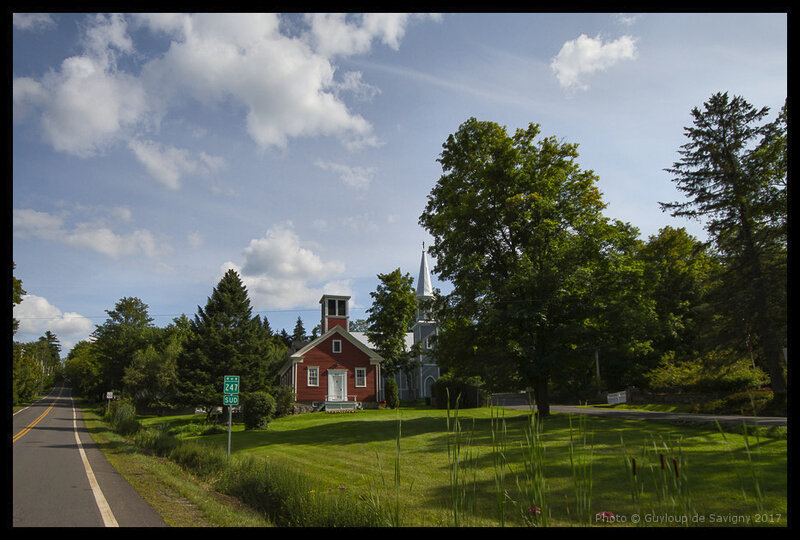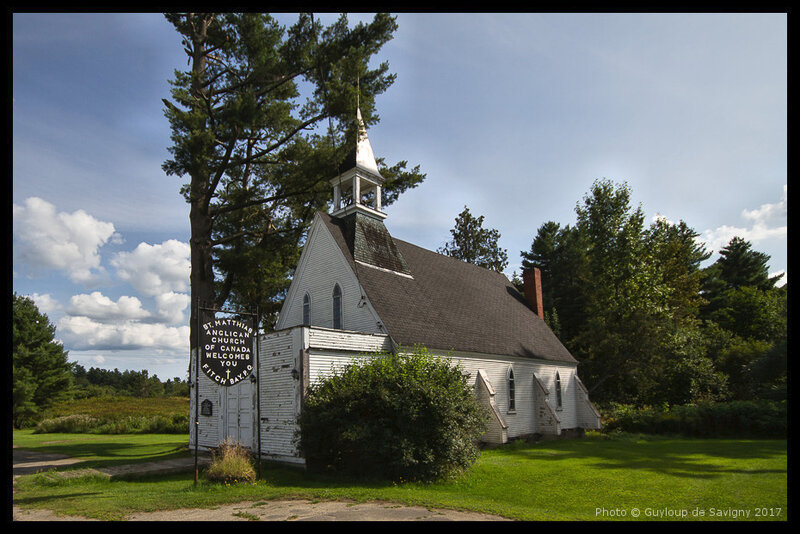 À Fitch Bay, il y a un vieux manoir que j'ai baptisé "la maison de la sorcière" en raison de sa girouette bien particulière !
In Fitch Bay, there is an old manor house which I called "the house of the witch" because of its special weather vane!
La particularité de Fitch Bay, c'est d'avoir conservé un ancien pont couvert, dont vous lirez ci-dessous les caractéristiques sur lesquelles je m'étais assis pour mieux vous les montrer !
The peculiarity of Fitch Bay is to have preserved an old covered bridge, of which you will read below the characteristics on which I had sat to show you better!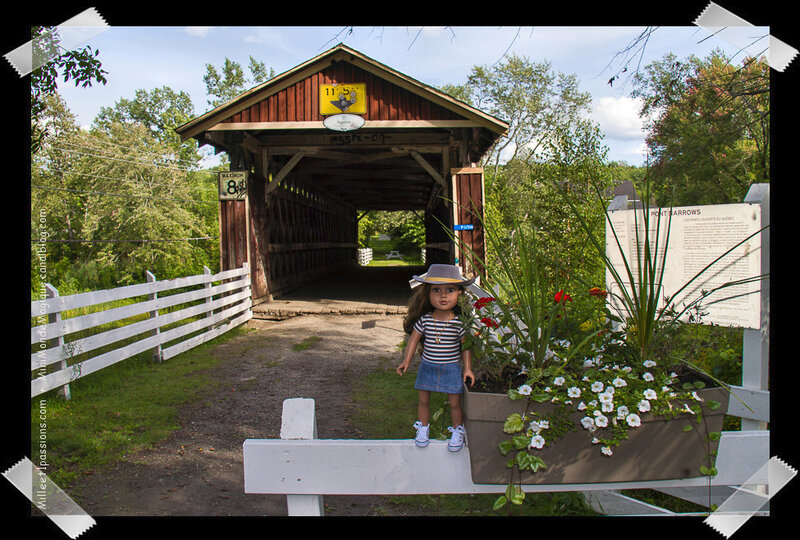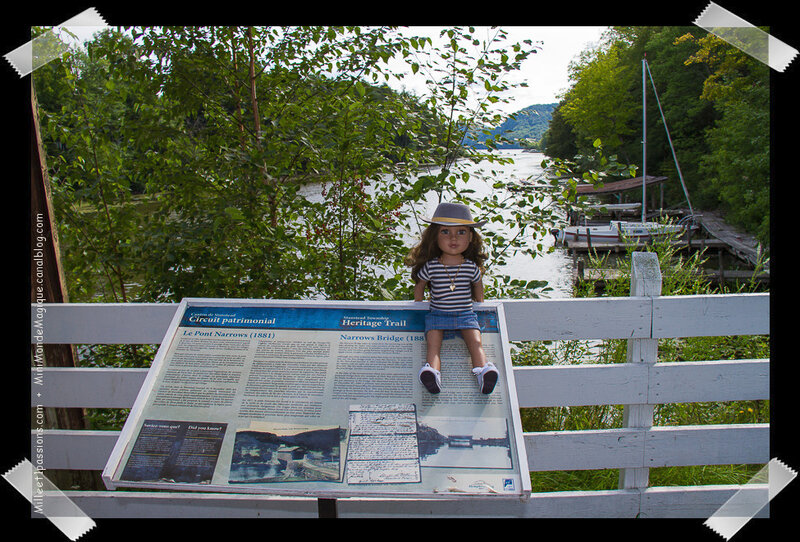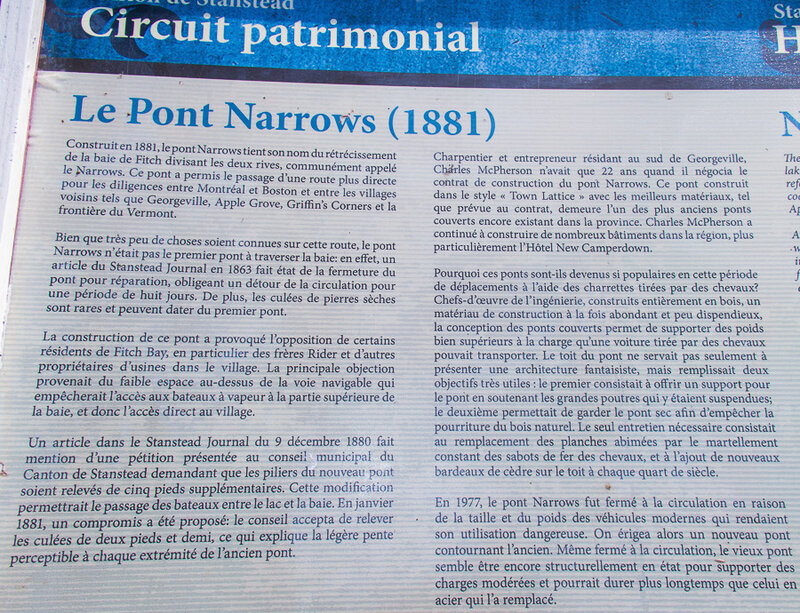 Voilà le vieux pont couvert, vu du pont moderne :
Here is the old covered bridge, seen from the modern bridge: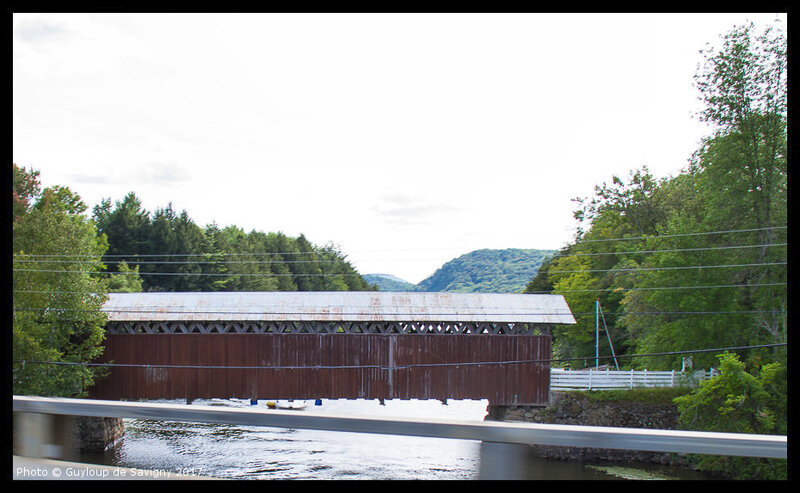 On repart :
We start again: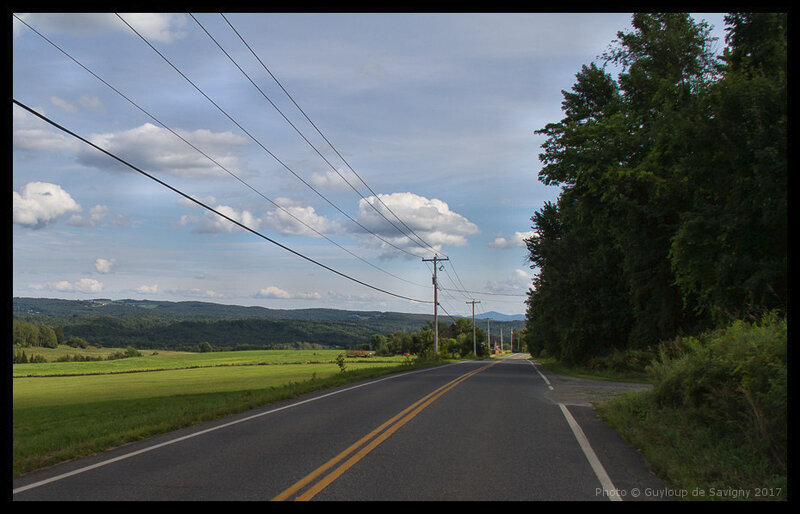 On passe près d'un des nombreux postes-frontières Canada_USA.
Pas de virée aux USA a dit Guyloup, elle veut y emmener une autre poupée que moi... je suis jalouse !!!!
And you pass near one of the many Canada_USA border crossings.
No trip to the US said Guyloup, she wants to take another doll to me ... I'm jealous !!!!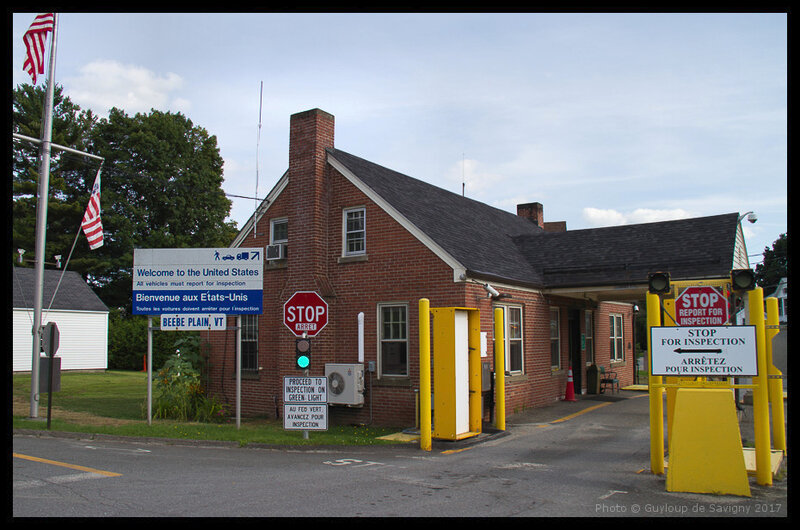 Voici une ferme comme on en voit beaucoup ici , où on élève des chevaux et des vaches pour la boucherie... c'est triste : j'ai beau être une poupée, je suis végétarienne parce que j'aime les animaux.
Here is a farm as we see a lot here, where we raise horses and cows for the butcher ... it's sad: I may be a doll, I am vegetarian because I love animals.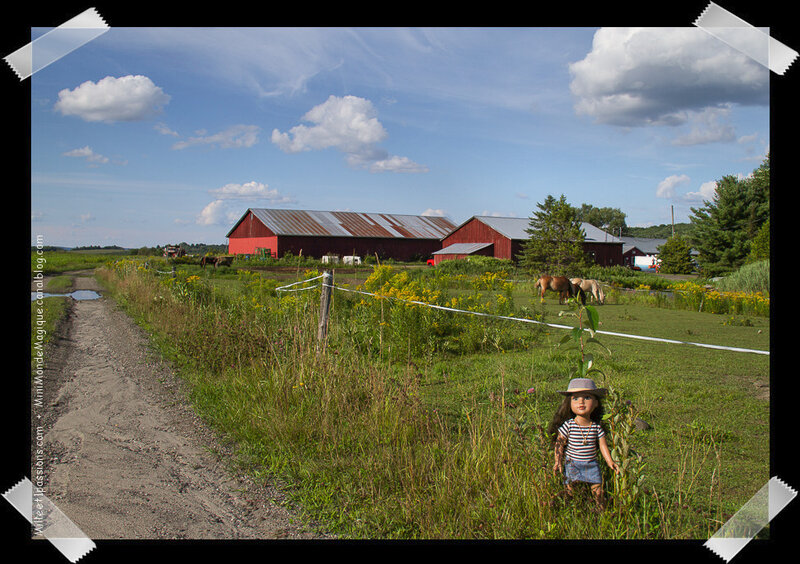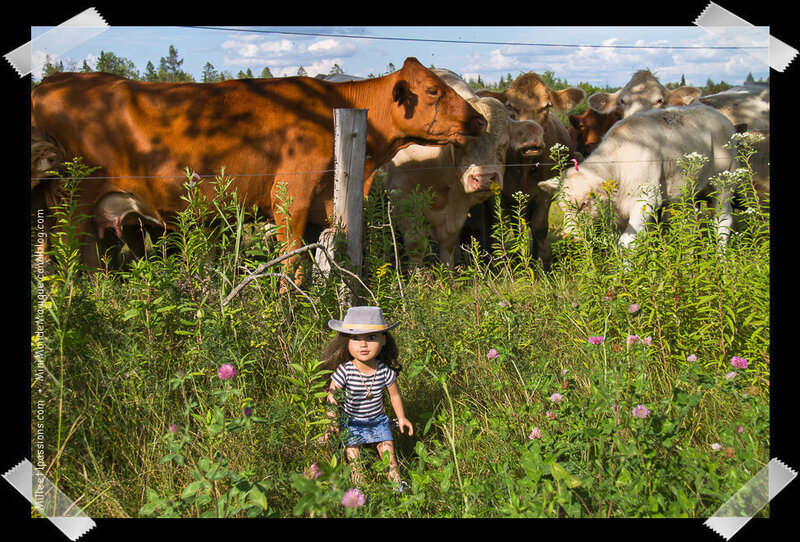 On a continué, et on est allés à un des endroits que Guyloup préfère pour photographier animaux et oiseaux : un sentier de randonnée de 19 km, coincé entre des étangs et la jolie rivière Tomifobia :
We went on, and we went to one of the places that Guyloup prefers to photograph animals and birds: a 19 km hiking trail, stuck between ponds and the lovely Tomifobia River: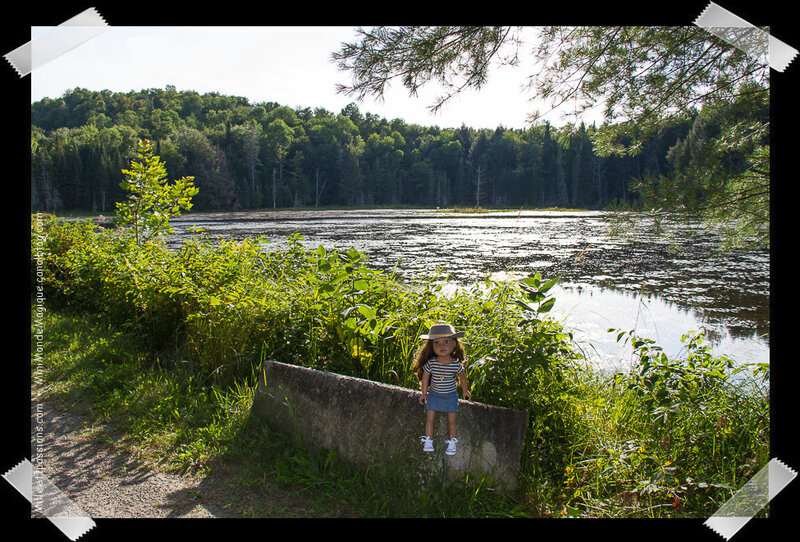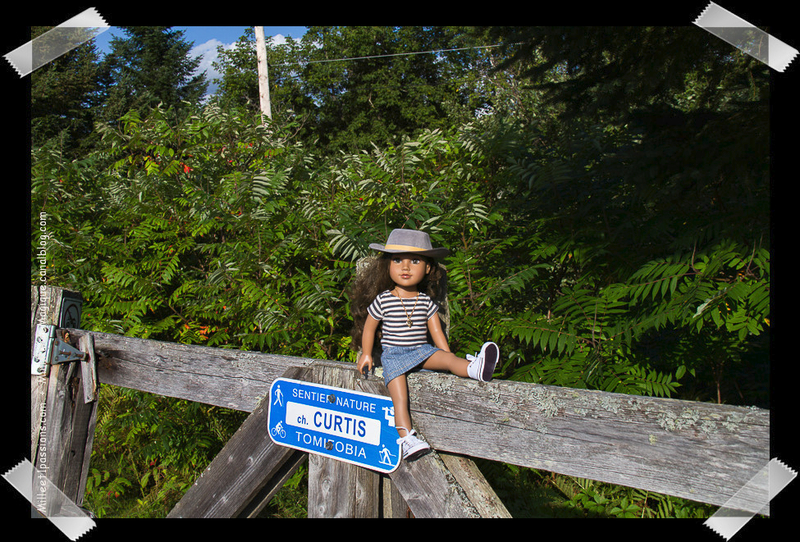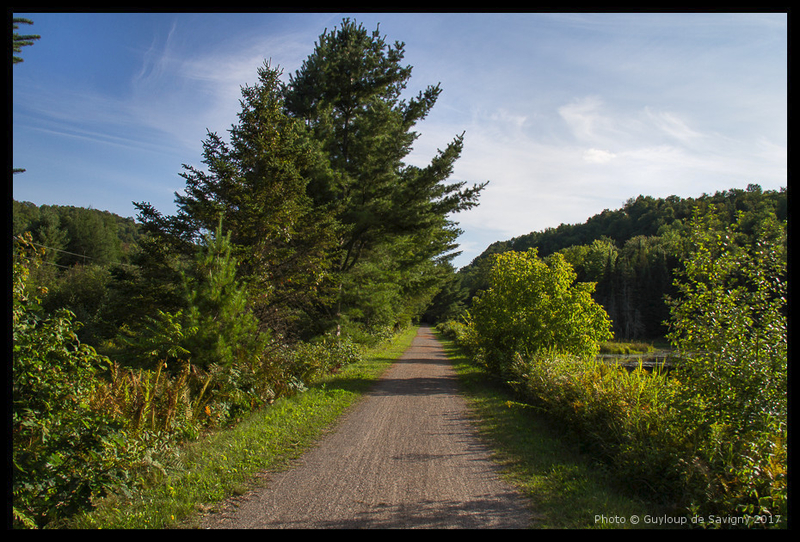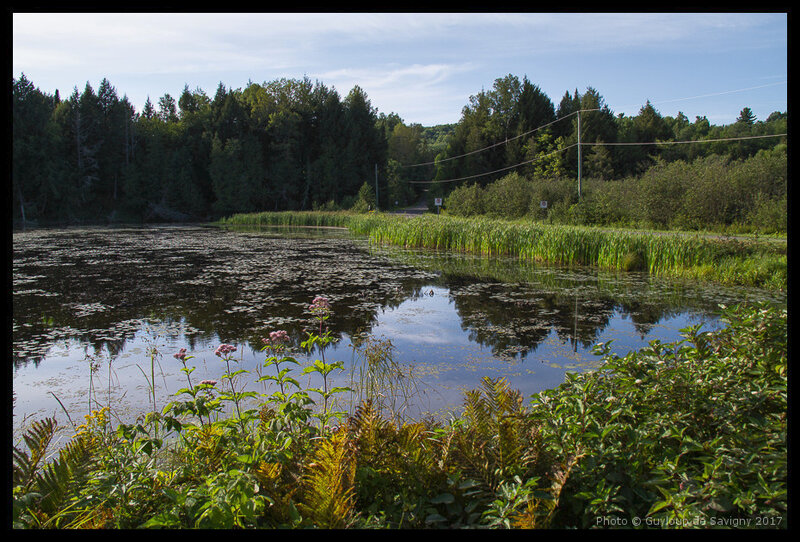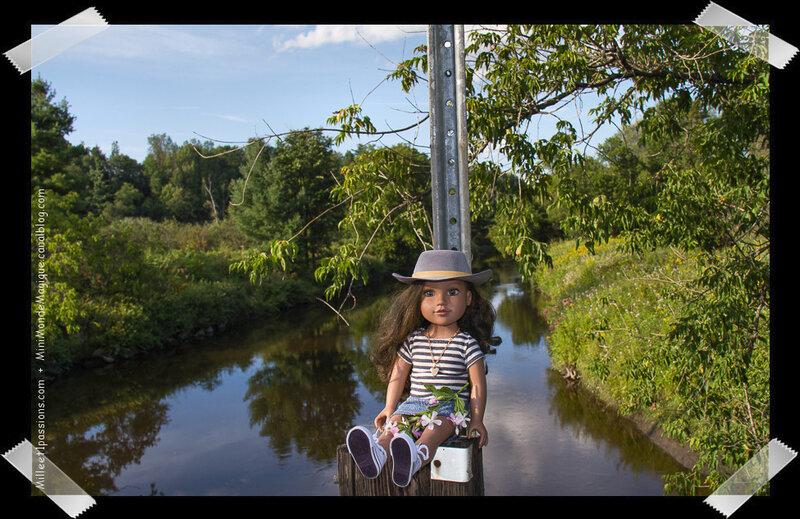 On repart, cette fois, on reprend le chemin de la maison ; tout parait vert, mais on constate que beaucoup d'érables commencent à prendre des couleurs d'automne. C'est que nous sommes à la mi-août déjà.
We set out again, this time, we go back to the house; Everything looks green, but it is clear that many maples are beginning to take on autumn colors. We are in mid-August already.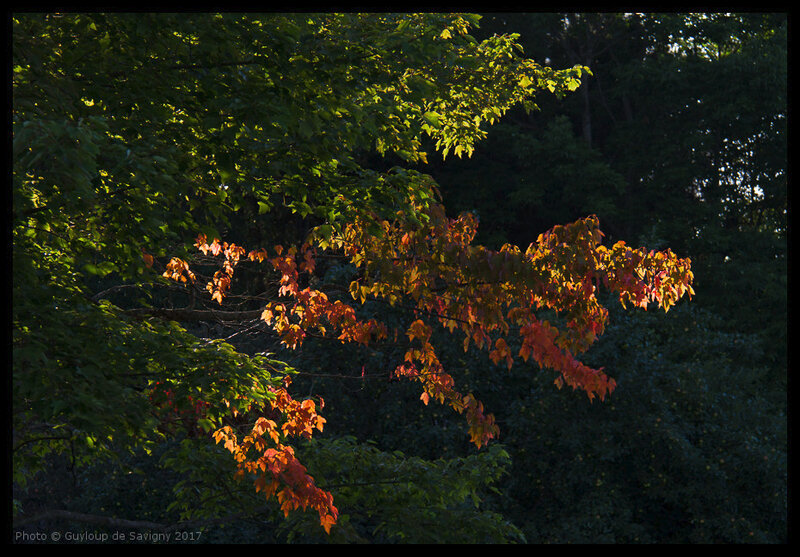 En rentrant, on longe un autre lac ! il y en a partout ici !! cette fois, c'est le lac Massawippi :
On our way back we go along another lake! There are everywhere here !! This time it is Lake Massawippi: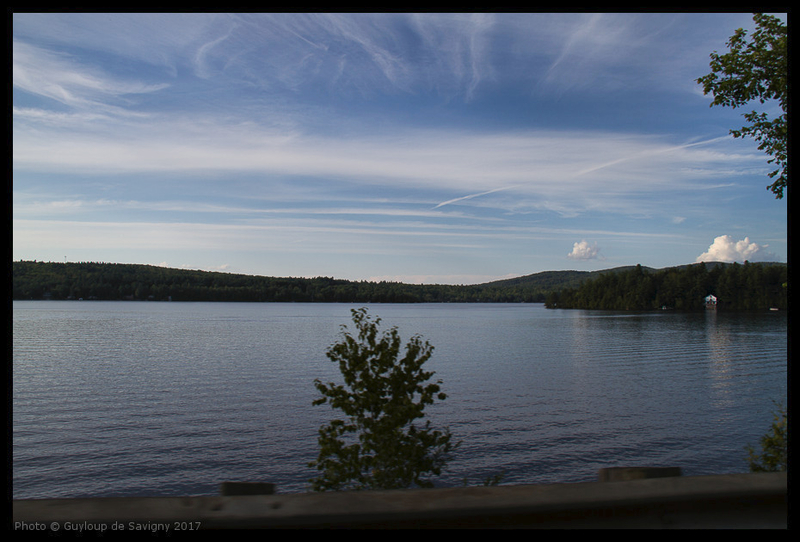 Sur la route, on aperçoit le massif du Mont Orford, où habite Guyloup.
Elle m'a emmenée faire une belle promenade.... j'espère que vous l'avez appréciée aussi ! Bisous, Kyla :-)
On the road, one sees the massif of Mount Orford, where Guyloup lives.
She took me for a nice walk ... I hope you enjoyed her too ! Lot of kisses, Kyla :-)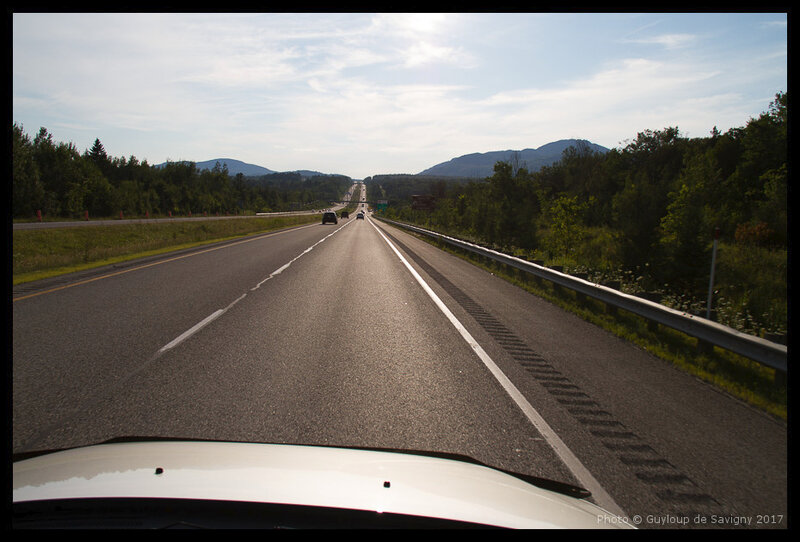 Voilà, je reprends la parole !!!! Comme Kyla, j'espère que vous avez apprécié cette balade photo :-)
Par chance on en a profité, car c'est reparti :
Here, I take the floor !!!! Like Kyla, I hope you enjoyed this photo trip :-)
Luckily we took advantage of it, because it left: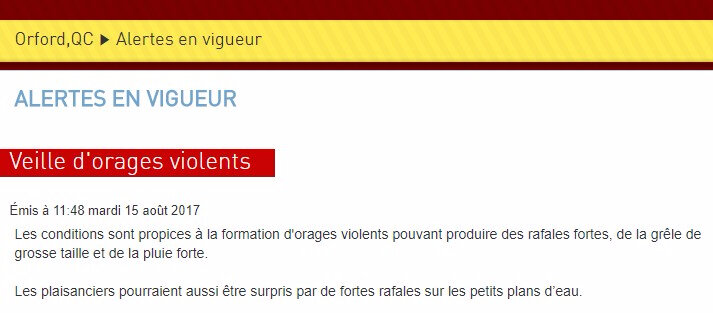 Par chance, pas d'alerte-tornade cette fois... ouf... je déteste ça.

Luckily, no tornado alert this time ... phew ... I hate it.
À bientôt, See you soon,
Guyloup ♥