05 janvier 2018
Avec le temps qu'il fait (tempête de neige depuis 2 jours), il fallait une parka traditionnelle pour mon amérindienne Calikawaaya. Je lui en ai donc fait une !
J'ai commencé par créer la numérisation d'un dessin amérindien, puis je l'ai brodé à la machine sur de la suédine, j'ai assemblé les différentes pièces de la parka (toute doublée, pour qu'elle ait bien chaud !), puis la (fausse) fourrure.
Voici le résultat lorsque Calikawaaya est venue me rendre visite ce matin dans la neige.
With the weather (2 days of snow storm), I needed a traditional parka for my Native American Calikawaaya. So I made her one !
I started by creating the digitization of a Native American drawing, then I embroidered it on the machine on suede, I assembled the different pieces of the parka (doubled, so that it was hot! ), then the (false) fur.
This is the result when Calikawaaya came to visit me this morning in the snow.
- Oona niijkiwenh Guyloup, comment vas-tu par ce sale temps ? (= salut amie Guyloup, en ojibwa)
- Oona niijkiwenh Guyloup, how are you doing in this dirty weather? (= Hi friend Guyloup, in Ojibwa)
- hmmmm... il fait meilleur à l'intérieur !
- hmmmm ... it's better inside!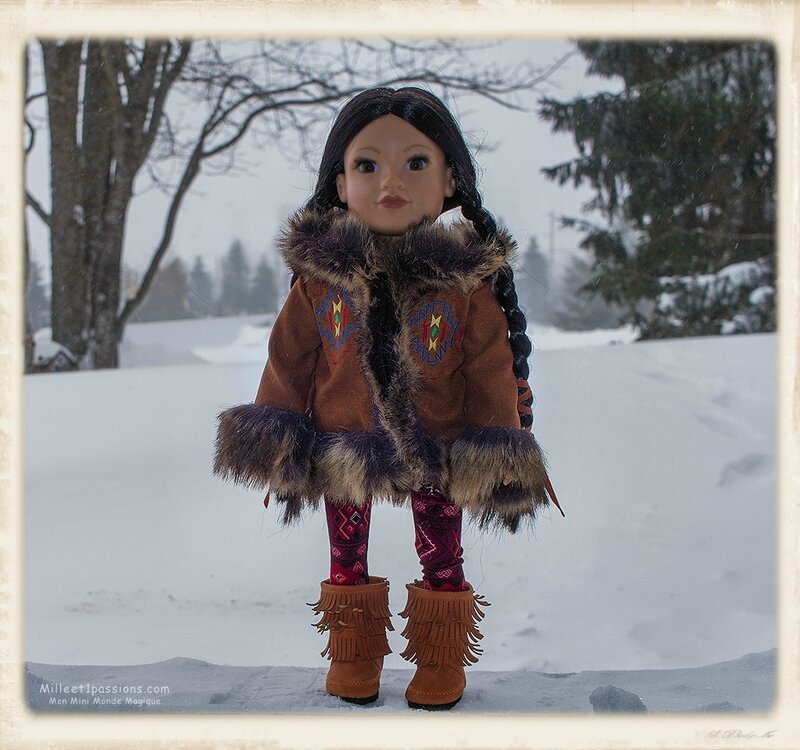 Après avoir pris un petit goûter réconfortant de chocolat chaud et tartines, ma petite amie s'en est retournée dans la tourmente ; noter comme elle semble hésiter sur le seuil de la porte !
After taking a little comforting snack of hot chocolate and toast, my girlfriend has returned in turmoil; note how she seems to hesitate on the threshold of the door!
Mais courageusement, elle a pris son bâton de marche et elle est repartie dans les tourbillons de neige poussée par le vent...
But bravely, she took her walking stick and she left in the whirlwind of snow pushed by the wind ...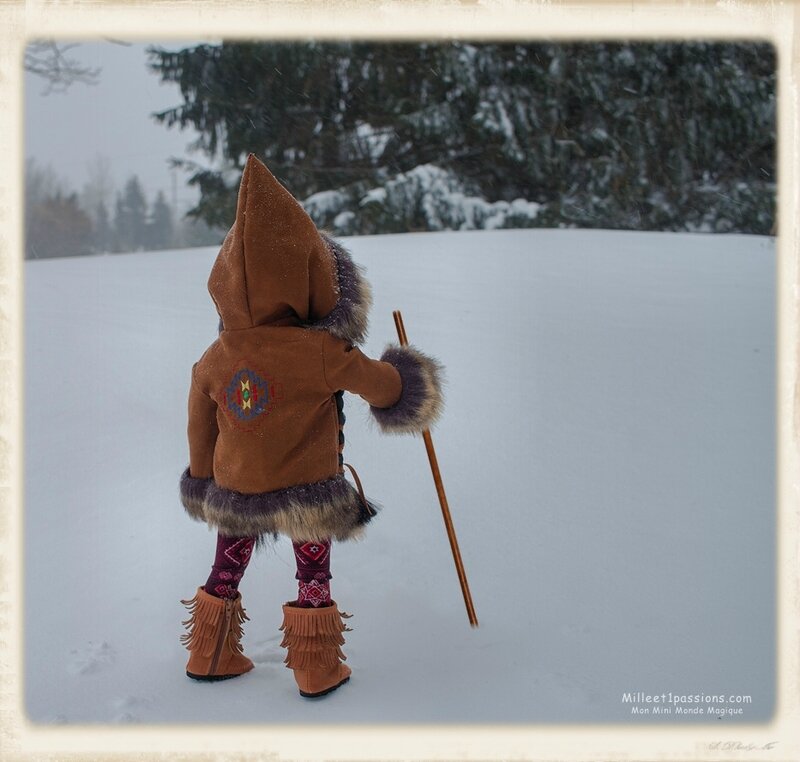 À bientôt niijkiwneh Calikawaaya :-)
Vous voyez ici les "pièces" détachées lorsque j'ai brodé la suédine ; fidèle à mes habitudes, je n'ai pas utilisé de stabilisateur du commerce pour le soutien dans le cadre de la machine à broder, mais un vieux drap.
See you soon niijkiwneh Calikawaaya :-)
You see here the "spare parts" when I embroidered the suede; true to my habits, I did not use a commercial stabilizer for support as part of the embroidery machine, but an old cloth.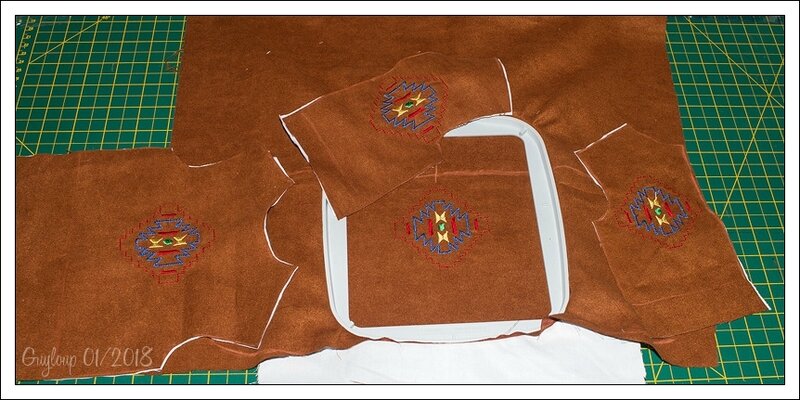 Si le fichier vous intéresse pour le broder sur votre machine, demandez le moi.
If the file interests you to embroider on your machine, ask me.
À bientôt, See you soon,
♥♥♥
27 décembre 2017
J'entends la porte à l'arrière de la maison qui coulisse...

étonnée, je vais voir.
Et je découvre 3 petits lutins qui me essayaient de sortir sans faire de bruit, avec leurs patins à glace sur l'épaule !
- s'il te plait, Guyloup, je peux aller patiner avec ma jumelle Jessica et sa copine Taryn ? demande Jonathan plein d'espoir.
- non mais, vous êtes fous, il fait - 30, c'est bien trop froid !
- c'est pas grave, tu sais, on s'est bien couverts ! m'a-t-il répondu.

Quels inconscients ces enfants !

I hear the door at the back of the house sliding ... étonnée, I'll see.
And I discovered 3 little elves who tried to go out without making noise, with their ice skates on the shoulder!
- please, Guyloup, can I go skating with my twin Jessica and her girlfriend Taryn? Jonathan asks hopefully.
- No, but you're crazy, it's - 30, it's way too cold!
- it does not matter, you know, we covered well ! he answered me
What unconscious these children!
Je voulais préciser que contrairement à ce que les médias laissent entendre, le froid que nous avons actuellement n'a rien d'incroyable, j'ai vu bien plus froid certaines journées depuis que je vis ici. Toutefois, ce qui est anormal, c'est d'avoir ces froids là en décembre, car habituellement, nous ne les subissons que de mi-janvier à mi-mars, le reste du temps se situant à des températures très supportables oscillants en permanence de -15°C à zéro.
Par ailleurs, ne paniquez pas non plus avec les températures de -40 des médias.... là encore, c'est le RESSENTI, avec l'humidité de notre cher pays, ajoutée au vent, comme vous le voyez ci-dessous, un -22°C peut donner un ressenti de -34 et bien sur, c'est celui là qu'on annonce, parce que ça fait "mieux" dans l'histoire !!!
I wanted to say that contrary to what the media suggest, the cold we have now is not incredible, I have seen much colder days since I live here. However, what is abnormal is to have these cold in December, because usually we only suffer from mid-January to mid-March, the rest of the time being at very tolerable temperatures constantly oscillating from 5 to 32 ° F.
Also, do not panic either with the temperatures of -40 of the media .... again, it is the RESSENTI, with the humidity of our dear country, added to the wind, as you see it below, a -7,6° C can give a feeling of -29,2 and of course, it is the one that we announce, because it is "better" in history!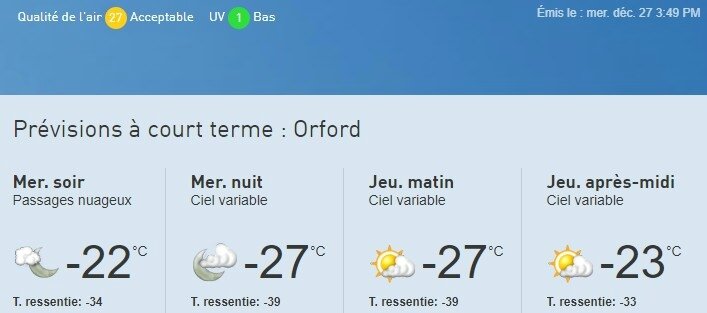 J'ai une pensée pour les sans-abris, autant humains qu'animaux. Comme le chantait Charles Aznavour :
Emmenez-moi au bout de la terre
Emmenez-moi au pays des merveilles
Il me semble que la misère
Serait moins pénible au soleil
I have a thought for the homeless, both human and animal. As Charles Aznavour sang:
Take me to the end of the earth
Take me to wonderland
It seems to me that misery
Would be less painful in the sun
À bientôt, See you soon
♥♥♥
26 décembre 2017
Je voulais faire des cols à mes poupettes, je trouve que c'est mignon sur un pull... mais comme je suis un peu paresseuse (c'est surtout que j'ai beaucoup de poupées !), j'ai créé un fichier pour ma machine à broder, et voilà ce qu'elle a fait (presque) toute seule :
I wanted to make collars to my dolls, I think it's cute on a sweater ... but as I'm a little lazy (it's mostly that I have a lot of dolls!), I created a file for my embroidery machine, and that's what she did (almost) alone :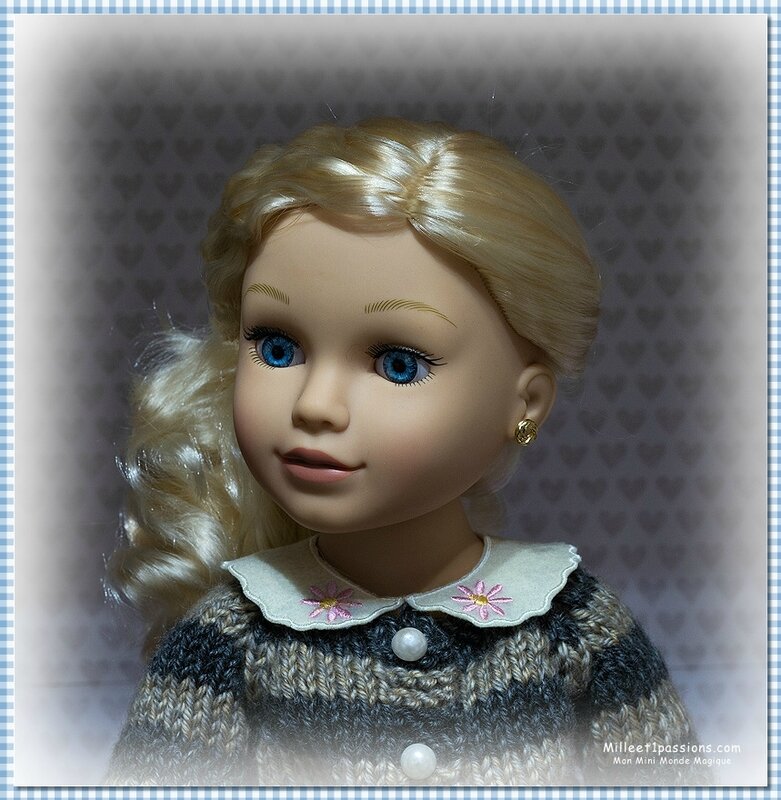 Il me reste maintenant à créer un petit motif décoratif différent pour chacune, ainsi que des finitions de col différentse, bourdon droit, festonné en coquilles, etc... ainsi que des cols à pointe.... à suivre !
Si le fichier vous intéresse dans le futur, il sera bientôt sur mon blog de broderie.
I now have to create a small different decorative designs for each, as well as different neck finishes, straight in satin stitches, scalloped in shells, etc ... as well as classic collars .... to follow!
If the file interests you in the future, it will soon be on my embroidery blog.
Cela va m'occuper à l'intérieur de la maison car vu les températures annoncées, je ne pense pas sortir faire des photos dehors cette semaine... non non non ! regardez : -24°C en pleine journée, ressenti - 33 !!
This will take me inside the house because given the temperatures announced, I do not think going out to take pictures outside this week ... no no no! look: -11,2°F in the middle of the day, felt - 27,4 !!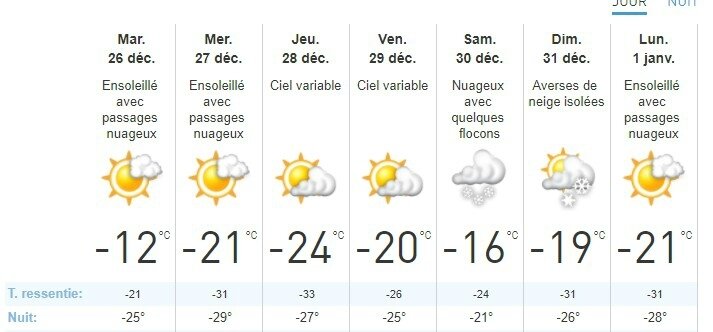 À bientôt, See you soon
♥♥♥
15 décembre 2017
Kyla, version 2017, est arrivée hier... elle a le teint très mat, et sera la demi-soeur de Thomas. Sachant qu'elle allait arriver, je lui avais tricoté un pull d'une teinte vive pour réhausser son joli teint.
Kyla, version 2017, arrived yesterday ... she has a very dull complexion, and will be the half-sister of Thomas. Knowing she was coming, I had knitted a sweater of a bright shade to enhance her pretty complexion.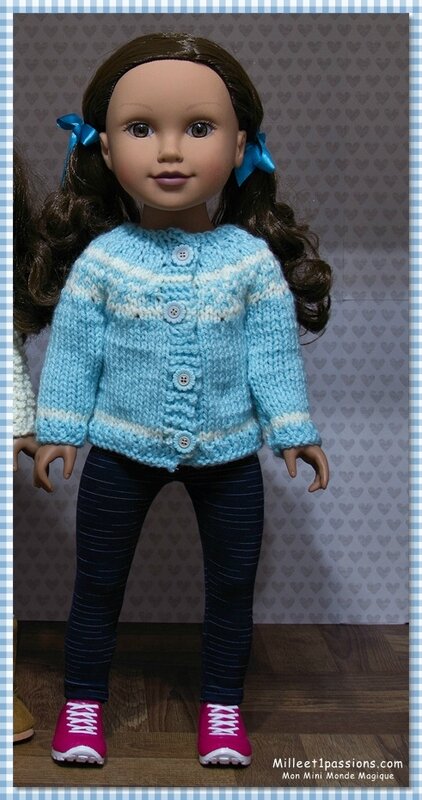 Et elle ne semble pas plus sage que les autres ! voyez-donc, elle a aussitôt rejoint Thomas et Mikaella sur l'escalier et les encourage...
mais le pire, c'est qu'elle a immédiatement lié amitié avec la douce Melody (Meredith 2011) qui s'est mise aussitôt à vouloir elle aussi participer aux bêtises :-)
And she does not seem wiser than the others! See, she immediately joined Thomas and Mikaella on the stairs and encouraged them ...
but the worst thing is that she immediately made friends with the sweet Melody (Meredith 2011) who immediately started wanting to participate in the nonsense :-)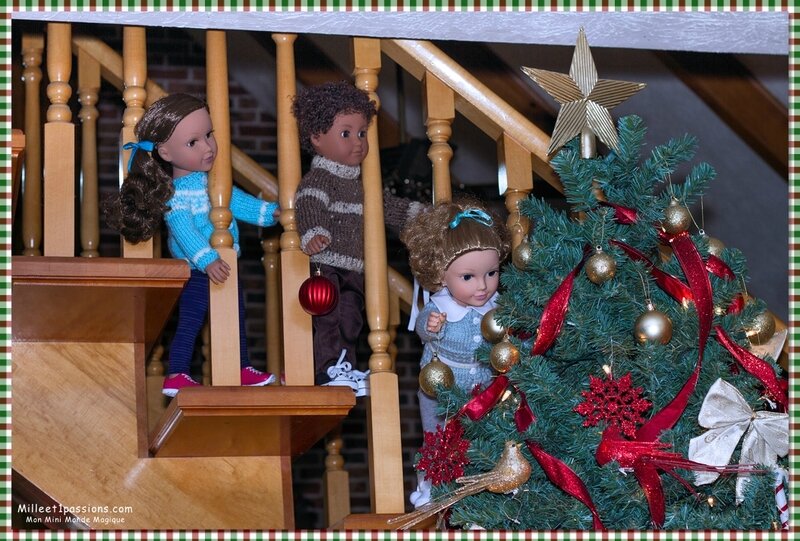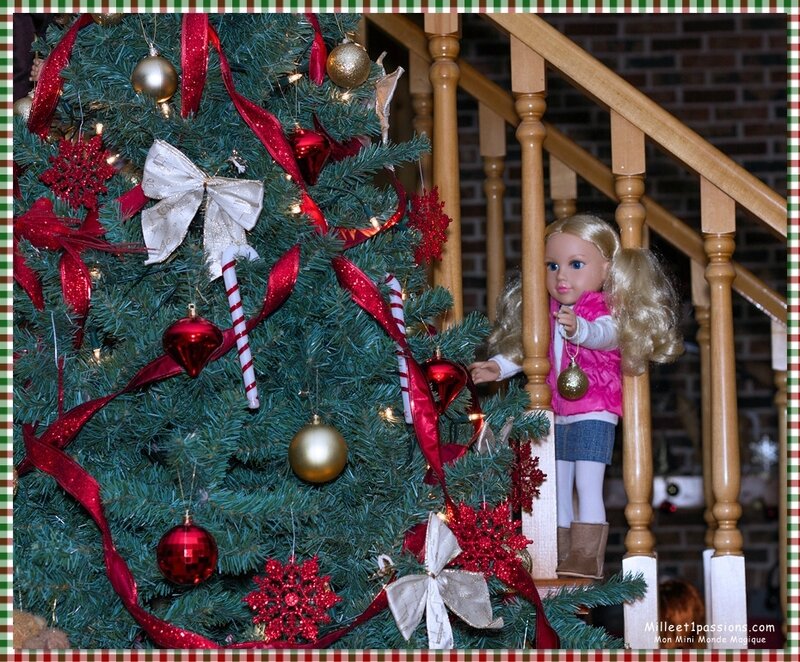 Pas facile à gérer ces enfants là !
Not easy to handle these kids there !
À bientôt, See you soon,
♥♥♥
13 décembre 2017
J'entendais parler dans l'escalier qui mène à la mezzanine :
- tu es sur que tu me tiens bien ?
- mais oui, tu ne crains rien, le ruban est solide et je le tiens bien fort, et puis, après celle-là, il restera une seule une boule à rajouter...
Alors, je suis venue voir qui parlait dans la maison, bien sur...
Et bien, regardez ça, c'était Thomas qui retenait Mikaella en équilibre sur le bord extérieur de la marche au moyen d'un ruban, pour qu'elle accroche des boules supplémentaires dans le haut du sapin !
A-t-on idée de faire de telles accrobaties aussi dangereuses.... qui aurait pu imaginer que des poupées soient aussi peu sages que ça ? j'ai l'impression d'être revenue à l'époque où mes fils étaient petits car ils auraient bien été capables de faire un truc pareil !
I heard talking on the stairs leading to the mezzanine:
- Are you sure you're holding me well?
- but yes, you do not fear anything, the ribbon is solid and I hold it very strong, and then, after that, there will remain only one ball to add ...
So, I came to see who was talking in the house, of course ...
Well, look at that, it was Thomas who was holding Mikaella in balance on the outside edge of the walk with a ribbon, so that she hangs extra balls in the top of the tree!
Is there any idea of making such dangerous acrobatics .... who could have imagined that dolls are as wiser as that? I feel like I came back to the days when my sons were young because they would have been able to do something like that !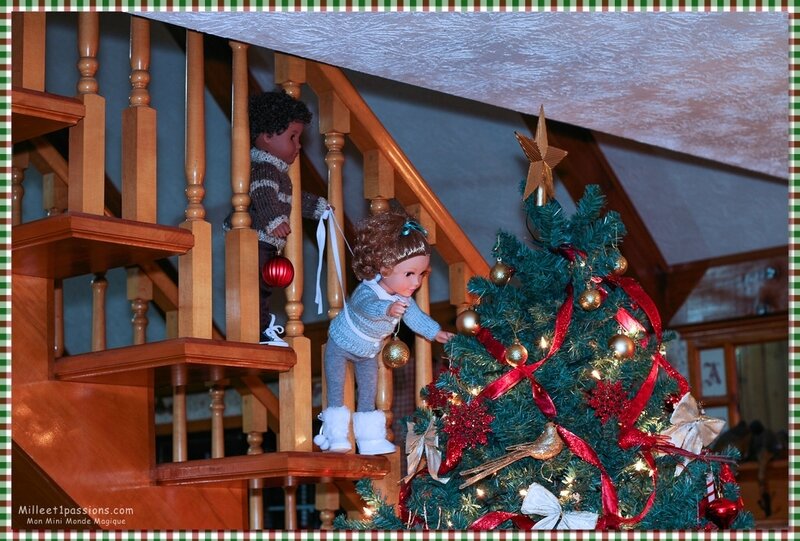 À bientôt, See you soon,
♥♥♥
11 décembre 2017
🎄PETIT CADEAU POUR VOUS : un fond d'écran hivernal 1920 x 1080 pixels pour votre ordinateur
:-)

À télécharger ici : http://pimg.imagesia.com/fichiers/1fc/img-0831-ecran_imagesia-com_1fc4s.jpg
🎄LITTLE GIFT FOR YOU : a winter wallpaper 1920 x 1080 pixels for your computer
:-)
Download here : http://pimg.imagesia.com/fichiers/1fc/img-0831-ecran_imagesia-com_1fc4s.jpg
aperçu / préview :
Meredith s'est dépêchée d'aller faire courir ses chiens car les passages de soleil en hiver ne durent jamais longtemps...... et comme il fait -10°C / ressenti -17, avec un taux d'humidité de 83% et du vent, ce n'était pas très agréable de la suivre pour la photographier ! mais cela fait une petite sortie au grand air, et de la gymnastique pour tout installer et photographier (accroupie, debout, recule, avance, et on recommence !)... qui dira que la photo de poupées n'est pas une activité sportive ?!

Meredith hastened to run her dogs because the sun passes in winter never last long ...... and as it is 14 ° F / felt 1.4 °, with a humidity rate of 83% and wind, it was not very nice to follow her to shoot! but it makes a small outing in the open air, and gymnastics to install everything and photograph (squatting, standing, backwards, ahead, and we start again!) ... who will say that the picture of dolls is not a sporting activity ?!
À bientôt, see you soon,
♥♥♥
10 décembre 2017
Chavonne voulait un pull à capuche, encore une fois, je nai pas su dire non !
Chavonne wanted a hoodie, again, I could not say no !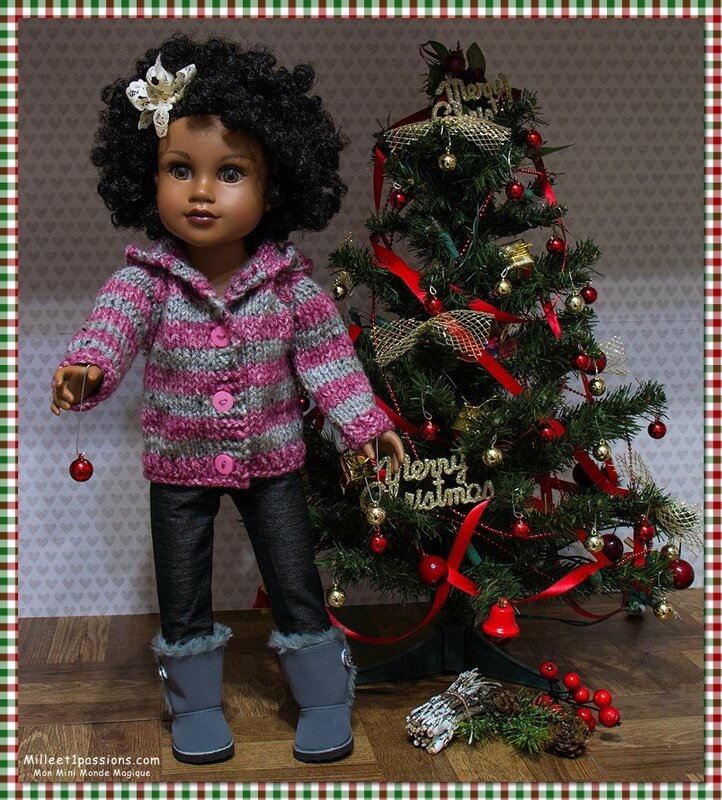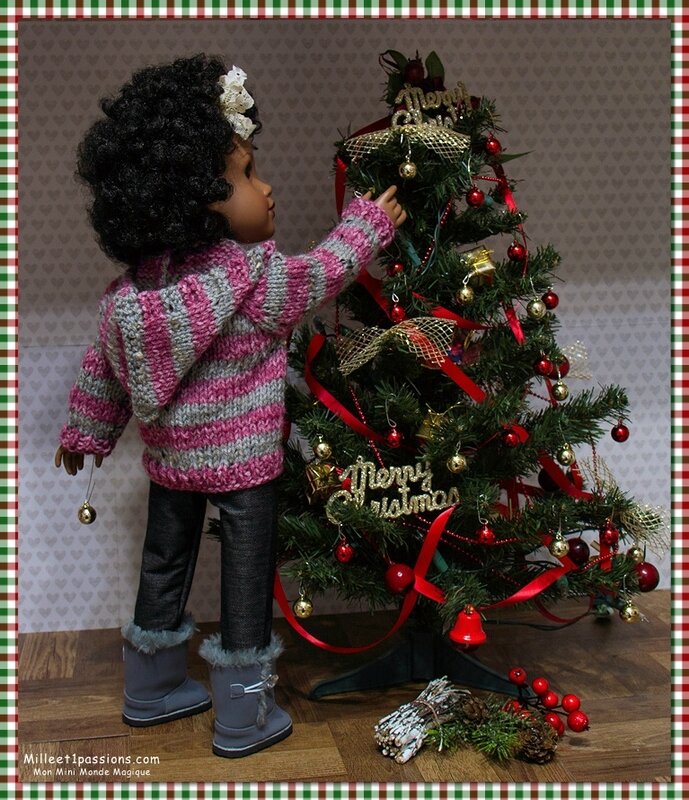 Et comme il va y avoir de nouvelles arrivantes prochainement, et que le défi tricot pour poupée de ce mois-ci sur mon forum était un pull de style islandais, j'ai fait ces deux là :
And as there will be newcomers soon, and this month's doll knitting challenge on my forum was an Icelandic style sweater, I did these two :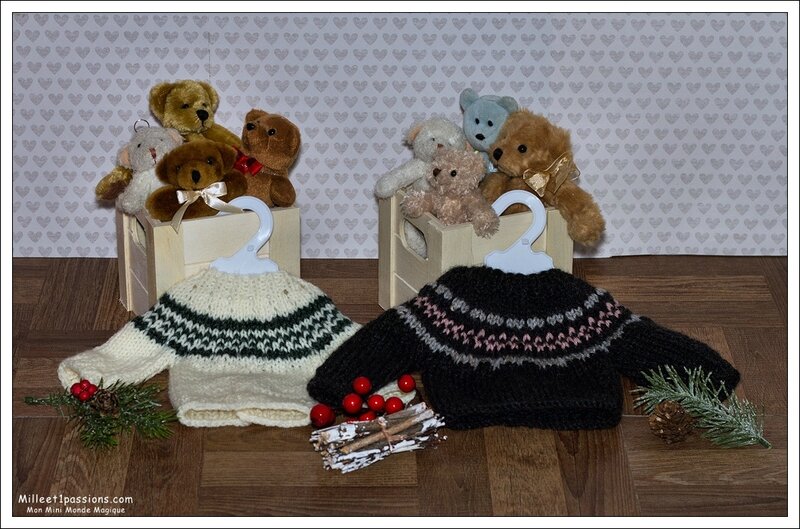 À bientôt, See you soon,
♥♥♥
J'ai surpris Meredith qui revenait d'acheter des cadeaux de Noël pour ses amies !
I caught Meredith coming back from buying Christmas gifts for her friends !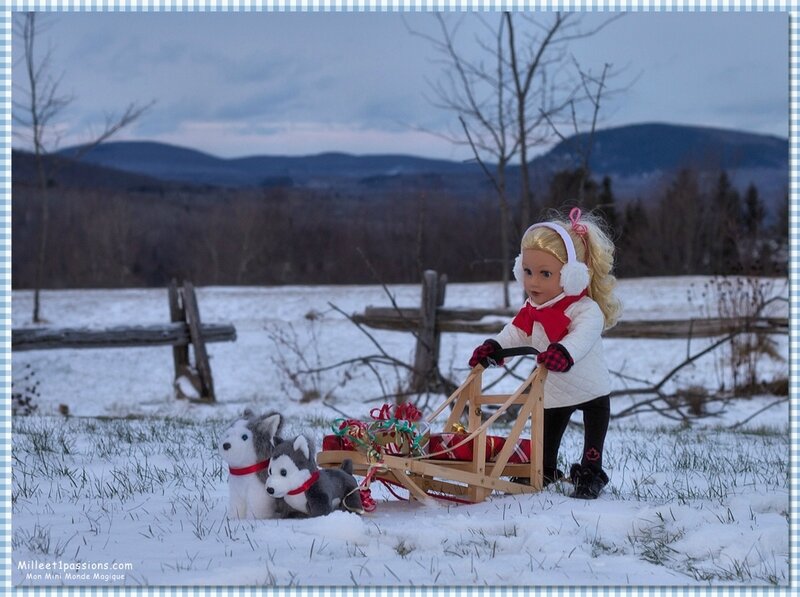 À bientôt, See you soon,
♥♥♥
08 décembre 2017
J'aime toutes mes Journey Girls, ce sont vraiment de magnifiques poupées d'une grande qualité, aux visages rayonnants de beauté, et je serais incapable de dire laquelle est la plus belle.
Toutefois, quand on a un appareil photo dans les mains, il est Impossible de résister devant Chavonne lorsqu'un rayon de soleil hivernal vient l'éclairer de sa douceur. Voici deux portraits qui ne pourront que vous le confirmer.
I love all my Journey Girls, they are really beautiful dolls of great quality, with radiant faces of beauty, and I would not be able to say which one is the most beautiful.
However, when you have a camera in your hands, it is impossible to resist in front of Chavonne when a ray of winter sun comes to light its sweetness. Here are two portraits that can only confirm it.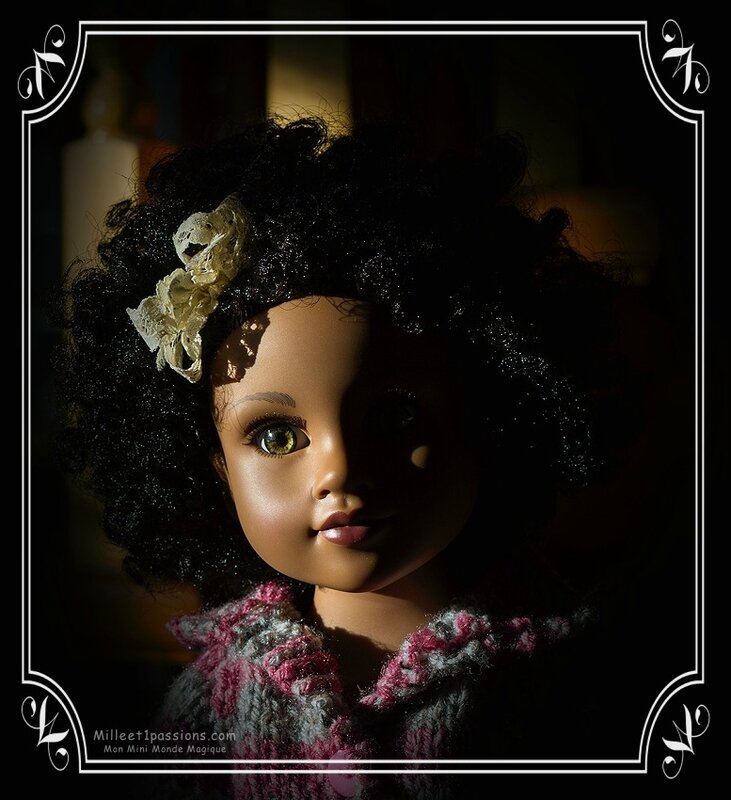 Pour celles qui ne les connaissent pas encore, les Journey Girls sont une ligne de poupées de 46 cm, diffusées par ToysRus (au prix de 29 euros en France, ; 34 $ + taxes au Canada ; 39 $ aux USA) ; vous pouvez les retrouver sur leur site de vente en ligne ; en plus, ils livrent gratuitement.
For those who do not know them yet, the Journey Girls are a line of dolls of 46 cm, distributed by ToysRus (at the price of 29 euros in France ; 34 $ + taxes in Canada ; 39 $ in USA); you can find them on their website; in addition, they deliver for free.
À bientôt, See you soon,
♥♥♥
07 décembre 2017
En cette saison, le sujet est récurrent, on l'entend partout, on se pose la question entre collègues et amis.
Et bien sur, mes "filles" n'y échappent pas !
Meredith et Abigail bavardent en promenant leurs chiens... et Meredith pose donc la fameuse question du moment :
- tu as prévu quoi pour Noël, toi ?
À votre avis, que lui a répondu Abigail ???
In this season, the subject is recurrent, we hear everywhere, we ask the question between colleagues and friends.
And of course, my "girls" do not escape!
Meredith and Abigail talk while walking their dogs ... and Meredith asks the famous question of the moment:
- what did you expect for Christmas?
In your opinion, what did Abigail answer to her ???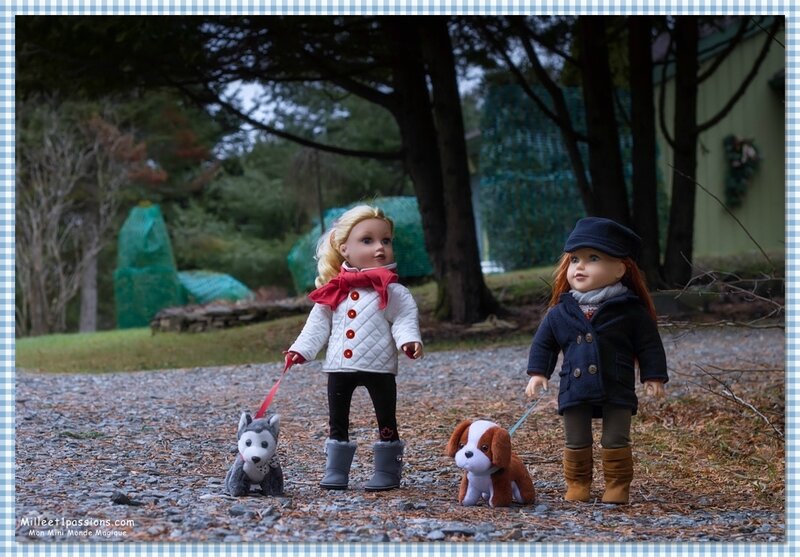 Comme vous le voyez, la neige avait re-fondu encore une fois !.... mais ce soir, c'est reparti,et ça tombe (j'espère juste que ça va fondre à nouveau !).
As you can see, the snow had melted again ! .... but tonight, it's gone again, and it's falling (I just hope it'll melt again !).
À bientôt / See you soon
♥♥♥