10 décembre 2017
Chavonne voulait un pull à capuche, encore une fois, je nai pas su dire non !
Chavonne wanted a hoodie, again, I could not say no !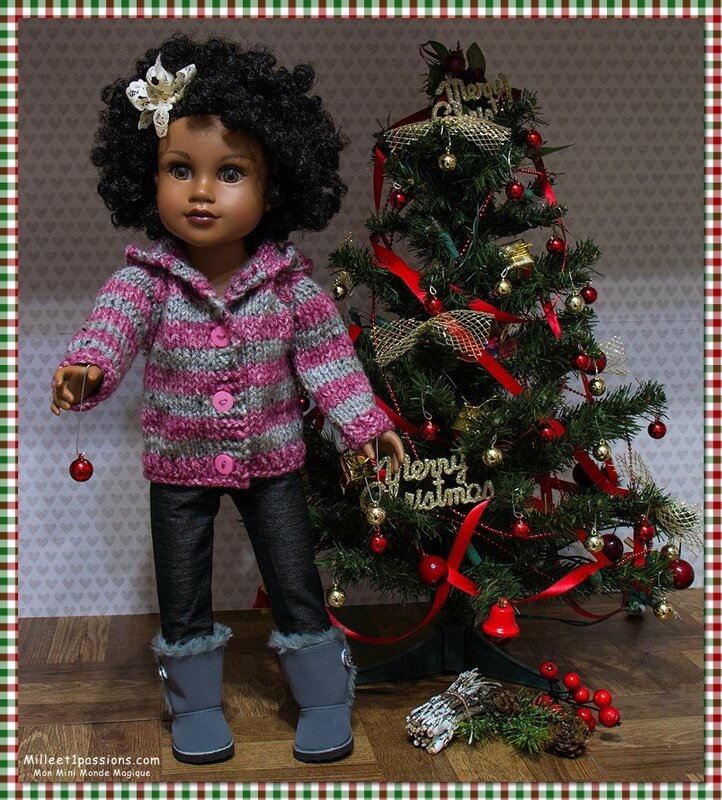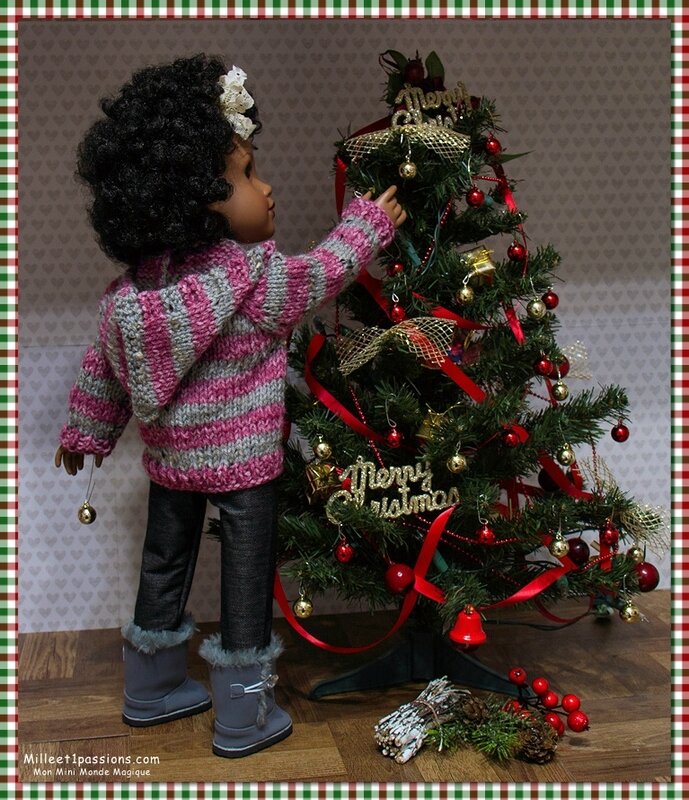 Et comme il va y avoir de nouvelles arrivantes prochainement, et que le défi tricot pour poupée de ce mois-ci sur mon forum était un pull de style islandais, j'ai fait ces deux là :
And as there will be newcomers soon, and this month's doll knitting challenge on my forum was an Icelandic style sweater, I did these two :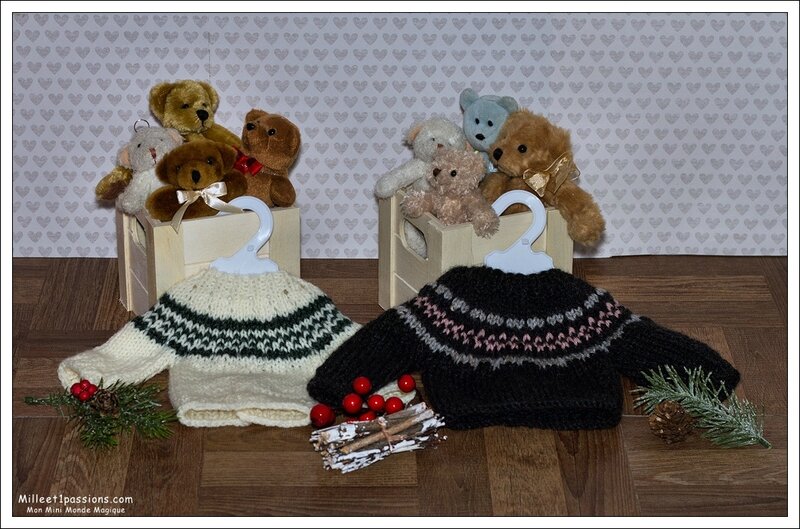 À bientôt, See you soon,
♥♥♥
J'ai surpris Meredith qui revenait d'acheter des cadeaux de Noël pour ses amies !
I caught Meredith coming back from buying Christmas gifts for her friends !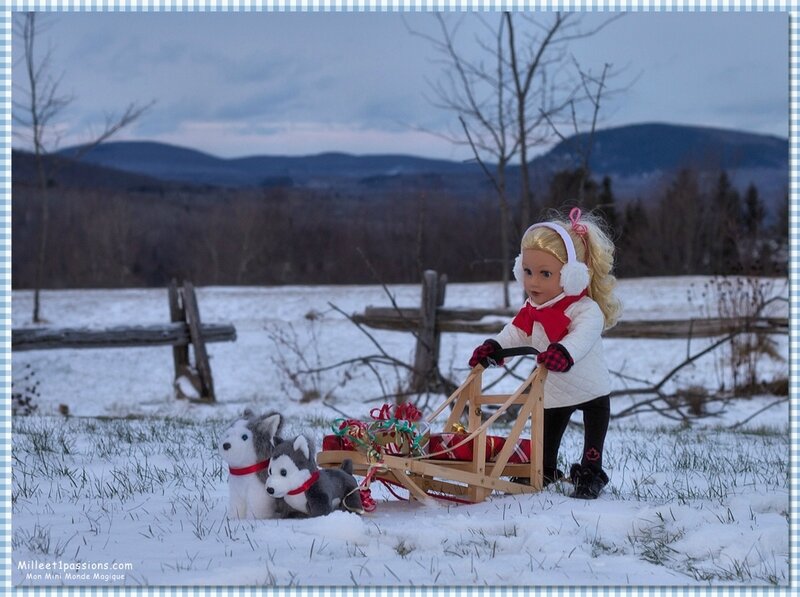 À bientôt, See you soon,
♥♥♥
08 décembre 2017
J'aime toutes mes Journey Girls, ce sont vraiment de magnifiques poupées d'une grande qualité, aux visages rayonnants de beauté, et je serais incapable de dire laquelle est la plus belle.
Toutefois, quand on a un appareil photo dans les mains, il est Impossible de résister devant Chavonne lorsqu'un rayon de soleil hivernal vient l'éclairer de sa douceur. Voici deux portraits qui ne pourront que vous le confirmer.
I love all my Journey Girls, they are really beautiful dolls of great quality, with radiant faces of beauty, and I would not be able to say which one is the most beautiful.
However, when you have a camera in your hands, it is impossible to resist in front of Chavonne when a ray of winter sun comes to light its sweetness. Here are two portraits that can only confirm it.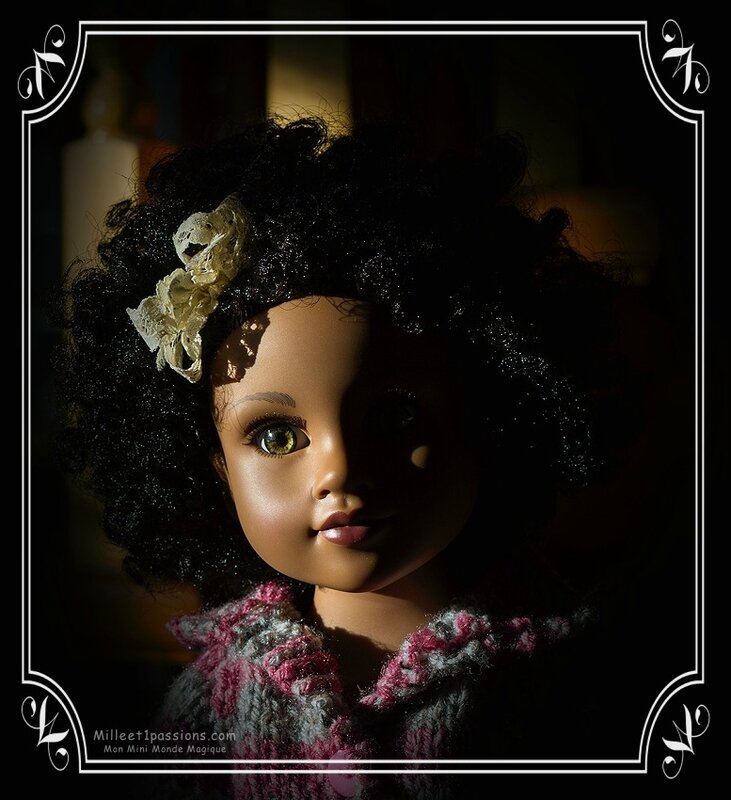 Pour celles qui ne les connaissent pas encore, les Journey Girls sont une ligne de poupées de 46 cm, diffusées par ToysRus (au prix de 29 euros en France, ; 34 $ + taxes au Canada ; 39 $ aux USA) ; vous pouvez les retrouver sur leur site de vente en ligne ; en plus, ils livrent gratuitement.
For those who do not know them yet, the Journey Girls are a line of dolls of 46 cm, distributed by ToysRus (at the price of 29 euros in France ; 34 $ + taxes in Canada ; 39 $ in USA); you can find them on their website; in addition, they deliver for free.
À bientôt, See you soon,
♥♥♥
07 décembre 2017
En cette saison, le sujet est récurrent, on l'entend partout, on se pose la question entre collègues et amis.
Et bien sur, mes "filles" n'y échappent pas !
Meredith et Abigail bavardent en promenant leurs chiens... et Meredith pose donc la fameuse question du moment :
- tu as prévu quoi pour Noël, toi ?
À votre avis, que lui a répondu Abigail ???
In this season, the subject is recurrent, we hear everywhere, we ask the question between colleagues and friends.
And of course, my "girls" do not escape!
Meredith and Abigail talk while walking their dogs ... and Meredith asks the famous question of the moment:
- what did you expect for Christmas?
In your opinion, what did Abigail answer to her ???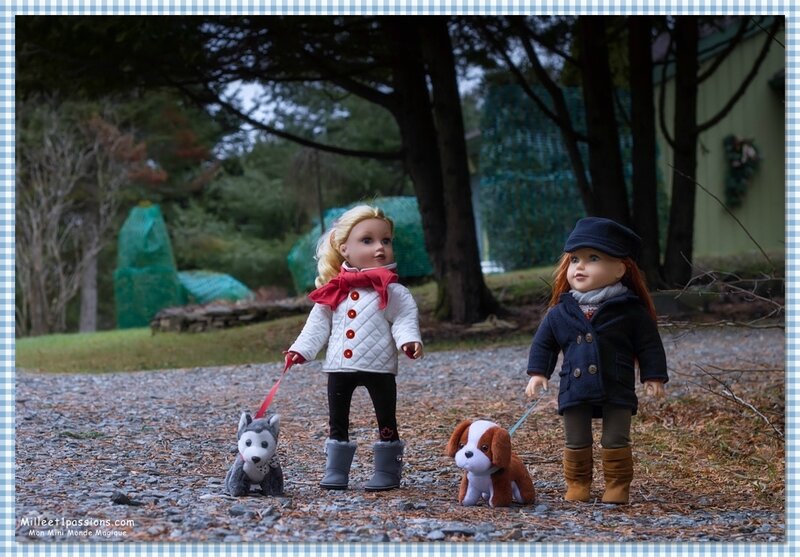 Comme vous le voyez, la neige avait re-fondu encore une fois !.... mais ce soir, c'est reparti,et ça tombe (j'espère juste que ça va fondre à nouveau !).
As you can see, the snow had melted again ! .... but tonight, it's gone again, and it's falling (I just hope it'll melt again !).
À bientôt / See you soon
♥♥♥
05 décembre 2017
Il y a quelques jours que le sapin de Noël est en place à la maison.... mais j'avais oublié de vous montrer que j'ai eu de l'aide pour installer les boules !
Mikaella et son copain Thomas (devenus inséparables !) m'ont apporté leur aide :-)
A few days ago that the Christmas tree is in place at home .... but I forgot to show you that I had help to install the balls!
Mikaella and her boyfriend Thomas (become inseparable!) helped me :-)
Mais j'ai du me fâcher après Mikaella qui a grimpé sur le rebord de l'escalier du sous-sol au risque de tomber !
But I had to get angry after Mikaella who climbed on the edge of the stairs of the basement at the risk of falling !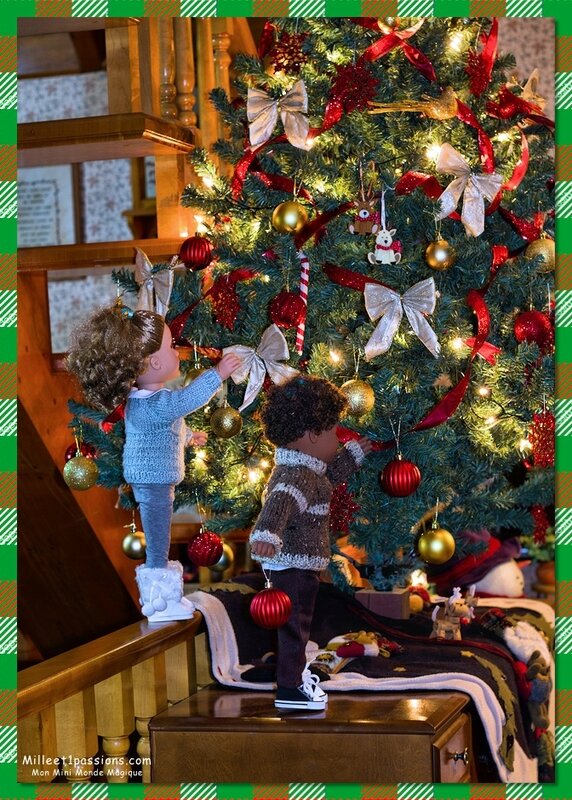 Après avoir vu cette photo, vous comprendrez pourquoi je reste toujours très perplexe quand quelqu'un me dit qu'elle a du mal à faire tenir debout sa Journey Girl (ou autre poupée de 18 pouces / 46 cm) et insinue qu'elles ne sont pas bien équilibrées !!!
After seeing this picture, you'll understand why I'm still very puzzled when someone tells me that it's hard to keep her Journey Girl (or other 18 "dolls / 46 cm) standing, and insinuates that they are not well balanced !!!
À bientôt, See you soon,
♥♥♥
02 décembre 2017
Mon petit dernier "poupé" ???
Poupée, sans le E féminin final ?
En anglais, ça va, les mots sont invariables, mais en français, c'est difficile de dire "ma petite dernière poupéE", puisque le mot poupée est féminin en français, bien que ça soit un garçon ; pourtant il n'y a pas de masculin à ce mot.
On parle beaucoup de féminiser des noms dans la langue française, comme docteur, facteur, auteur, professeur, etc, qui sont masculins et "traditionnellement" invariables en grammaire, mais qu'en est-il des noms féminins non prévus pour le masculin ?
Bref, voici Thomas, mon petit dernier, devant "leur" sapin de Noël, qui vous présente son nouveau pull d'hiver à col roulé que j'ai terminé tout à l'heure :
My little last "poupé" ("doll")???
Poupé, without the final female E in French (normally "poupée") ?
In English, that's fine, most of the words are invariable between masculine and feminine, but in French, it's difficult to say "my little last doll", since the word doll is feminine in French, although it's a boy; yet there is no masculine at this word.
There is much talk of feminizing names in the French language, such as doctor, postman, author, teacher, etc., who are masculine and "traditionally" invariable in grammar, but what about feminine names not intended for the masculine?
In short, here Thomas, my youngest, in front of "their" Christmas tree, who presents his new winter turtleneck sweater I finished earlier :
À bientôt / See you soon,
♥♥♥
30 novembre 2017
J'ai rencontré les petits chaperons verts
qui revenaient de chez leur grand-mère.
Ils n'ont rencontré ni loup, ni autres bestiaux,
juste moi, avec mon appareil photo !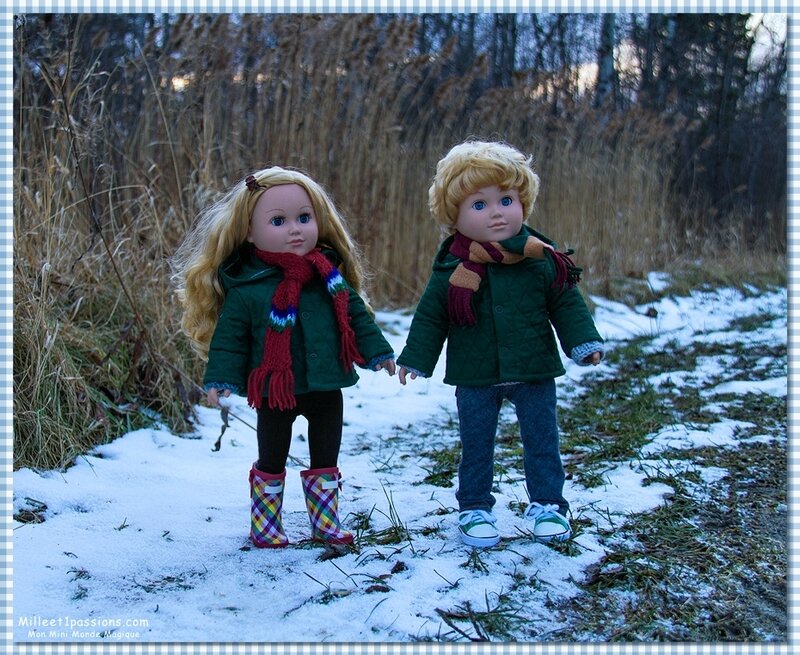 I met the little green chaperones who came back from their grandmother's house.
They met neither wolf nor other cattle, just me, with my camera !
À bientôt / See you soon,
♥♥♥
27 novembre 2017
Comme vous vous en souvenez peut-être, j'ai déjà transformé des poupées filles en poupées garçons (voir ICI et ICI ).
Cette fois, je voulais un garçon noir.
Je m'interrogeais sur les cheveux : comment les couper, et les friser.... et j'ai trouvé la solution en 3 mots : couper, raser, coller.
Comme pour les autres garçons, j'ai acheté une poupée fille de My Life as (marque des poupées 18 pouces/45 cm du supermarché Walmart), que voici :
As you may remember, I have already turned dolls girls boys dolls (see HERE and HERE).
This time, I wanted a black boy.
I wondered about the hair : how to cut, and curl .... and I found the solution in 3 words: cut, shave, paste.
As for other boys, I bought a girl doll from My Life as (brand of dolls 18 inches / 45 cm Walmart supermarket), here: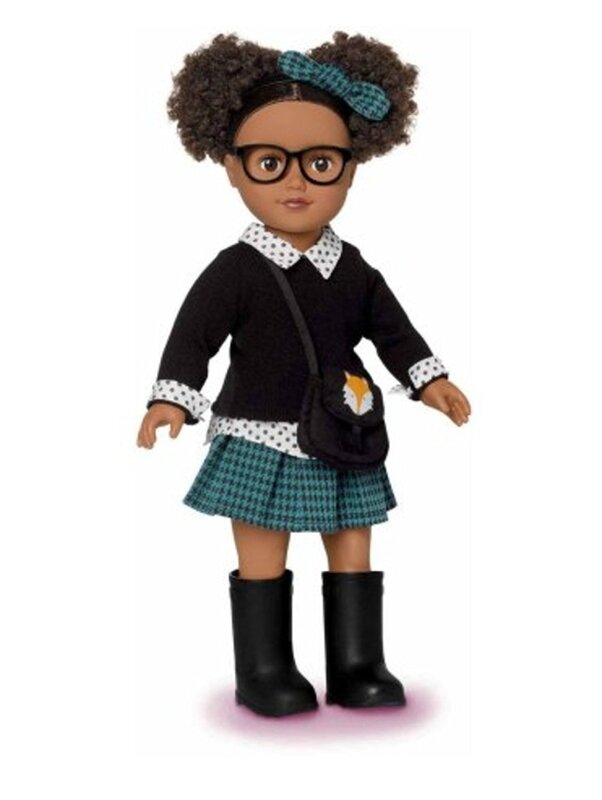 J'ai coupé les couettes sur toute leur partie frisée :
I cut the tips of the hair on all their curly part: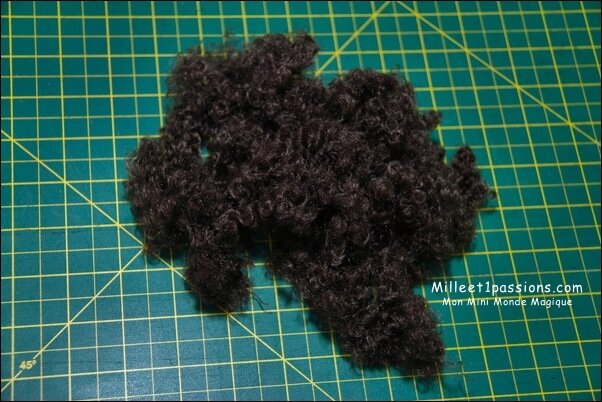 J'ai ensuite rasé totalement la tête de la poupée,
j'ai pris ensuite de la colle Tacky Glue (le flacon doré ; elle devient transparente au séchage),
et j'ai collé les cheveux coupés (en appuyant fortement à plusieurs reprises régulièrement pendant une heure).
Comme pour les autres garçons, j'ai effacé les cils, le fard à joues et le rouge à lèvre, épaissi les sourcils, et recoupé les cils trop longs.
I then completely shaved the head of the doll,
I then took Tacky Glue glue (the golden bottle, it becomes transparent on drying),
and I stuck the cut hair (pressing strongly several times regularly for one hour).
As for the other boys, I erased the lashes, the blush and the lipstick, thickened the eyebrows, and cut the eyelashes too long.
Et voilà le résultat : Chavonne vous présente Thomas, son petit cousin :
And here's the result: Chavonne introduces you to Thomas, her little cousin :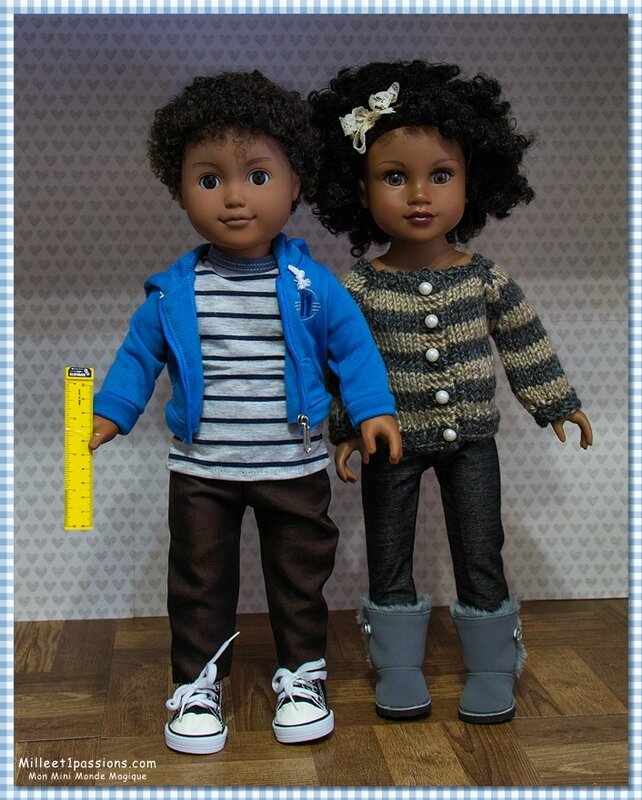 Gros plans sur ce ravissant jeune homme :
Close-ups of this lovely young boy :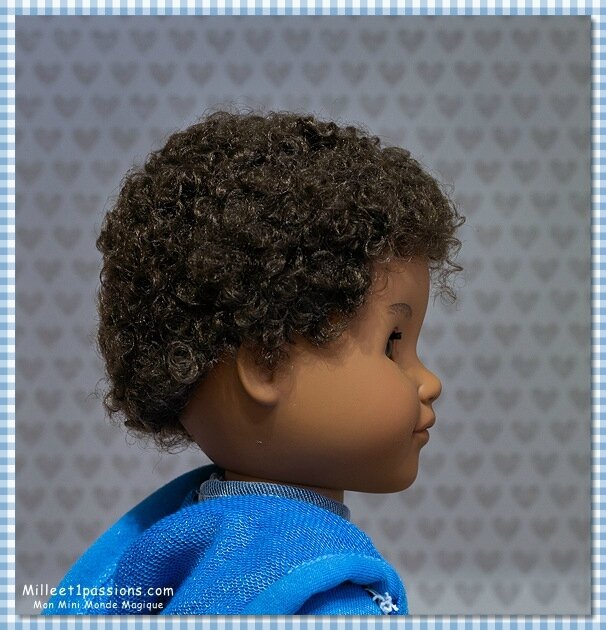 À bientôt / See you soon,
♥♥♥
26 novembre 2017
Cet après-midi Jordana et Kelsey sont allées promener leurs chiens ; ou plus exactement, Kelsey a promené son chien, et Jordana a porté le sien, pour ne pas changer, mais au moins, elle avait les bras libres avec son nouveau "sakachien".
This afternoon Jordana and Kelsey went for a walk with their dogs ; or more exactly, Kelsey walked her dog, and Jordana carried hers, not to change, but at least she had her arms free with her new bag.
Toutefois, il faisait -6°C, et ces demoiselles ont ronchonné qu'elles avaient froid aux mains, et ont suggéré que je leur tricote des gants..... et voilà, un peu de travail en plus qui m'attend !
However, it was 21°F, and these ladies grumbled that they were cold hands, and suggested that I knit them gloves ..... and here, a little more work that awaits me !
À bientôt, See you soon,
♥♥♥
24 novembre 2017
Mademoiselle Ilee voulait avoir chaud pour répéter ses romances irlandaises au violon ; je lui ai donc tricoté à son tour un gilet bien douillet.
Miss Ilee wanted to be hot to repeat her Irish romances on the violin ; so I knitted him in his turn a very cozy vest.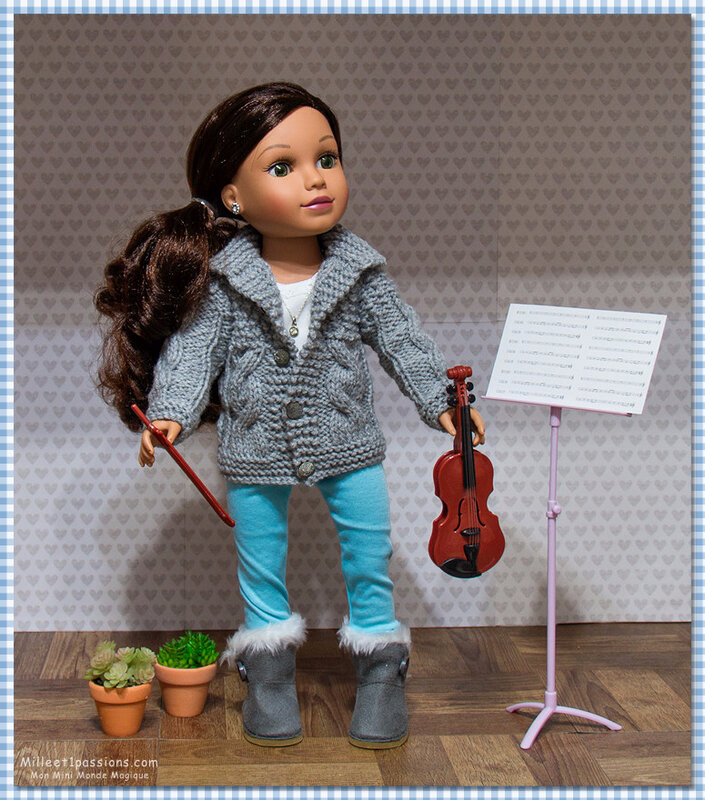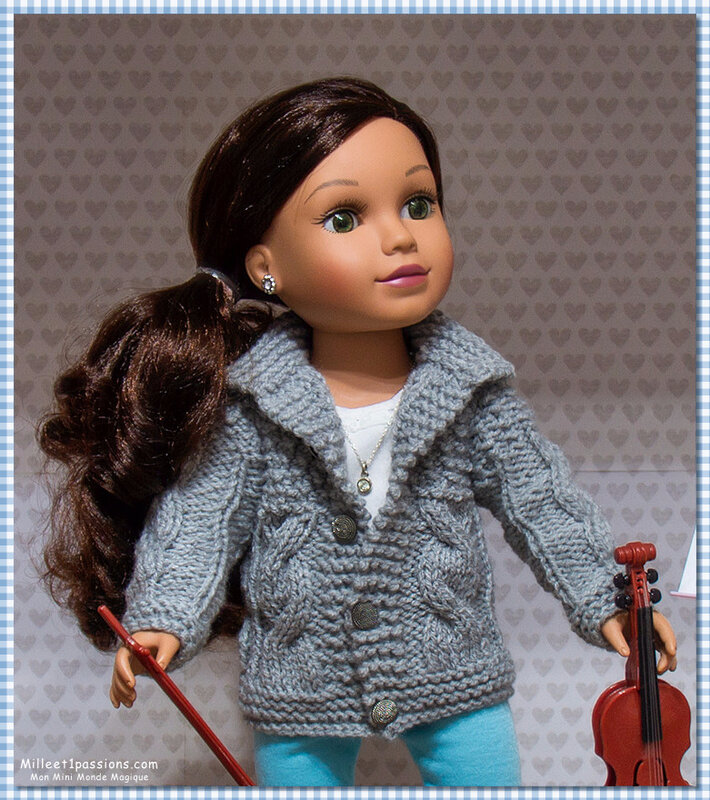 À bientôt / See you soon,
♥♥♥