23 août 2017
Depuis un moment, Canalblog avait des problèmes de "Internal Servor Error" à répétition, impossible d'accéder aux messages quand on reçoit des avis et des newsletters, et quand ça s'affichait, c'était sans mise en page, tout aligné en liens bleus, il était impossible de publier des nouveaux messages, les avis de publications de nouveaux messages n'arrivaient pas, images qui ne s'affichent pas toutes, accès aux commentaires qui rame, et j'en passe.
Ils affirment que cela va rentrer dans l'ordre ; je l'espère parce que ça commence à devenir agaçant...
Merci à celles d'entre vous qui ont eu la gentillesse d'avoir la patience de cliquer plusieurs fois, parfois sur plusieurs jours, pour voir mes dernières publications.
For a while, Canalblog had problems of "Internal Servor Error" repeatedly, impossible to access the messages when receiving notices and newsletters, and when it was displayed, it was without layout, all aligned in blue links, It was sometimes impossible to publish new messages, notices of publications of new messages did not arrive, images that do not display all, access to comments that drags on, and so on.
They say it's going to be in order; I hope because it starts to get annoying ...
Thank you to those of you who were kind enough to have the patience to click several times, sometimes over several days, to see my latest publications.
Guyloup ♥
22 août 2017
Lorsque je fais les courses à Sherbrooke, il est de tradition de faire un arrêt à cet endroit pour y siroter un café glacé McDo en été, ou un de leurs délicieux chocolats froids en hiver :-)
C'est un bras de la rivière Magog, qui alimente le lac Memphrémagog dont je vous ai parlé et montré des photos la semaine dernière ; près d'une piste cyclable de la ville, il y a une petite halte dont l'aspect "sauvage" fait presque oublier le remue-ménage de la circulation à quelques pas de là (quand il n'y a pas de hors-bord tirant un skieur nautique qui passe à toute vitesse sur l'eau, bien sur !).
When shopping in Sherbrooke, it is traditional to make a stop at this place to sip a frozen McDo coffee in summer, or one of their delicious cold chocolates in winter :-)
It is an arm of the Magog River, which feeds Lake Memphremagog, of which I spoke to you and showed pictures last week; Close to a bike path in the city, there is a small stop, the "wild" aspect of which almost makes one forget the bustle of the traffic a few steps away (when there is no outboard Pulling a nautical skier who runs at full speed over the water, of course!).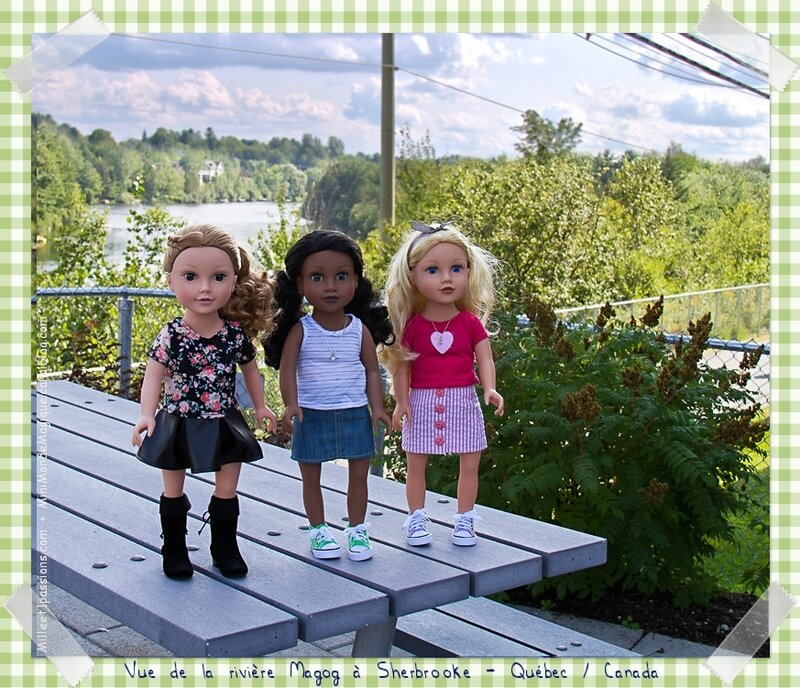 N'imaginez pas que toute la ville de Sherbrooke ressemble à ça, avec ses 163 000 habitants et son université, c'est en réalité ça., avec de très jolis quartiers que vous verrez bientôt dans un prochain reportage.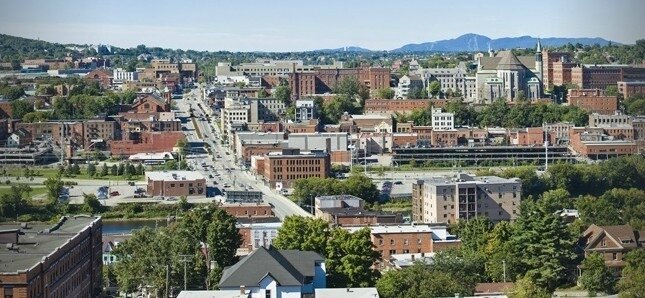 Ne soyez pas surprises de voir des poupées dans mes photos de paysages, c'est que je suis incrite à un groupe où nous présentons ainsi nos balades... et certains nous font visiter ainsi la forêt des Carpathes, voir ici : https://allamariya.blogspot.ca/2017/08/blog-post.html ou encore le parc de Yellowstone : http://journeygirladventures.blogspot.ca/2017/08/chaconnes-trip-to-yellowstone.html... et aussi : http://journeygirladventures.blogspot.ca/2017/08/chavonnes-trip-to-yellowstone-day-two.html
C'est une manière de rendre des décors un peu plus vivants et de bien s'amuser !
Do not be surprised to see dolls in my photos of landscapes, it is because I am a member of a group where we present our walks ... and some make us visit the forest of the Carpathians, see here: https: / / /allamariya.blogspot.ca/2017/08/blog-post.html or the Yellowstone Park: http: //journeygirladventures.blogspot.ca/2017/08/chaconnes-trip-to-yellowstone.html ... c 'Is a way to make decorations a little more alive and have a lot of fun!
À bientôt,
Guyloup ♥
Un t-shirt au dessin ethnique pour Callie l'amérindienne, et un ensemble jupe/t-shirt pour Kelsey la rousse aux yeux clairs.
J'ai galéré avec le tissu vert du t-shirt : souple, mou, soyeux, glissant, bref, il a tous les défauts possibles !
Le dessin sur le t-shirt est fait avec un tampon de scrapbooking + encre Stazon (indélébile), puis colorié avec des feutres à tissu.
A t-shirt with an ethnic design for Callie the Native American, and a skirt / t-shirt for Kelsey the red-haired with clear eyes.
I have gone with the green fabric of the t-shirt: soft, soft, silky, slippery, in short, it has all possible flaws!
The design on the green t-shirt is made with a scrapbooking stamps and black Stazon ink (indelible), I then colored it with fabric felts.
À bientôt,
Guyloup ♥
18 août 2017
Un peu de couture, cette fois pour la blonde Meredith (Journey Girls).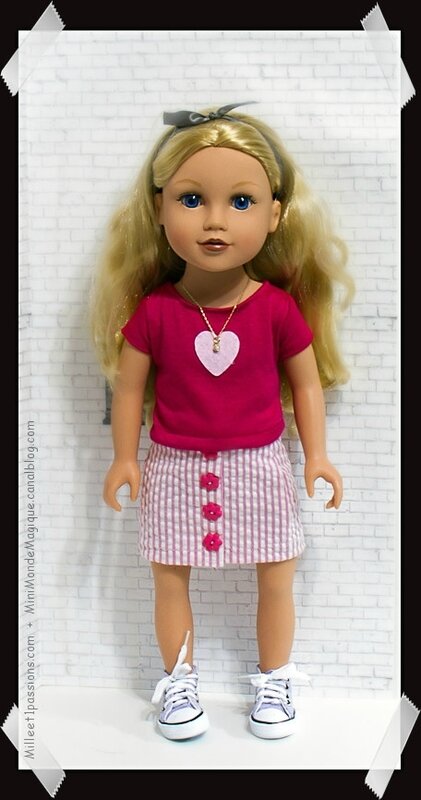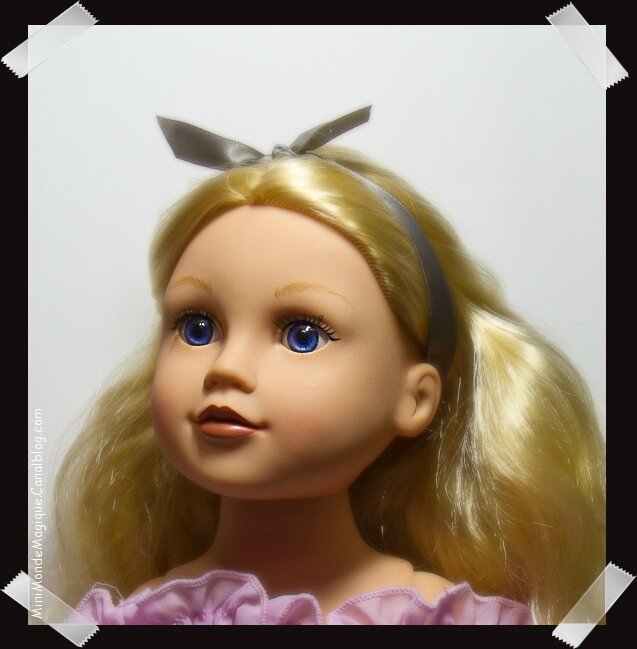 Bon samedi :-)
Guyloup ♥
17 août 2017
Salut, c'est encore moi, Kyla !
Je vous avais dit que Guyloup ne voulait pas m'emmener faire un tour aux USA lors de notre promenade de lundi... j'étais même jalouse car elle avait parlé d'emmener une autre poupée ! j'ai compris pourquoi, et je ne suis plus jalouse du tout : elle attendait que Callie, une charmante poupée amérindienne vienne me rejoindre pour nous faire visiter la partie est et la partie sud du lac Memphrémagog, donc du côté des USA.
Hi, it's me again, Kyla!
I told you that Guyloup did not want to take me to the USA on our Monday walk ... I was even jealous because she had talked about bringing another doll! I understood why, and I am no longer jealous at all: she was waiting for Callie, a charming Amerindian doll to join me to show us the eastern part and the southern part of Lake Memphremagog, so on the US side.
Voilà notre promenade en photo ; cette fois, nous avons pris la rive est du lac Memphrémagog, contrairement à notre promenade d'avant-hier (voir ICI) où nous étions sur la rive ouest. Pour vous situer, nous sommes allés dans la partie représentée par un rectangle violet sur cette carte (le trait noir est la frontière Canada/USA) :
Here is our walk in photo; This time we took the eastern shore of Lake Memphremagog, contrary to our walk the day before yesterday (see HERE) where we were on the west shore. To locate you, we went into the part represented by a purple rectangle on this map (the black line is the border Canada / USA):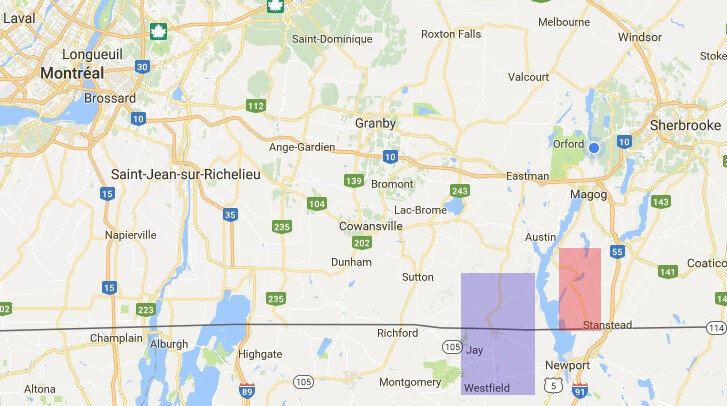 L'église du village de Austin :
The church of the village of Austin: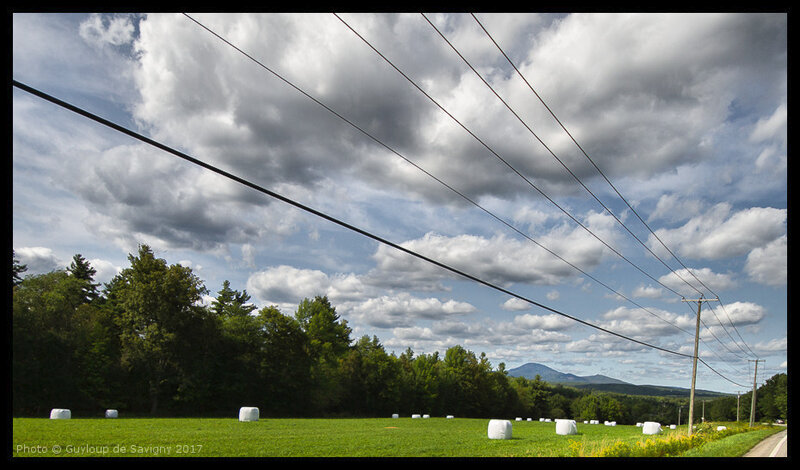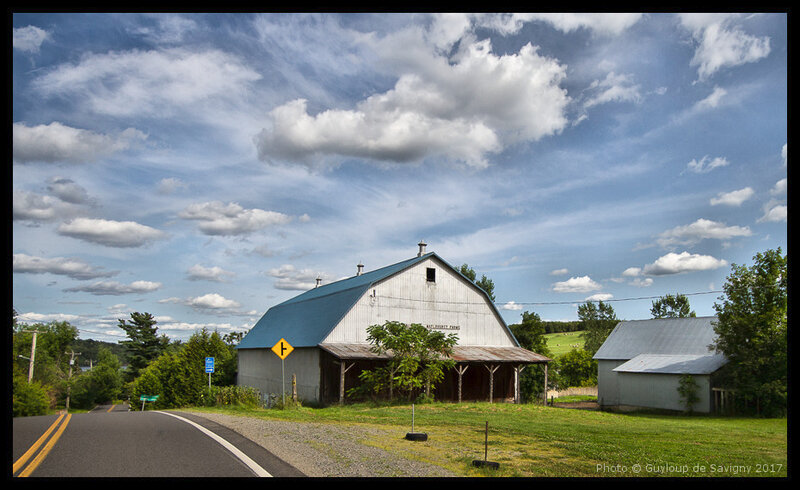 Le lac tout près de la frontière :
The lake near the border: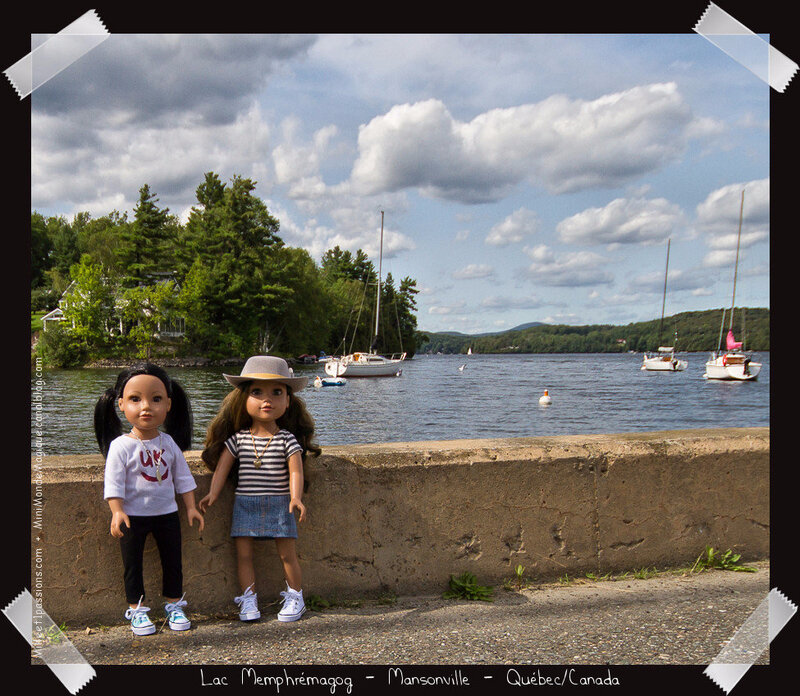 Nous ne sommes pas descendus tout le long du lac, nous avons bifurqué vers l'est, afin d'aller dans un secteur que Guyloup voulait nous faire voir car elle disait que c'est très beau. Donc, on quitte le lac, qu'on aperçoit derrière nous en contrebas.
We did not go down the entire length of the lake, we branched off to the east, to go to an area that Guyloup wanted to show us because she said it was very beautiful. So we leave the lake, which we can see behind us.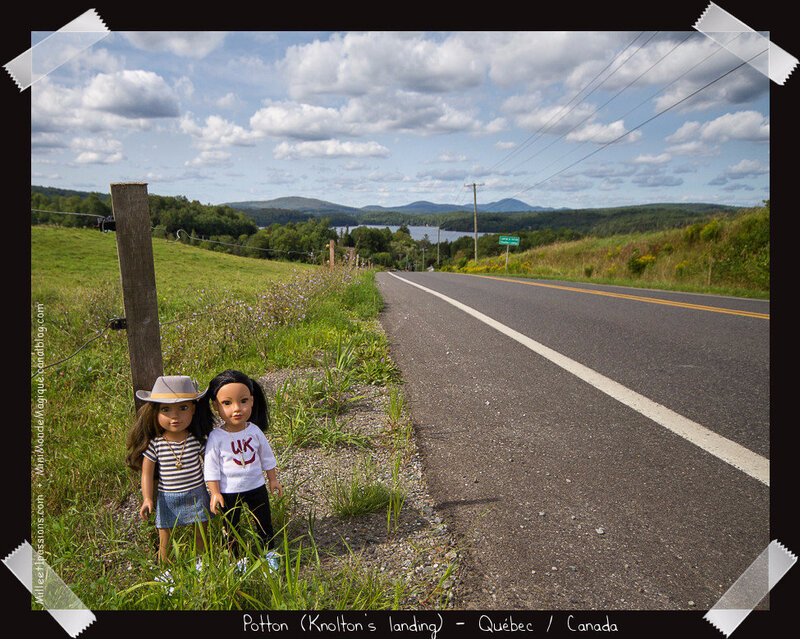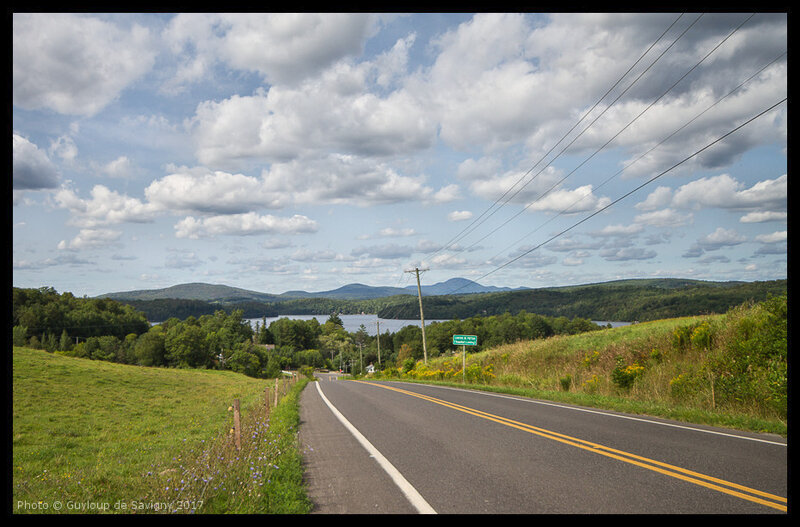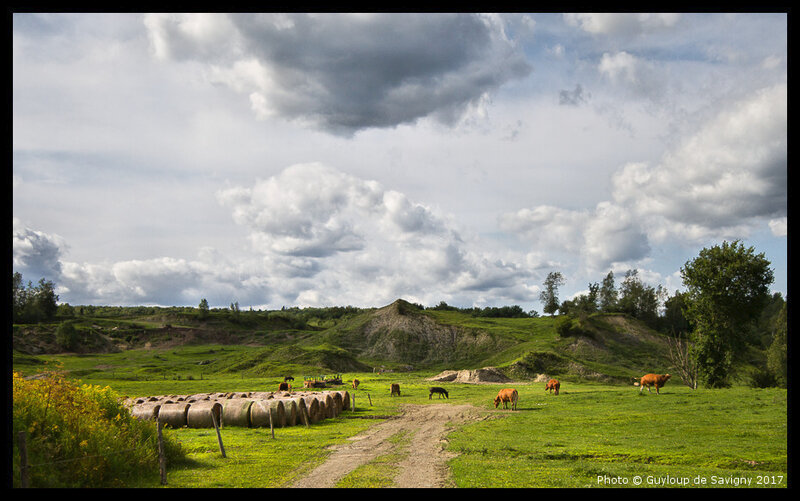 Et voilà, on passe la frontière, je suis très excitée, c'est la première fois que je vais au Vermont (je suis une poupée canadienne, moi !).
And then, we cross the border, I'm very excited, this is the first time I go to Vermont (I'm a Canadian doll, me!).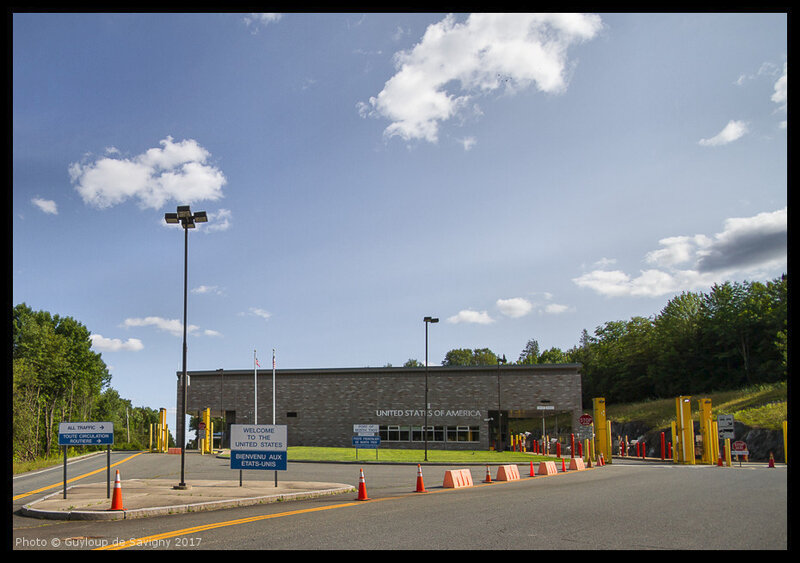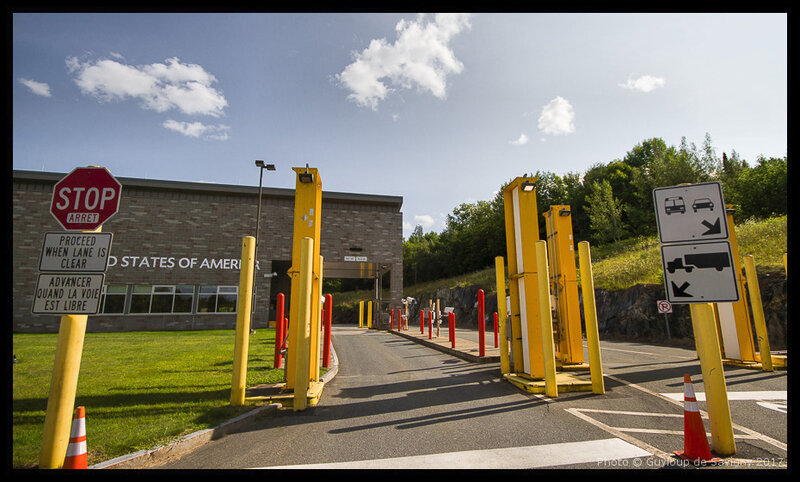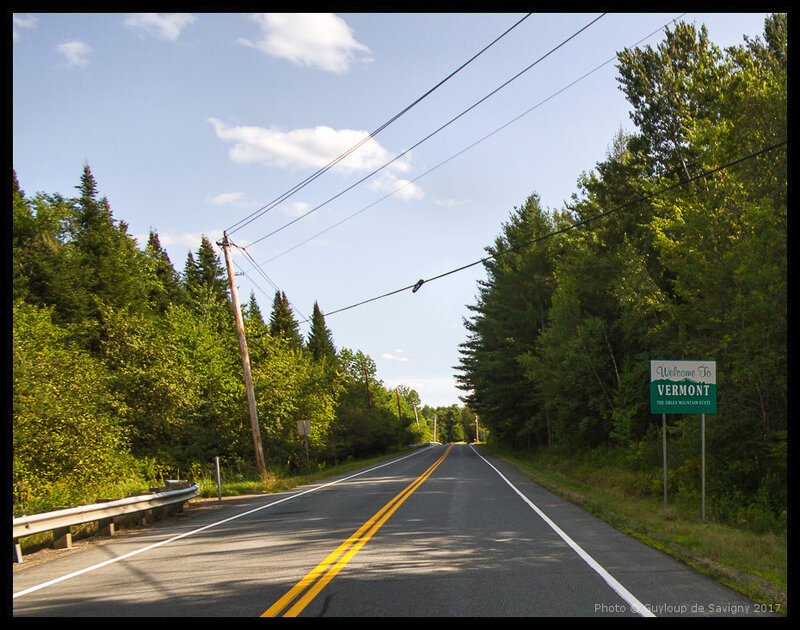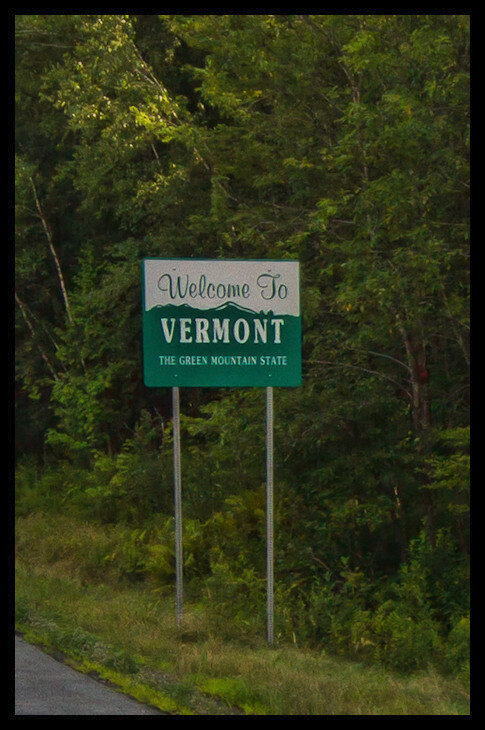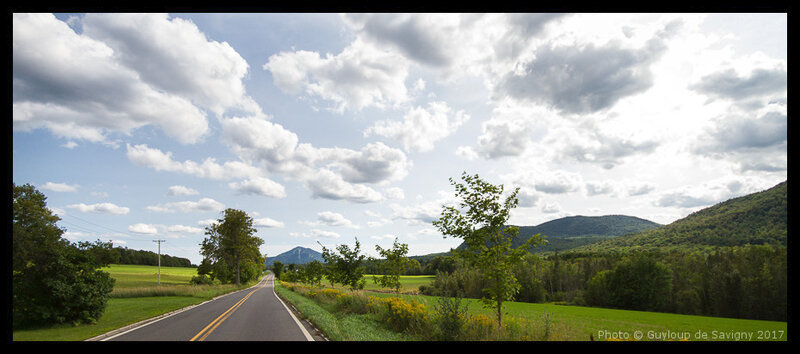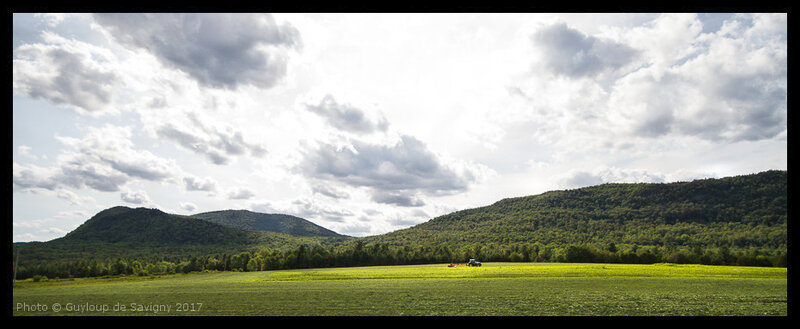 Avez-vous vu ? c'est si immense qu'un énorme tracteur passe presque inaperçu dans cette immensité !!!
Have you seen ? It is so immense that an enormous tractor passes almost unnoticed in this immensity!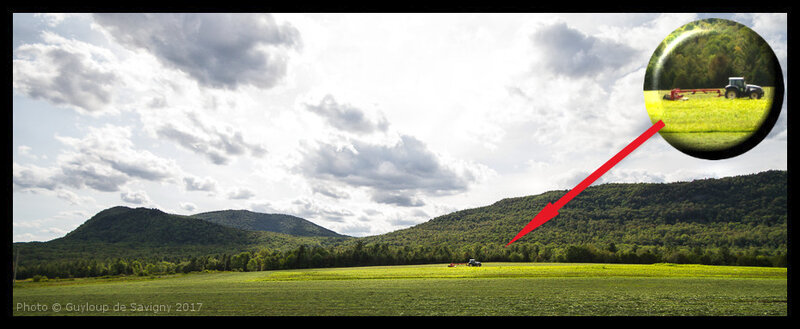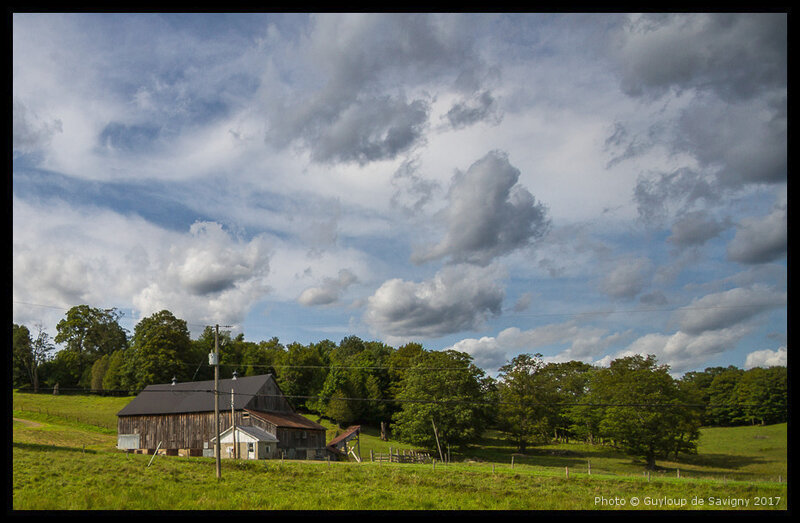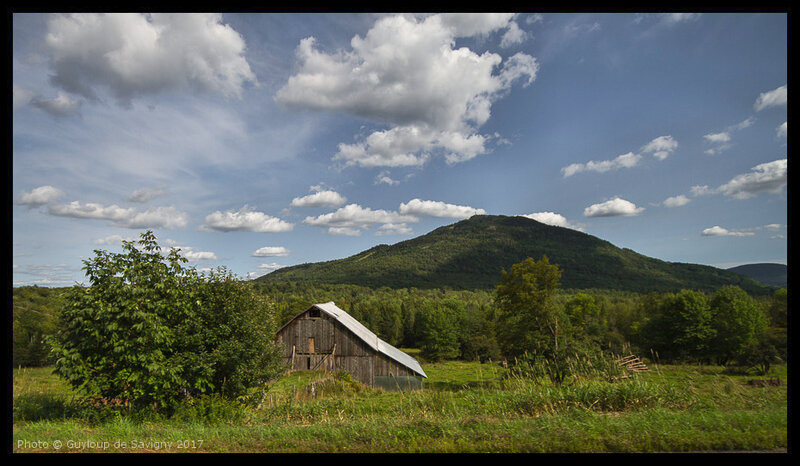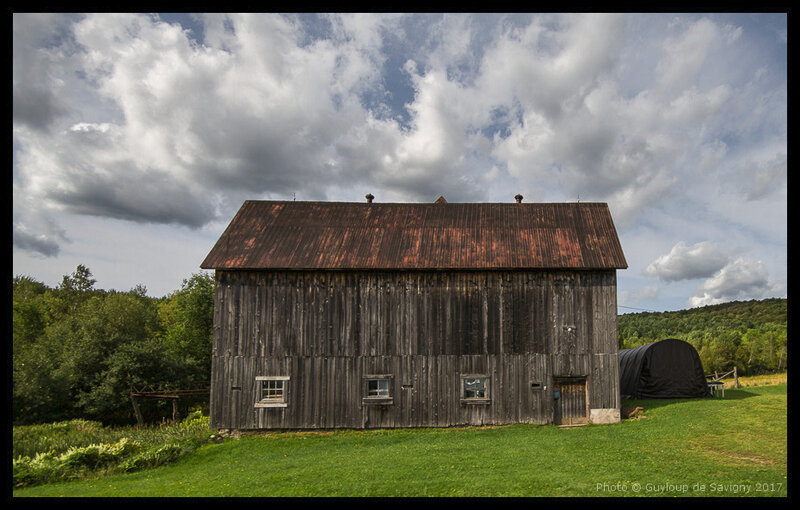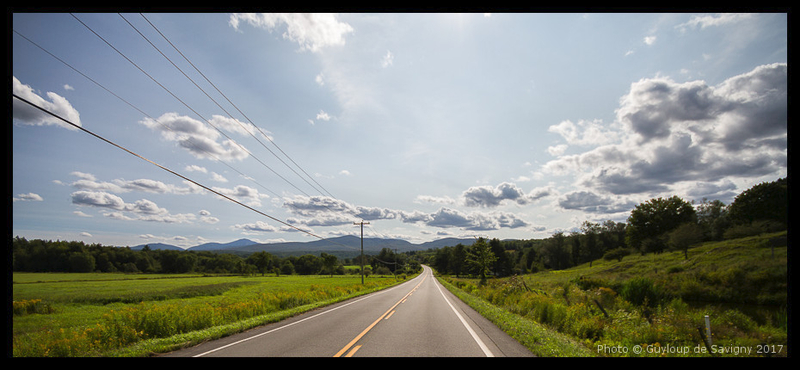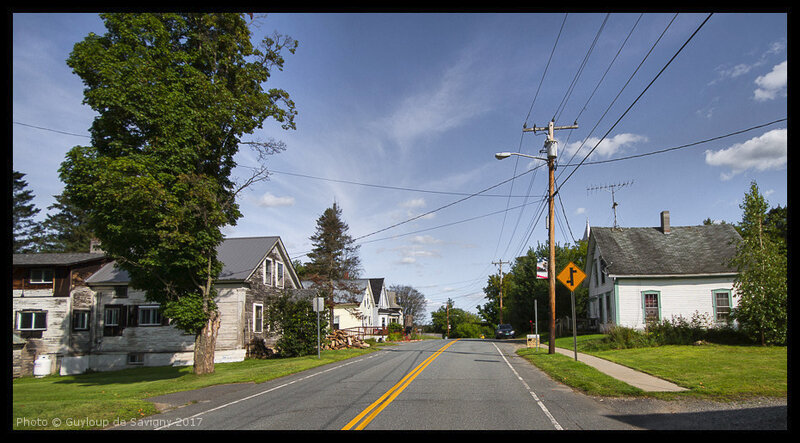 Et nous voià enfin à l'endroit que Guyloup aime bien, et on a trouvé qu'elle avait raison, c'est super beau, mais on avait quand même un peu peur de tomber quand elle nous a assises sur la barrière de sécurité !
And we finally see the place that Guyloup likes, and we found that she was right, it is super beautiful, but we were still a little afraid to fall when she sat us on the security fence!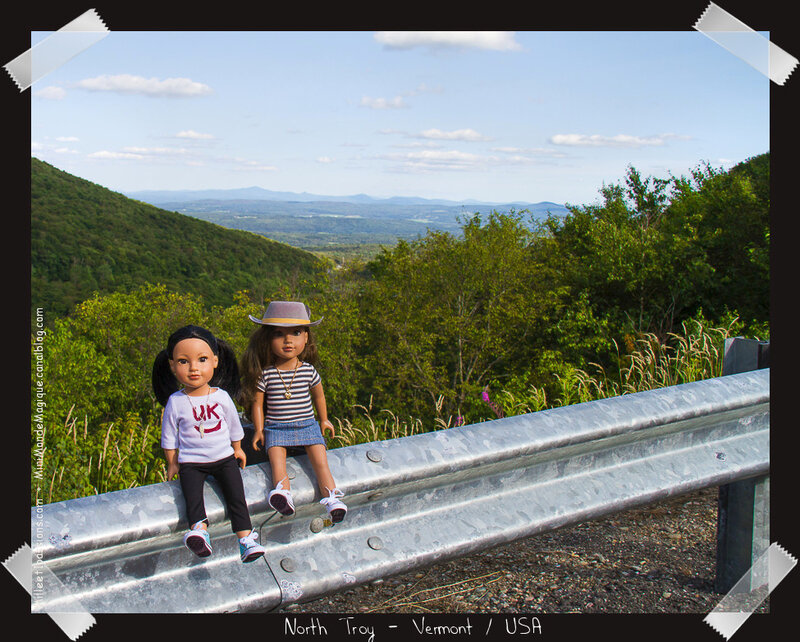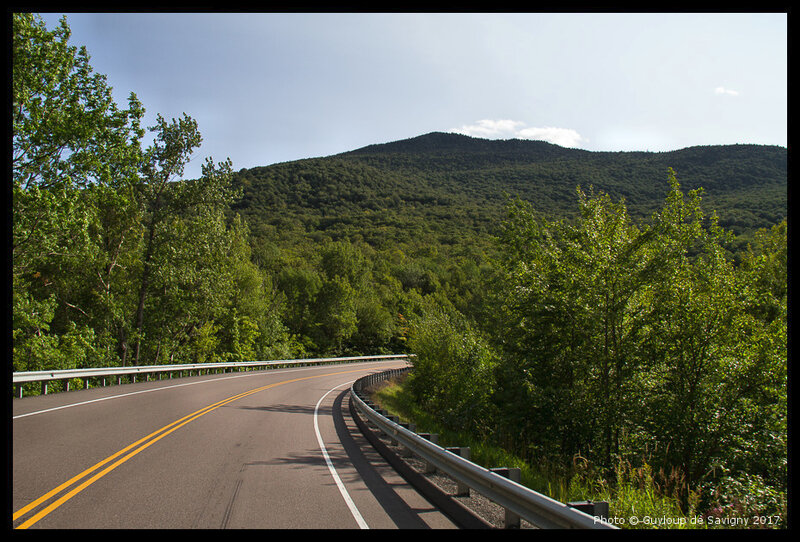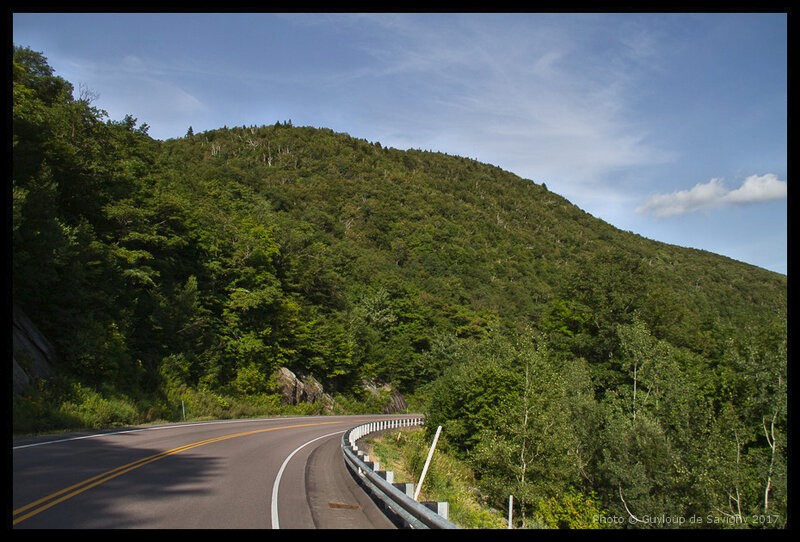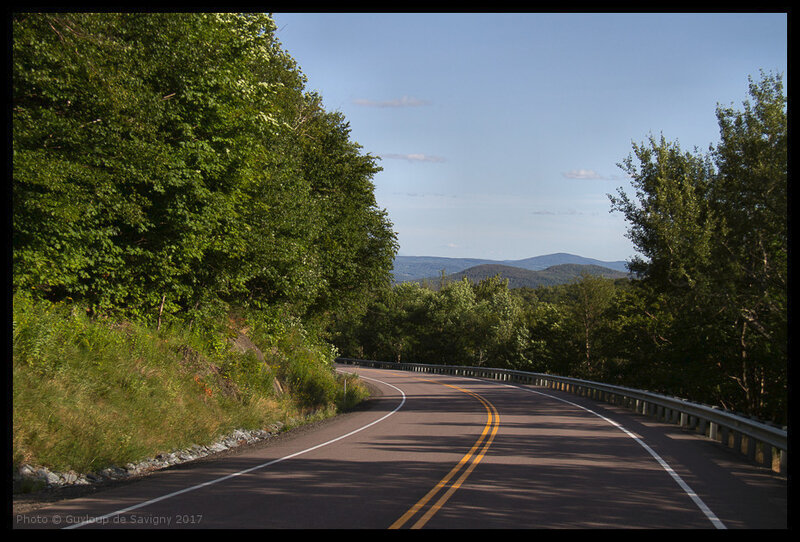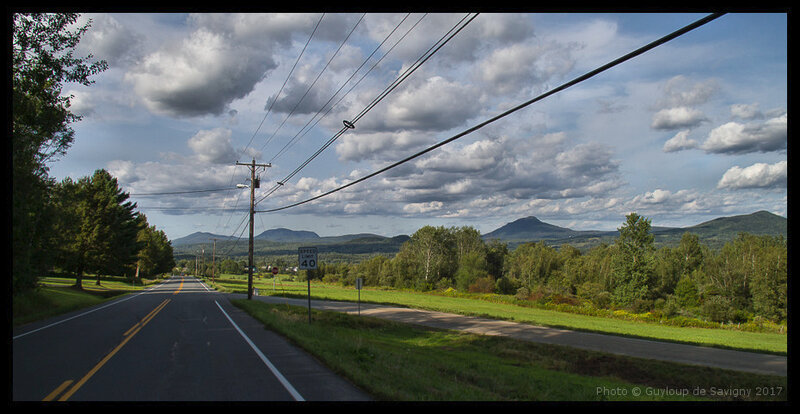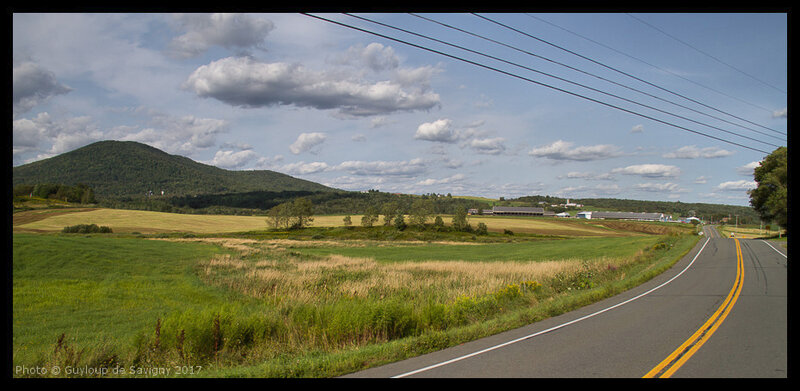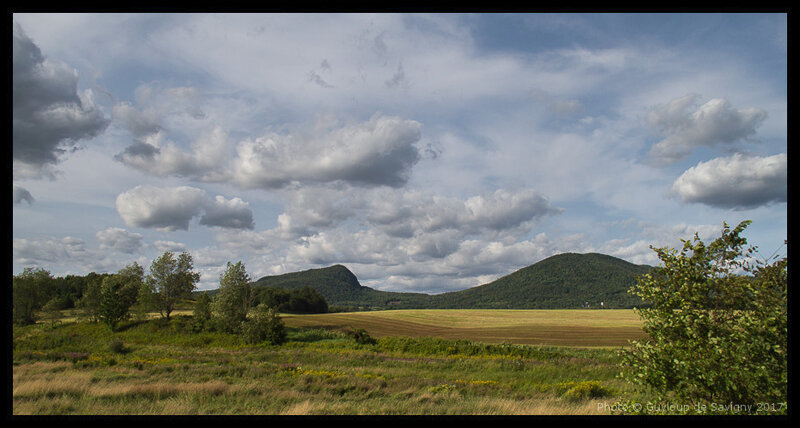 On retourne vers le Canada, c'est beaucoup plus plat :
We go back to Canada, it's much flatter: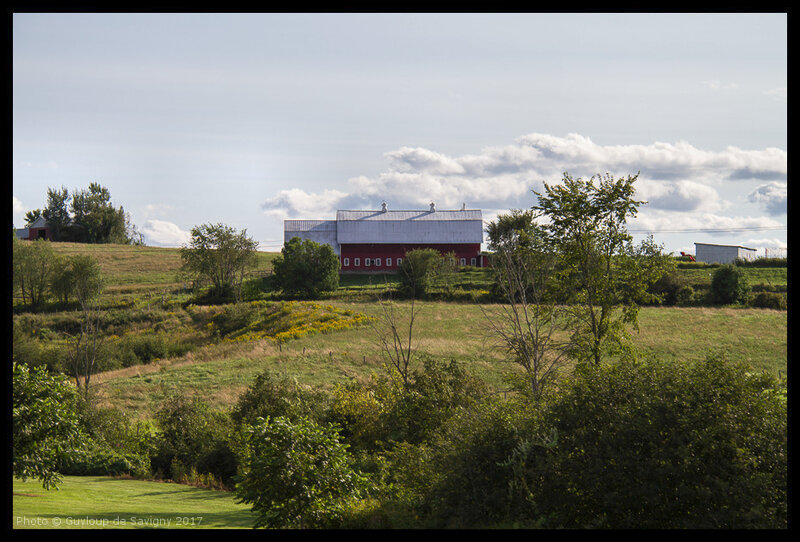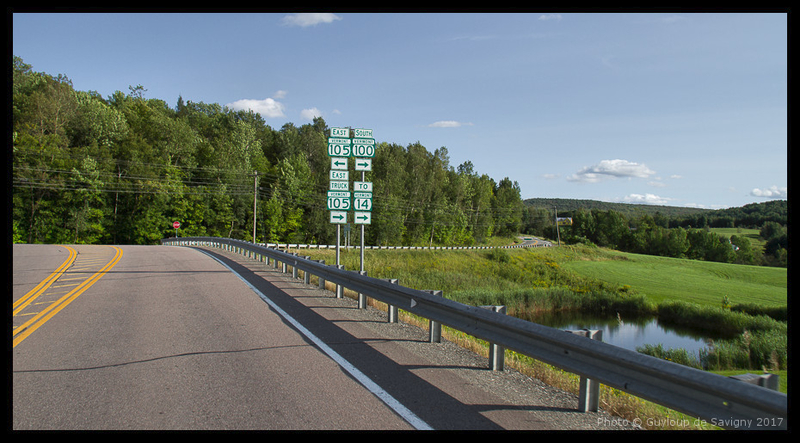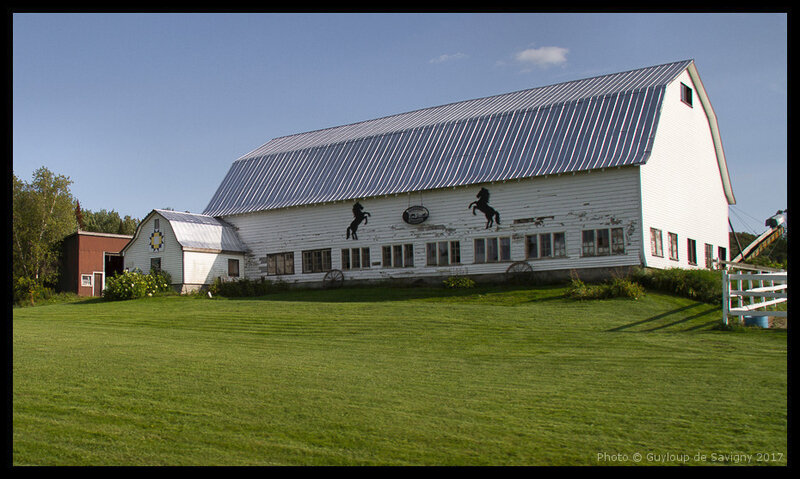 Tiens, on retrouve encore le lac !!! il faut dire qu'il fait 42 km de long, alors c'est difficile de ne pas retomber dessus tout le temps :-)
Here, we still find the lake! It must be said that it is 42 km long, so it is difficult not to fall on all the time :-)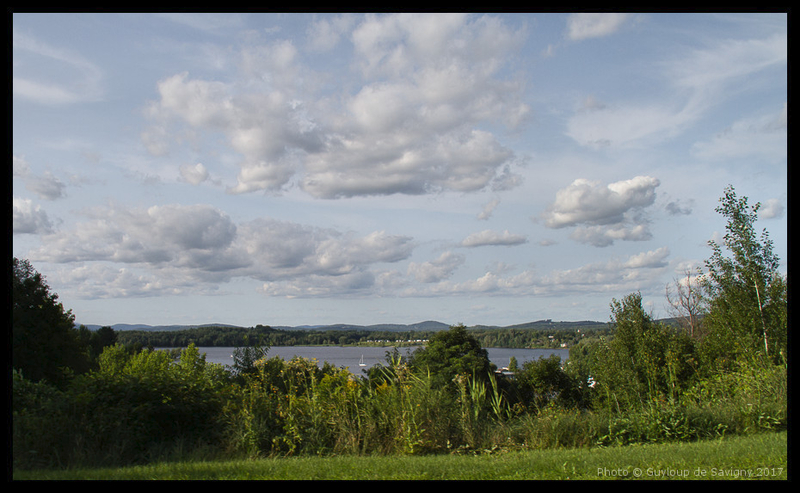 Une rue de Newport / VT :
A street in Newport / VT: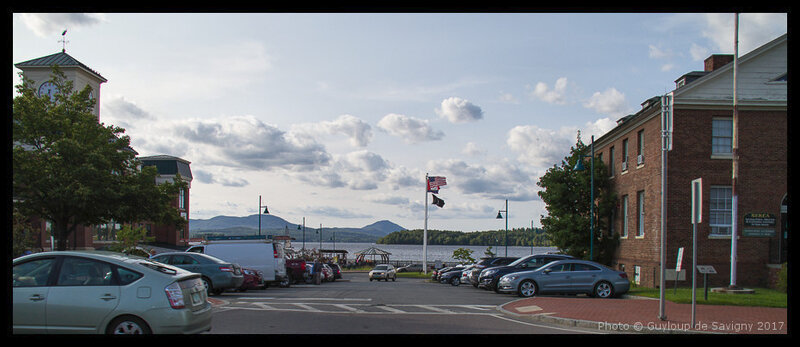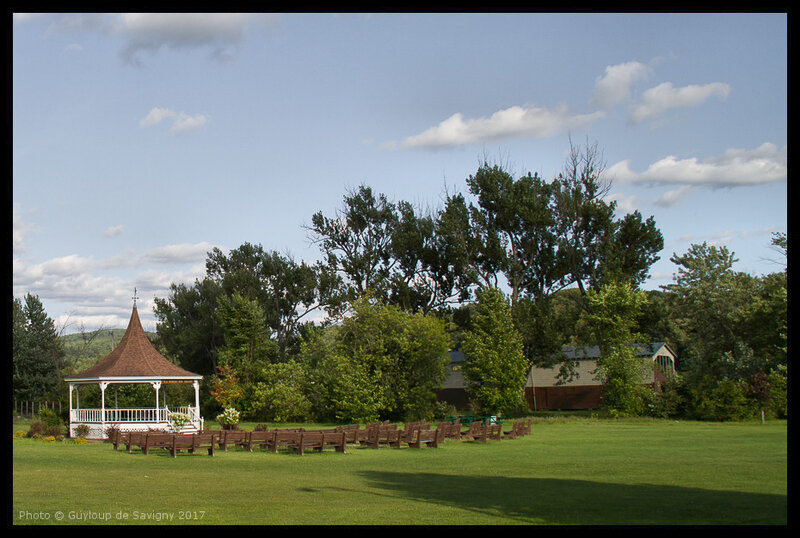 Et voilà, 5 km plus loin, on a repassé la douane canadienne, et on est rentrés à la maison.
À bientôt pour une nouvelle promenade :-)
And then, 5 km away, we went back to Canadian customs, and we went home.
See you soon for a new walk :-)
Kyla & Guyloup ♥
14 août 2017
Je publie une seconde fois ce message de lundi 14-08 car d'après ce qui m'a été dit par plusieurs internautes, la newsletter n'a pas été envoyée correctement par Canalblog.
Une demi-journée de soleil ????? cette année, ça ne se rate pas : on prend vite l'appareil photo et on va se promener dans la campagne ! et en rentrant, on fait profiter les copines des photos qu'on a prises.
Half a day of sunshine, this year, it does not miss: we quickly take the camera and we go for a walk in the countryside! And on the way back, we give the girlfriends the pictures we took.
J'avais emporté une poupée. Elle vient de la collection "Journey Girls", ce qui se traduirait par "Filles Voyageuses", il me semblait donc logique que ce soit elle qui vous fasse visiter la région !! Pur cela, j'ai choisi Kyla, une amoureuse de la nature et plus particulièrement des chevaux.
I had taken a doll. It comes from the collection "Journey Girls", so it seemed logical that it is she who will make you visit the region !! Pure that, I chose Kyla, a lover of nature and especially horses.
Nous avons commencé par aller vers Fitch Bay, via Georgeville :
We started by going to Fitch Bay, via Georgeville: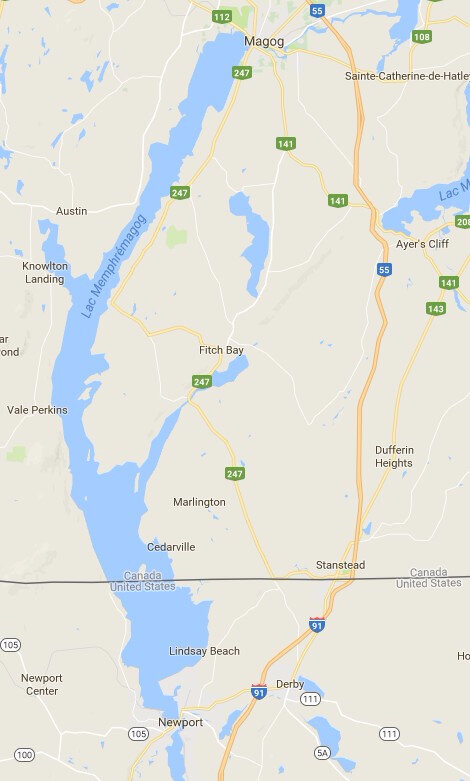 pour vous situer, c'est le rectangle rouge :
To locate you, it is the red rectangle: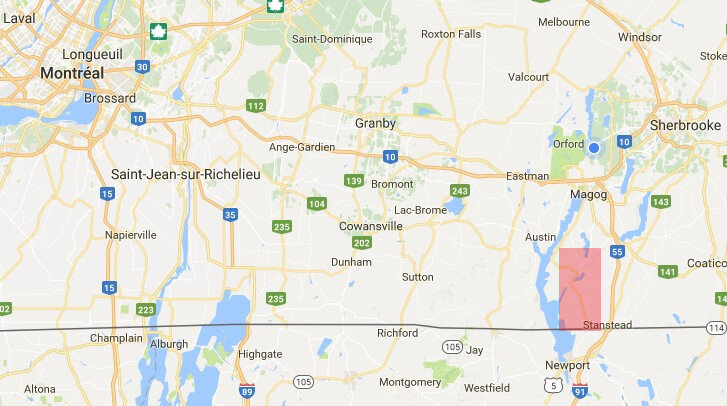 Je laisse parler Kyla qui vous raconte sa promenade !!

I let Kyla talk that tells you about her walk !!
:
J'étais contente quand Guyloup m'a emmenée visiter sa belle région.
En chemin, je n'ai pu résister à admirer cette jolie ferme-pension pour chevaux, ma passion !
I was glad when Guyloup took me to visit her beautiful area.
Along the way, I could not resist admiring this lovely farm-pension for horses, my passion!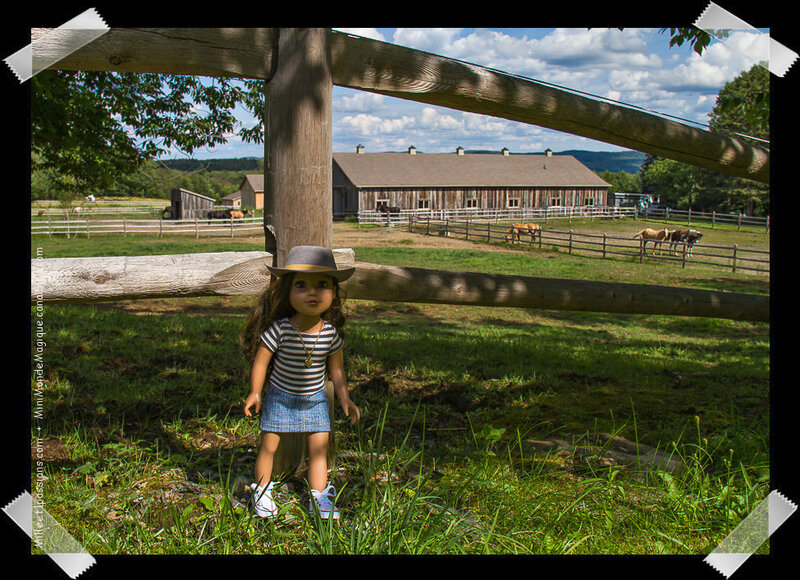 Le paysage est magnifique avec la vue sur le lac Memphrémagog en contrebas :
The landscape is beautiful with the view of Lake Memphremagog below: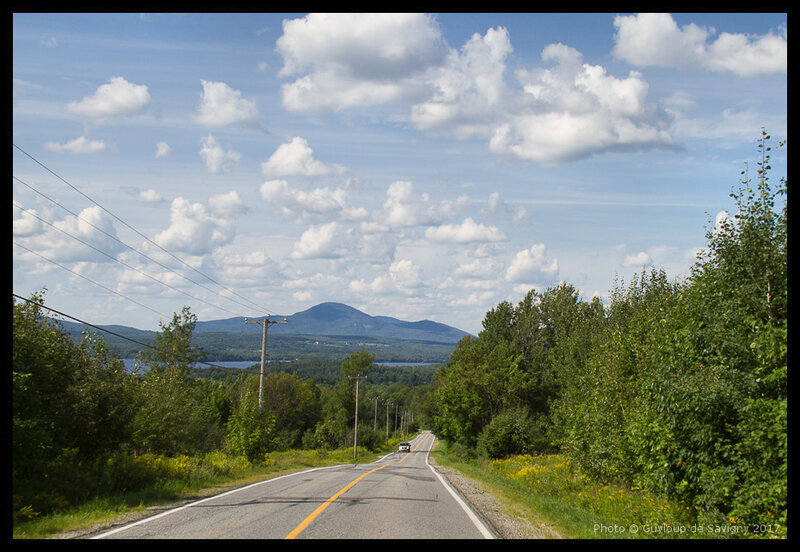 Une autre ferme, mais d'élevage moins agréable (porcs) :
Another farm, but of less pleasant breeding (pigs):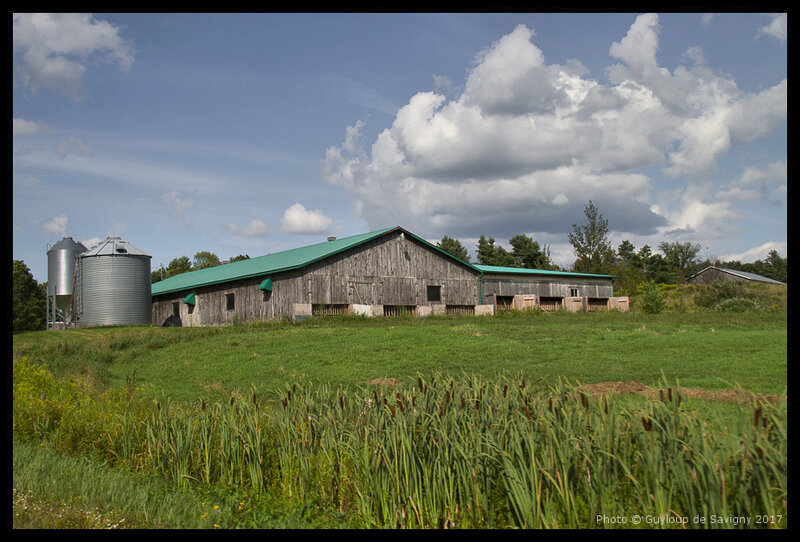 En arrivant dans le village de Georgeville, je suis alée faire un petit tour au bord du lac Memphrémagog, long de 42 kilomètres, situé à cheval sur la frontière Canada-USA (plus d'infos ici : https://fr.wikipedia.org/wiki/Lac_Memphr%C3%A9magog ).
When I arrived in the village of Georgeville, I went to take a stroll along Lake Memphremagog, 42 kilometers long, straddling the Canada-USA border (more info here: https: //en.wikipedia. Org / wiki / Lac_Memphr% C3% A9magog).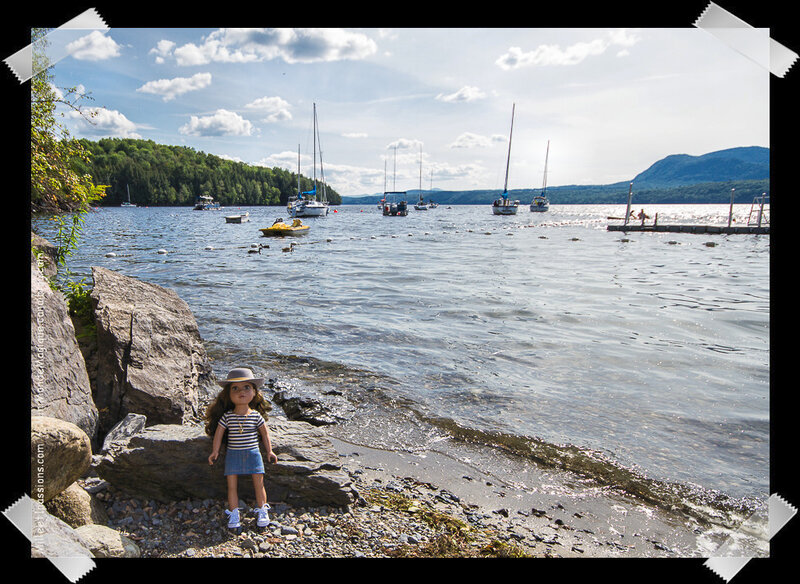 Un coup d'oeil à la Marina de Georgeville :
A look at the Georgeville Marina:
En prenant la direction de Fitch Bay, on a croisé ces églises ; difficile de ne pas les remarquer, il y en a un nombre incroyable partout, chaque moindre village ayant plusieurs obédiences : catholiques, anglicanes, évangélistes, luthériennes, etc !
In the direction of Fitch Bay, we crossed these churches; Difficult not to notice them, there are an incredible number everywhere, each smaller village having several obediences: Catholics, Anglicans, Evangelists, Lutherans, etc !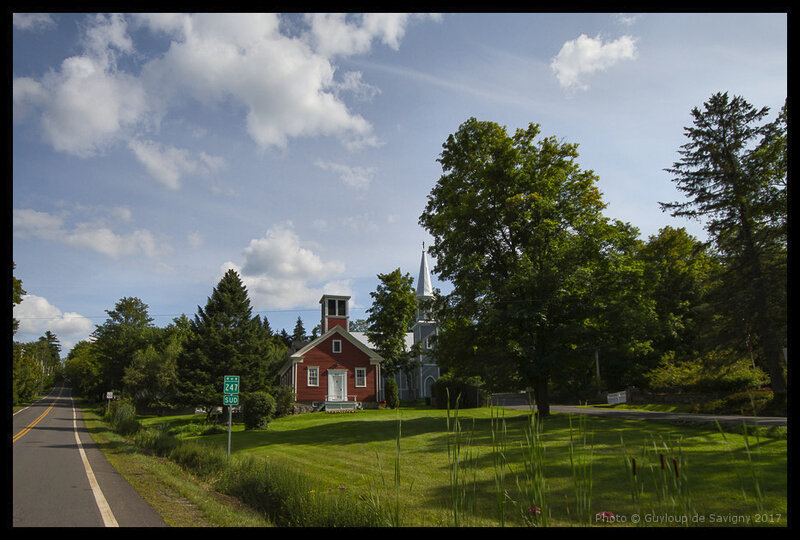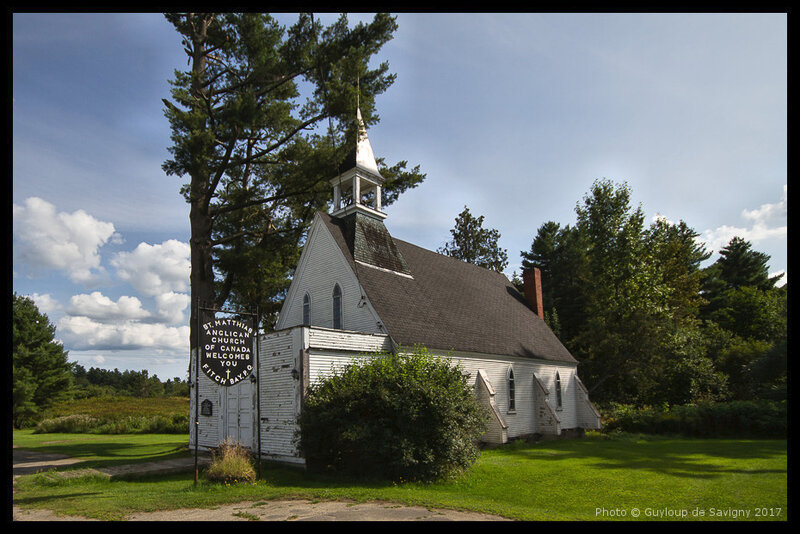 À Fitch Bay, il y a un vieux manoir que j'ai baptisé "la maison de la sorcière" en raison de sa girouette bien particulière !
In Fitch Bay, there is an old manor house which I called "the house of the witch" because of its special weather vane!
La particularité de Fitch Bay, c'est d'avoir conservé un ancien pont couvert, dont vous lirez ci-dessous les caractéristiques sur lesquelles je m'étais assis pour mieux vous les montrer !
The peculiarity of Fitch Bay is to have preserved an old covered bridge, of which you will read below the characteristics on which I had sat to show you better!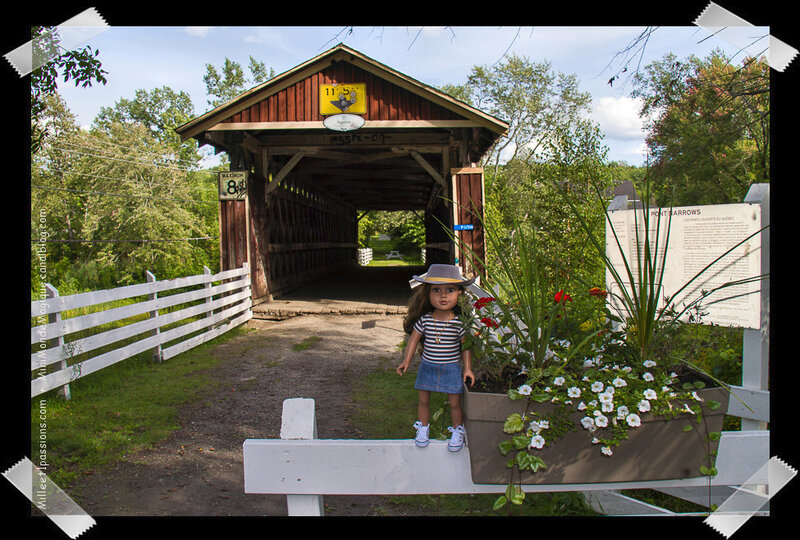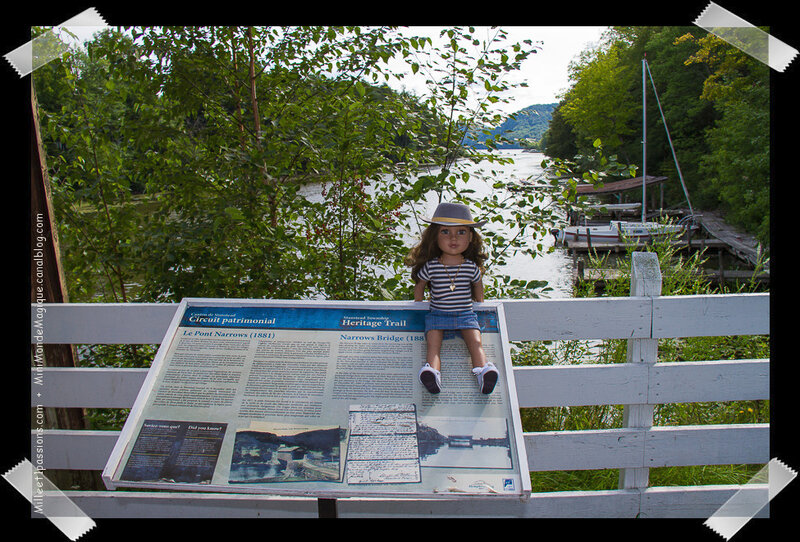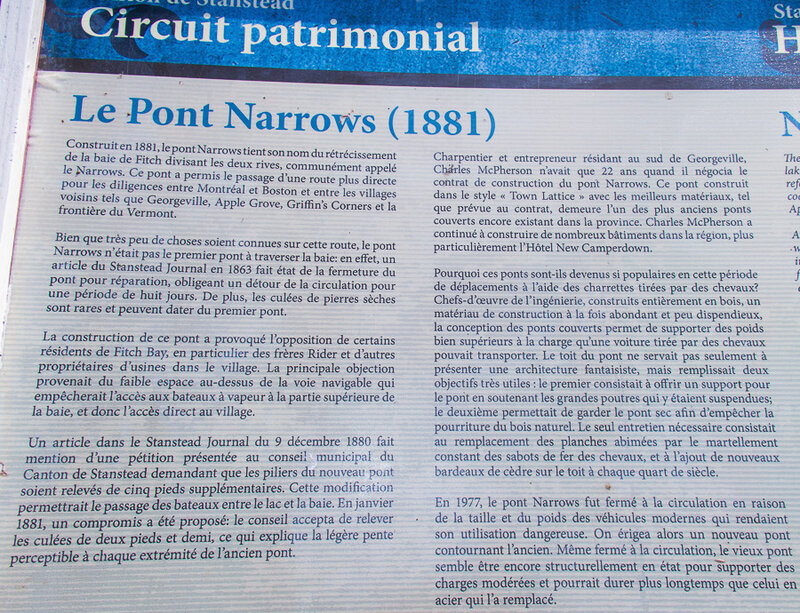 Voilà le vieux pont couvert, vu du pont moderne :
Here is the old covered bridge, seen from the modern bridge: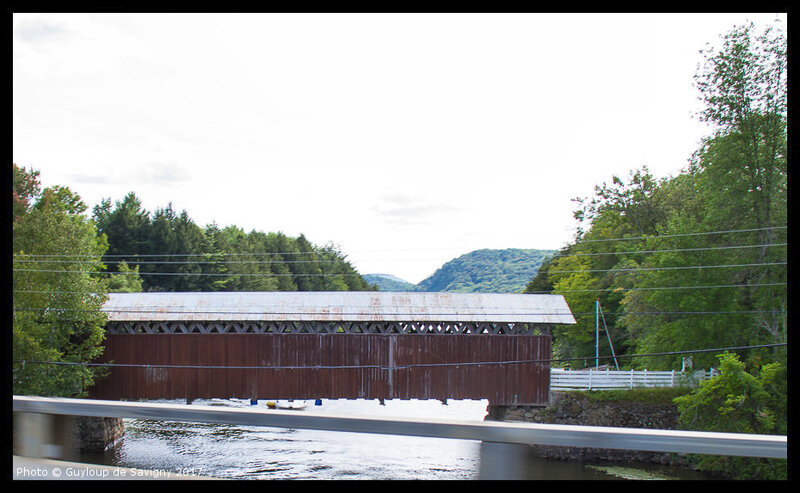 On repart :
We start again: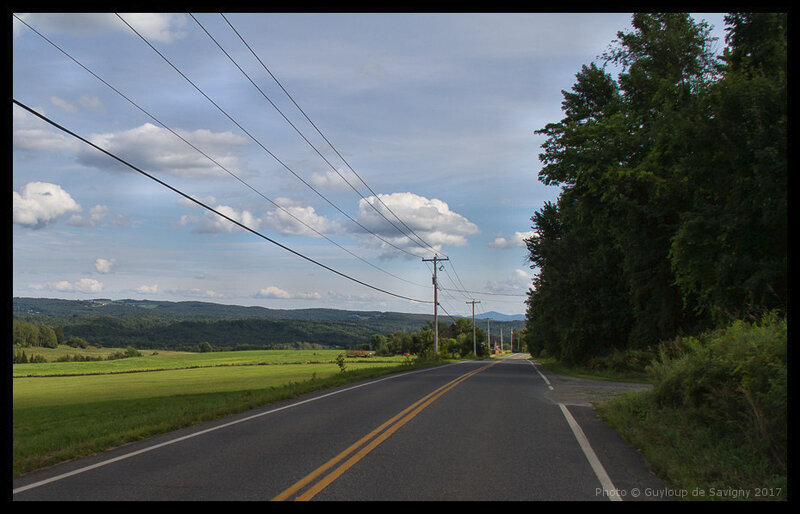 On passe près d'un des nombreux postes-frontières Canada_USA.
Pas de virée aux USA a dit Guyloup, elle veut y emmener une autre poupée que moi... je suis jalouse !!!!
And you pass near one of the many Canada_USA border crossings.
No trip to the US said Guyloup, she wants to take another doll to me ... I'm jealous !!!!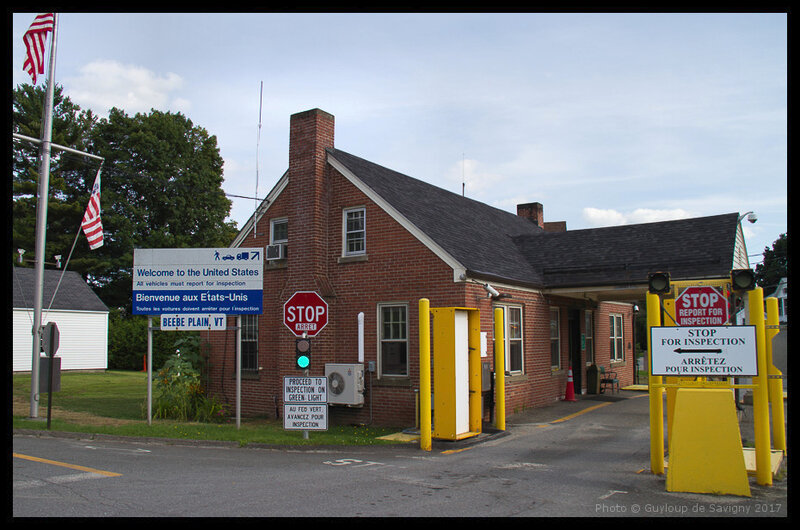 Voici une ferme comme on en voit beaucoup ici , où on élève des chevaux et des vaches pour la boucherie... c'est triste : j'ai beau être une poupée, je suis végétarienne parce que j'aime les animaux.
Here is a farm as we see a lot here, where we raise horses and cows for the butcher ... it's sad: I may be a doll, I am vegetarian because I love animals.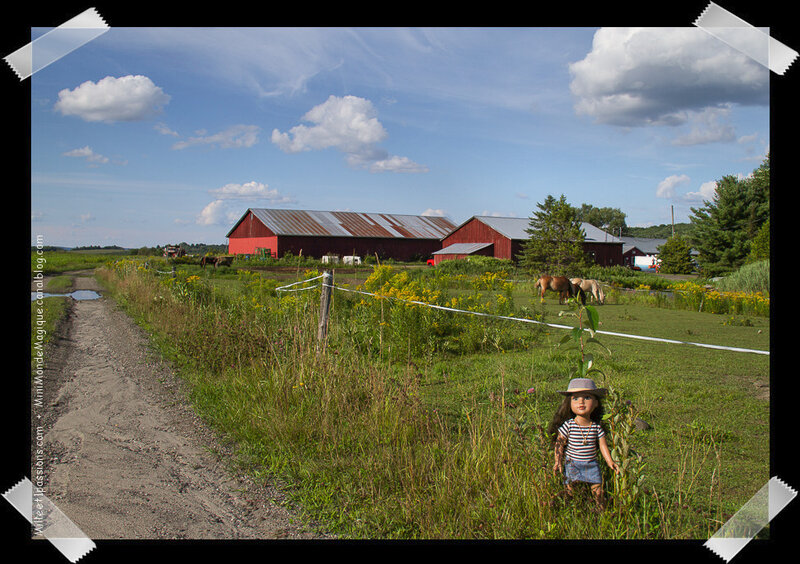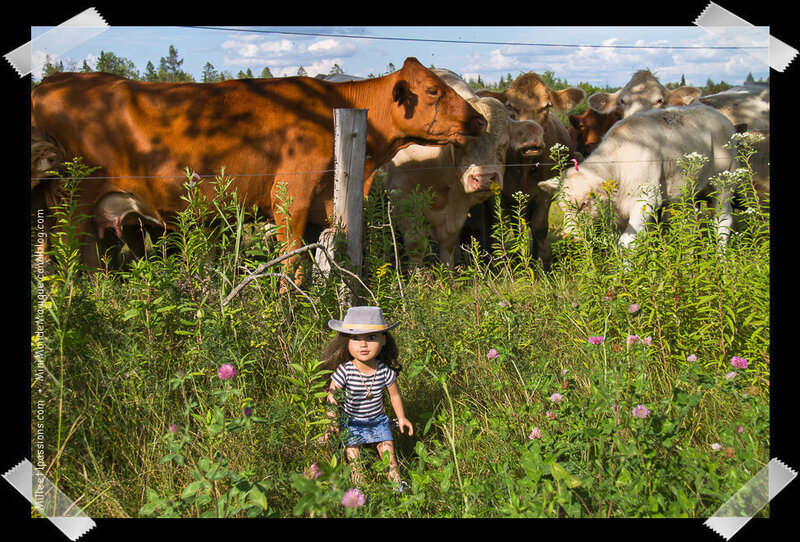 On a continué, et on est allés à un des endroits que Guyloup préfère pour photographier animaux et oiseaux : un sentier de randonnée de 19 km, coincé entre des étangs et la jolie rivière Tomifobia :
We went on, and we went to one of the places that Guyloup prefers to photograph animals and birds: a 19 km hiking trail, stuck between ponds and the lovely Tomifobia River: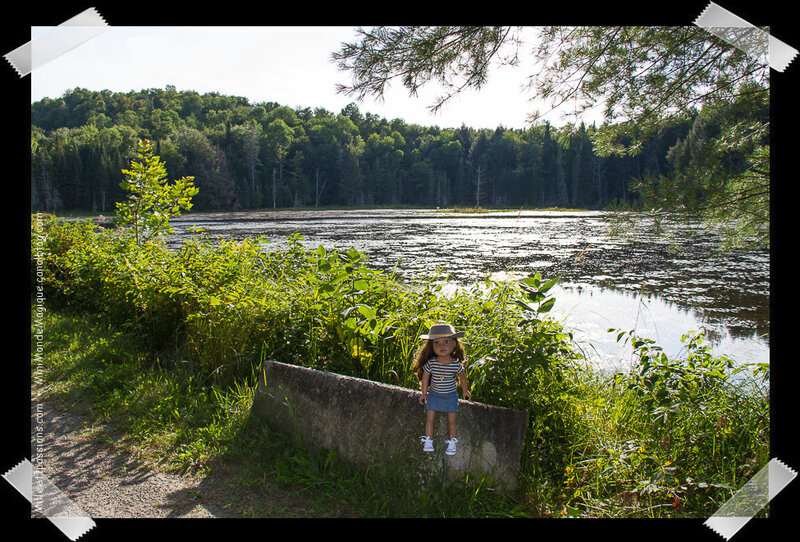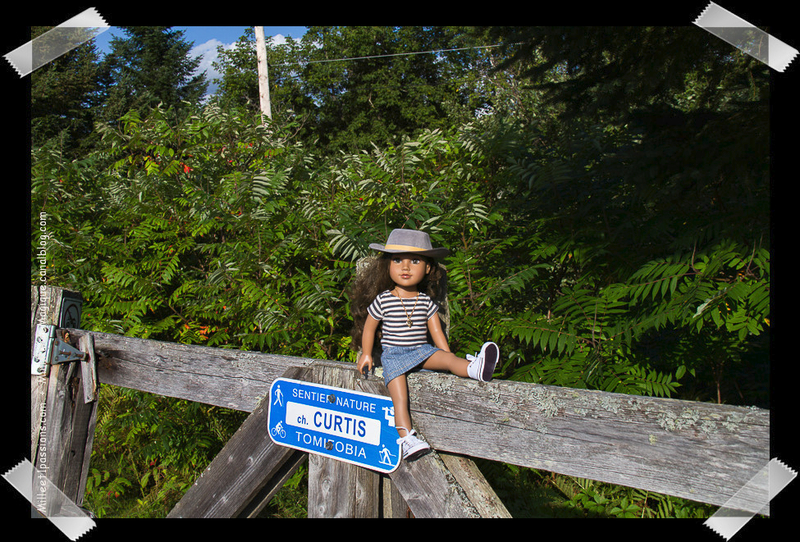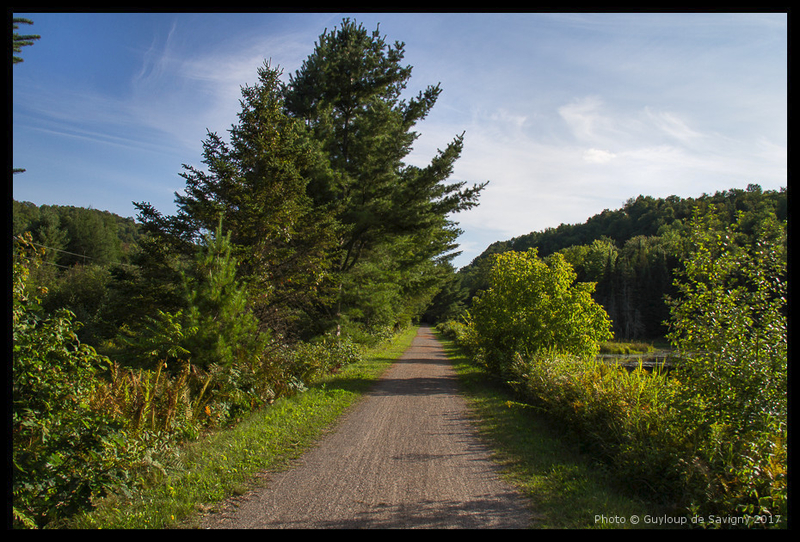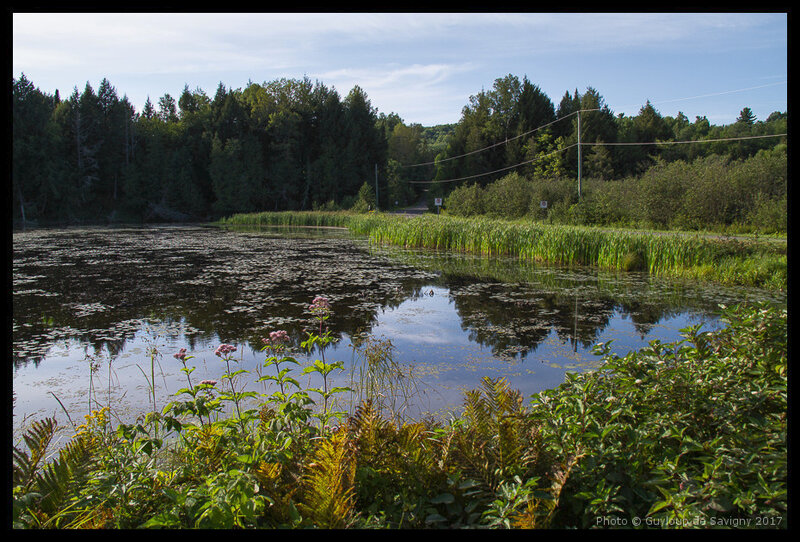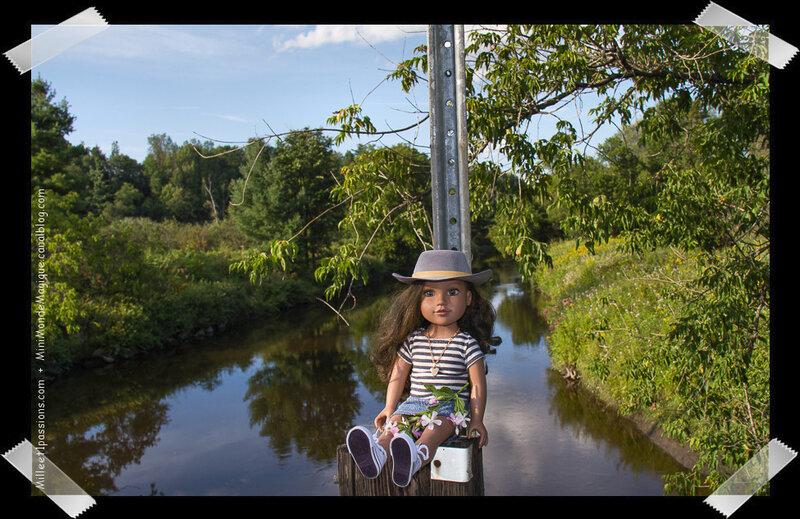 On repart, cette fois, on reprend le chemin de la maison ; tout parait vert, mais on constate que beaucoup d'érables commencent à prendre des couleurs d'automne. C'est que nous sommes à la mi-août déjà.
We set out again, this time, we go back to the house; Everything looks green, but it is clear that many maples are beginning to take on autumn colors. We are in mid-August already.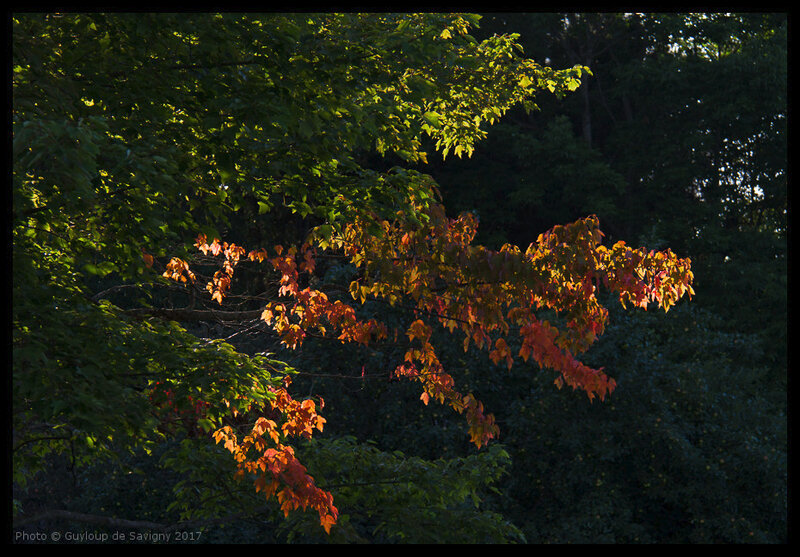 En rentrant, on longe un autre lac ! il y en a partout ici !! cette fois, c'est le lac Massawippi :
On our way back we go along another lake! There are everywhere here !! This time it is Lake Massawippi: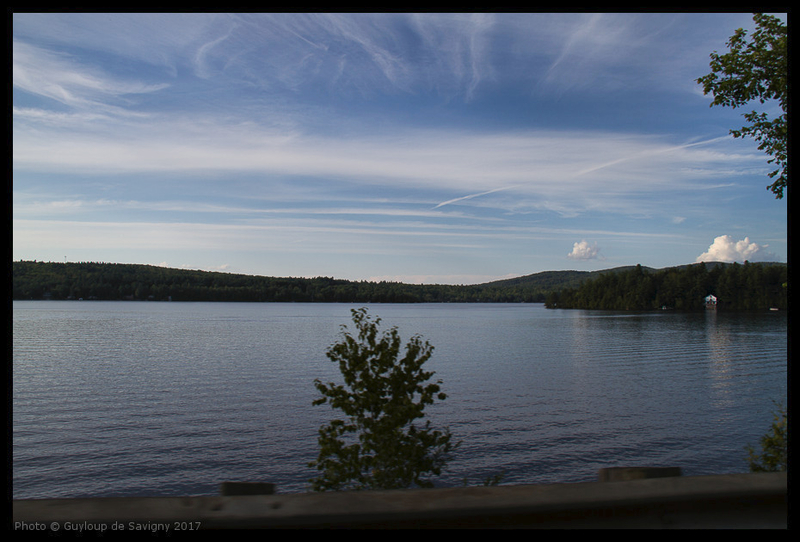 Sur la route, on aperçoit le massif du Mont Orford, où habite Guyloup.
Elle m'a emmenée faire une belle promenade.... j'espère que vous l'avez appréciée aussi ! Bisous, Kyla :-)
On the road, one sees the massif of Mount Orford, where Guyloup lives.
She took me for a nice walk ... I hope you enjoyed her too ! Lot of kisses, Kyla :-)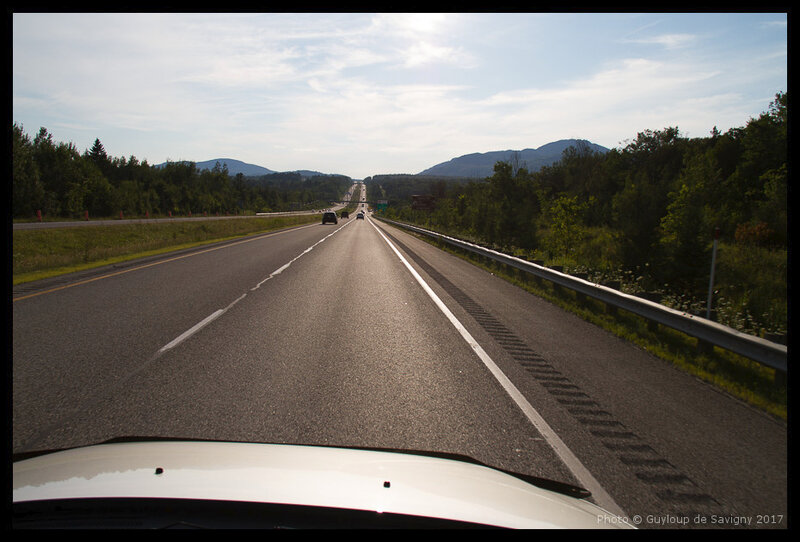 Voilà, je reprends la parole !!!! Comme Kyla, j'espère que vous avez apprécié cette balade photo :-)
Par chance on en a profité, car c'est reparti :
Here, I take the floor !!!! Like Kyla, I hope you enjoyed this photo trip :-)
Luckily we took advantage of it, because it left: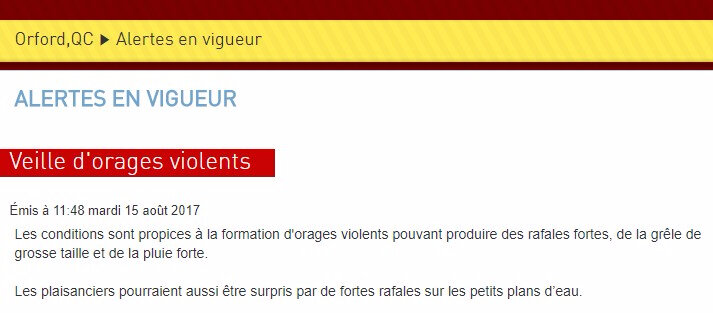 Par chance, pas d'alerte-tornade cette fois... ouf... je déteste ça.

Luckily, no tornado alert this time ... phew ... I hate it.
À bientôt, See you soon,
Guyloup ♥
12 août 2017
8 Teen Trends (les 7 de l'arc-en-ciel + la jolie irlandaise rousse que j'ai customisée récemment (ICI ), cela fait 8 pulls de fin d'été à tricoter !
8 Teen Trends (the 7 of the rainbow + the pretty Irish redhead that I customized recently, this makes 8 summer sweaters to knit!
I am here:
J'en suis là / I am here :
Plus que trois ! Three more !
À gauche, l'originale Deondra - à droite, ma version customisée en irlandaise rousse aux yeux vert profond comme un lac du Connemara + taches de rousseur :
Left, the original Deondra - right, my customized Irish red-haired version with deep green eyes like a Connemara lake + freckles :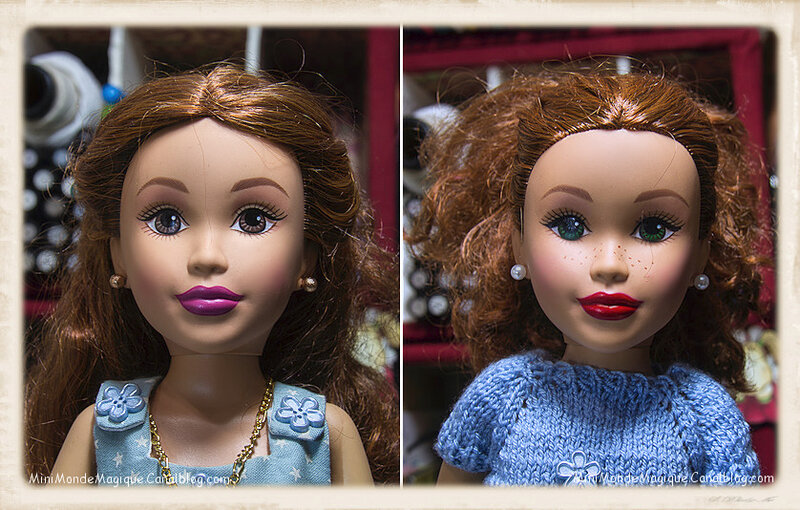 11 août 2017
Un peu de couture pour une nouvelle venue à la maison : Kyla, de la collection Journey Girl (47,5 cm).
Kyla est arrivé involontairement, puisqu'elle accompagnait un objet que j'ai acheté sur une petite annonce.... et finalement, je l'ai trouvée très belle, et surtout très facile à habiller en raison de son gabarit. Du coup, aujourd'hui, je lui ai fait une petite jupe en jean et un un t-shirt marin rayé, pour lequel je me suis appliquée pour placer les rayures, comme pour un vrai !
Toutefois, je dois vous avouer que j'ai eu de l'aide... comme vous pouvez le voir sur la dernière photo !
A little sewing for a newcomer at home : Kyla, from the Journey Girl collection (47.5 cm).
Kyla came at home involuntarily, since she was accompanying an object that I bought on a classified ad .... and finally, I found her very beautiful, and especially very easy to dress because of its template. So, today, I made her a ldenim skirt and a stripped t-shirt, for which I applied myself to place the stripes, as for a real one !.
However, I have to admit that I had some help ... as you can see on the last photo!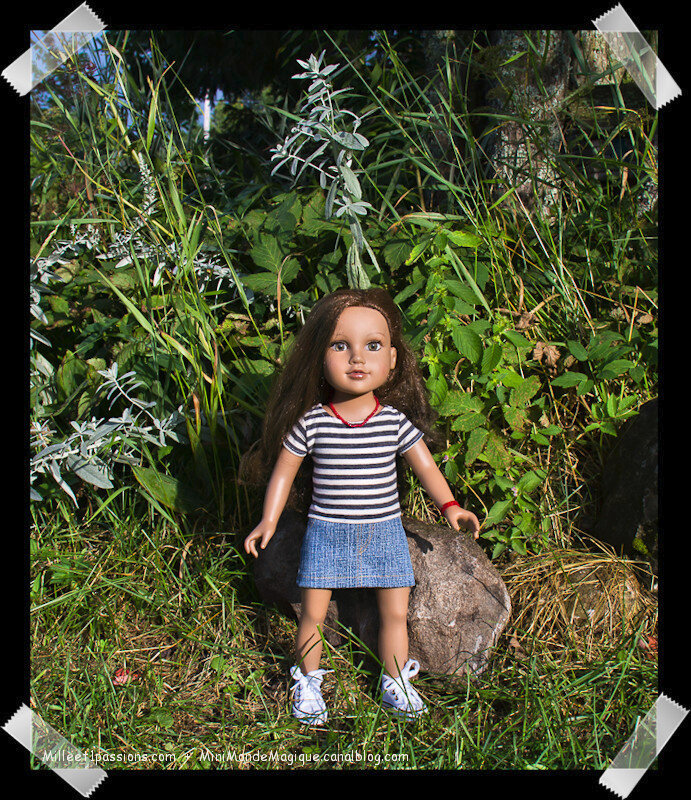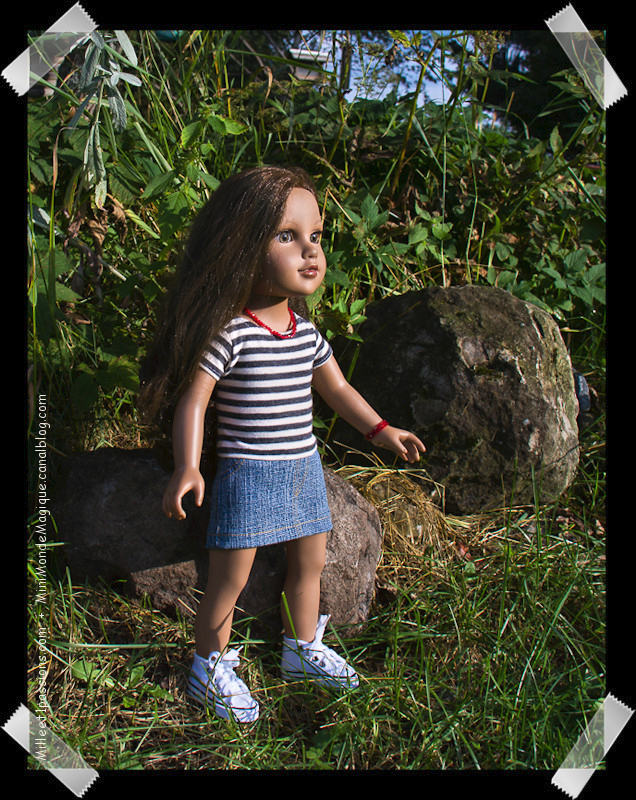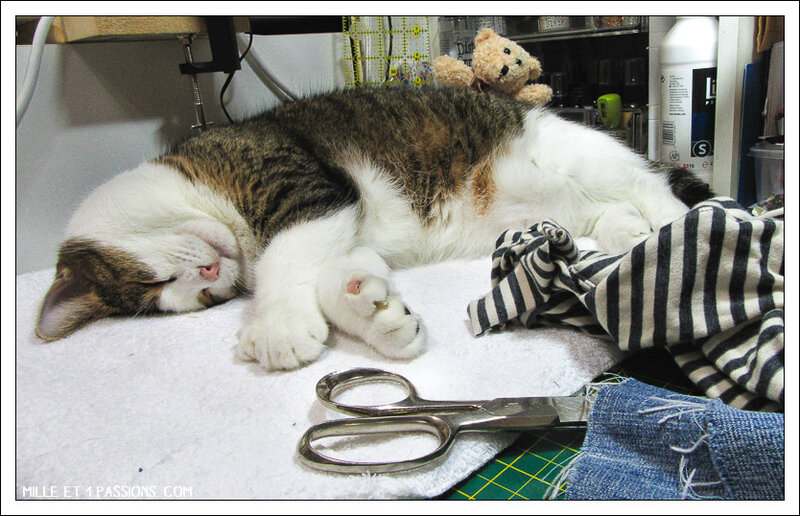 Je ne sais pas si chez vous la météo est correcte, mais chez nous....... on attend encore le vrai été :-( et les étables commencent à faire rougir quelques feuilles, d'autres variétés montrent également des signes de jaunissement.... je ne peux pas croire que 2017 nous aura volé notre été : j'espère encore !!
I do not know if the weather is correct, but at home (border Canada / Vermont) ....... we are still waiting for the real summer :-( and the stables start to blush a few leaves, others Varieties also show signs of yellowing .... I can not believe that 2017 will have stolen our summer: I still hope !!
À bientôt,
Guyloup ♥
31 juillet 2017
J'ai trouvé un agréable tutoriel pour un joli pull ICI , et et j'ai voulu l'essayer.
Le résultat étant très concluant à mon goût, il me reste juste à en tricoter 6 autres pour mon arc-en-ciel Teen Trends !
I found a nice tutorial of a pretty sweater HERE, and I wanted to try it.
The result is very conclusive to my taste, I just have to knit 6 others for my rainbow Teen Trends !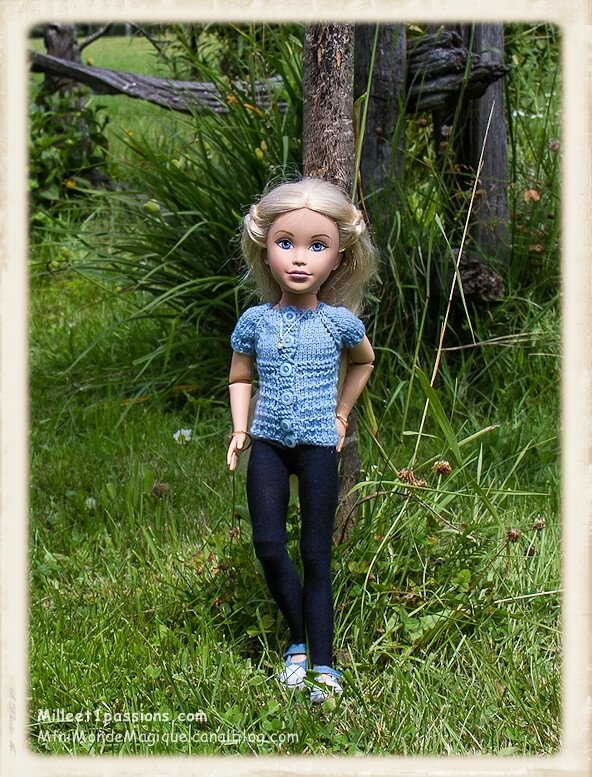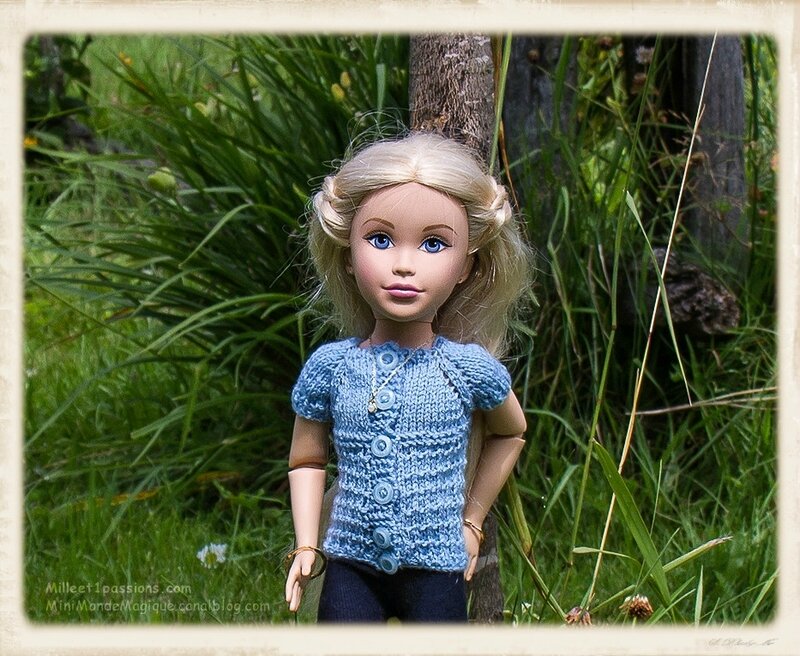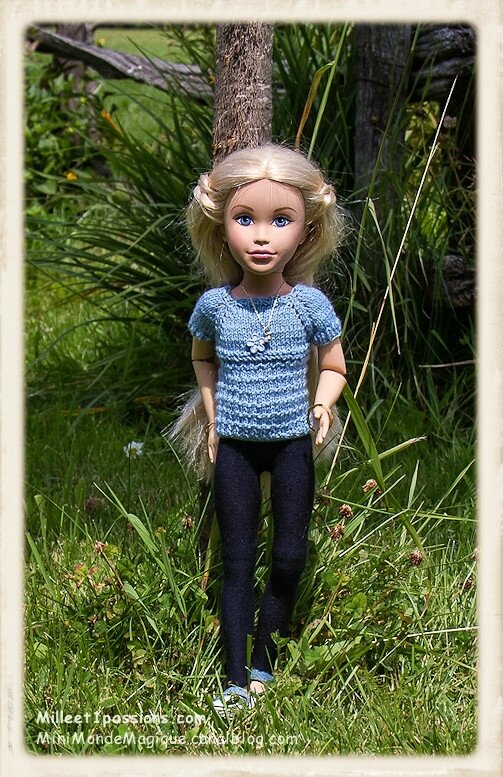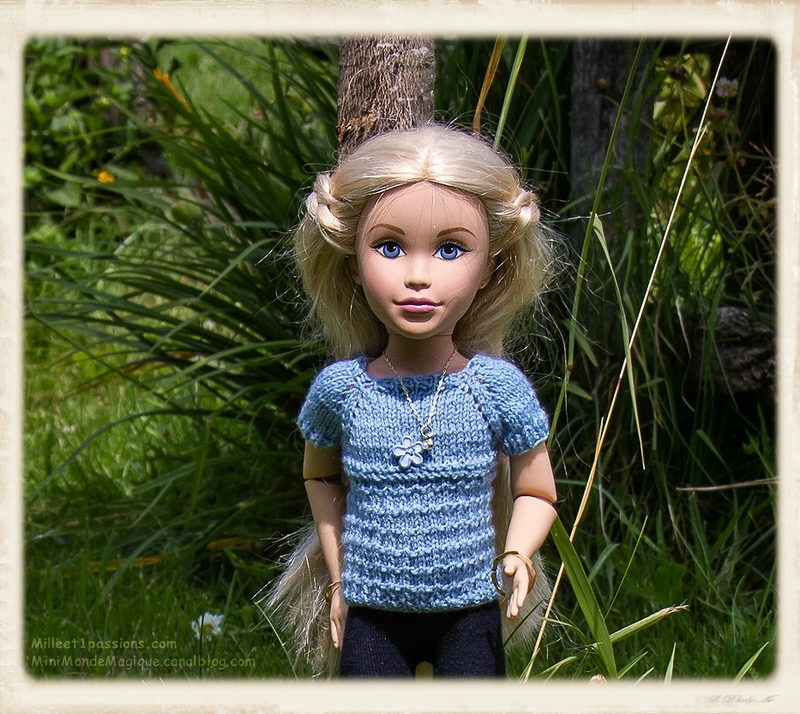 À bientôt / See you soon,
Guyloup ♥
29 juillet 2017
Depuis début juin, notre été ressemble la plupart du temps à ceci :
Since the beginning of June, our summer mostly resembles this: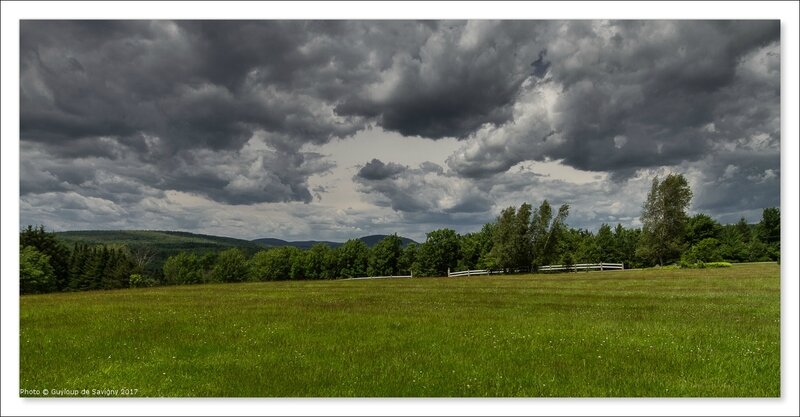 ou d'autre fois, à ceci :
or at other times, to: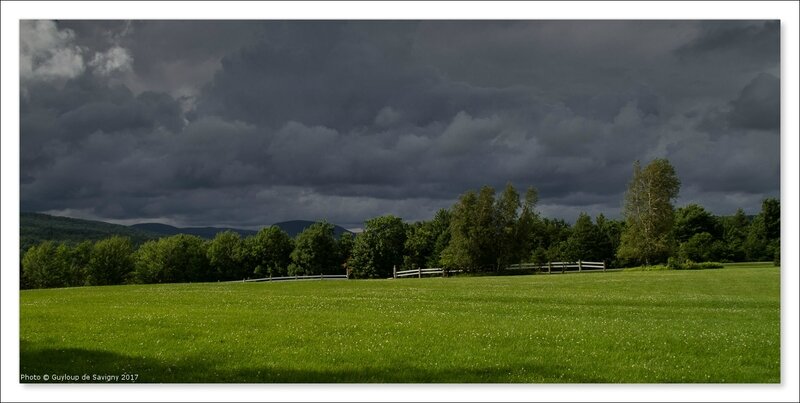 On a parlé de la sixième extinction de masse des animaux qui est commencée (ce qui semble ne faire vibrer personne d'ailleurs, aussi ahurissant que cela paraisse... apparemment personne n'a fait le rapprochement avec l'extinction de masse des dinosaures et ses dramatiques conséquences), mais on n'a pas parlé de l'extinction du soleil quand même !!!
We have spoken of the sixth mass extinction of animals that is started (which seems to make no one else vibrate, as bewildering as it seems ... apparently no one has made the comparison with the mass extinction of the dinosaurs And its dramatic consequences), but we did not talk about the extinction of the sun anyway !!!
Du coup, les tomates ressemblent encore à ceci :
So the tomatoes still look like this: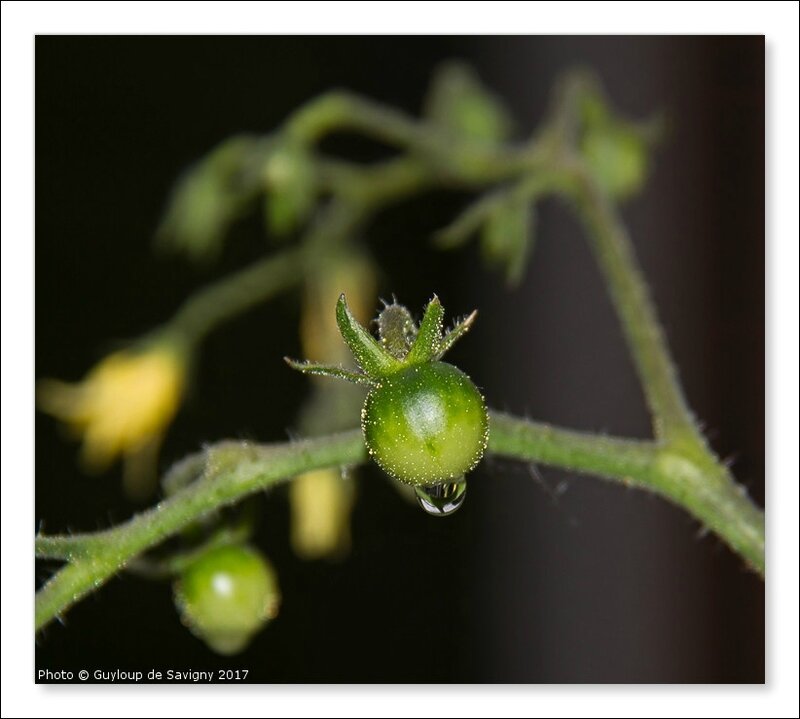 Toutefois, miracle, j'ai vu un bourdon sur le chêvrefeuille (fané depuis, les orages ont eu raison des fleurs) ; je me suis dépêchée de le photographier, quelque fois que ça soit le seul de l'été :-(
However, miracle, I saw a bumblebee on the honeysuckle (faded since, the storms have been right of the flowers); I hurried to photograph it, sometimes it is the only one of the summer :-(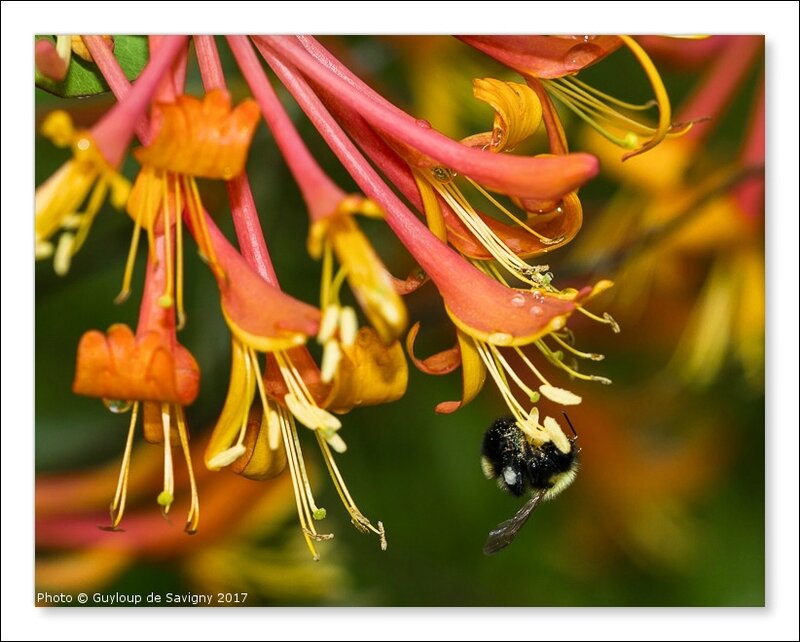 Malgré tout, ma lavande (en pot) a tout de même fleuri..... mais pas un seul papillon ni une seule abeille ne sont venus la butiner, c'est désespérant :
In spite of everything, my lavender (in pot) has still flowered ..... but not a single butterfly or a single bee have come to forage it, it is despairing:
Mais...... pour se remonter le moral, il faut penser à l'amour ! et voici une jolie scène pleine de tendresse. Les photos ne sont pas terribles, prises de très loin au téléobjectif (pour ne pas déranger ces amoureux !), et surtout fortement éclaircies car il faisait sombre.
But ...... to cheer up, you have to think about love! And here is a pretty scene full of tenderness. The photos are not terrible, taken from far to telephoto (not to disturb these lovers!), And especially heavily thinned because it was dark.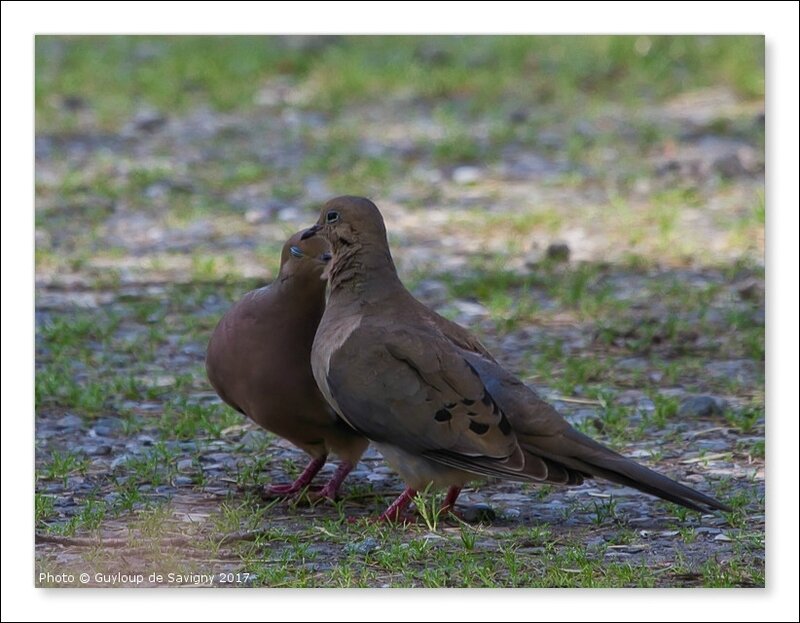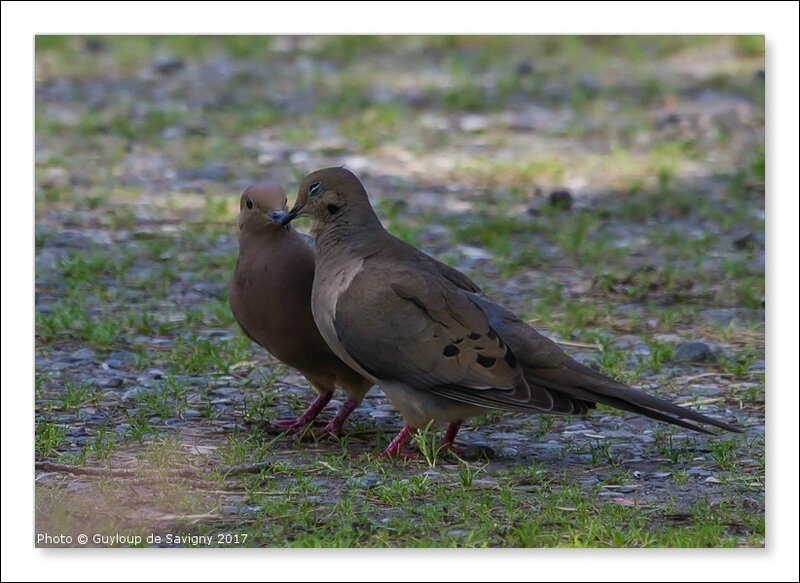 N'est-ce pas adorable ?

Is not it adorable?
À bientôt, See you soon,
Guylaine ♥