18 septembre 2018
Aujourd'hui, en compagnie de Belle et Ethan, nous sommes allés nous promener au Sanctuaire du Sacré-Coeur de Beauvoir.
Situé au cœur d'un immense magnifique site boisé, sur une très haute colline permettant de contempler une partie de la ville de Sherbrooke, il est constitué d'une chapelle, d'une église et d'un ensemble de sentiers boisés bordés de statues religieuses.
Son histoire : en 1915 l'abbé Laporte a acheté la colline et ses environs pour s'y construire une petite résidence d'été ; vers 1920 s'y est ajouté une chapelle. En 1944 les religieuses des Filles de la Charité ont établi une permanence au sanctuaire qui est ensuite passé sous la direction des Pères Maristes. Le sanctuaire accueille environ 1500 pèlerins durant l'été, et est ouvert toute l'année aux visiteurs.
Voici quelques photos du sanctuaire et de ses environs :
Today, with Belle and Ethan, we went for a walk to the Sanctuary of the Sacred Heart of Beauvoir.
Located in the heart of a huge beautiful wooded site, on a very high hill to contemplate part of the city of Sherbrooke, it consists of a chapel, a church and a set of wooded trails lined with statues religious.
His story: in 1915 Father Laporte bought the hill and its surroundings to build a small summer residence there; around 1920 a chapel was added. In 1944 the nuns of the Daughters of Charity established a permanent at the shrine which later came under the direction of the Marist Fathers. The sanctuary hosts about 1500 pilgrims during the summer, and is open all year to visitors.
Here are some pictures of the sanctuary and its surroundings :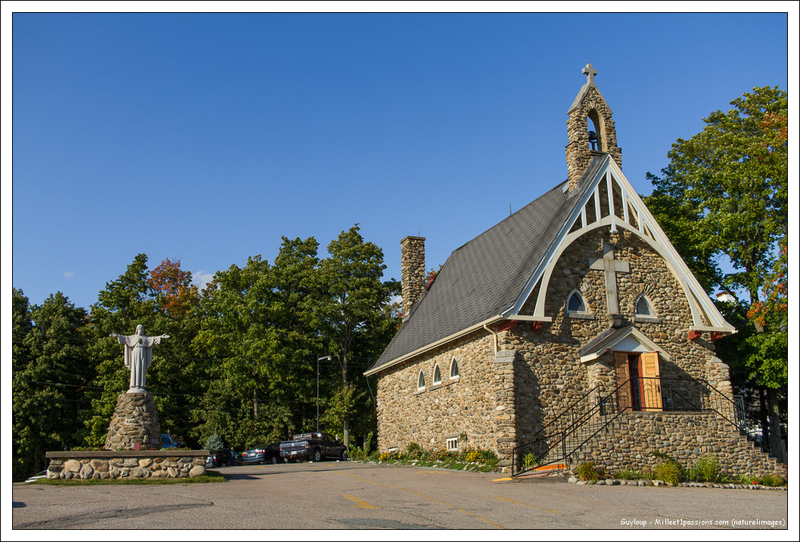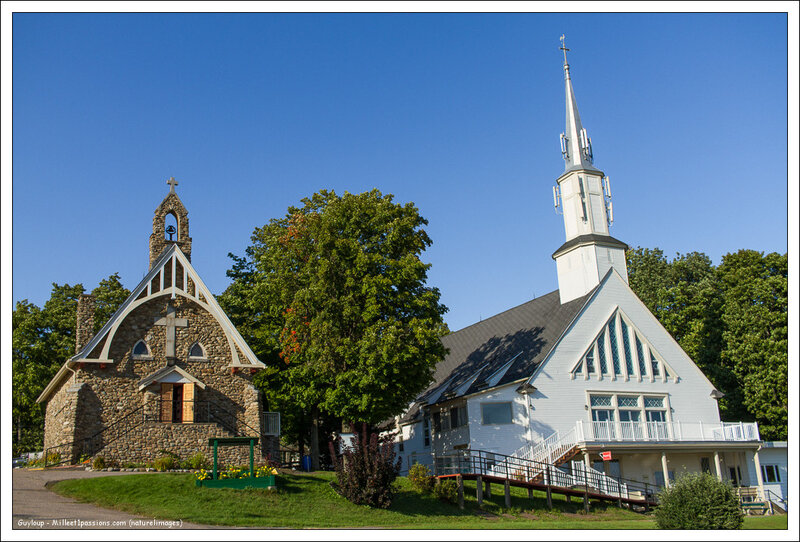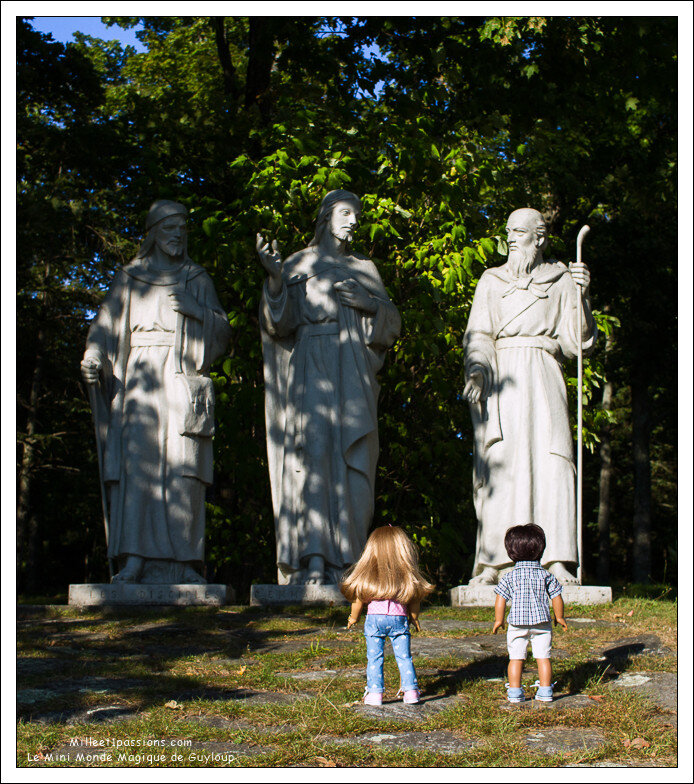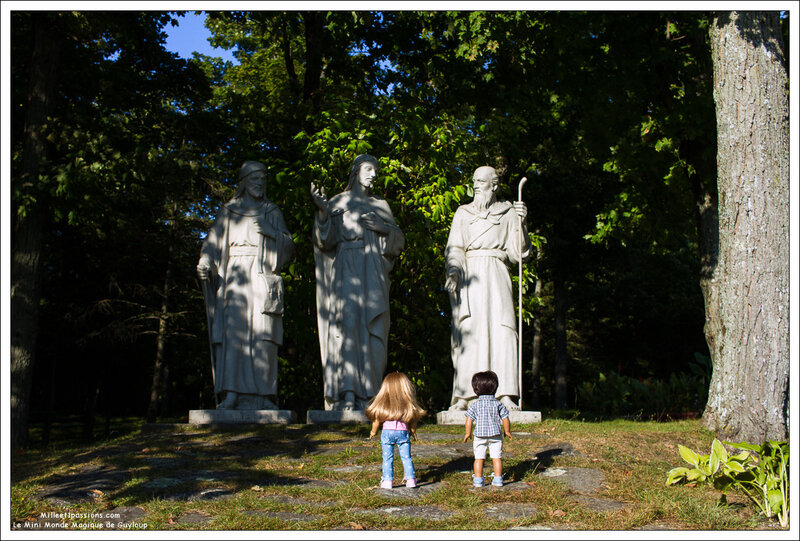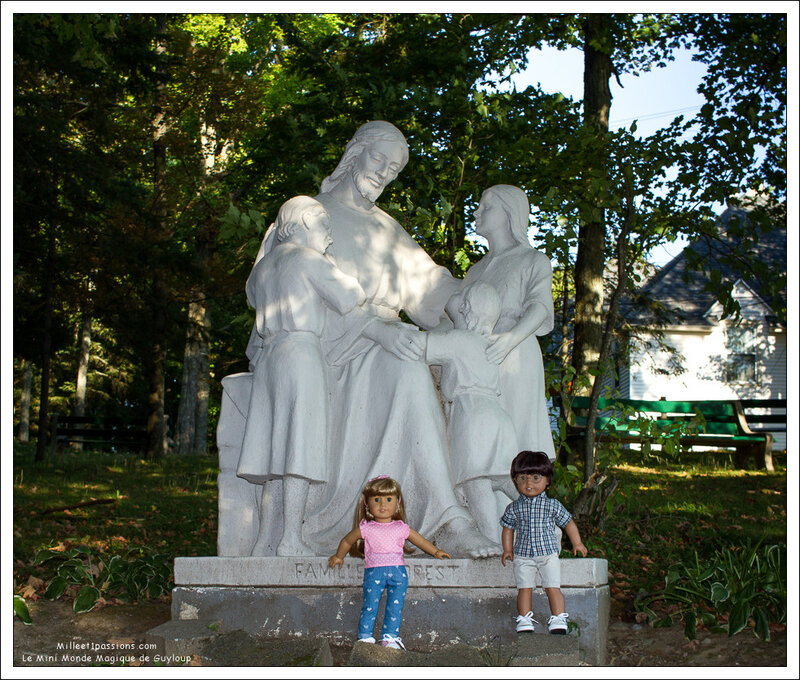 Vue depuis le sanctuaire sur une partie de la ville de Sherbrooke :
View from the sanctuary on part of the city of Sherbrooke :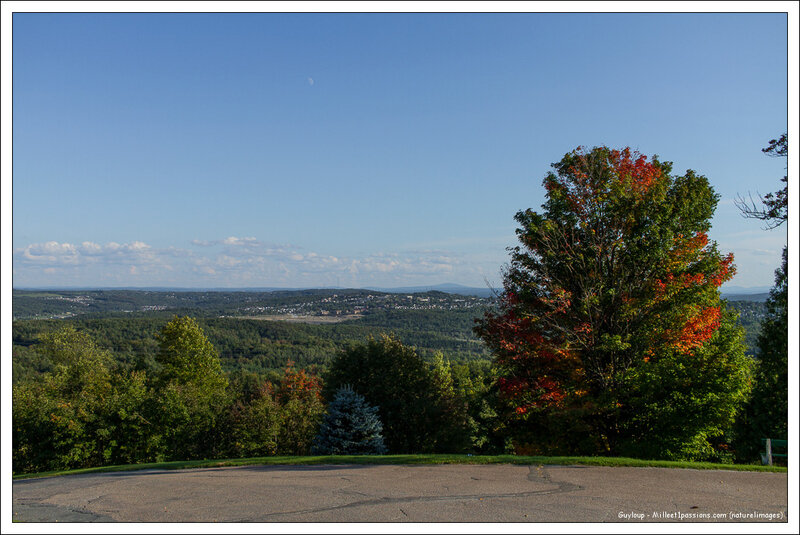 On quitte le sanctuaire, et on redescend :
We leave the sanctuary, and we go down again: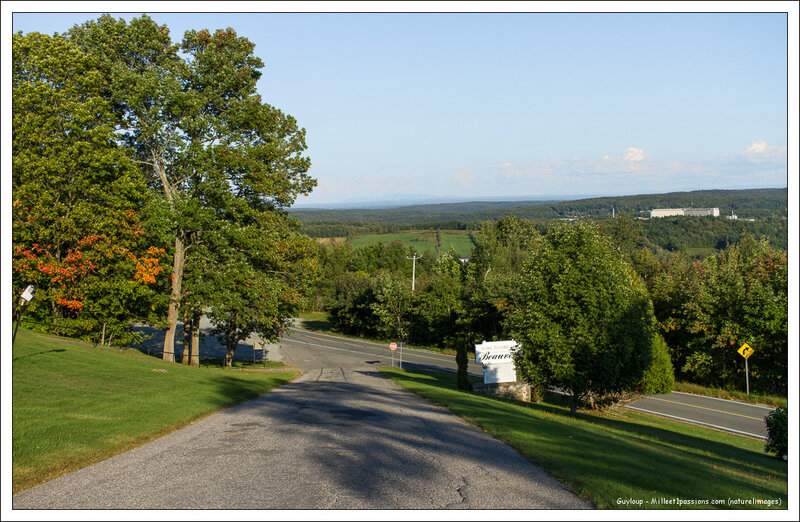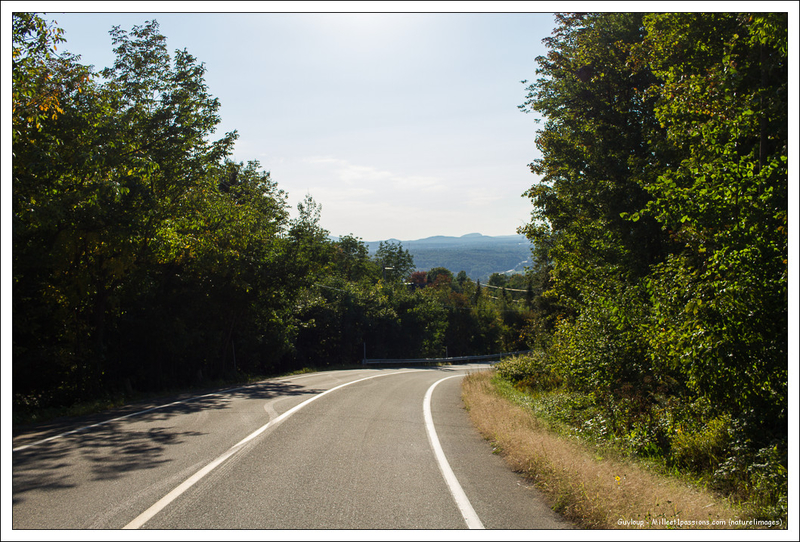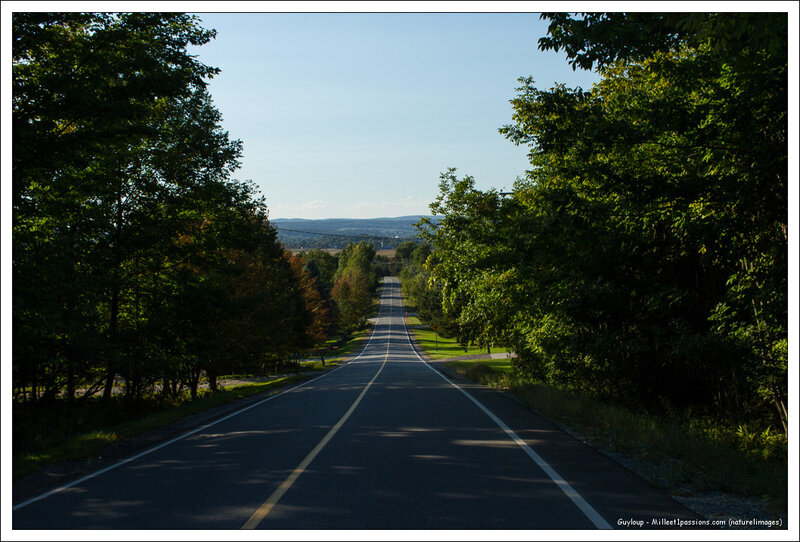 À bientôt pour une nouvelle promenade dans la campagne qui hésite à prendre des couleurs d'automne :-)
See you soon for a new walk in the countryside who hesitates to take autumn colors :-)
♥♥♥
16 septembre 2018
As-tu vu la beauté de cette échinacée pourpre ? demande Émilie à Belle.
Have you seen the beauty of this purple echinacea? Emily asks Belle.
Oh la la, les filles sont encore en train de parler de fleurs, on n'est pas sortis de sitôt du parc, dit Ludovic à Ethan !
Oh dear, the girls are still talking about flowers, we're not out of the park anytime soon, said Ludovic to Ethan !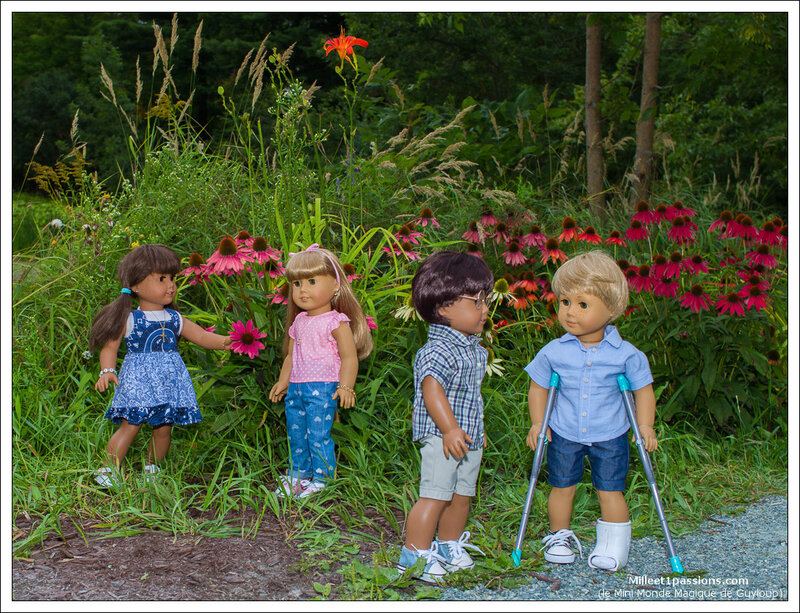 Pourquoi les garçons et les filles n'aiment-ils pas les mêmes choses ?
Why do not boys and girls like the same things ?
Passez une bonne semaine / have a good week
♥♥♥
15 septembre 2018
Cet après-midi, Charlotte est allée faire un tour dans le jardin avec son chien.
Elle a enlevé son gilet car il faut en profiter : après le petit coup de froid de la semaine dernière, nous avons droit à 5 journées de "chaleur" (25°) avant la rechute définitive dans le courant de la semaine.
Elle a constaté que le "presque gel" durant 2 nuit la été dur pour les fleurs.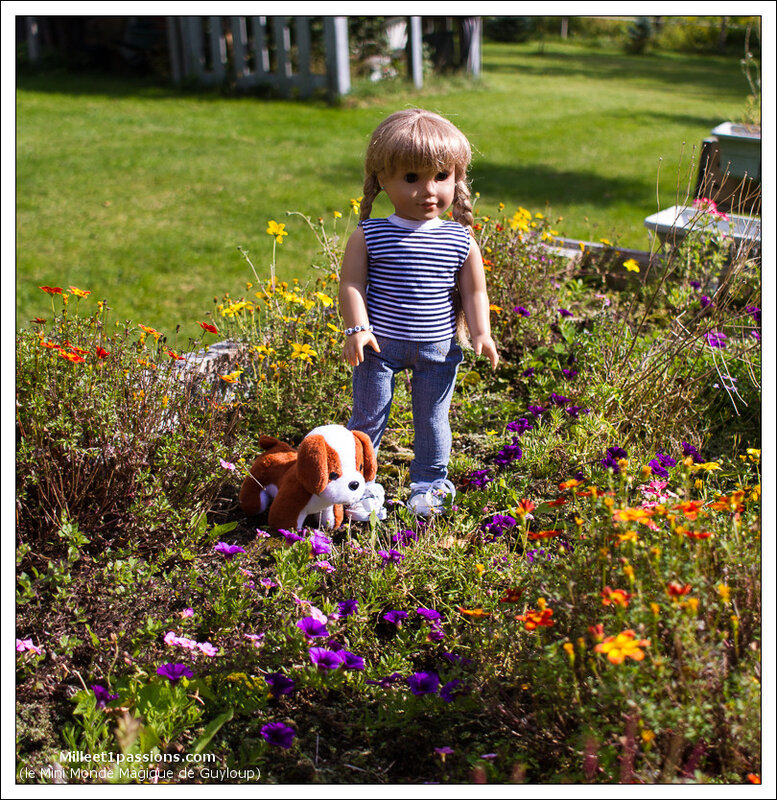 Mais....... oh.... miracle : elle a vu UNE ABEILLE !! la première vraie abeille de l'année... à la mi-septembre, c'est grave.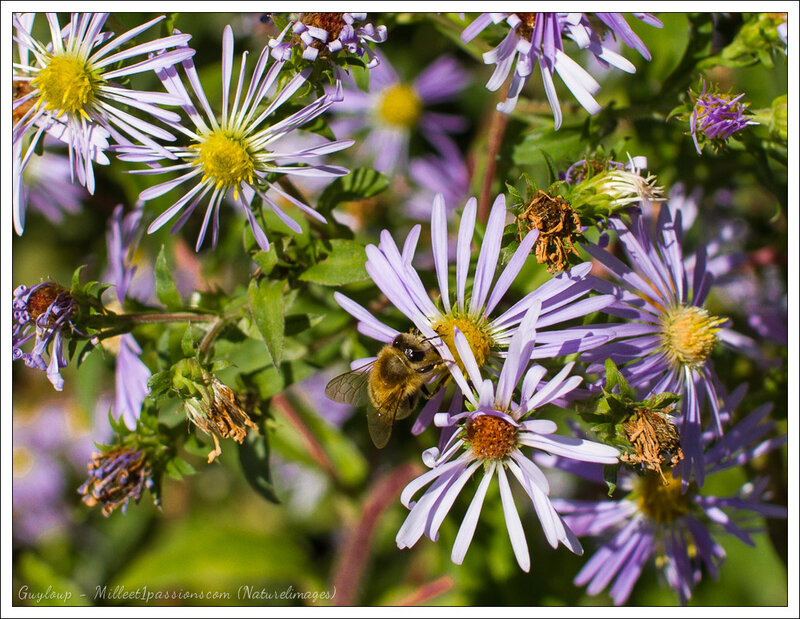 N'est-ce pas dramatique quand on en arrive à s'émerveiller d'avoir vu UNE abeille ?
Il serait temps que des lois interdisant les pesticides néfastes pour les insectes, et les abeilles en particulier (et pas seulement les néonicotinoïdes) soient votées ici aussi.
En continuant sa promenade, Charlotte a regardé les si gracieux hydrangeas ...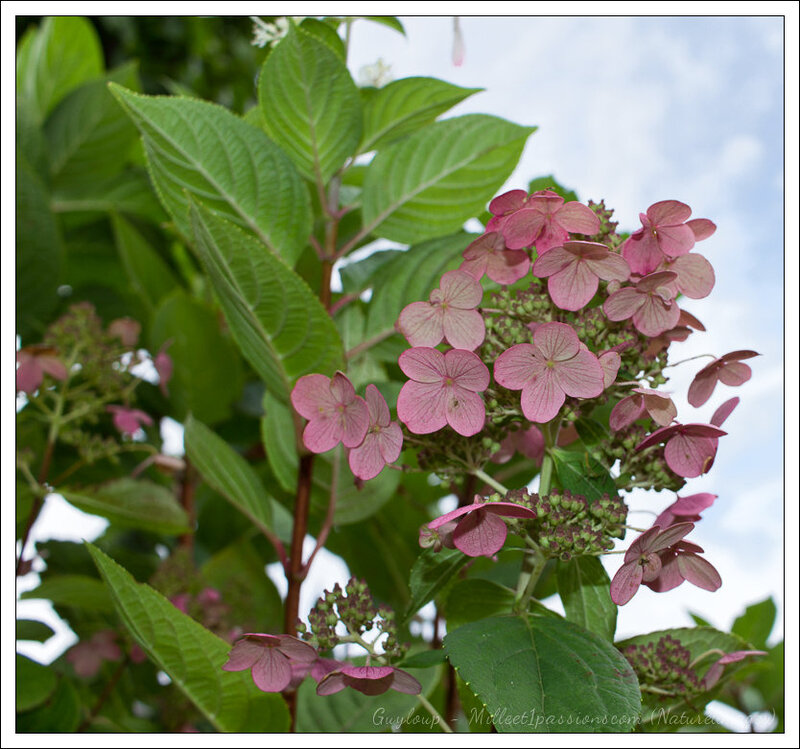 .Surprise : là aussi un petit insecte (peut être un oecanthe, mais sans certitude), se prélassait dans la douceur de l'après-midi.
"Il faut absolument faire quelque chose pour protéger les insectes, m'a dit Charlotte. Si on demandait à Papounet de construire quelques hôtels à insectes dans le jardin ?"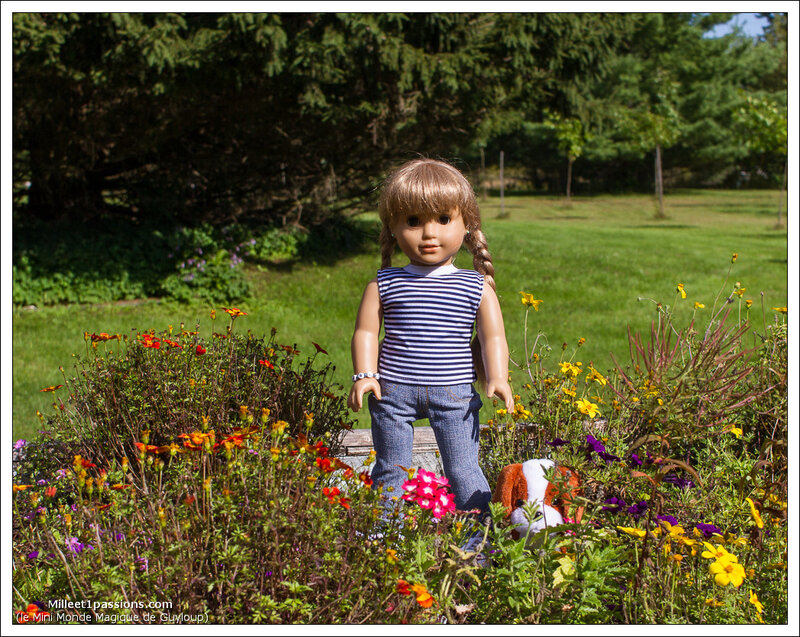 En voilà une bonne idée, lui ai-je répondu.
Connaissez-vous les hôtels à insectes ? je suis certaine que oui. Pour celles qui ne connaissent pas, voici la définition du net :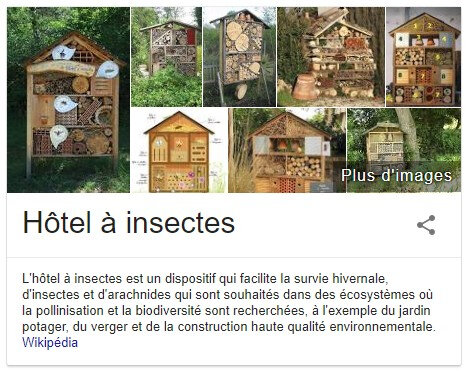 Si vous êtes intéressée à en installer un quelque part, voici quelques indications :
http://www.terrevivante.org/237-construire-un-hotel-a-inscetes.htm
http://espacepourlavie.ca/blogue/bricoler-un-hotel-a-insectes
http://www.gammvert.fr/conseils/conseils-de-jardinage/installer-un-hotel-a-insectes
https://www.jardinsdefrance.org/abris-a-insectes-les-conseils-dun-pro/
https://www.lecrapaud.org/tout-savoir-sur-les-hotels-a-insectes/
Vous constaterez que Charlotte s'est laissé pousser les cheveux durant l'été ! elle a été ma première American girl entrée dans la maison, achetée d'occasion sur une petite annonce l'hiver dernier, ses cheveux étaient courts ; la voici avant/maintenant :
Mais oui : les cheveux de poupée, ça pousse, la preuve !!!
Bon dimanche / Have a nice Sunday
♥♥♥
Pendant que ses amis pêchent, Charlotte remet chaque poisson à l'eau... après l'avoir sermonné pour qu'il soit plus prudent à l'avenir !!
Ils sont tous d'accord : pas questions de faire du mal à un gentil petit poisson.

While her friends are fishing, Charlotte puts each fish back in the water ... after having scolded it so that it is more cautious in the future !!
They all agree: no questions to hurt a nice little fish.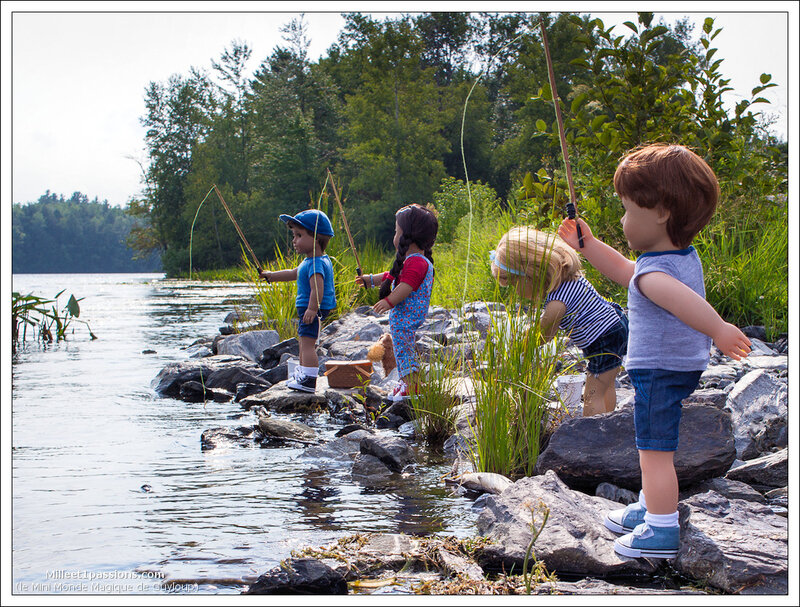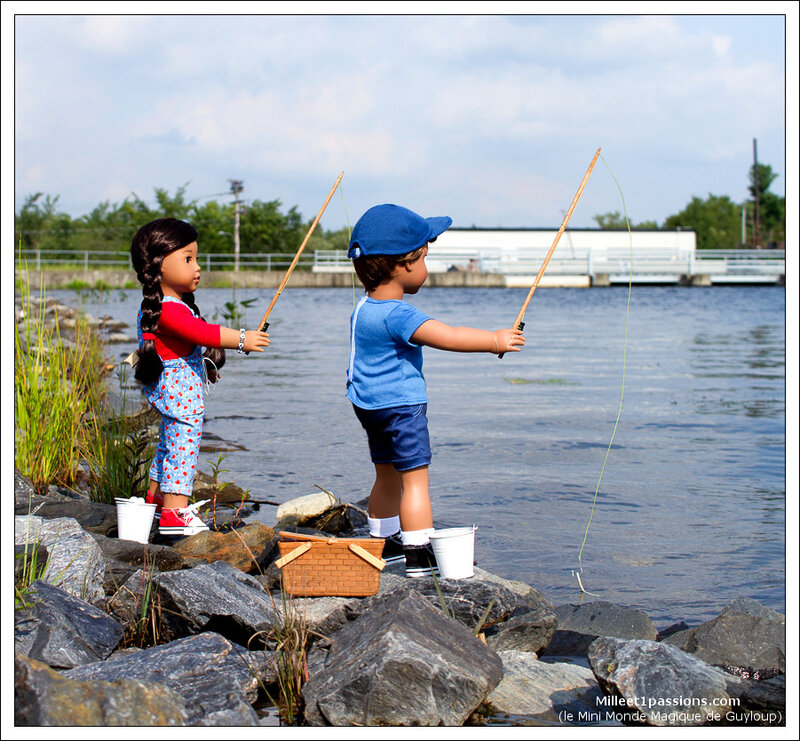 Les cannes à pêche (avec "moulinet" !) sont de ma fabrication, ainsi que les poissons (en feutrine !!).
Fishing rods (with "reel"!) Are my manufacture, as well as fish (felt !!).
Bon samedi - Happy Saturday
♥♥♥
13 septembre 2018
Le soleil est revenu, et la chaleur avec, pour toute une semaine encore... tant mieux, c'est toujours ça de gagné sur l'automne et son ami proche l'hiver ! Seul hic : la forte pluie annoncée pour l'arrivée de la "queue" de la tempête tropicale n'a duré en réalité que deux heures, et les rivières sont toujours aussi basses.
Bref, nous en avons profité cet après-midi, et nous sommes allés nous promener autour du lac Memphrémagog, en compagnie de Isabelle et son copain Ethan, qui n'avait pas oublié son appareil photo.
The sun is back, and the heat with, for a whole week yet ... so much the better, it's still won over the fall and his close friend the winter! Only problem: the heavy rain announced for the arrival of the "tail" of the tropical storm lasted only two hours, and the rivers are still low.
In short, we enjoyed this afternoon, and we went for a walk around Lake Memphremagog, with Isabelle and her boyfriend Ethan, who had not forgotten his camera.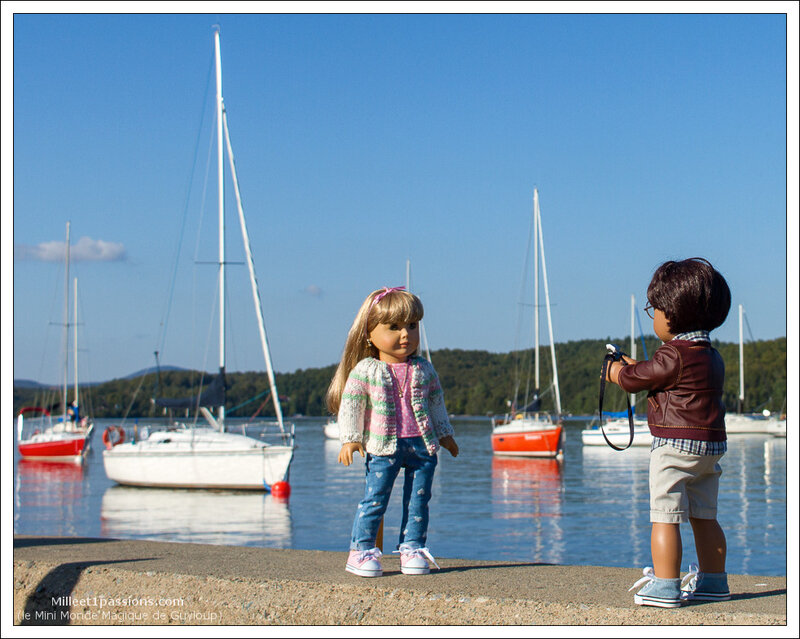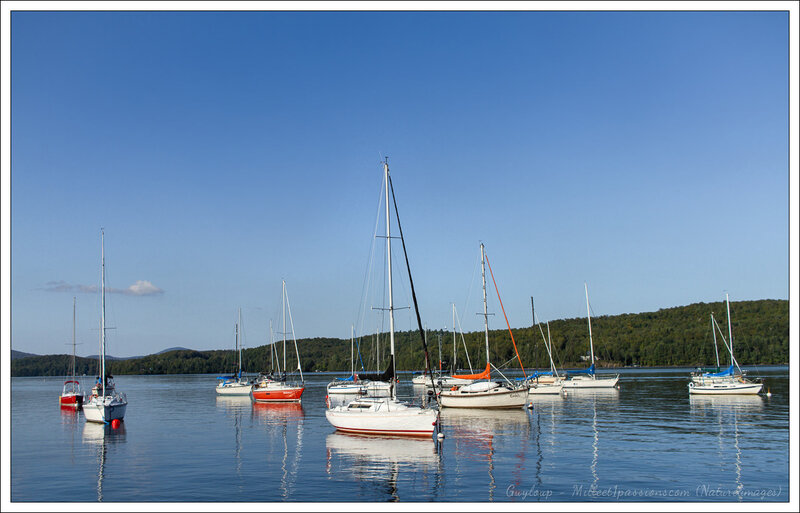 Bon vendredi / Have a nice Friday
♥♥♥
12 septembre 2018
En fin d'après-midi, en allant faire des courses, j'ai croisé une bande d'enfants qui se promenaient le long de la rivière.
Une fois les courses terminées, lorsque je suis rentrée, j'ai pu admirer un merveilleux spectacle de la nature au soleil couchant sur le Mont Orford.
In the late afternoon, going shopping, I met a bunch of children who were walking along the river.
Once the shopping was over, when I returned, I admired this wonderful spectacle of nature at sunset on Mount Orford.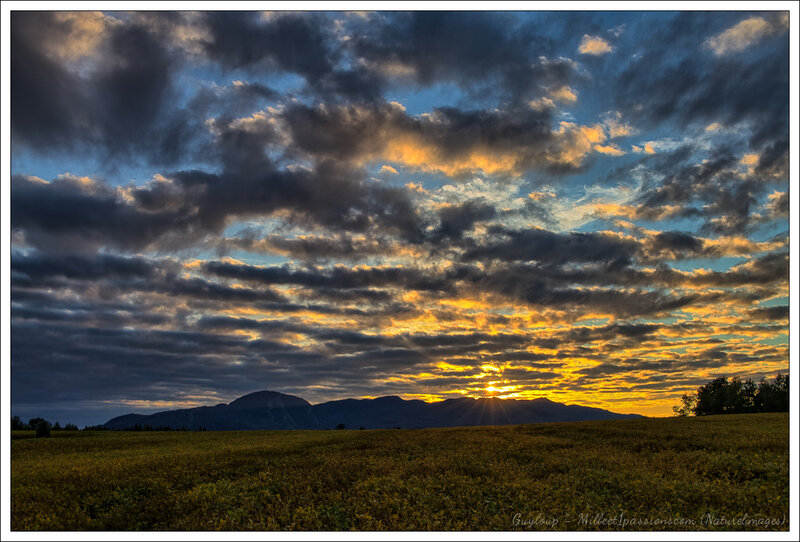 J'espère que ces images pleines de couleurs et d'air frais vous feront démarrer la journée avec entrain :-)
I hope that these images full of colors and fresh air will make you start the day with enthusiasm :-)
Bonne journée / Have a nice day :-)
♥♥♥
11 septembre 2018
Retour sur une promenade un jour de beau temps, fin août exactement. Je vous emmène faire un tour vers Barnston, près de la frontière.
Return on a walk a day of good weather, end of August exactly. I'll take you on a trip to Barnston, near the border.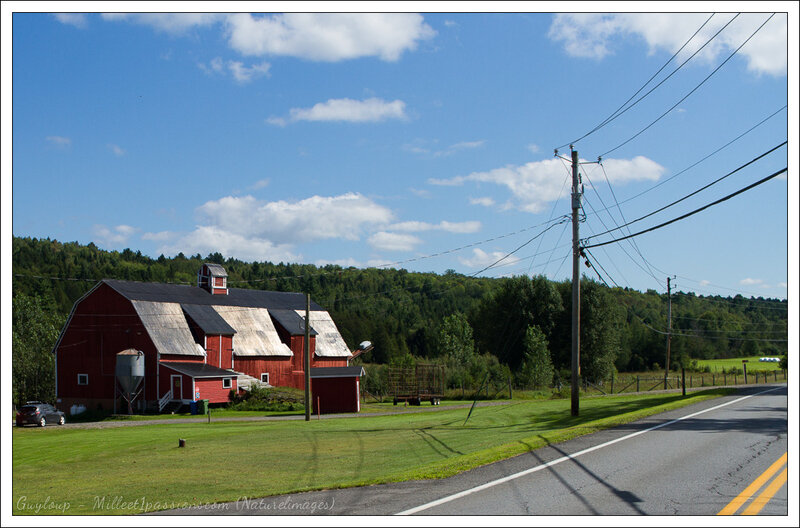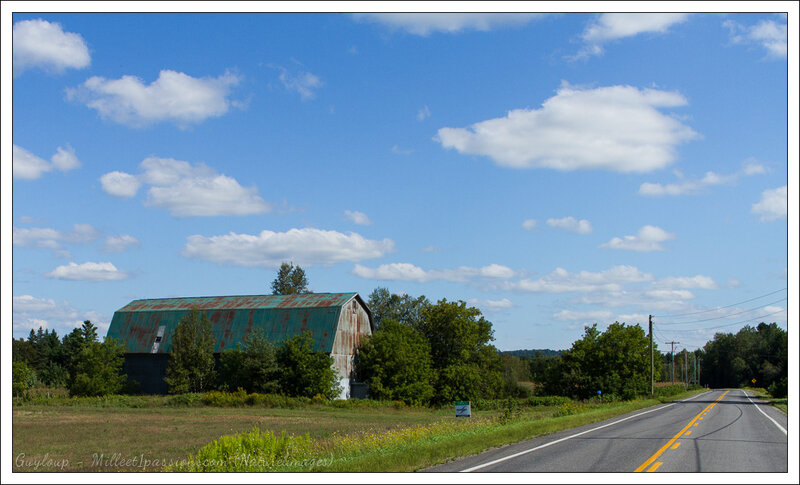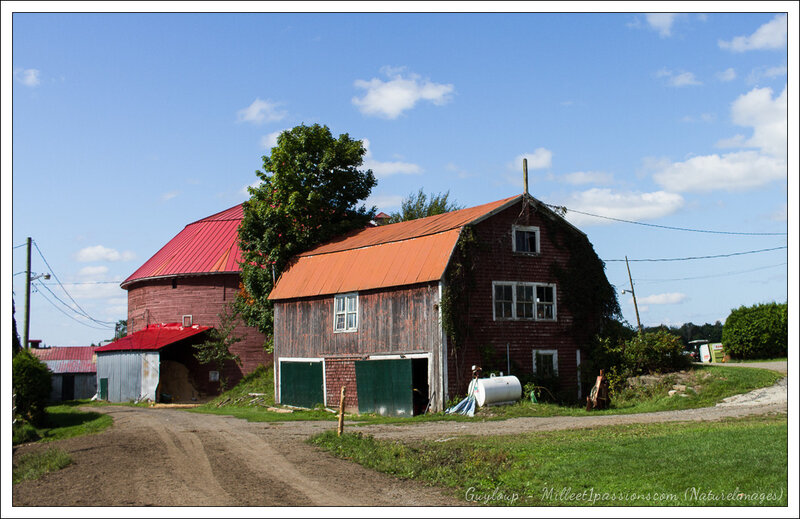 La même vieille grange en noir et blanc, pour faire encore plus ancien :
The same old barn in black and white, to make even older :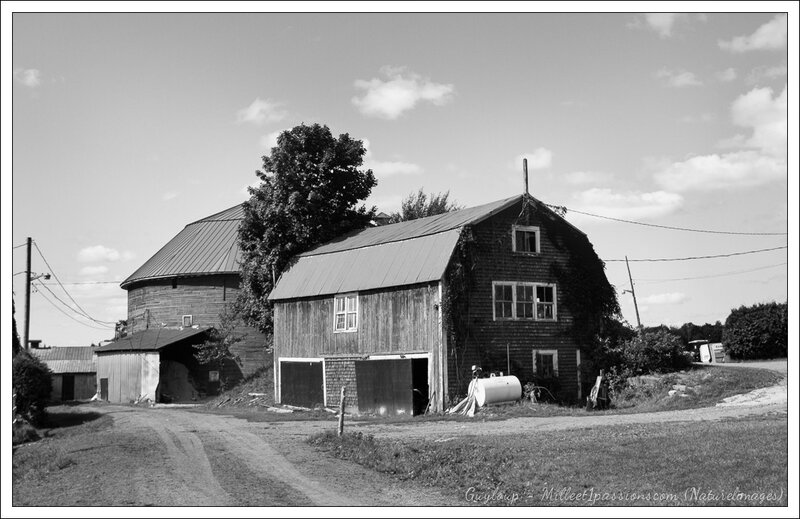 Nos rivières, toujours à sec ou presque :
Our rivers, always dry or almost :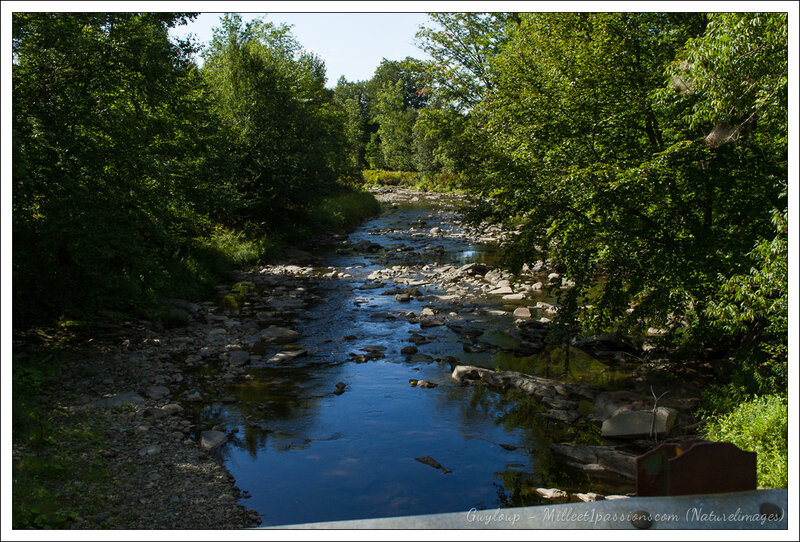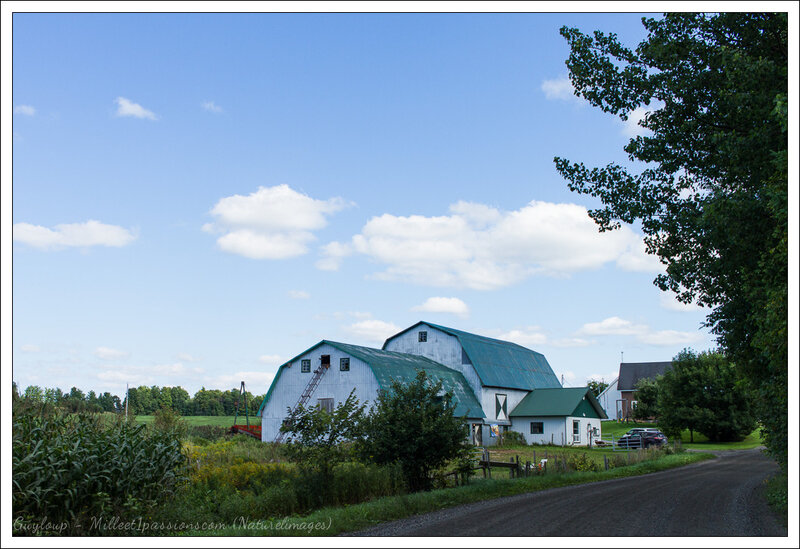 Une biche et son faon qui traversaient la route... je crains tellement pour eux dans quelques jours, quand les cinglés de la gachette , hommmes-femmes et enfants, avec arcs, arbalètes et fusils à lunette, vont encore massacrer tout ce qui bouge, portant poils et plumes...
A doe and her fawn crossing the road ... I fear so much for them in a few days, when the foolish morons of the gachette, men-women and children, with bows, crossbows and sniper rifles, will still massacre everything who moves, wearing hairs and feathers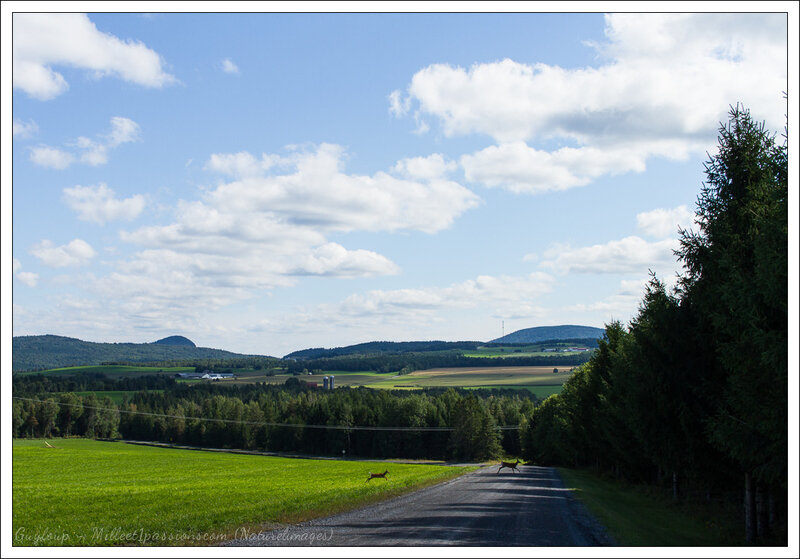 Quoi qu'il se passe, le soleil est toujours au bout de la route :
Whatever happens, the sun is always at the end of the road :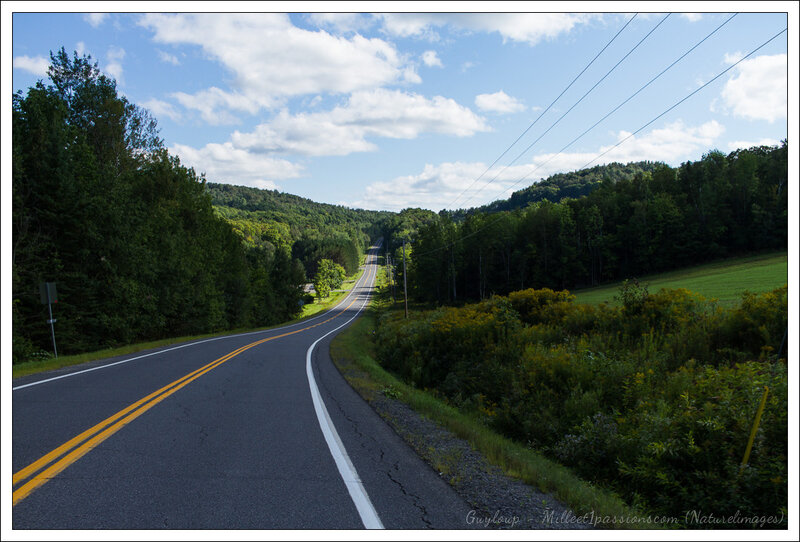 J'avais emmené Charlotte et Bastien. Ils se sont arrêtés devant des vaches, et j'ai entendu Bastien poser cette question bizarre :
- à ton avis, ça représente combien de bouteilles de lait ?
I took Charlotte and Bastien for the ride. They stopped in front of cows, and I heard Bastien ask this weird question :
- In your opinion, how many bottles of milk ?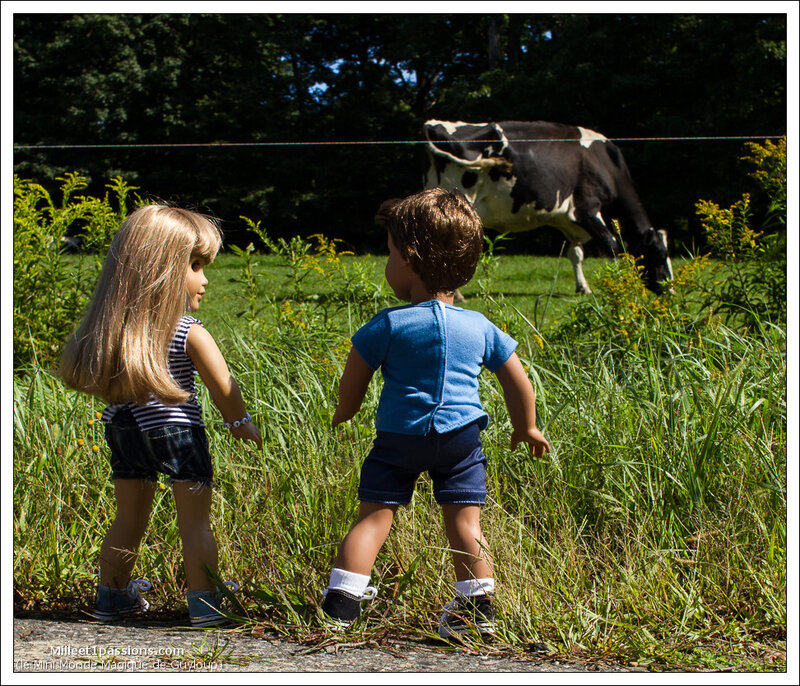 Bon mercredi / Have a nice Wednesday :-)
♥♥♥
Et de 4 gilets ! cette fois j'ai utilisé les 4 pelotes multicolores que j'avais trouvées chez Michaels (gamme Abby). Malheureusement, ils ne les ont pas continuées cet automne et il n'y en a plus depuis que la nouvelle collection de saison est arrivée.
And 4 vests! this time I used the 4 multicolored balls that I had found in Michaels (Abby range). Unfortunately, they have not continued this fall and there is none since the new season collection has arrived.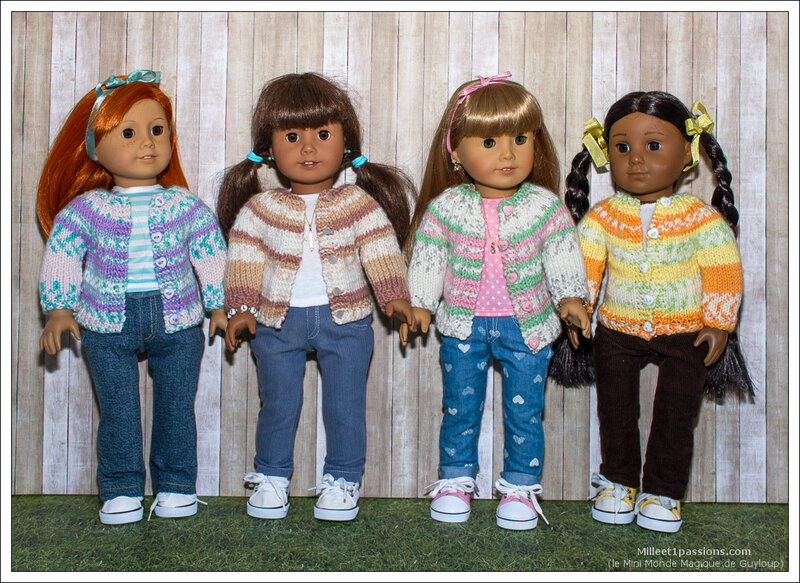 et voici 2 pulls tricotés avec la même méthode que les gilets ci-dessus :
and here are 2 sweaters knitted with the same method as the vests above :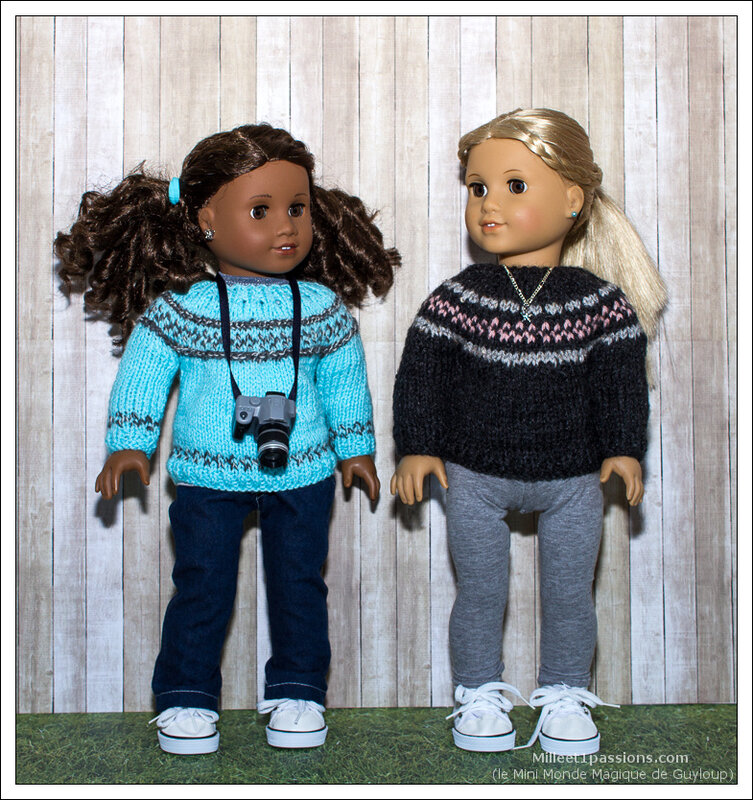 En effet, l'avantage de ce pull-gilet est qu'il est réversible, et peut être mis d'une manière ou d'une autre, selon l'envie du jour.
J'ai fait un tutoriel "pour débutante" sur ce pull-gilet pour poupées 18 pouces/46 cm de type American Girls et Journey girls.
Ma méthode n'est peut être pas très orthodoxe, mais elle est très efficace !
Vous pouvez le télécharger ici : TUTORIEL_PULL_GILET (un commentaire serait apprécié !)
Que mes amies anglophones soient patientes, je sais qu'on me l'a demandé plusieurs fois, mais il me faut le temps de raduire ce tutoriel avec les expressions et abbréviation du tricot en anglais car elles sont très très différentes des expressions en français.
Indeed, the advantage of this sweater-vest is that it is reversible, and can be put one way or another, according to the desire of the day.
I made a tutorial "for beginner" on this sweater-vest for 18 inches dolls as American Girls and Journey girls.
My method may not be very orthodox, but it is very effective!
You can download it here in french : TUTORIEL_PULL_GILET
That my English-speaking friends are patient, I know that I have been asked several times, but I need time to translate this tutorial with the expressions and abbreviation of knitting in English because they are very very different from the expressions in French.
♥♥♥
09 septembre 2018
La nuit dernière, nous avions un avertissement météo de gel au sol ; du coup, les "enfants" se sont couverts pour sortir, et les filles ont mis les pulls que je viens de leur tricoter avec cette superbe laine aux tons variés qui fait du Jacquard toute seule (ou presque).
Donc cet après-midi, ma belle Isabelle, accompagnée de son amie Émilie et son frère Ethan, sont allés à la rencontre d'une nouvelle venue : la rousse Juliette. En fait, Juliette n'est autre qu'une des poupées que j'avais transformées en garçon, mais que j'ai re-transformée en fille car je trouvais qu'il manquait une rousse dans ma collection d'American girls.
Les 4 amis sont allés se promener dans un champ dominant le lac Memphrémagog, avec le Mont Orford en arrière-plan.
Last night, we had a weather warning of freezing on the ground ; so, the "children" have covered themselves to go out, and the girls put the sweaters that I just knit them with this superb wool in various tones which makes Jacquard alone (or almost).
So this afternoon, my beautiful Isabelle, accompanied by her friend Émilie and her brother Ethan, went to meet a newcomer : the redhead Juliette. In fact, Juliet is no other than one of the dolls that I had transformed into boys, but that I re-transformed back into a girl because I found that there was missing a redhead in my collection of American girls.
The 4 friends went for a walk in a field overlooking Lake Memphremagog, with Mount Orford in the background.
En ramassant des épervières, Isabelle a dit à ses amis : "je vais faire un bouquet de fleurs pour Mamounette".
While collecting mouse-ear hawkweed, Isabelle told her friends: "I'm going to make a bouquet of flowers for Mommy".
Une fois rentrée à la maison, la voici qui m'a gentiment tendu son bouquet : "tiens Mamounette, c'est pour toi, des fleurs de la couleur du soleil pour qu'il ne s'en aille pas" :
Once back home, here she gently gave me her bouquet: "Mommy, it's for you, flowers of the color of the sun so that it does not go away" :
Alors là, ma gentille Isabelle, c'est un peu raté : durant les deux jours à venir nous allons recevoir des trombes d'eau (ENFIN !!!) grâce à "la queue" de la tempêtre tropicale Gordon qui vient de frapper la côte est américaine.
Mais ensuite.... la chaleur revient ! youpiiiiiiii !! Pas longtemps, mais au moins pour quelques jours encore. Je suis contente car cette année, je me me sens pas du tout prête à voir arriver l'automne, car si joli soit-il ici avec ses couleurs flamboyantes, il est quand même l'émissaire de l'hiver avec ses 6 mois de neige, de gel et de verglas, dont je me passerais volontiers.
Then there, my sweet Isabelle, it's a little missed : during the two days to come we will receive water torrents (FINALLY !!!) thanks to the "tail" of tropical storm Gordon who just hit the East Coast.
But then ... the heat comes back ! youpiiiiiiii !! Not long, but at least for a few more days. I'm happy because this year, I do not feel at all ready to see the fall, because if it is so pretty here with its flamboyant colors, it is still the emissary of the winter with its 6 months of snow, frost and ice, which I would do without.
Je vous souhaite à toutes un bon lundi / I wish you all a nice Monday
♥♥♥
08 septembre 2018
Aucun doute, l'automne s'installe doucement, comme le montre ce jeune chêne au Vermont :
No doubt, fall sets in slowly, as this young oak tree in Vermont shows :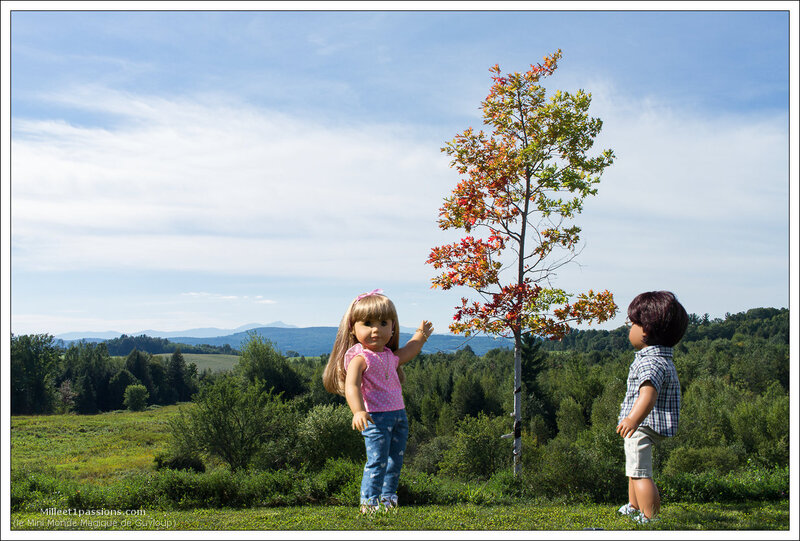 ou ce joli spécimen d'amanite phalloïde dans mon jardin :
or this pretty specimen of phalloid amanita in my garden :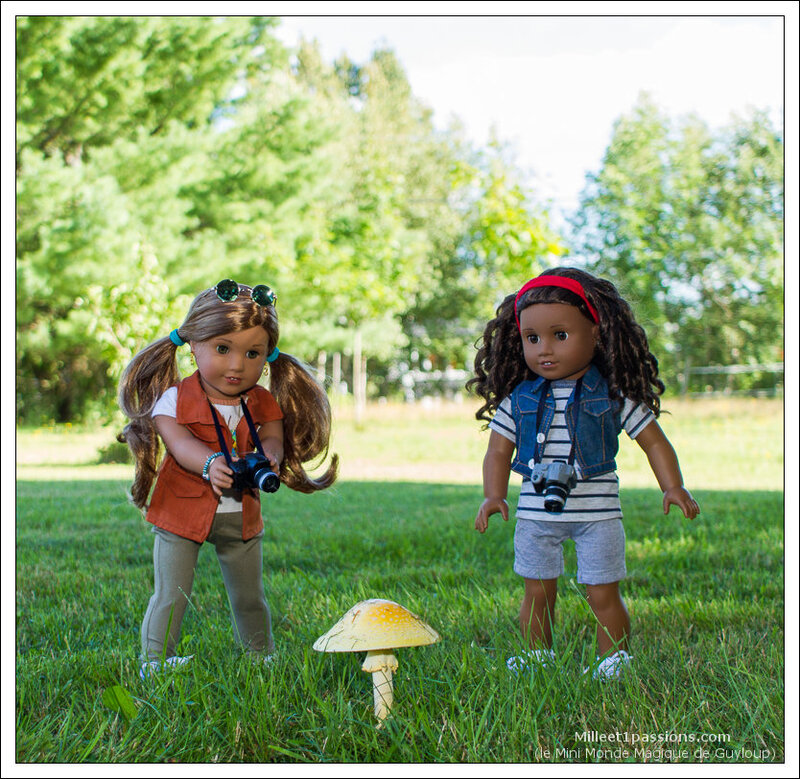 et je ne parle pas de la chute brutale de température :
il ne faisait que +5°C ce matin, alors qu'il faisait +24°C à 2h du matin il y a 2 jours !
Il ne restera bientôt plus que les bons souvenirs de l'été 2018 et sa super chaleur si agréable,
et un stock de photos pas encore publiées sur ce blog pour s'en rappeler.
and I will not say about the sudden drop in temperature:
it was only 41°F this morning, while it was 75°F to 2 o'clock in the morning 2 days ago!
It will soon remain only the good memories of summer 2018 and its super heat so nice,
and a stock of photos not yet published on this blog to remember.
Bon dimanche / Have a nice Sunday
♥♥♥