Kelsey est une rousse flamboyante au teint très pâle, et ce n'est pas ce qu'il y a de plus simple pour trouver des couleurs qui lui vont bien (rappelez-vous mon hésitation pour la couleur de son pull l'hiver dernier, ICI).
J'ai réglé le problème avec un grand classique : rayures marine et blanc, et corsaire en jeans.
Comme cette jolie Kelsey est une passionnée de photo de paysages, elle bat la campagne dès qu'elle le peut, donc je lui ai ajouté un chapeau de cow-boy en paille pour préserver son teint de porcelaine des rayons UV, et des lunettes de soleil pour protéger ses yeux clairs de la lumière estivale (elle les a à la main droite, et son tél portable dans la gauche).
Kelsey is a flamboyant redhead with a very pale complexion, and it's not that easy to find colors that suit her (remember my hesitation for the color of her sweater last winter) .
I solved the problem with a classic: navy and white stripes, and corsair jeans.
As this lovely Kelsey is passionate about landscape photography, she is outdoors whenever she can, so I added a straw cowboy hat to preserve her porcelain complexion from UV rays, and sunglasses. sun to protect her clear eyes from the summer light (she has them on the right hand, and her mobile phone in the left).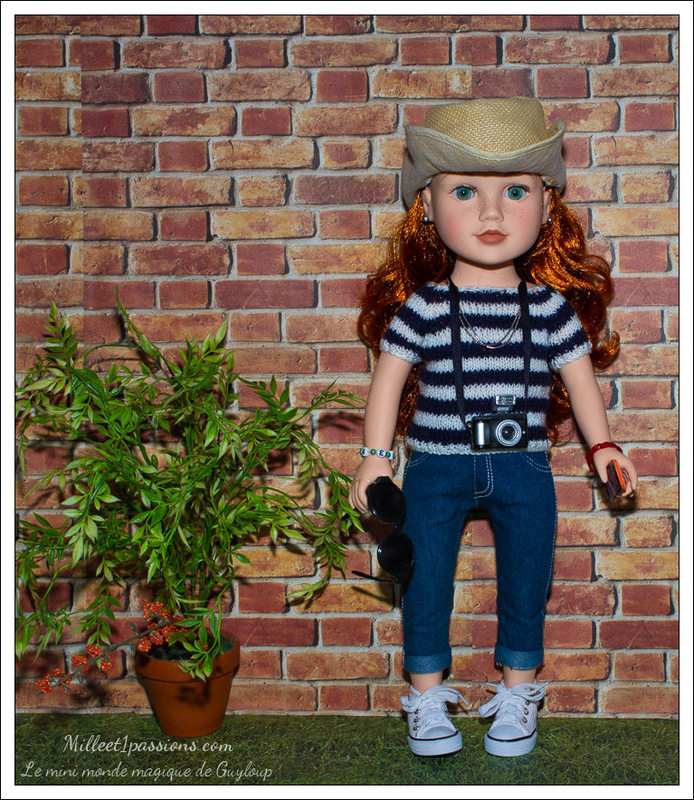 Kelsey est une Journey Girls de 2017. Kelsey is a Journey Girls of 2017.
Le tutoriel du pull se trouve ici / The tutorial of the sweater is here ICI (tricoté en 3 mm),
Le tutoriel du jeans, arrangé en corsaire est ici / The tutorial of the jeans, arranged in corsair is here ICI
Le tutoriel du chapeau est ici / The tutorial of the hat is here ICI
IMpression pour téléphone ici / Print for phone ICI
J'espère que vous avez passé un bon dimanche, et qu'il en sera de même pour la semaine qui commence.
I hope you had a good Sunday, and it will be the same for the week that begins.
♥♥♥